Canning is something I have thought about trying on and off for a few years. The idea of making a big batch of perfectly in-season fruit and hoarding it in my cupboards until the dead of Winter (or a natural disaster). The idea of failing and making my family sick is what has held me back, until now.
I decided to start with Strawberry Jam. It is strawberry season, after all. Plus, it seemed like a relatively easy recipe to start. I took myself to Target – searching for canning equipment. Specifically, a pot with a rack, new lids for my existing jars, and a case of 1/2 pint jars. Target did not have a canning pot or rack! Feeling antsy, I googled "how to can without a rack". It turns out, lots of people don't use a rack. They soak a dish towel and use that on the bottom of the pot under the jars. Since I was impatient and could not possible wait to have a canning pot and rack shipped to me, I was going to try this totally scientific method.
So, I started out by hulling and mashing my strawberries. Don't they look beautiful?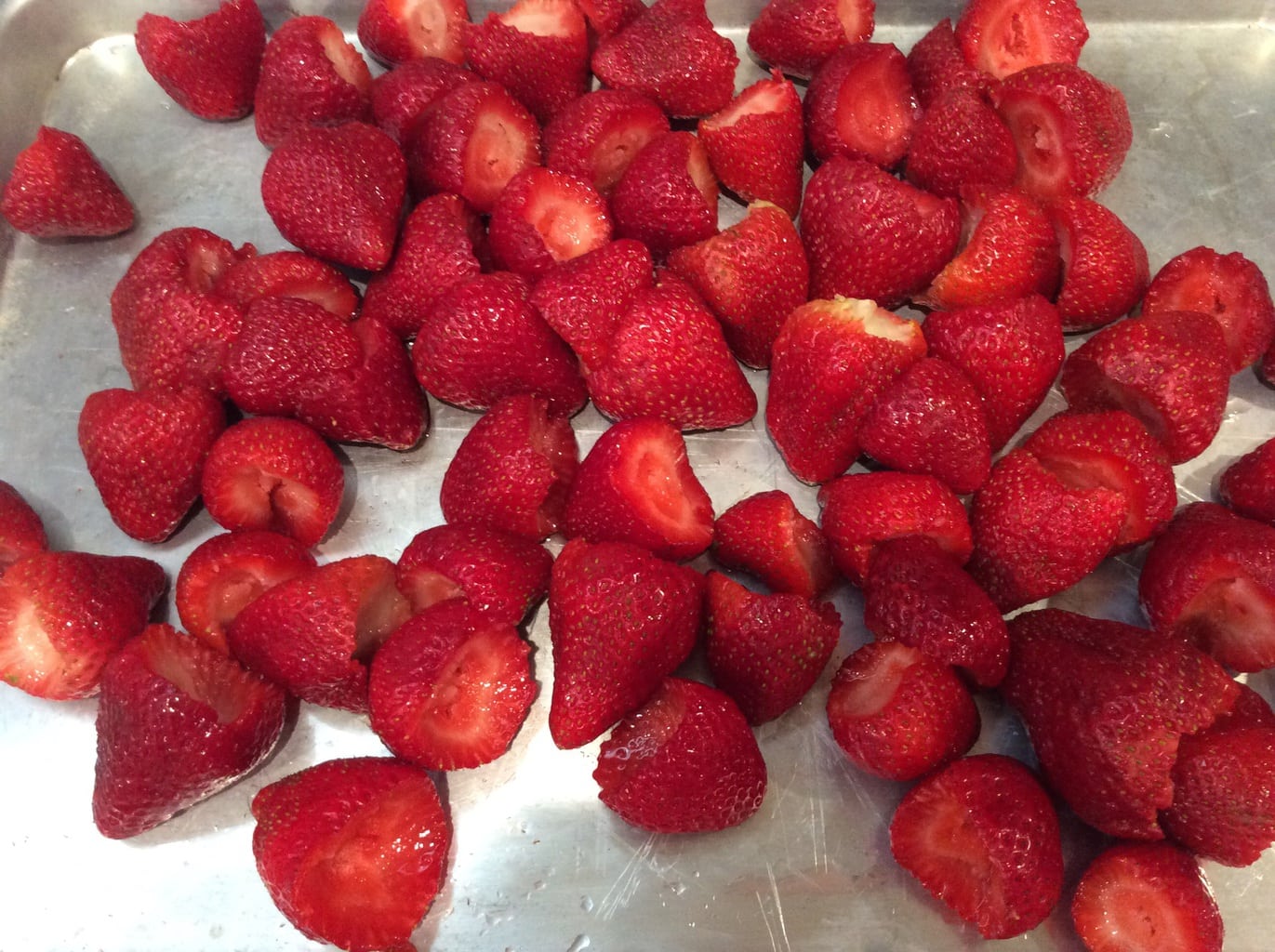 Then I cooked them in a pot and added a little lemon, pectin, and a crazy amount of sugar. While the strawberry jam was cooking, I boiled the jars. Then, I soaked my dish rag and put it at the bottom of the pot.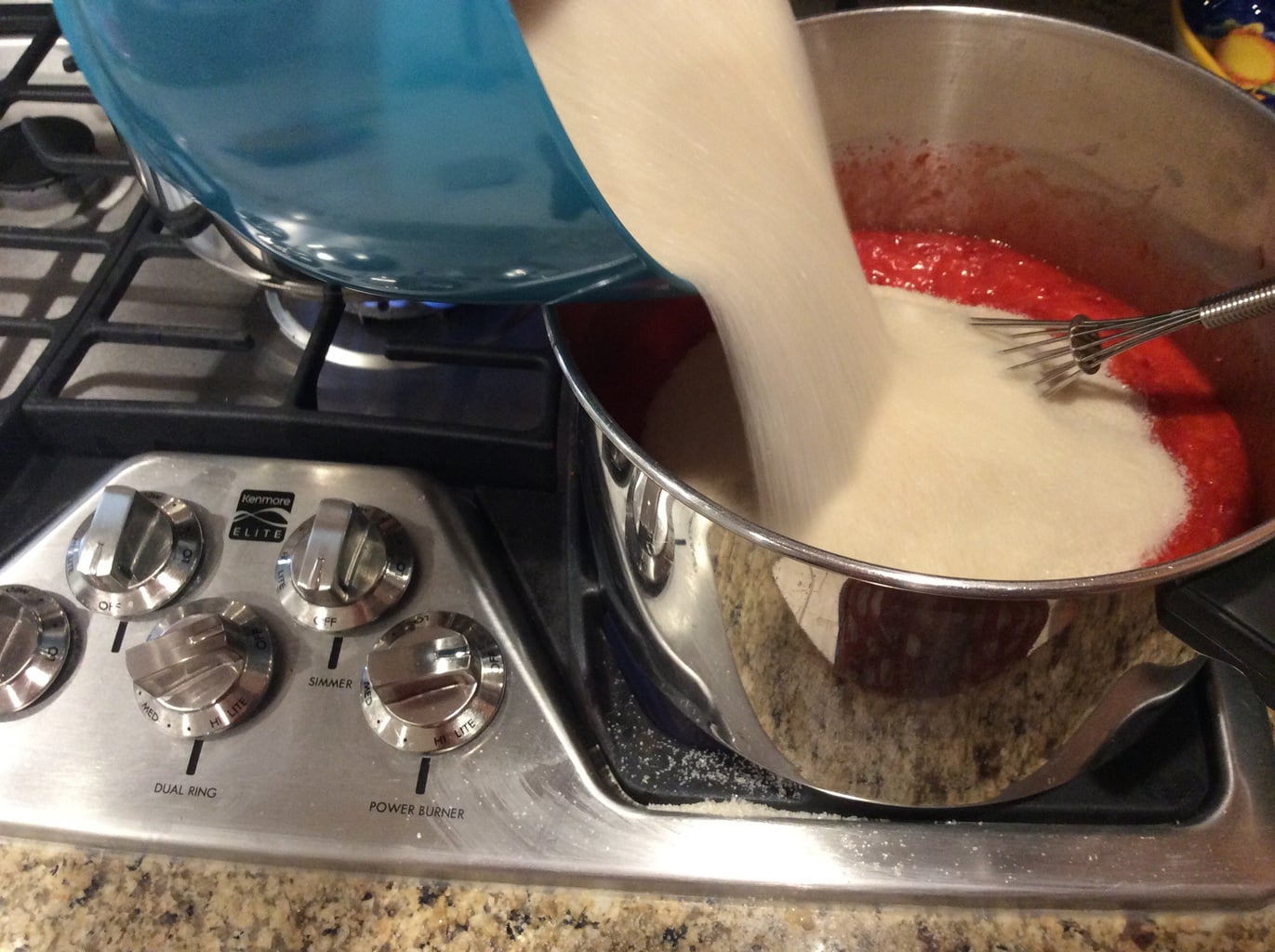 My Jam was already jelled and I was excited. I gave it a little taste test and it tasted divine! I filled them in the jars with a wide mouth funnel.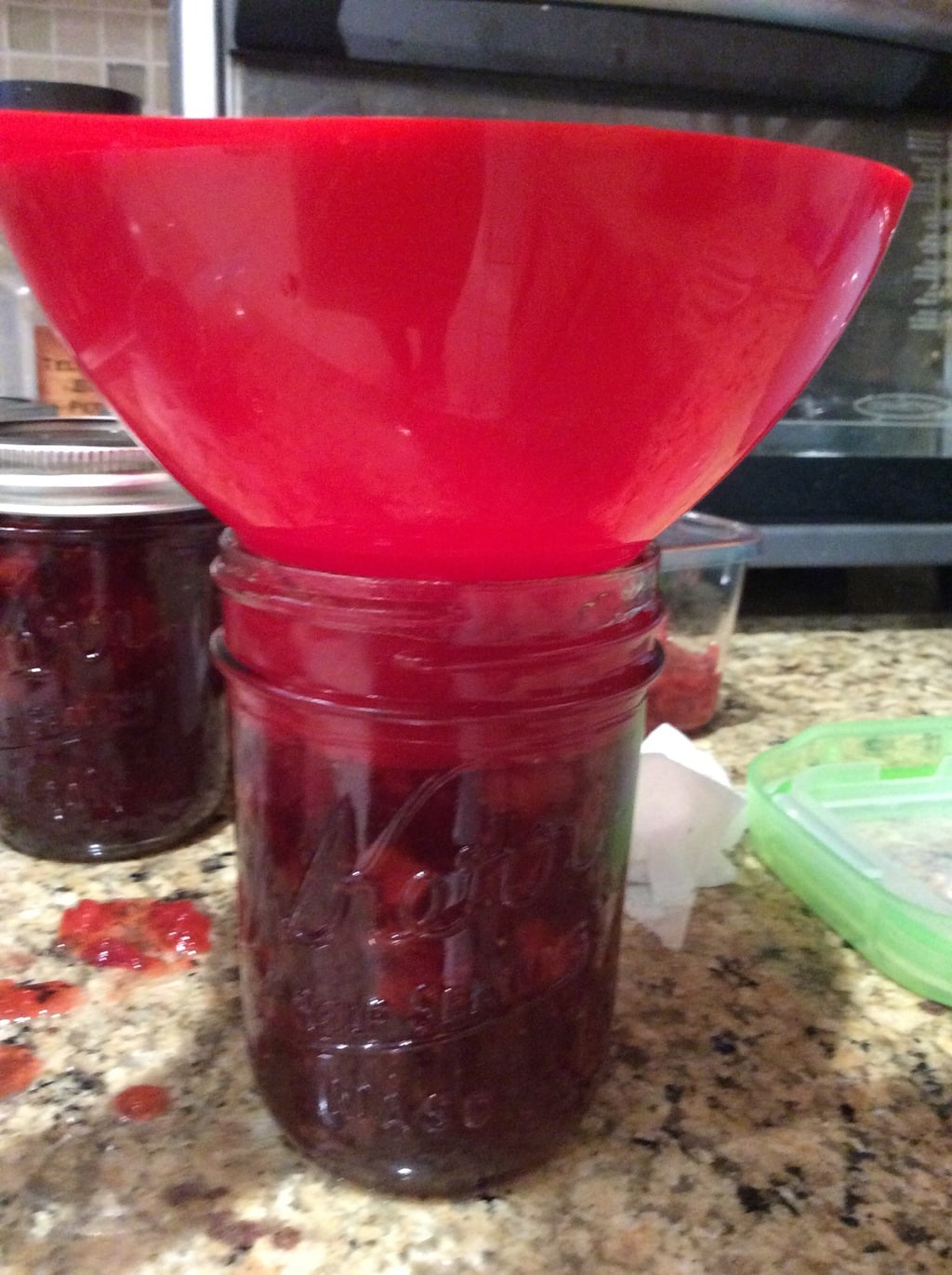 Now, for the moment of truth. I slowly placed 4 jars filled with strawberry jam in my pot of boiling water, with a soaked rag on bottom. I covered the pot with a lid, set the timer for 10 minutes and crossed my fingers.
I'm not going to lie. It did not turn out as I had hoped. My pot was too small and kept boiling over and flooded my stove. I did manage to keep the lid on and the rolling boil over the cans for the entire time without completely freaking out, but I had a huge mess to clean up. When the processing finished, I took the lid off and found strawberries floating in the water – one of the lids had popped off with all of the boiling commotion.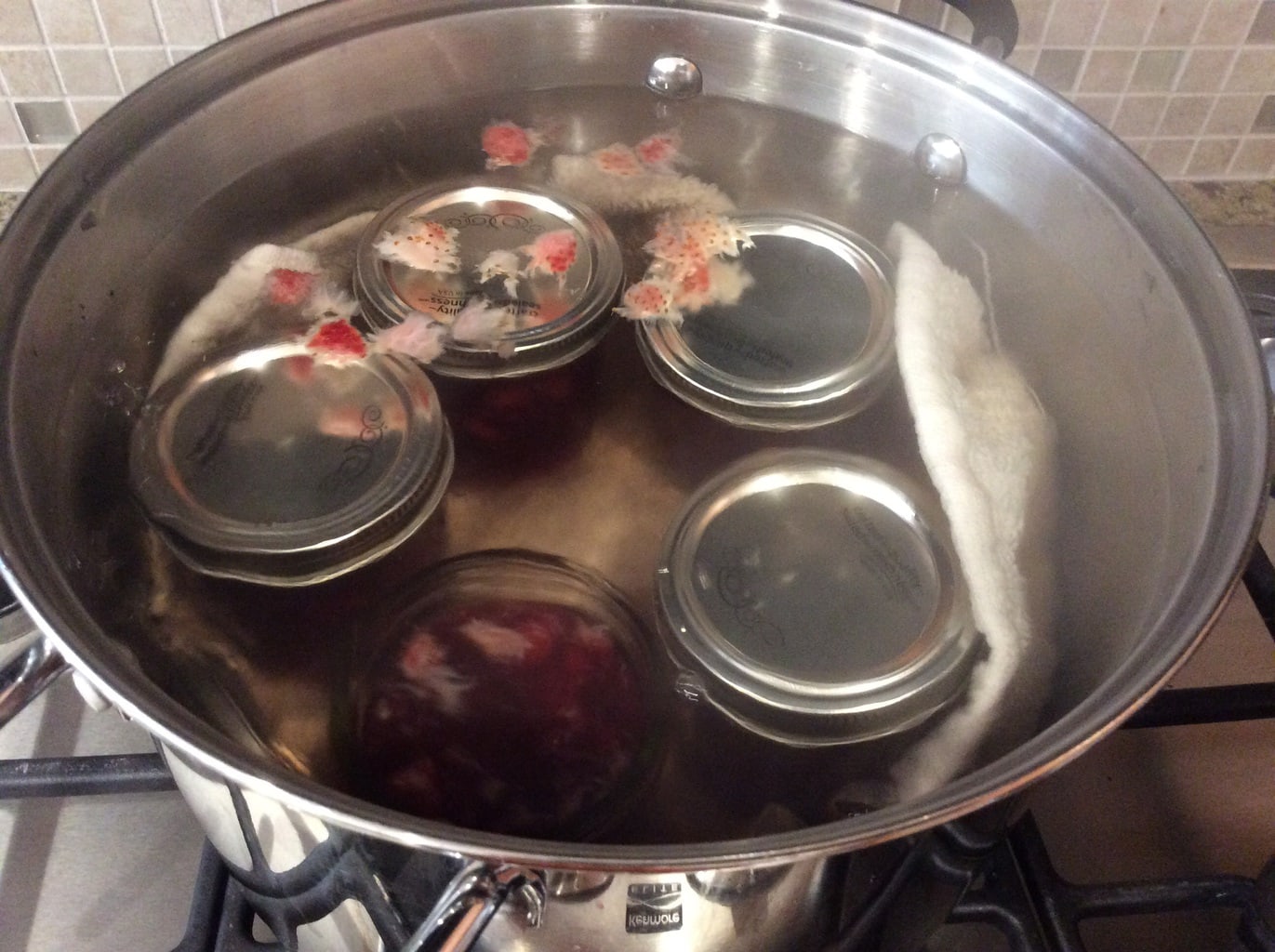 I pulled the cans out and set them on a towel to cool. Then, I called my Mom and borrowed a larger pot from her for round two – I still had 4 more jars of jam to process. With the larger pot, the water did not boil over. But, the towel on the bottom of the pot turned out to be a huge hindrance and I lost another lid in the process. That's two jars of jelly that definitely did not seal! I set the rest of the jars out on the towel and hoped for the best.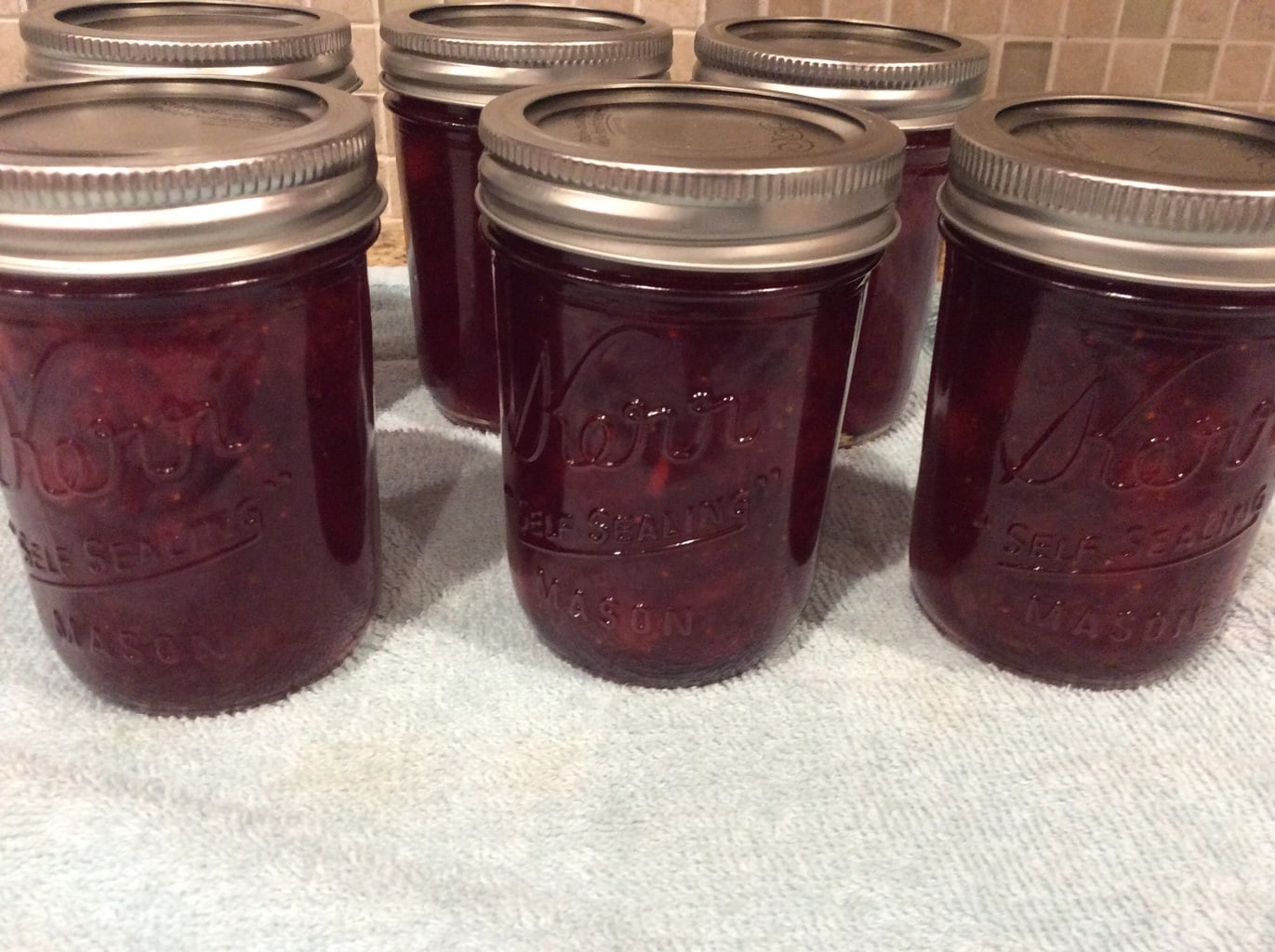 Of 8 jars of jelly, I only ended up with 4 sealed jars. The rest ended up in my fridge or freezer, so it was not a complete loss. I am disappointed that I did not have a bigger win, but I am not one to give up after one try. I asked friends with canning experience for help and borrowed every book I could find on it from my local library. This girl will learn how to water bath can this summer!
Stay tuned for my next canning adventure.
Do you can? What advice can you give me?