I have come pretty far this summer on my canning adventure since I botched my first batch of strawberry jam. The most recent project I completed was canning crushed tomatoes. I procured these tomatoes from a sweet young family who grows and sells their produce every weekend at a stand a few miles from my house. I showed up, requesting 35 pounds of tomatoes. I figured they would get my number and let me know when they were available. Nope. The man put on his gloves and headed out to the garden right away. He came back with two huge boxes of roma tomatoes (with a few beefsteaks thrown in). It ended up being 40 pounds of tomatoes, but they only charged me for 35 pounds and sent me on my way. I called my husband right away. He thought I was crazy. But I was totally hooked. I'm already thinking about next year and how many roma tomato plants I'm going to grow in our backyard. Just so I can put them in pretty jars and fill my pantry. I think I'll need 10 plants. No, maybe 12. We'll see.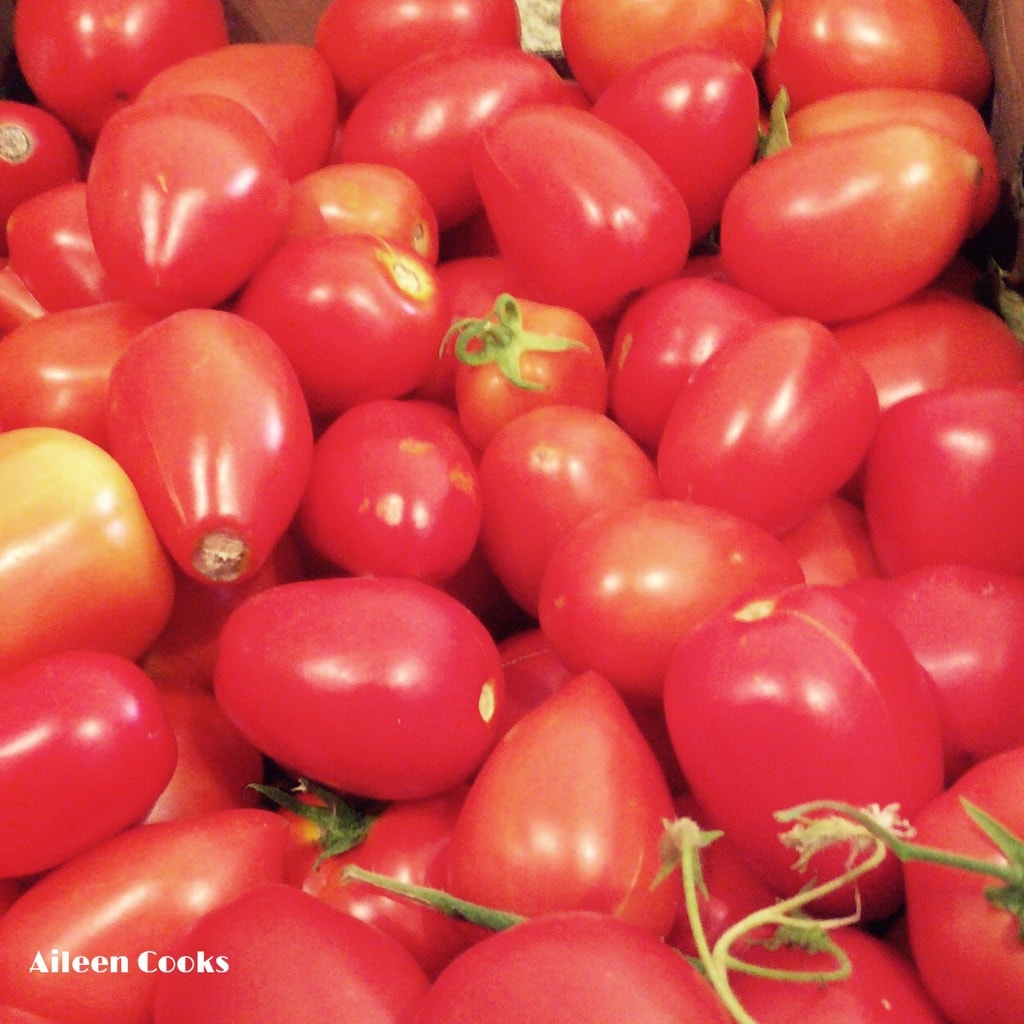 I decided to break my tomato canning adventure into 2 days. On the first day, I decided on making tomato sauce. The recipe I followed was from the Ball Complete Book of Home Preserving. It's a great resource and I highly recommend getting it if you are interested in canning.
For the sauce, I started with 1/2 of my tomatoes (roughly 20 pounds). I washed them, cored them, and put them in a large pot. Mashing them with a potato masher and stirring them constantly. They were cooking over medium high heat and would scorch if I didn't continuously stir them. Once all of the tomatoes were mashed and cooked a bit, I pulled them out in batches and pushed them through a fine mesh sieve. This part was a lot of work and I seemed to lose a lot of tomatoes on the way. I think if I had an actual food mill, things would have gone a bit smoother.
After I finished separating the juices from the skin and seeds, I brought the tomato juices back to a boil and cooked it down into a thin sauce. Then, I divided them into my jars with lemon juice, salt, Italian seasoning, and a basil leaf at the bottom of each jar. I just loved this part. How neat is that you can add a fresh basil leaf to each jar of tomato sauce?
I processed my jars and added them to my pantry stock. I ended up with 4 quart jars of tomato sauce.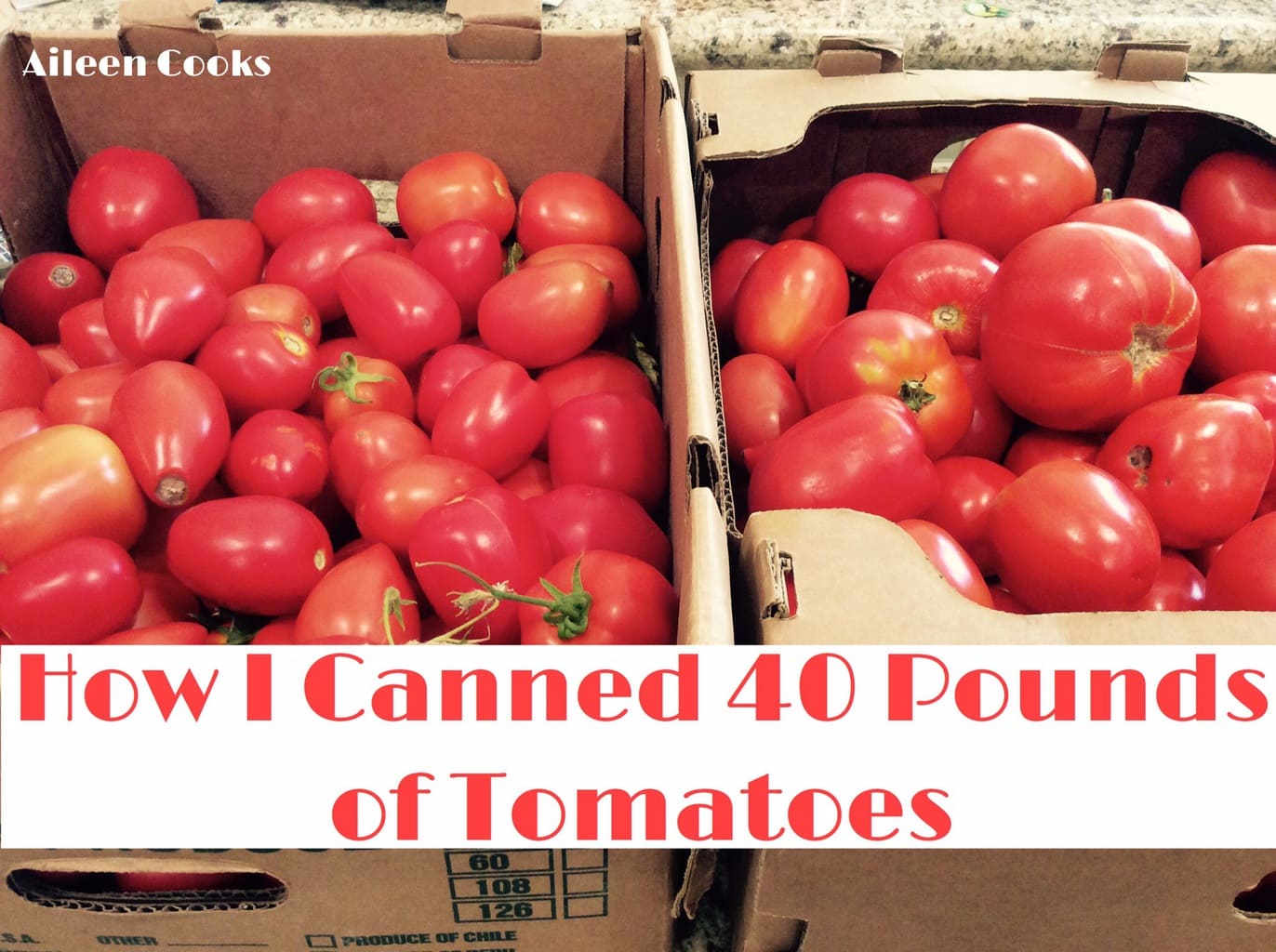 On the second day, I made crushed tomatoes. I started this time by washing and coring my tomatoes. Now, by coring, I mean I used a pairing knife to cut into the top at an angle and cut out the white part in the top center of the fruit. I did not cut out the entire center, so there were still seeds in the middle.
Next, I blanched the tomatoes in batches and then slipped off their skins. Once all of the tomatoes were skinless, I quartered them and put them back in the pot to "crush". I started by crushing my first few tomatoes with a potato masher, but the rest broke down on their own as it boiled. Once all of the tomatoes were quartered and added to the pot, I let it cook for a few more minutes and then added them to jars with lemon juice and salt. No seasoning this time, so I can season them as needed. Depending on what I am making. I processed the tomatoes – working in two batches. I ended with 2 quart jars of crushed tomatoes, 7 pints of crushed tomatoes, and a little extra that I threw into a casserole the next day.
Now, some would say leaving the seeds in (by not coring out the entire center) will affect the flavor/texture of your dish. Having already using some of these tomatoes, I can tell you that I did not notice a difference. The second day was much easier than the first. I am going to stick with blanching and peeling my tomatoes in the future.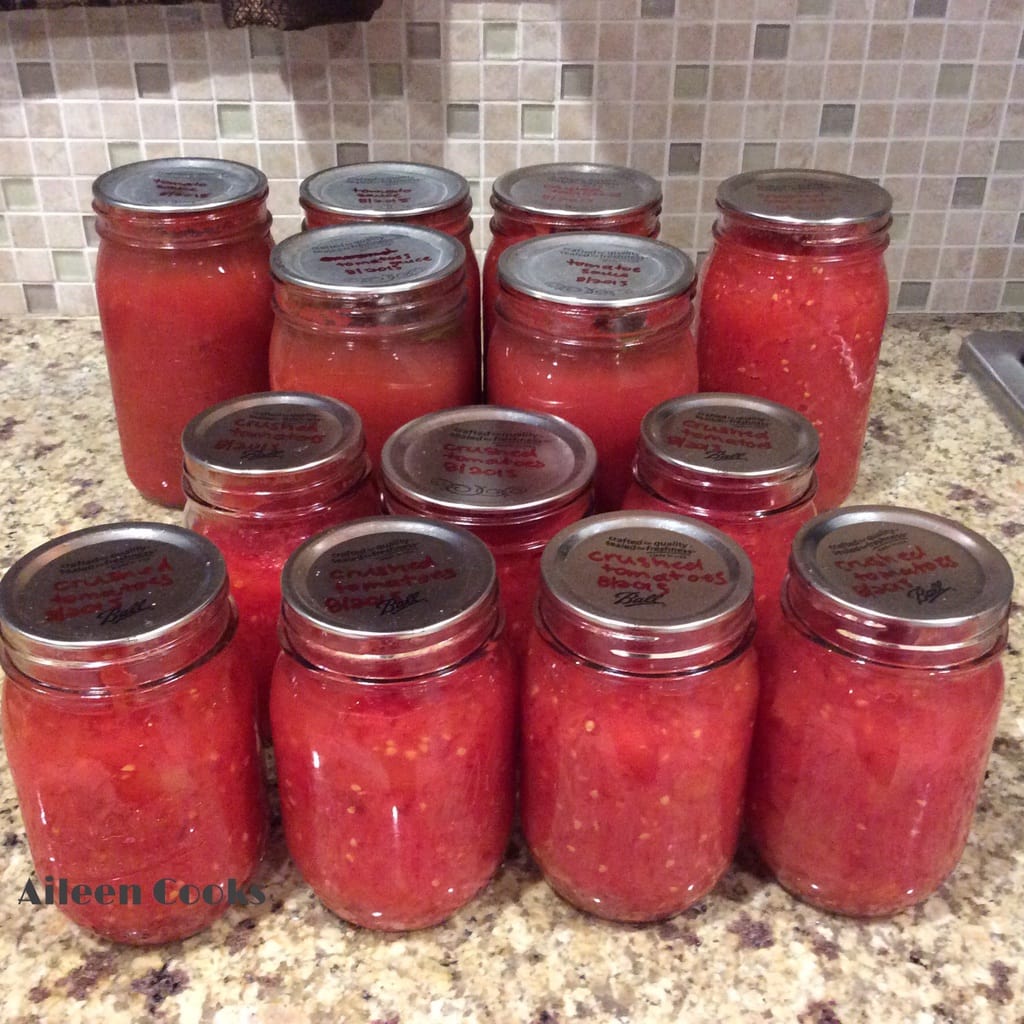 I feel so accomplished and (almost) fulfilled by my canning journey. I open my pantry and now have a nice collection of preserved fruits. The tomatoes taking up almost half at this point. I do still want to try pickling brussels sprouts and making apple sauce in the fall.
Have you tried canning? What is your favorite thing to can?