Today's post is from guest writer, Tiffany Watts from the food blog, Dilesia. She's here to share three of her favorite fall grilling recipes!
3 Easy and Delicious Grilling Recipes For Fall
Fall is approaching, with its beautiful golden days, rich hued leaf colors and the accompanying flurry of activities geared towards preparing meals for family get-togethers and thanksgiving. The falling temperatures are a great reason to experiment with spicy foods, grilling recipes and rich soups and broths in order to keep the chill at bay.
Fall is a great time to take out your pizza stone, fire up the grill and create healthy and delicious meals that will delight friends and family and keep them coming back for more. The abundance of fresh produce during autumn means that you will not lack for ingredients to keep you grilling well into the fall.
Below are a few recipes to get you started with grilling fresh and healthy meals for friends and family:
Grilled Sweet Potatoes with Rosemary
Sweet potatoes take on an earthy and smoky taste after spending some time on the grill. The addition of a couple of sprigs of rosemary help to bring out the sweetness in the potatoes while infusing a herby flavor that will keep you reaching for more servings.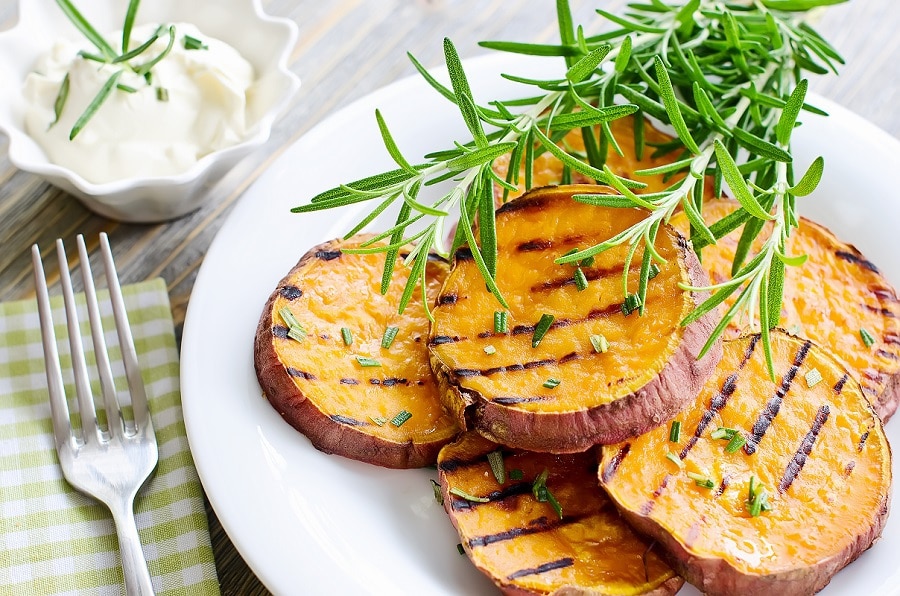 Ingredients
1 pound orange-fleshed sweet potatoes scrubbed and sliced into ¼ inch rounds.

2 sprigs rosemary

2 tbsp olive oil

Salt and pepper to taste.
Instructions
1. Pre-heat your grill to medium high.
2. Place the sweet potato slices into a bowl and mix with the olive oil and salt and pepper until blended.
3. Lay the slices on one half of 20 inch piece of heavy duty foil that has been folded in half. Place the rosemary sprigs over the potatoes.
4. Fold the other half over the sweet potatoes and crimp the edges together to seal. Wrap another piece of foil over the 20 inch piece.
5. Place the foil packet directly over your grill and cook for 25 minutes, taking care to turn the packet several times to allow the potatoes to become well done.
6. Remove potatoes from the grill, discard the rosemary and serve. Makes 4 servings
Thin crust Pizza Margherita
Thin crust pizza grills much better than thicker, doughy crusts, and allows you to savor your toppings without filling up too quickly. Create your own healthy take on the Classic Margherita from the comfort of your own home using a pizza stone and a homemade thin crust recipe. Grilling on a pizza stone also means that your pizza will cook much faster, allowing you to make more than one pizza with different toppings to cater for individual tastes.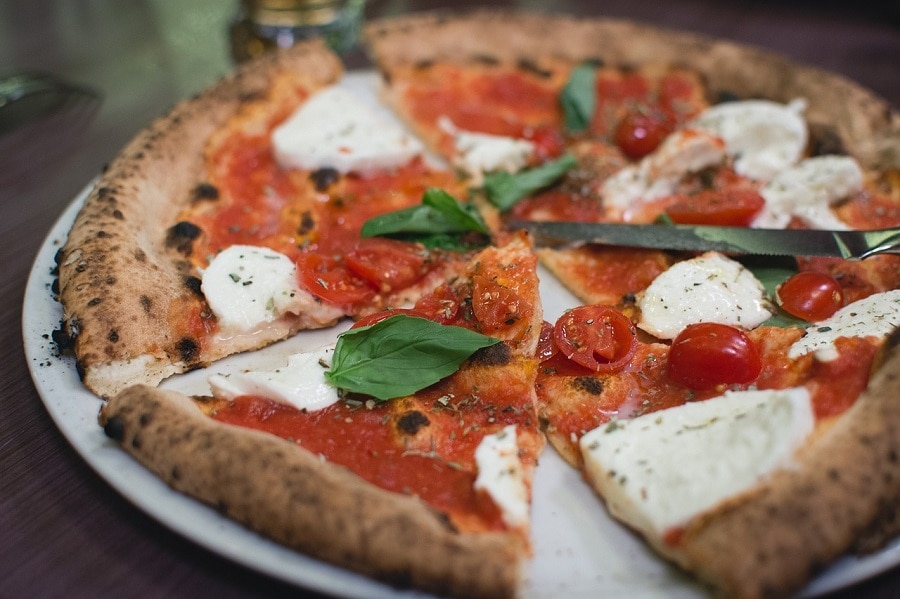 Ingredients
For the thin crust pizza base:
1/3 cup warm water

1 tsp honey or agave

1 cup plain flour

1 tsp sea or kosher salt

1 tbsp virgin olive oil
For the Topping:
2 large ripe tomatoes.

¼ cup basil sliced into ribbons

1 garlic clove

8 oz sliced mozzarella cheese

Salt and pepper to taste.
Instructions
1. To make the dough, combine the warm water, yeast and sugar in a bowl and mix until well combined and sugar has dissolved. Allow the mixture to sit for 10 minutes until it turns frothy. Combine the flour and kosher salt in a different bowl and add the olive oil and yeast mixture until well combined. Turn the dough out onto a floured flat surface and knead into a ball for about five minutes. Place the dough in a bowl that has been greased with olive oil and coat thoroughly. Cover with cling film and allow to rise for 1 to 1 hours.
2. Preheat your grill once the dough has risen. Place the dough onto a floured pizza spatula and roll out to the desired size. Brush the crust with a little olive oil.
3. Blend the tomatoes, basil and garlic in a food processor until well liquidated. Spread this mixture onto the crust and top with the mozzarella slices, additional tomato slices, and basil slivers.
4. Transfer the crust to a baking stone and place in the grill to bake for 10-15 minutes or until the edges of the crust are golden brown.
5. Remove from the oven and serve. Makes 10 servings
Grilled fall vegetables
Use a pizza stone to make your vegetables crisp, moist and perfectly well done, the perfect accompaniment to meats, pizza and other side dishes.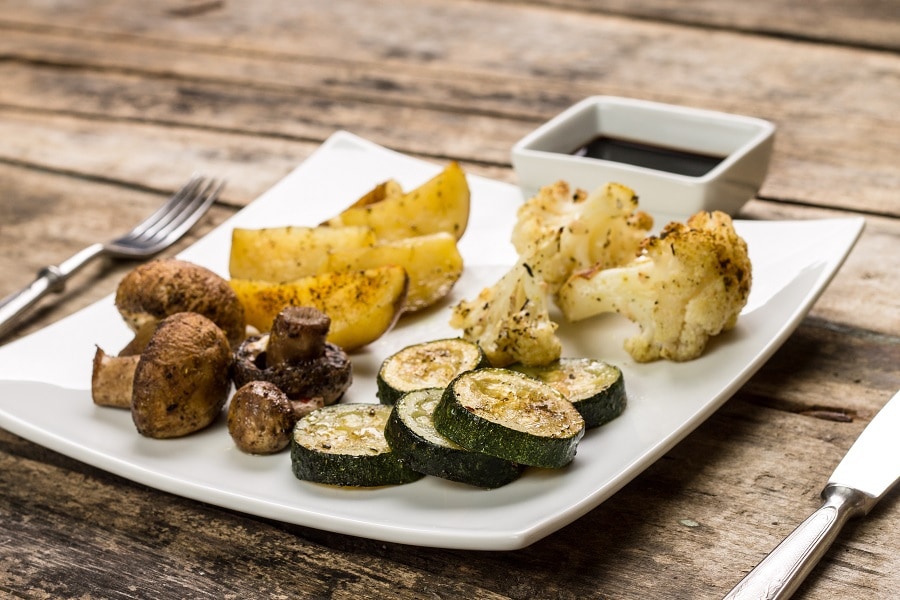 Ingredients
Fall vegetables of your choice such as carrots, leeks, squash, cabbage, pumpkins, cauliflowers, beans and others.

Olive oil for brushing.

Salt and pepper to taste
Instructions
1. Set your oven to 375F and heat your pizza stone for 15 minutes.
2. Slightly blanch your vegetables and toss them in olive oil.
3. Place the vegetables on the pizza stones and roast them until they are tender or until they start to turn golden brown.
4. Remove from the oven and allow to cool. Serve with accompaniments of your choice.
Grilling is a healthy and fun way to cook meals during the fall, and will reward you with delicious meals that will keep you and your family coming back for more.
About Tiffany

Tiffany Watts is the sole blogger of Dilesia, a food blog curated for newbie and experienced cooking and baking enthusiasts, with the aim of bringing back the glamor and fashion in the kitchen. Dilesia, "where sweet treats and good eats meet," provides a portal for everyone to discover delicious recipes, new and upcoming kitchen gadgets, and easy (and surprising) ways to upgrade culinary skills.