Our 6 basket laundry system: How we Simplified Laundry for our Family of 5
As a mom of 3 young kids, I am drowning in laundry. All. The. Time. It never ends. I do at least 1 load of laundry each day, but I still find myself with a massive pile of laundry at the end of the week.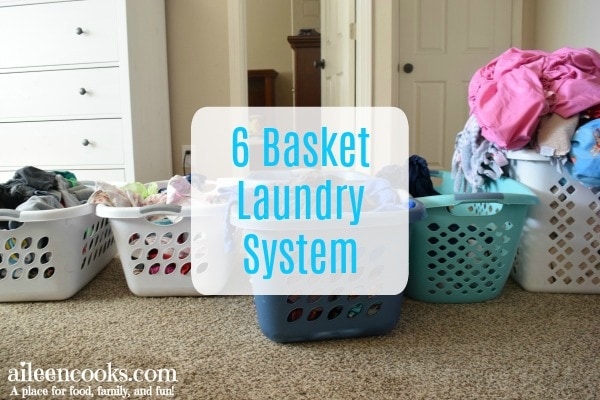 That's why I have come up with an all-new laundry system for our family. So far, it's working well. So I thought I would share it with you. You start by washing all of the laundry. Mix it all in and just wash it. The separating and "6 basket laundry system" happen after everything is clean.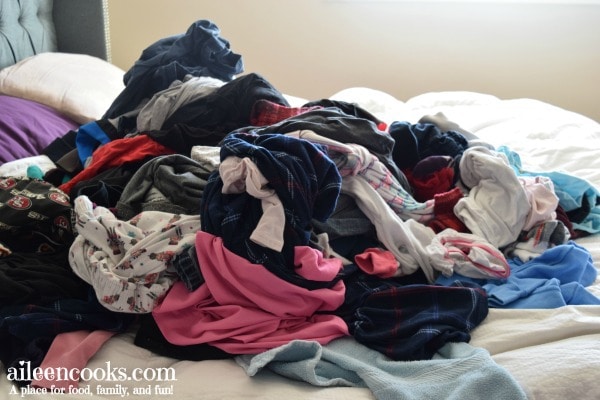 Next, dump it somewhere like your bed. Our laundry room is tiny, so this is where the magic happens. Get enough baskets to match your family size and add 1. Our family size is 5, so we have 6 baskets. Set the baskets out. Assign 1 basket to each person and make the extra basket your sheets and towels basket (we wash our sheets/towels each week, so this is factored in).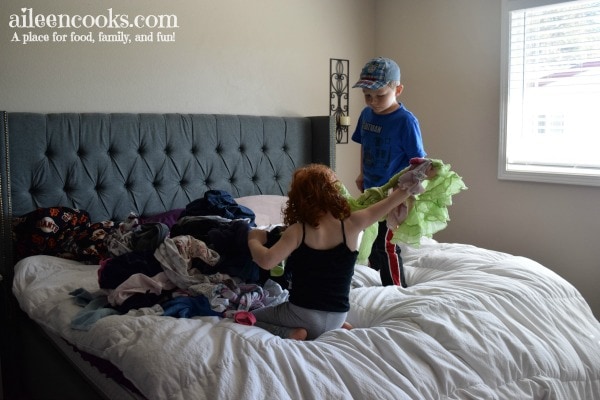 Put your kids to work on the mountain of laundry. Have them separate the laundry into each assigned basket. Decide which kids you trust to fold their own laundry and send them to their room with their basket.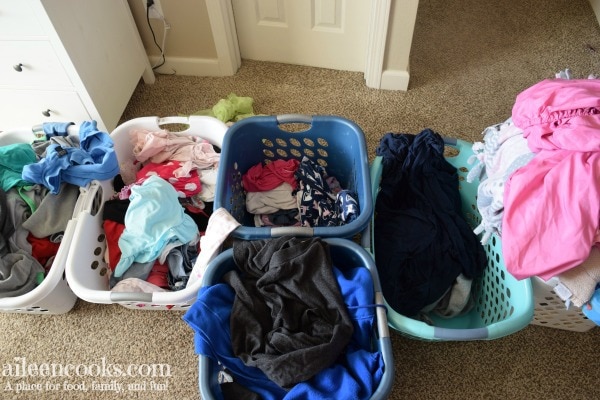 For us, that means our 5-year-old can handle his own laundry. We start teaching them about laundry when they can walk, so he understands how to fold and where his clothes go at this point. My 3 year old "helps" fold her laundry. She's not much help, but my goal is to have her doing it herself by 5. I hand her piles of folded laundry divided up by drawer and have her put them away. I also fold the laundry for myself and 1 year old.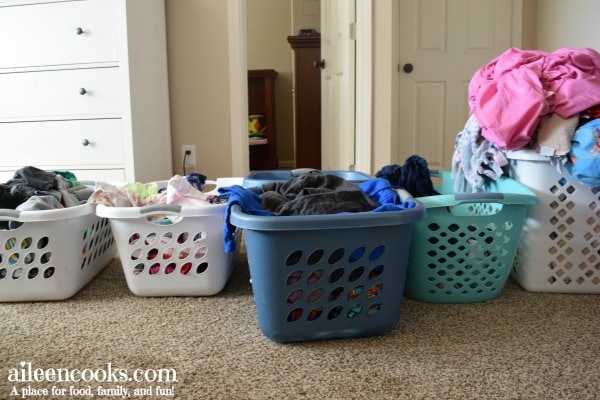 My husband is left to fend for himself. He's pretty tidy, so he will likely fold it and put it away vs. digging in the basket each day (like me, ahem). I like the 6 basket laundry system because it makes it easier to find what you need if you don't get around to putting everything away. Which happens to us on the regular!
There you have it, our all new 6 basket laundry system. It doesn't take the laundry away, but it has made my life easier. and if I don't get to the folding right away (I don't most weeks), I can send my 3-year-old upstairs to get a clean pair of undies after she inevitably has an accident and I don't have to worry about her throwing all of my clothes on the ground. Just her own. So, progress.
Did you try the 6-basket laundry system? Tell us what you thought in the comments or tag us on social media using @aileencooks.