6 Weeks to Fill Your Freezer: Week 5
I'm going to start by telling you my freezer cooking intentions for this week of the 6 Weeks to Fill Your Freezer Challenge. Then, I'm going to tell you what actually happened.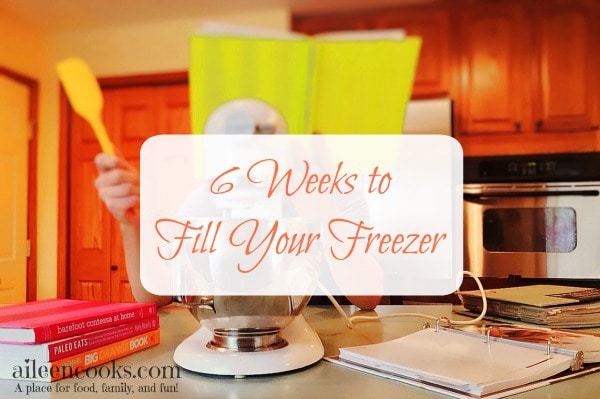 My Plan
My plan for this week of freezer cooking was to make a double batch of crockpot chicken tortilla soup for the freezer and a batch crockpot turkey chili for the freezer. I purchased everything I needed and made a plan for the days I would prepare the meals. I really like cooking one batch while making an extra (or two) for the freezer at the same time. That method is really working for me at this time in my life.
On Saturday, I made a triple batch of chicken tortilla soup. One went directly in my slow cooker and the other two went in my freezer. I'm so glad I made two extra batches of this soup for my freezer. It's one of my favorites and is so delicious when topped with chips, cheese, and cilantro.
Each batch had to be portioned into two gallon sized freezer bags. One bag for the soup ingredients and one bag for the broth. Alternately, you could store a container of broth in your pantry with this meal in mind, but I made this homemade broth in my crockpot the day before, so it needed to be stored in the freezer.
[bctt tweet="Stock your freezer with Chicken Tortilla Soup – Ready to go directly in your #crockpot #foodie" username="aileencooks"]
What Did Not Happen
I also intended on making crockpot turkey chili, but it didn't happen. I was planning on making the double batch of chili on Tuesday morning, but I was too tired to get up early and had a busy day planned, so I decided to give myself a break and postpone that freezer meal.
When doing a challenge like this, it's really important to give yourself a break if needed. Even thought I missed making turkey chili for my freezer this week, I am still well on my way to having a fully stocked freezer. I have accomplished a lot and am feeling much more prepared for our newest addition who is set to arrive in just under 4 weeks.
Week 1-5 Recap
2 Lawnmower Taco Casseroles
2 Taco Stuffed Shells Casseroles
Double Batch Pancakes
Double Batch Chocolate Chip Waffles
Double Batch Roasted Garlic Three Cheese Lasagna
Whole Wheat Chocolate Chip Zucchini Bread
Week 5
Double Batch Slow Cooker Chicken Tortilla Soup
What did you stock in your freezer this week?