7 Day De-Cluttering Challenge: Day Six
Welcome back to the 7 Day De-Cluttering Challenge! Want to join the challenge? Start here!
Today, I de-cluttered the pantry. It was a big job and I'm still feeling under the weather, so my dear husband did most of the work.
Our pantry had gotten way out of hand. It was overflowing with stuff and it got to the point where we couldn't find much of anything, even though it is packed with food. There was even an entire shelf dedicated to alcohol that we absolutely don't drink. It had just accumulated over the years from parties and got parked in our pantry, collecting dust.
Here is the before picture.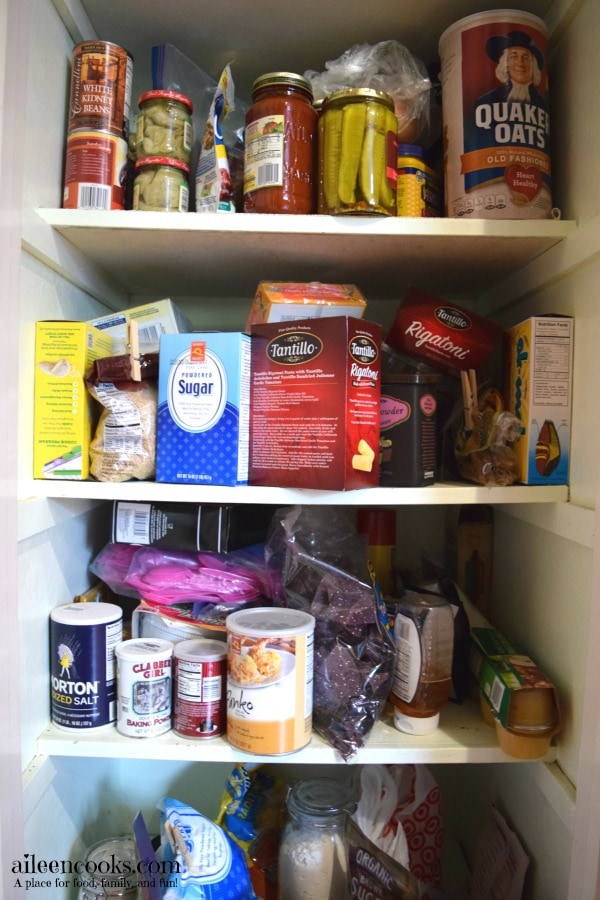 Yep, I warned you. It's way overstuffed and needed a good cleaning.
We started from top to bottom. The alcohol was on the top, so we dumped it all out and recycled the bottles. We consolidated our first aid/medicines and threw out any expired stuff. It's now living in a shoe box on 1/2 of the shelf, instead of taking up the whole shelf. Our cereal got moved from the top of the fridge to the shelf with the medicines – now that we have room on that shelf. We moved all of the snack foods to the bottom shelves so the kids can easily access them. My baking ingredients now have a shelf and 1/2 dedicated to them as I just have a lot of stuff and 1 shelf has not been enough.
We found a lot of duplicate items including multiple bags of plastic forks/spoons, 2 unopened bottles of apple cider vinegar, 4 bags of sugar, and 5 bags of coconut (3 of which were expired). I don't love coconut, some I was a little surprised to see I had purchased it so many times.
Here is the after picture.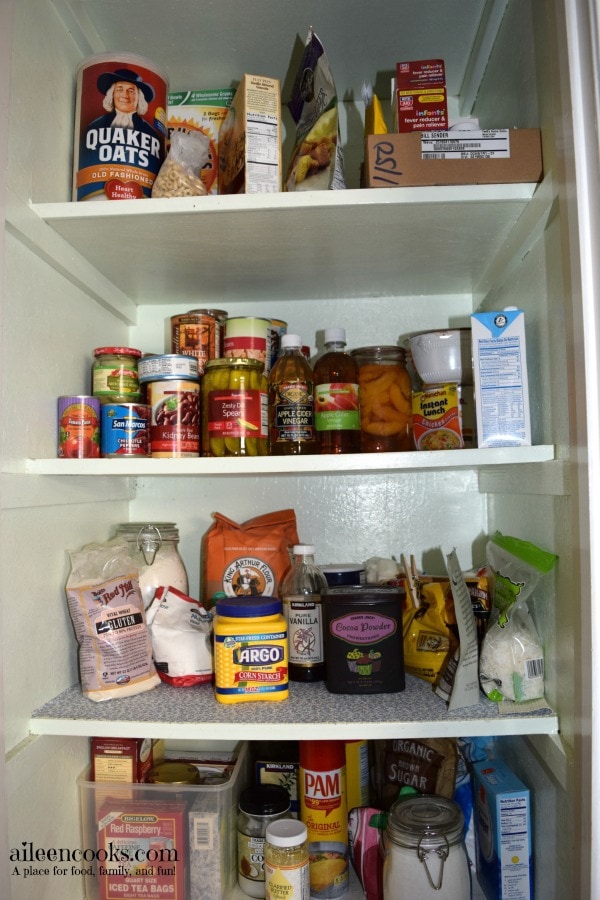 I feel much better about the contents of our pantry now and am glad we purged items we weren't using. I would like to add pull out shelves or small plastic bins in the future, but this will work for now.
What did you de-clutter today?
Want to join the challenge? Start here.