Winter weather makes me want to hide inside, put on my fuzzy socks, and eat all the carbs. But, I have three kids under 5. Sitting on the couch all winter isn't really an option for me. My kids need to get out of the house, even in winter. Ideally, it will happen every day.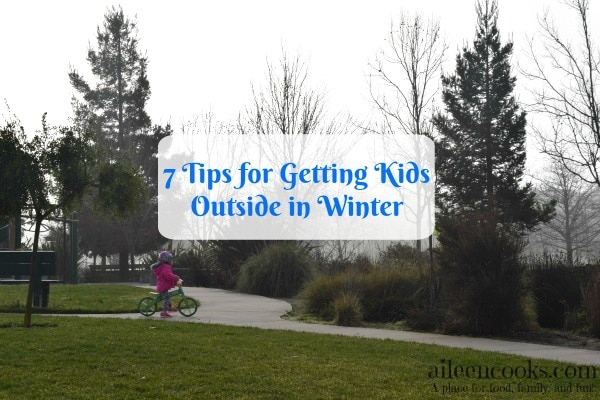 Here are my 7 tips for getting kids outside in winter:
Bundle them up and go! No, really. I know it's cold outside, but they will be fine. They are going to run, climb, and jump. They will stay warm.
Bring warm drinks. Okay, this one is more for you. Bring some coffee or your favorite tea with you. Your kids will be running around and you can stay warm and cozy with your drink. That's what travel mugs are made for!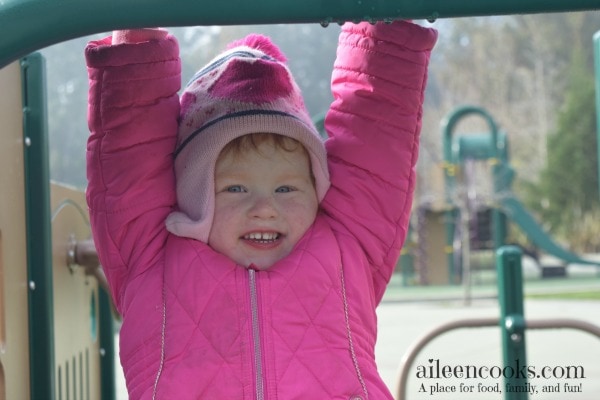 Check for ice, then let them bike. Biking is not just for spring and summer. If you have access to a paved area (that is regularly cleared of snow, if you live in a snowy climate), then bring their bikes along. It will get all of that extra energy out so they aren't climbing all over you all day.
Bring towels. It's easy enough to get your local playground ready for play in Winter. Just dry it off! In fact, have your kids do it They will think it's fun. Just make sure you get the towel back from them. My kids have deserted many towels in our backyard after drying off their toys.
Mentally prepare for laundry. Your kids will probably get wet or muddy. Just like cooking with kids, I find I am way less grumpy about a mess if I'm expecting it.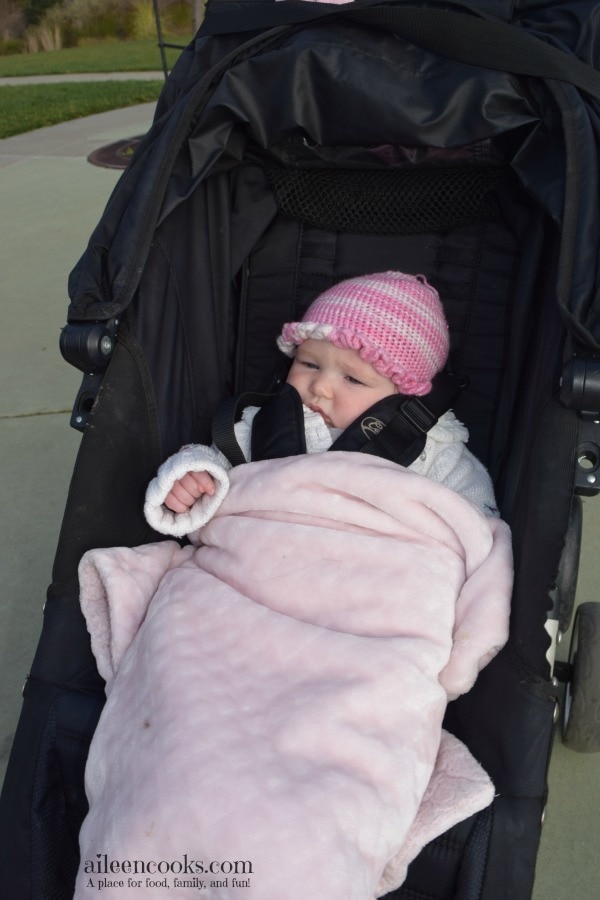 Bring extra clothes. Plan for the mess and bring an extra set of clothes & shoes. That way, they aren't getting the car seats all wet and you can run errands after your stop for outside play.
Give it 20 minutes. If you have a busy day or are just dreading getting out of the house. Set a timer and set the expectation up front. Let your kids know how much time they have and give them a two minute warning before the timer runs out so they can do one last thing. Then pack up and go home. Your kids will have gotten some exercise and the fresh air will do all of you some good.
I know getting kids out of the house in winter can be a hassle, but it really is worth it. My days almost always go smoother if I make a point to let my kids get out, run, scream, and just be kids.
Related Posts:
6 Emotional Stages of Leaving Your Kids for Vacation