Apple Picking with 2 Little Kids
Apple picking is something I aspire to do every Fall. It didn't happen last year because the apple orchard I loved closed down. The year before that, I went twice. This was when my son was just under 18 months.
He was walking, attempting to run, fascinated by everything, and a bundle of energy. I had fun apple picking with him, but it was also really stressful. I didn't want him to get dirty. Apple trees grow in the dirt, so that was hard to avoid.
Plus, he kept picking apples up off the ground and eating them. I thought this was a huge deal and didn't want him to take a single bite before I payed for our apples. I enjoyed our two visits to the apple orchard that year, but they were also incredibly overwhelming for me.
Fast forward 2 years. Now, I have a 3 year old son, and a 16 month old daughter. My friend found a new apple orchard for us to visit in the same city as the first. It took us just under 2 hours to get there. Katie cried for the last 20 minutes or so.
We arrived and I just felt excited. Katie got dirty. Immediately. Like dirt on her face, hands, bottom. She even tasted some dirt. William got pretty dirty, too. I don't blame him – getting dirty is fun! Katie took bites of lots of apples as we were picking.
I made an attempt to encourage her to wait, but then I just figured, who cares? My kid cannot be the only kid who tastes the apples. Right?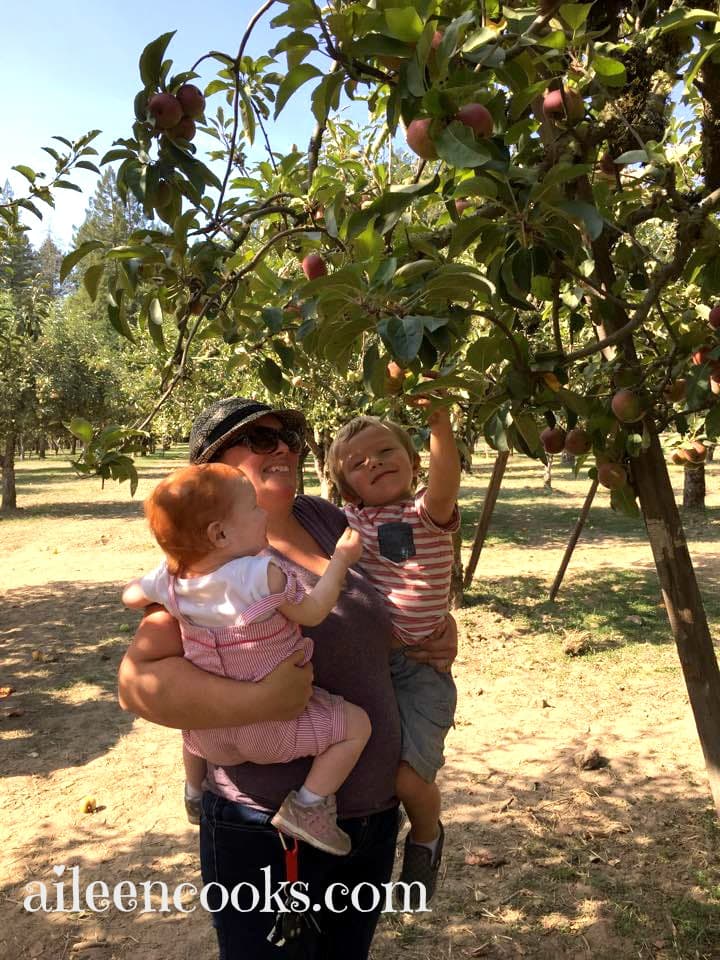 Why not just let go and let them enjoy themselves? I have been known to get worked up over my kids not acting perfectly in public – it tends to put me on edge. But this trip to the apple orchard felt much more relaxed. My kids were happy. I was happy. We enjoyed ourselves and I didn't sweat the small stuff. I just let my kids be little and enjoy the outdoors, the sun on their faces, learning how to twist and pull the apple off of a branch. The taste of a freshly picked apple.
We picked 13 pounds of apples, which I thought was at least 30 pounds. The man running the apple booth actually giggled at me when I proudly told him I thought I had 30 pounds of apples.
We bought cold pressed apple juice and enjoyed it with our lunch. My kids played in the dirt some more. Those are the experiences I want my children to have. I don't want all of their memories of me to be worked up and harping on them all the time. I want them to get dirty. I want them to taste a fresh picked apple. I want them to have fun.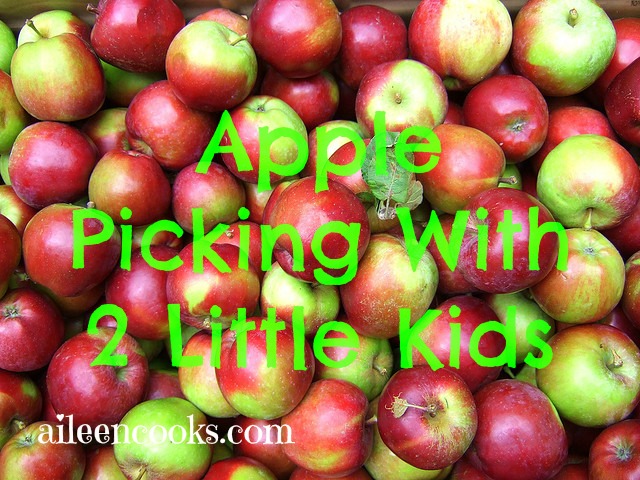 I couldn't tell you if anyone noticed the change in my attitude that day, but I felt the difference. My kids did, too. I know, because William was all smiles when we got home. He couldn't wait to show Daddy all of the apples we picked and to eat another apple. He ate 3 apples that afternoon – requesting a 4th as we led him to bed. That's what it's all about. Having fun. Getting messy. Enjoying time with each other.
Have you taken your kids apple picking? What was your experience?
You may also like Instant Pot Strawberry Applesauce
Let's Connect! Facebook // Instagram // Pinterest