Do your kiddos love to craft? Are you looking to stock up on the best kids' art supplies? Keep reading for our full list of favorite art supplies for kids!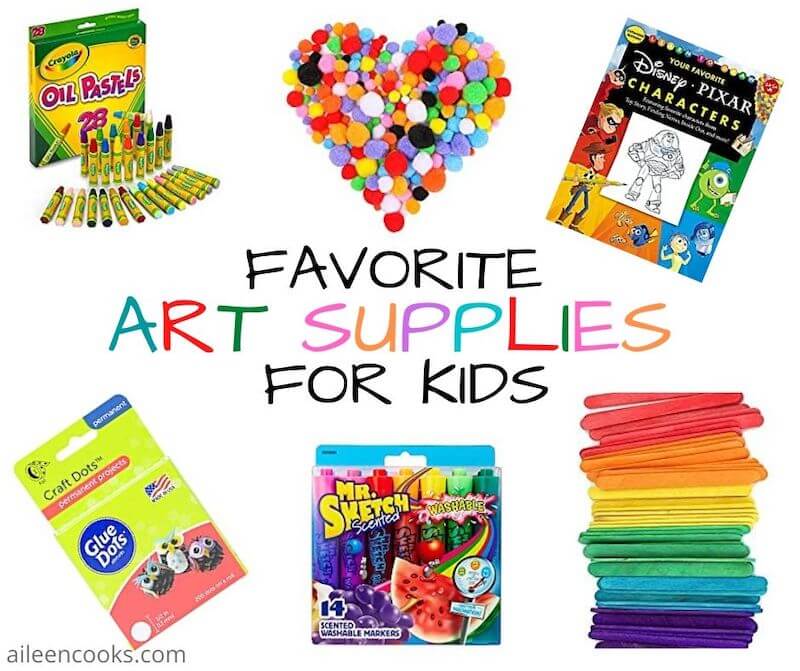 My kids LOVE to make art. Sure, they like parent led craft projects that makes something cool. But there favorite thing to do is open-ended creation. That's why I have put together a dedicated art space for my kids (ages 8, 6, and 3) so they can make and create any time they want!
Setting up a dedicated art space for kids
I have plans to share our art space and art cart on another day. I will say this: if you have an area in your house where you can let kids create and leave their projects out to dry or finish later.
Our space is a small table inside our kitchen. It was our dining room table for many years (a hand-me-down) but when we got a knew one, I dedicated the old one to kids crafts (and school).
On the table is a spinning art caddy with pencils, markers, crayons, and colored pencils. We also have a rolling cart filled with the most of our other supplies. It gets messy because the kids use it – a lot. It's nice to have it on wheels so we can roll it out of sight when we have company.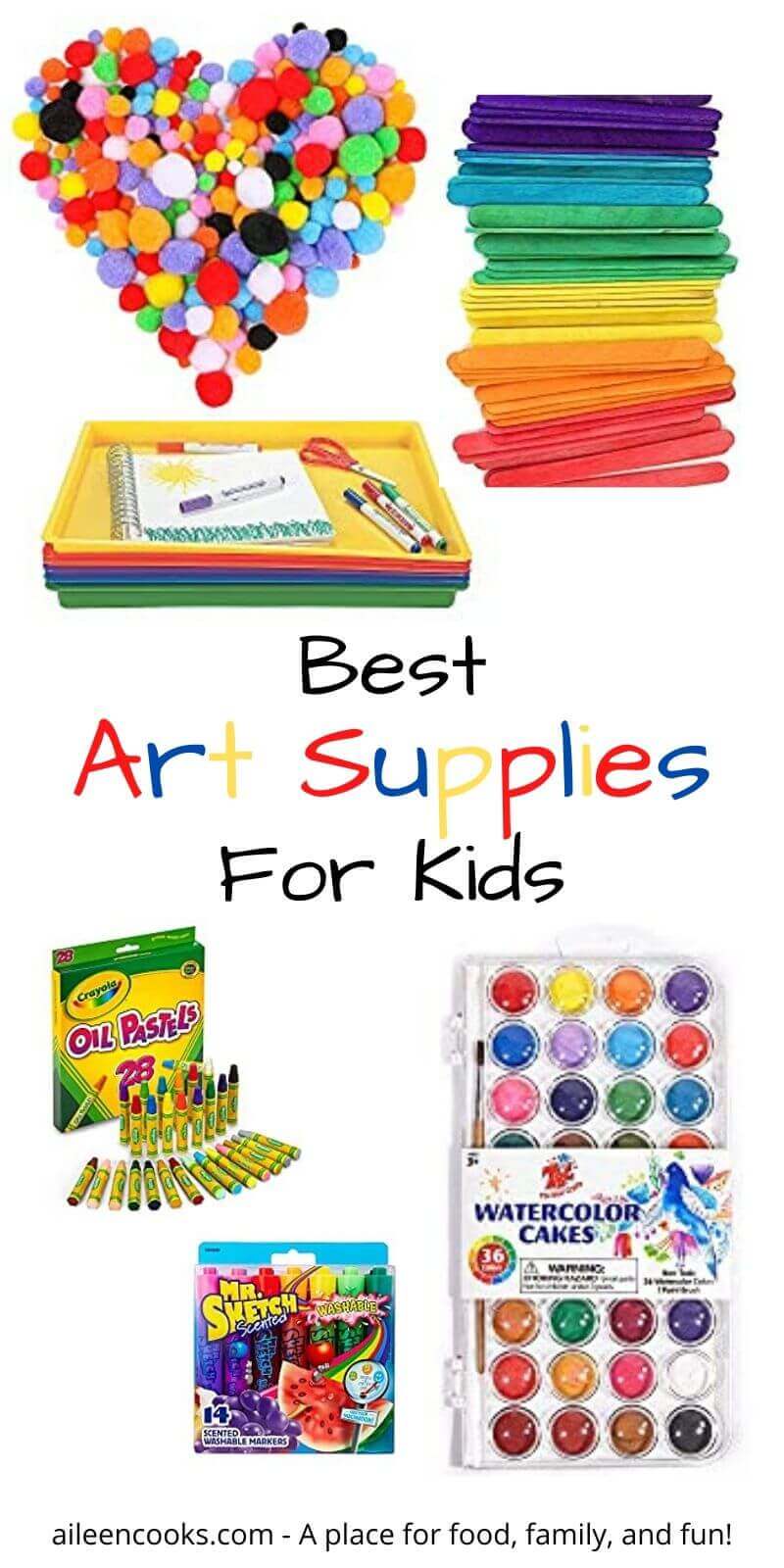 Basic Art Supplies for Kids
Keep in mind when reading this list, that I have slowly accumulated these items. You do not have to go out and buy all of these things to have a dedicated art space for your kiddos. Pick and choose what works best for your family and add to it over time. All of the posts are linked on Amazon, but I have also purchased many items at Dollar Tree, Target, and Oriental Trading.
What art paper should I buy for kids?
Construction paper – We also keep construction paper on hand for crafting. This colorful paper is great for cutting and glueing on other options (think paper plates, popsicles sticks, etc.)

Copy Paper – I buy white copy paper by the box load for daily artwork. My kids prefer drawing over using coloring books, so we go through a lot of paper.
Watercolor paper – I keep pads of this watercolor paper on hand for when they do teacher-led drawing projects (we LOVE Art Hub for Kids on YouTube) and for painting. It's a higher quality, thicker paper, that's perfect for the nicer projects.
Scrapbook paper – I like buying the pads of scrapbook paper with lots of different designs and will add more to our stash when we are getting close to holidays. There are lots of fun holiday prints you can find on Amazon or at Michael's.
Paper Plates – the regular cheap white paper plates are perfect to keep on hand for making masks and other fun crafts.
Which coloring supplies are best for kids?
Crayons – Crayola is the BEST. Spend the extra couple of cents and opt for name brand for crayons.
Colored Pencils – These are a great low mess option to crayons. Kids like them because they can write things in different colors or make thinner lines than crayons.
Oil Pastels – Pastels are so much fun! Your kids can draw a picture using the oil pastels and then paint over them with watercolors. The oil pastels show through!
Scented Markers – Of course, any markers will do, but we love scented markers. They just make it more fun! Mr. Skech is our favorite, but Crayola also makes scented markers.
Dot Markers – These dab and dot markers are great for younger kids. My 3 year old especially loves them. Also, if you have an IKEA nearby, they sell Dot markers with designs on them – think red hearts, etc.
You may also like:
What's the best paint for kids?
Watercolors – They are my usual go-to as they are low mess. I keep watercolors in our art cart and let my kids use them, as long as they set it up on an art tray.
Tempura Paint – This paint gives you the more vibrant colors, but it is messy. Make sure you opt for the washable version and hang out with your kids while they use this paint.
Art Trays – Trays are a must-have for painting and glueing. They are easy to wash and catch all of the drips and messes.
Canvases – I like stocking up on small art canvases at Dollar Tree when they have them. The kids love making a more permanent work of art that they can display on the wall in their room.
Which craft glue should I buy for kids?
Glue Sticks – We burn through a lot of glue sticks around here. I suggest you just buy the bulk pack from the start. Glue sticks are great because they are low mess and work well when glueing paper to paper.
Liquid School Glue – Although a bit messier, liquid school glue is a must have. It works great for glueing embellishments onto paper and glueing paper onto objects like popsicle sticks or canvases. Again, use an art tray. It will make your life so much easier!
Glue Dots – Glue dots are so much fun. They stick really well and don't make a mess.
Clear Tape – Tape is another much loved item in our house. We burn through it quickly because they kids love to tape things together into 3D objects.
What kind of embellishments are best for kids art projects?
Pom Poms – Big packs of differently sized pom poms are fun for embellishing all kinds of art projects.
Stickers – Stickers are so much fun for kids of all ages. I like to go to Dollar Tree and stock up.
Jewels & Buttons –These are great for all kinds of decorating. I like keeping them in small Tupperware containers for easy access.
Googly Eyes -So much fun! I recommend the sticker backed googly eyes.
Washi Tape – Washi tape is more of a decorative tape then an adhesive. I love buying it in multi-packs of designs and my kids use it to decorate art projects.
Craft Sticks – Craft sticks are great for building all kinds of things from picture frames to ornaments. We like the multi-colored ones.
Pipe Cleaners – We love having pipe cleaners on hand to make bracelets, people, and so much more!
Nuudles – We first discovered these in our We Craft Box and we have been hooked ever since! Simply dab an end of the nuudle on a wet paper towel and it will stick to another nuudle. You can build so many cool creations with these things!
Extra Fun Kids Art Supplies
Guided Drawing Books – I keep a couple of drawing books in our art cart. They are fun for kids (and adults) of all ages. You would be amazed by the things even little kids can draw when following guided drawing.
Play Dough + Cookie Cutters & Rolling Pins
Stamp Pads & Stamps
That's our list of favorite art supplies for kids. Remember to slowly add to your supplies over time. You don't need to buy all of the things on this list to create a space for art for your kiddos.