This post is sponsored by BabbleBoxx.
This post is for all of my pregnant mamas and moms with new babies! I am partnering with BabbleBoxx to showcase the new mom and baby box they sent me. It is packed full of products that are perfect for new moms and babies!
We are sharing everything from a fun (and easy) baby lullaby option to a great place to get a virtual breastfeeding consultation (with discount code) and lots of fun stuff in between! Keep reading to see everything included in my new mom and baby box.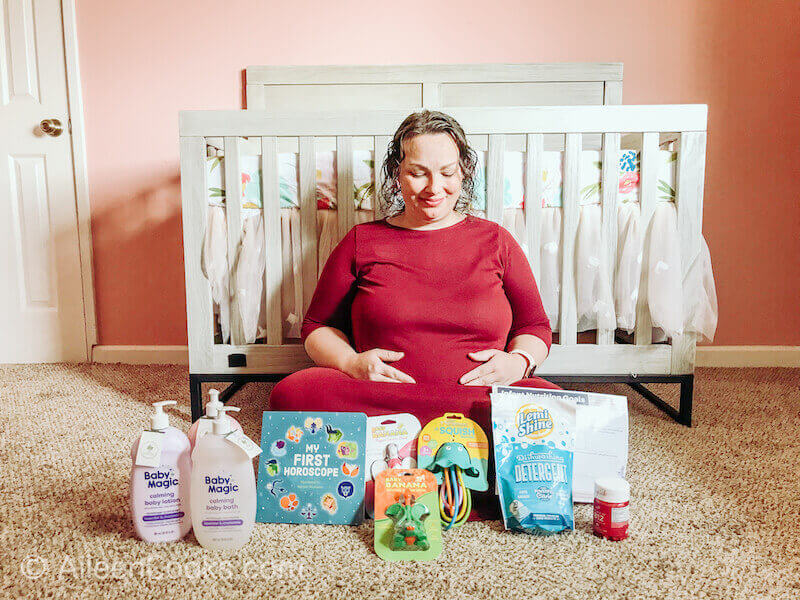 Calming Baby Bath, Calming Baby Lotion and Gentle Baby Lotion from Baby Magic
If you're a new mom, then you will need a good set of products for baby's first baths! Baby Magic has been trusted skincare brand for baby for decades.
This September, Baby Magic will donate a portion of the proceeds of the white-tagged 30 oz. Gentle Baby Lotion, Calming Baby Bath, and Calming Baby Lotion to Baby2Body – an organization that provides children living in poverty, ages 0-12 years, with all the basic necessities for living, that every child deserves. Promotion runs until supplies last.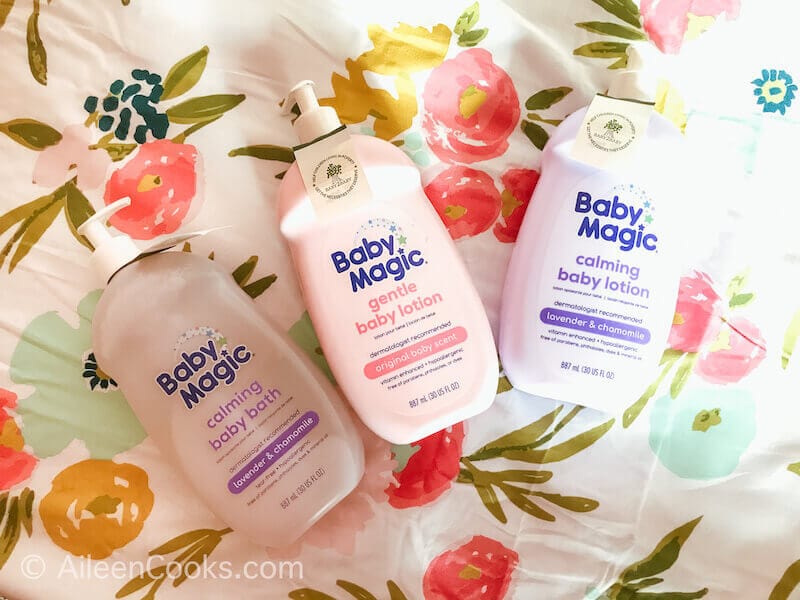 Calming Baby Bath: When you're getting into a bedtime routine, bath time can really help! The Calming Baby Bath is made with Lavender and Chamomile, which will help whisk baby into sweet slumber.
Calming Baby Lotion: A great way to finish off your nightly bath time routine is with a soft layer of lotion. This lotion works perfectly with the Calming Baby Bath, because it's made with the same bedtime scents.
Gentle Baby Lotion: One thing about babies is they can often end up with dry skin, yet you want to use something super gentle on them. Baby Magic's Gentle Baby Lotion is perfect for baby's sensitive skin and is quick absorbing so you can go on with your day.
All Baby Magic Products are hypoallergenic, dermatologist tested and free from sulfates, dyes, paragons, and phthalates.
Disney Lullaby playlist
Another great thing to add to baby's sleeptime routine is playing some soft music before bedtime. With the Disney Lullaby playlist, you can access your favorite Disney songs performed as lullabies!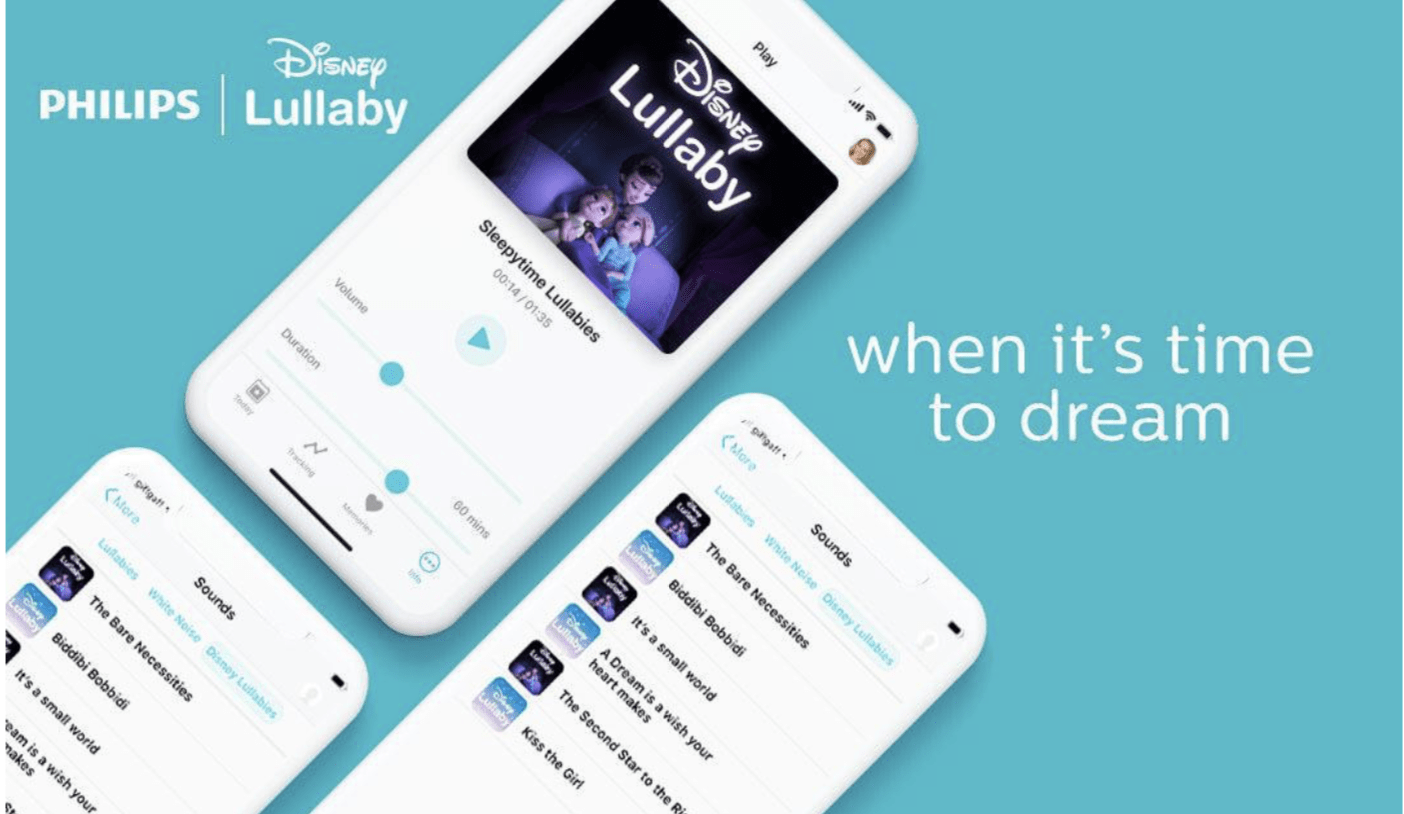 These songs are available on every streaming service! However you consume music, you can find the official Disney Lullaby playlist! I use Apple Music and was able to find it quickly and easily.
You can also find Disney Lullaby on the Philips Pregnancy+ and Baby+ apps. These free apps track your baby's development through pregnancy and birth and offer timely information on what you should expect on your motherhood journey. You can find Disney Lullaby within the music section of either app or check out Disney Lullaby Playlist here.
Auto-Dish Detergent Pods from Lemi Shine
One thing that never changes is the need to wash dishes. In fact, they tend to increase with every child I add to my family. I have shared about Lemi Shine and their green cleaning products before and am excited about the Lemi Shine Dishwasher Detergent Pods.
They are powered by natural citric extracts to deliver a sparkling shine. I love that they leave zero toxic residue while leaving my dishes 100% clean.
Lemi Shine cleaning products are powered by citric extracts – a safe and effective forum alt that fights against stains, hard water spots + film, stubborn grease, and stuck-on food.
You can find Lemi-Shine nationally both in-store and online, at stores including Target, Walmart, Amazon, Albertsons-Safeway, Publix, and HEB.
Get Up & Go B12 Fast Dissolve Tabs from Pink Products
These fast dissolving vitamin B12 tablets are perfect for when you're on the go. They are a lively blend of 5000 mcg of Vitamin B12 and the important amino acid L-Carnitine.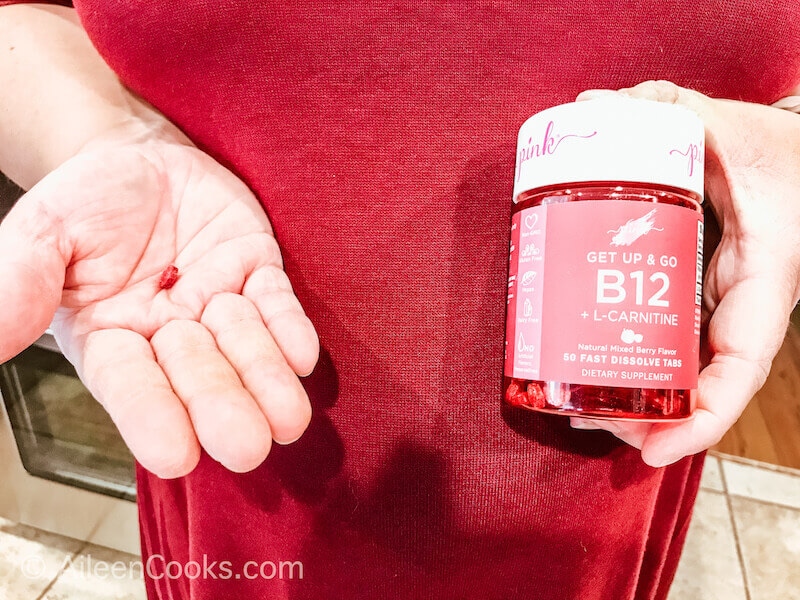 Get Up & Go b12 Fast Dissolve Tabs are great tasting with a natural mixed berry flavor and are easy to take because you only need to take on dose a day.
Pink Vitamins are Non-GMO, superior quality, laboratory tested, 100% guaranteed and naturally free of gluten, dairy, artificial flavors, and preservatives.
Visit Pinkproducts.com for a $2.50 off coupon and to find a retailer near you! Valid through 12/31/20. You can also head to target.com to purchase Pink Vitamins.
My First Horoscope, Illustrated by Rachel McAllister from Running Press Kids
One thing I swear by is reading to baby from day 1. I love colorful board books to introduce the love of reading at an early age.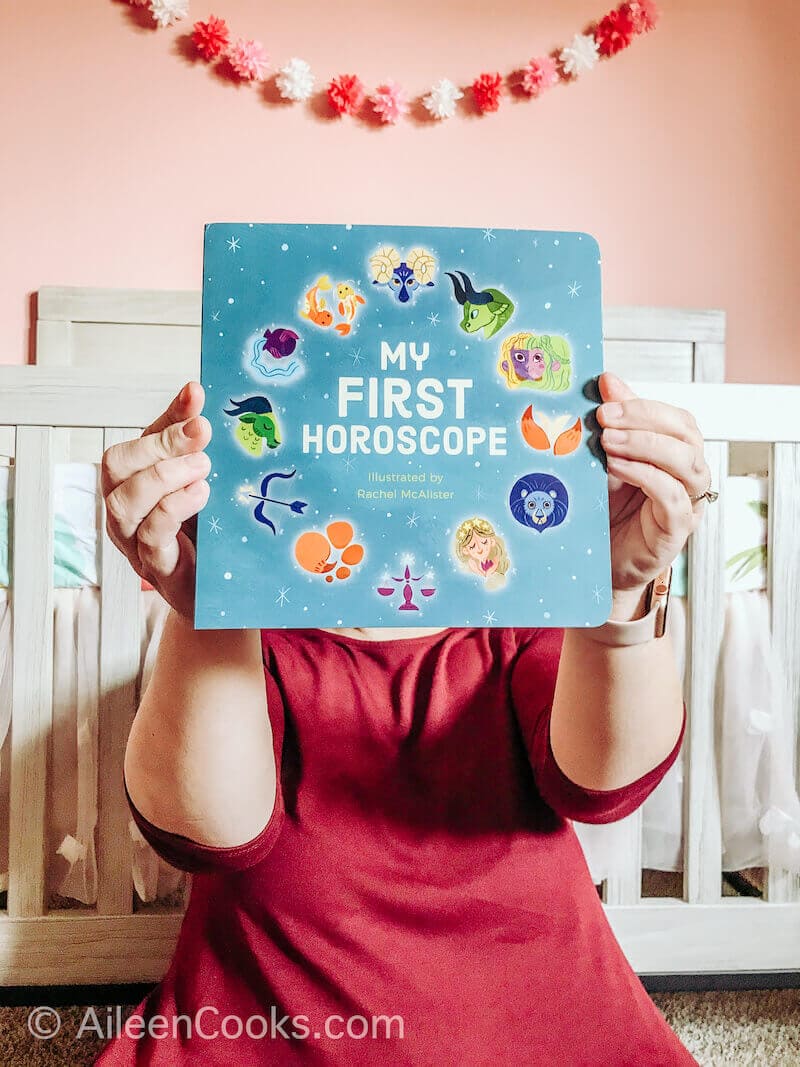 My First Horoscope is the cutest horoscope book around. Not only is it a fun book to read to your baby, but it actually gives a glimpse into what you're baby's personality might be like, based on their birth sign.
This book would be a great addition to any baby book collection and is a great gift idea for a baby, shower, too.
Grab your copy of the My First Horoscope, Illustrated by Rachel McAllister here.
Breastfeeding Consultation from Simplifed
If this is your first baby, you may need some help with breastfeeding. Even if you feel like you've got it covered, getting a breastfeeding consultation can be very helpful. I met with a lactation specialist after my first two babies and it was such a help in my confidence and finding the right groove for me and baby.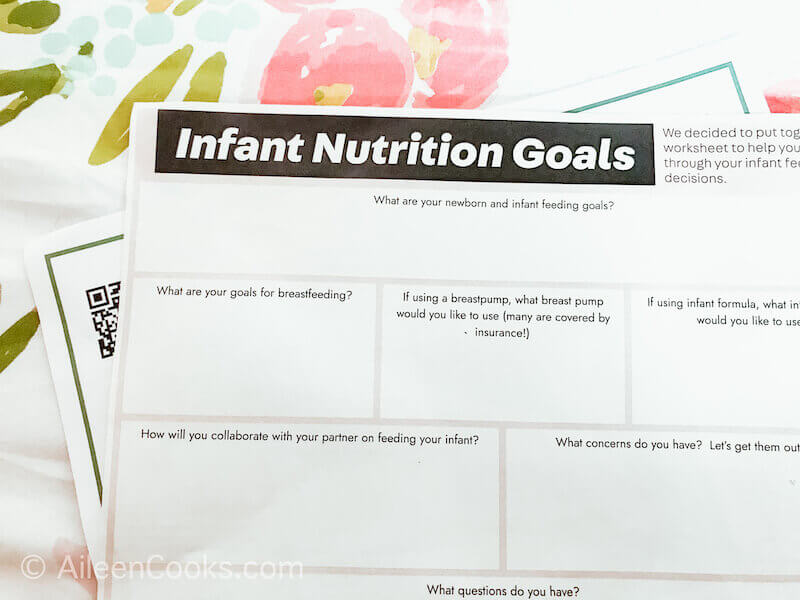 SimpliFed offers virtual consultation services, so you don't have to leave the house with your little babe.
SimpliFed's mission:
"Making decisions about infant nutrition is hard, whether that is exclusive breastfeeding or deciding what pump to buy or supplementing with formula. @SimpliFedbaby makes it so convenient to meet securely over video with an experienced international board-certified lactation consultant from the comfort of your own home to wade through these decisions. You can schedule an initial consultation for 30 or 60 minutes, and any follow-up appointments as needed. And SimpliFed is there to support you along the way, with evidenced-based resources on its blog to break down topics like breastfeeding, infant allergies, and more. @SimpliFedbaby provides you with the resources you'll need for your motherhood journey to meet you where you are at – without judgement, only support. They know your time is limited, so they want to make the most of it."
Right now, SimpliFed is offering a 10% discount code to all of my followers. Use this code: AileenCooks-SimpliBox110 for 10% of a 30 or 60 minute breastfeeding consultation. Book here.
Lil' Squish Jellyfish, Magical Unicorn Training Toothbrush and Mystical Dragon Toothbrush from Baby Banana
Baby Banana's mission is to offer soft and safe toothbrushes for babies and toddlers that protect the inside of their mouths, even if they are running around with their toothbrush in your mouth (as many toddlers do). Since launching the original Baby Banana toothbrush, they have launched several other products for babies.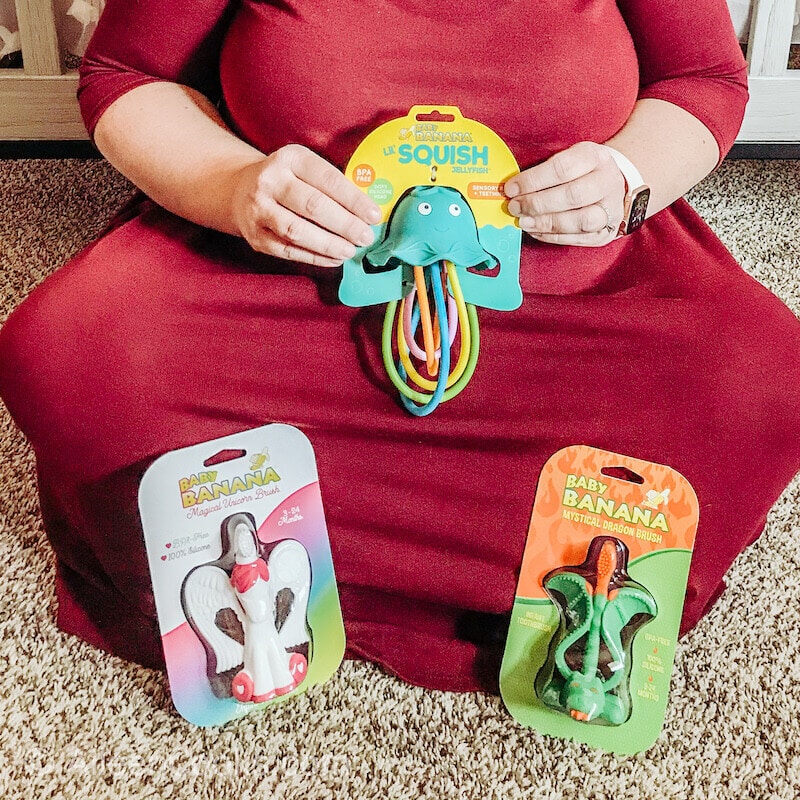 Lil' Squish Jellyfish: A sensory rattle and teether toy, with a variety of textures for your teething baby. The tentacles are easy for little learning hands to grasp and the gentle bell helps to hold their attention.
Magical Unicorn Training Toothbrush: Help your little one learn how to brush their teeth during the teething phase, when they actually want to put everything in their mouth. The magical horn has soft massaging bristles that feel great on sore teething gums.
Mystical Dragon Toothbrush: 100% food grade silicone training toothbrush for infants and toddlers. With dual sided bristles, your little teether can work out their roughest teething pain on our durable silicone toothbrush. Dishwasher safe and freezer friendly.
Special discount: Use code FALL50 at baby-banana.com to get 50% off your order. Offer expires 9/30/2020.
PIN THIS