Welcome to the start of our annual Holiday Gift Guide Week! Today is all about Baby's First Christmas! Shopping for a baby on their first Christmas can be a bit tricky because babies under one year old don't tend to be into playing with many toys. This post is sponsored and contains affiliate links.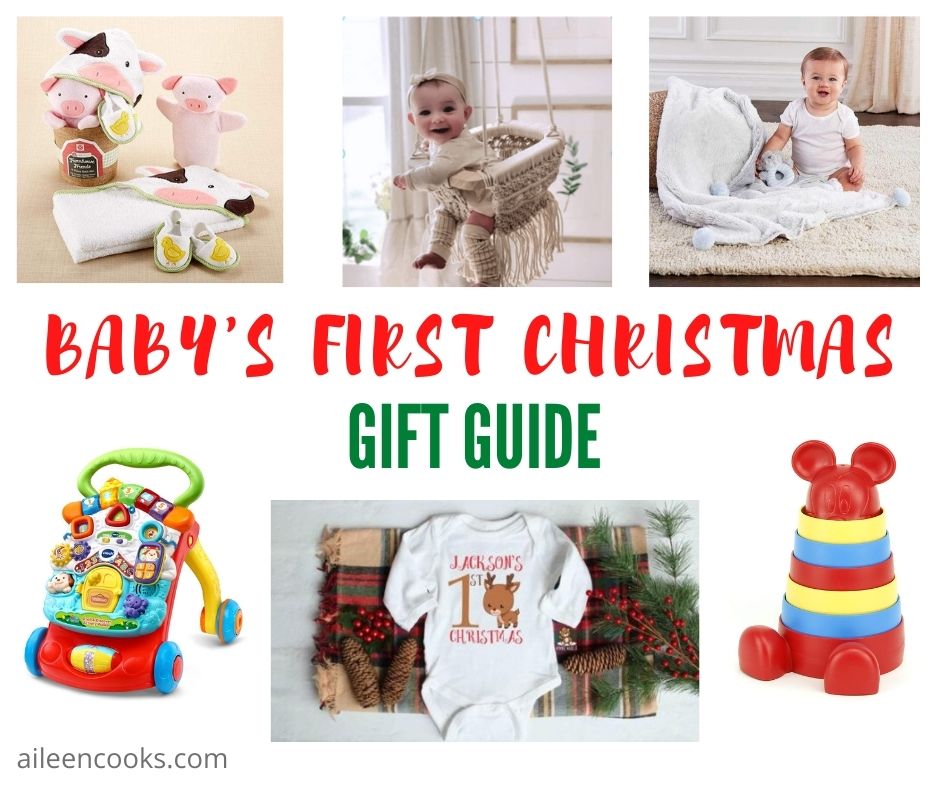 However, it can be really, really fun to shop for a baby at Christmas time. I love gifting babies (and their parents) adorable onesies, cozy blankets, personalized items (that last for years), along with some super fun baby-safe toys.
Keep reading for my full list of gift ideas for babies and stick around this week to read all of our gift guides!
Baby's First Christmas Gift Guide
Baby's First Christmas is a special time! We have put together a list of adorable personalized items, super soft clothes, nursery decor, and baby approved toys!
Photo Credit: Baby Aspen
This super soft blanket from Baby Aspen makes an excellent baby gift. All babies love soft blankets and this set is extra plush. They sell this set in both pink and blue.
Photo Credit: Baby Aspen
Bath time is a special bonding time for baby and parents. As baby's get older, they tend to enjoy bath time more and can enjoy fun toys. This bath time set is perfect as a baby gift because it's soft and cozy and absolutely adorable.
I love the Disney inspired spin on this classic baby toy! Stackers are fun for baby's as young as 4-6 months as they learn how to grasp toys and can keep babies entertained up to 18 months as they learn how to stack the toy in order.
This stacker is special because it's made by Green Toys. Their products are made from 100% recycled plastic and are free from BPA, phthalates, and PVC. It's also dishawaser safe!
Stuffed animals are another great gift option for baby's first Christmas. We love these stuffed animals from Shore Buddies because each one is made from 6 recycled plastic bottles! This companie's mission is to keep plastics out of the ocean.
Each Shore Buddies stuffed animals makes an authentic sound when squeezed, which makes it extra fun for babies and kids!
Photo Credit: www.etsy.com
Order a pesonalized onsie from this adrable shop MinnieMadeIt on Etsy. There are so many adorable options to choose from - including shirt options for multiple kids!
Photo Credit: www.etsy.com
Another one of our favorite small shops on Etsy is LoveyLettersbyLeah. They sell hand-crafted wooden name letters that are perfect for baby's nursery. She has so many design options to choose from and will even create a custom design to match any decor.
These letters are made to last. I first ordered from this shop when I had my oldest daughter (now 6) and they are still in perfect condition hanging on her wall.
Photo Credit: www.oopsydaisy.com
You can't celebrate Baby's First Christmas without an ornament to remember the occasion. We love these personalized ornaments from Oopsy Daisy because you can add baby's name and the year to the ornament.
Photo Credit: www.oopsydaisy.com
A night light is a must-have for every kid's room. I love these baby bunnies - they are the perfect addtion for any nursery.
This is a favorite baby toy in our family. Young babies beginning to sit up can play with the toys on the front of this toy while older babies can use this toy to pull up to a stand and practice taking their first steps.
Photo Credit: www.oopsydaisy.com
I just LOVE this wall art from Oopsy Daisy! There are many other adorable options to choose from - including large stretch canvas options and smaller prints. You're sure to find the perfect gift for baby that can be enjoyed for years.
Photo Credit: www.oopsydaisy.com
Baby will be eating before you know it and having a vinyl placemat (or two) on hand makes clean up a sinch! Their are so many fun options to choose from and they are affordable, too!
Photo Credit: www.oopsydaisy.com
A growth chart is a must-have for any family. Oopsy Daisy has a huge selection of growth charts to fit any taste.
These fun socks and wrist bands are perfect for younger babies and make a great gift. As they wiggle around, they will discover they are making noises and can even pracice reaching and grasping their feet as they discover the colorful toys on their socks.
This adorable swing is 100% organic and can be hung indoors or outdoors. It's the perfect gift for baby because all babies love to swing! We love Finn + Emma for their high quality baby clothes along with their swing and baby rocker.