An inside look at our ballerina birthday party:  simple solutions for food, decorations, birthday girl outfit, and activities. We've got everything you need to host your own ballerina party!
Katie is four. I feel like I was just holding her teeny body on my chest and now she is four! Does this feeling of your babies growing up too fast ever go away? Somehow I doubt it.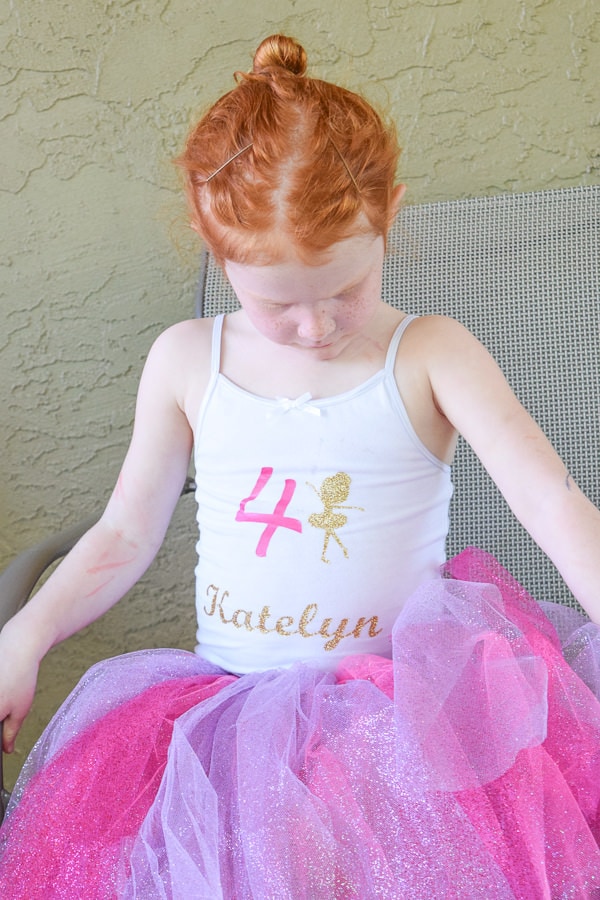 We celebrated Katie with a ballerina themed party. She loves all things pink, girl, and frilly – so it was right up her alley. (This post contains affiliate links)
The ballerina party outfit
Her ballerina birthday girl outfit was a fluffy and glittery homemade tutu made by yours truly using glitter tulle and ribbon. Her shirt was made with my Cricut Maker and iron-on glitter vinyl.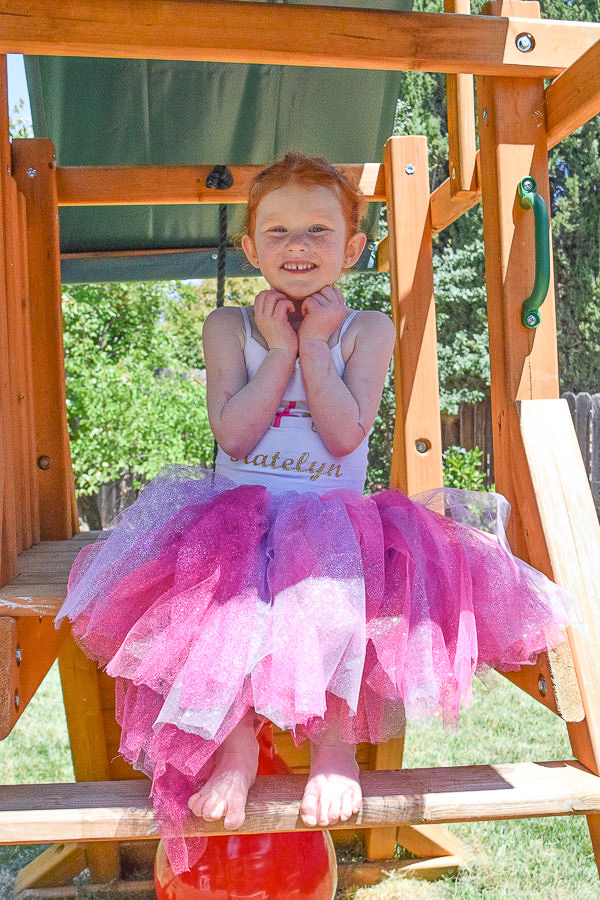 I used a simple white spaghetti strap t-shirt she already owned. This was after my trip to Michael's was a bust as they only have baggy kids t-shirts. Which is normally fine, but doesn't really work for a ballerina outfit. Spaghetti straps are the way to go for a ballerina birthday party!
Easy DIY Invitations
I made the invitations in Canva, printed them on card stock, and cut them out with pinking shears. I'm really happy with how they turned out. The edges definitely made them feel fancy.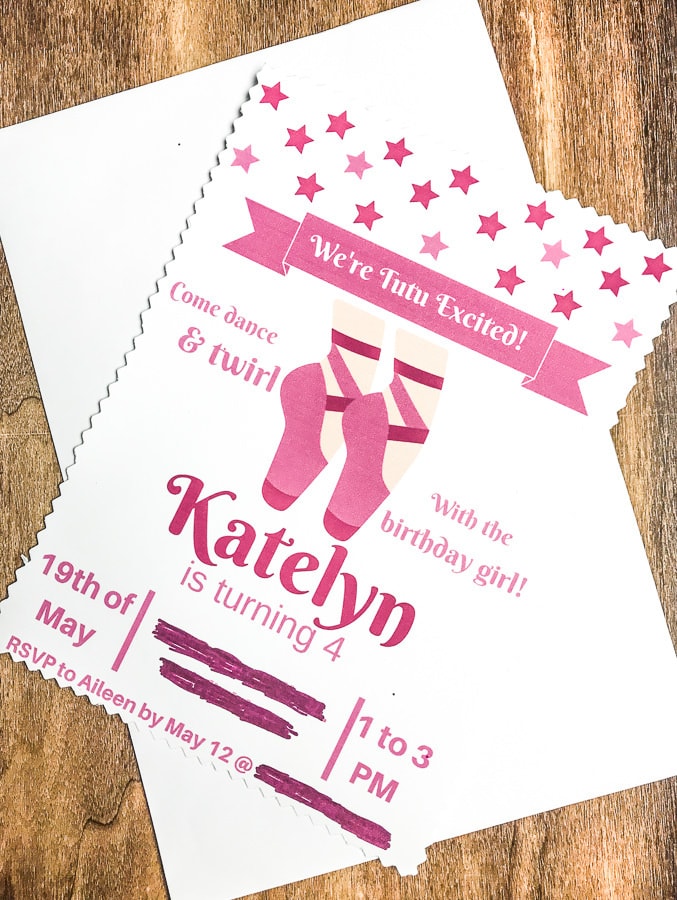 Party Food
We kept the food simple with pre-marinated tri-tip from Costco, grilled chicken, and fruit salad. We got the cake from Costco, too. I was really impressed with how pretty the cake turned out and it was delicious! Not bad for $18.99.
We usually decorate our Costco sheet cakes with themed toys (that the birthday child gets to keep), but the roses were just so beautiful. I ended up using the pretty ballerinas to decorate the food table instead.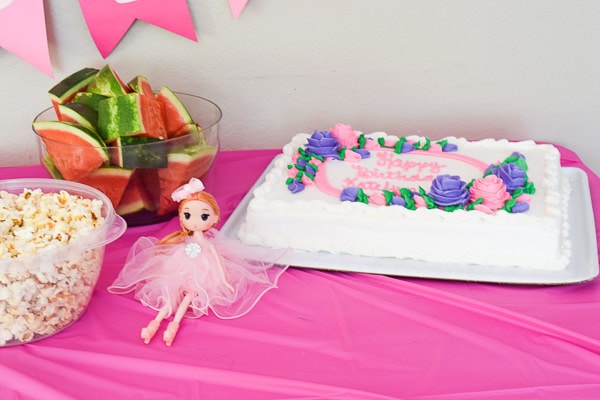 A note on the ballerina toys: They were perfect for our ballerina themed birthday party, but they are not great toys. It came as a three pack and one of the dolls legs broke off immediately. A second one lost her head the following week (after some rough play from my 4-year-old). They make great decorations but were horrible toys.
Coincidentally, they are no longer available on Amazon. Katie also has the ballerina doll from Melissa & Doug that I highly recommend (adorable and high quality).
Ballerina Party Decorations
Our decorations were the ballerinas mentioned above, pink tablecloths, and pink tableware. I also made a happy birthday banner with my Cricut and LOVE how it turned out.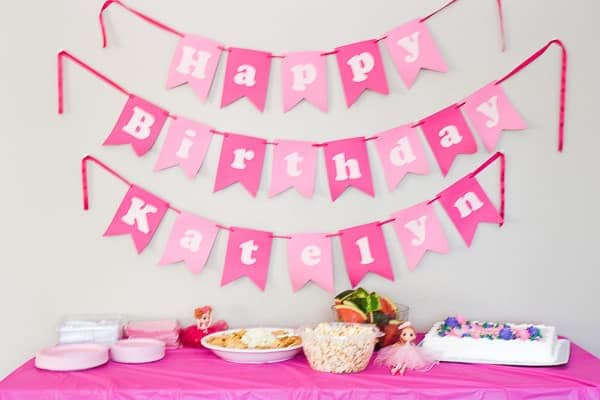 Party Fun
We rented a pink castle bounce house for our party because that is what Katie wanted. She originally wanted a party at a bounce house play place (like last year), but I waited too long and they were already booked up.
I'm happy we ended up having her 4th birthday party at home. I love our new backyard and I love entertaining. The kids still had a great time, which is the most important part.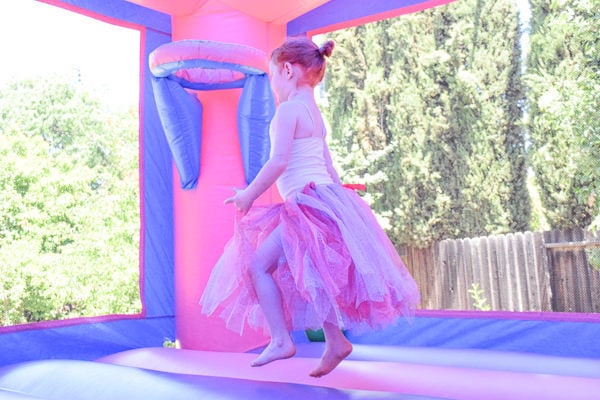 Ballerina Craft
Our craft was a craft stick ballerina. It turned out so cute. I set out two examples and all of the supplies on a table. Some of the smaller kids needed help, but overall it was a pretty simple project for them to do on their own.
I also purchased a pin the tutu on the ballerina game off of Etsy and then completely forgot about it. Whoops! I'm linking to it anyway because it is really cute and very affordable.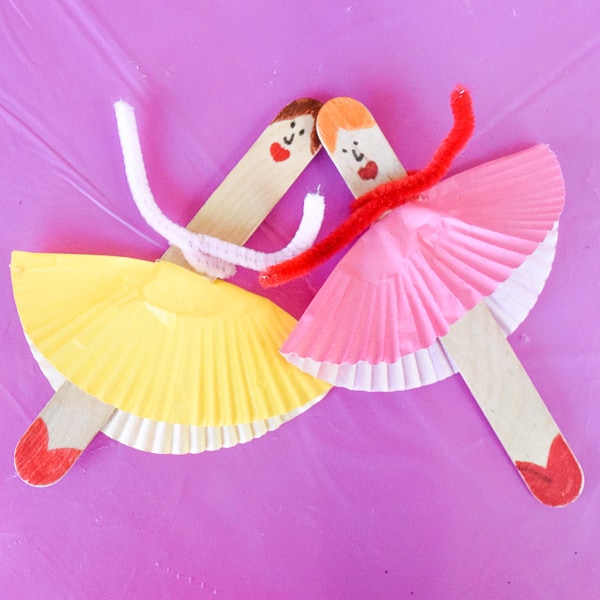 Easy Party Favors
Instead of making goody bags, I opted for items from the Target Dollar Spot. I figured I spent the same amount as I would have on goody bags and the kids got to bring home one good thing.
For the younger kids, I got buckets of play sand. The older kids (siblings and cousins) got to take home slime – which was just $1 each.
That's it for our ballerina birthday party. Now I'm off to plan my son's birthday party – happening in just 5 weeks.