Are you thinking about adding probiotics to your child's diet? Read on to see the benefits of probiotics for kids and our review of Wakunaga of America Kyo-Dophilus® Kids Probiotic. I received this product for free from Moms Meet (momsmeet.com) to use and post my honest opinions. Compensation for this post was provided and this page may contain affiliate links.
I want to start this post by mentioning that I am not a medical professional. You should always check with your child's doctor before starting a new supplement.
Why Probiotics?
However, I am a mom of three kids that has been interested in the benefits of probiotics for some time. After the birth of my third child, my doula recommended I take Kyo-Dophilus Probiotics. I was recovering from a VBAC after 2 cesarians and it really did a number on my body (as all births do) and I can vouch that taking their probiotics every day really helped with my recovery.
Even though my son had just started preschool and was brining all kinds of germs home, I didn't catch any of his colds during those early months. I really feel like the probiotics helped keep my immune system in check!
So when Moms Meet reached out to me to see if I wanted to review Wakunaga of America's Kyo-Dophilus® Kids Probiotic, I was totally on board! As mentioned above, I had already been thinking about adding a probiotic to their diets but just hadn't found the right one to try.
I was most interested in having them take probiotics to help with their immune systems (especially with everything currently happening with Covid-19) and also to help with regularity. I have one child who struggles on and off with constipation and since probiotics also help with digestion, it just made sense to start them on probiotics.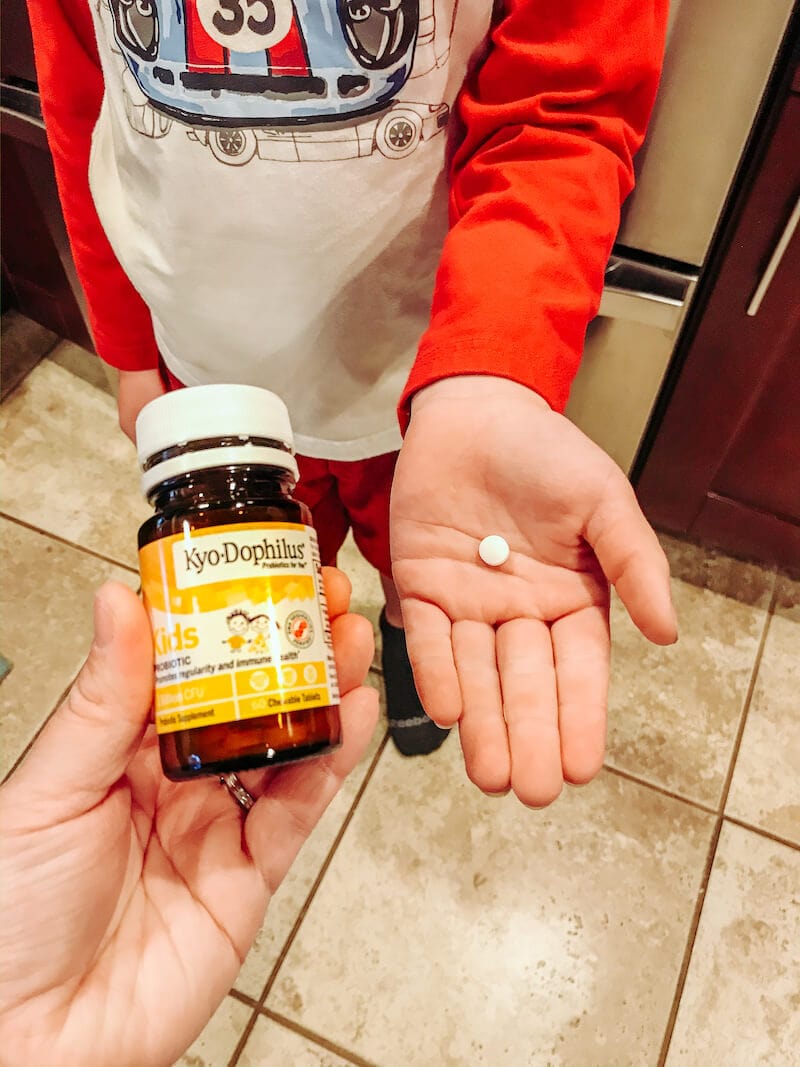 Here are some facts about Wakunaga of America Kyo-Dophilus® Kids Probiotic:
Kyo-Dophilus was created by Wakunaga of America almost 30 years ago. They are not a new product that's fitting a trend. They have been here for a long time and their goal has been to introduce "friendly bacteria" into the gut to promote overall health.
Kyo-Dophilus® Kids Probiotic is known to maintain regularity, can help relieve occasional digestion discomfort, and promotes healthy immune function.
Their probiotic contains a human strain of bacteria called The Friendly Trio that promote strengthening immune function, aiding a healthy inflammatory response, and restoring beneficial bacteria.
Kyo-Dophilus® Kids Probiotic comes in a chewable tablet that has a good flavor. I have had zero complaints from my kids – which is huge! If you can't get them to eat it, it's pointless. I don't know about you, but I don't want a battle!
How much do probiotics for kids cost?
A 60-count bottle costs around $16 and a 90-count bottle costs around $32. You can purchase Wakunaga of America Kyo-Dophilus Kids Probiotic at local health food stores, Sprouts Farmers Market, Vitamin Cottage Natural Grocers, as wall as on line at Swanson Vitamin and Amazon. They are also available for subscribe and save on Amazon for a cheaper price.