Clipboard Chore Chart with Clothespins
This tutorial for Clipboard Chore Chart with Clothespins contains affiliate links. Read my disclosure policy here.
Manage your daily and weekly chores with this fun and easy clipboard chore chart. This chore chart is completely customizable for your needs. The chores can be changed anytime.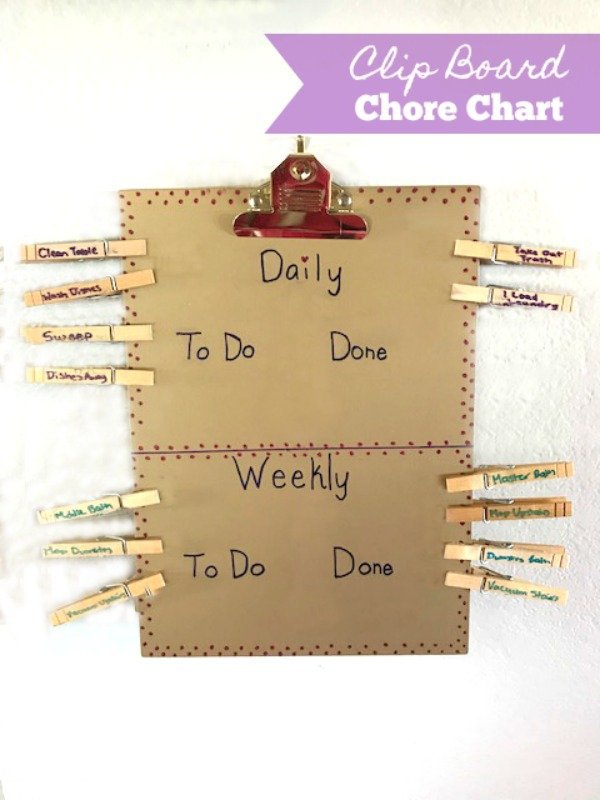 I found inspiration for this fun chore chart using clothespins on Pinterest. I could never find the original creator, or else I would tag them in this post. I loved the idea of having my own little personalized "list" I could check off for each household task I needed to be completed each day and week.
I did have a magical idea that this clipboard chore chart would somehow make the chores do themselves. Yeah, not so much. My house is still messy and I'm definitely not moving every clothespin to "done" each day.
I really should have added chores like "keep children alive" or "feed yourself" or "remove mascara from under your eyes you crazy raccoon". Even though this chore chart isn't some magical unicorn who cleans the house while I sleep, it's still a lot of fun and an easy visual reminder of what needs to be done each week.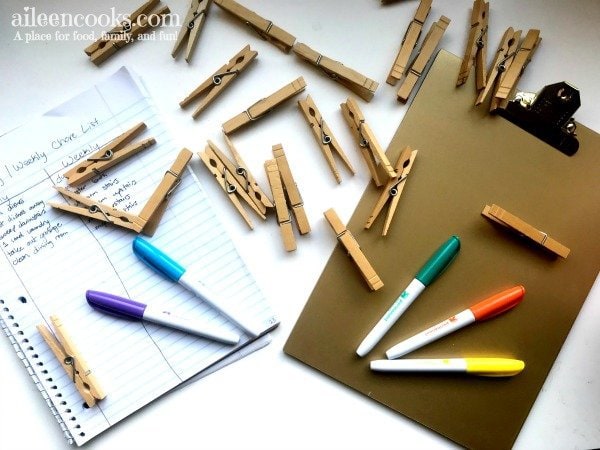 How to make a Clipboard Chore Chart with Clothespins
The first thing you'll need to do is gather your supplies. I have included Amazon links as appropriate, but you may be able to find better prices elsewhere.
Supplies needed to make a clipboard chore chart:
Notepad
Pencil
Ruler or another straight edge
Start by making a list of the chores you want to be included in your clipboard chore chart and whether they are weekly or daily chores. Using a pencil and ruler, draw a line 1/2 way down on the board. Next, sketch out the words you want on your clipboard and any other decorations you may want to include.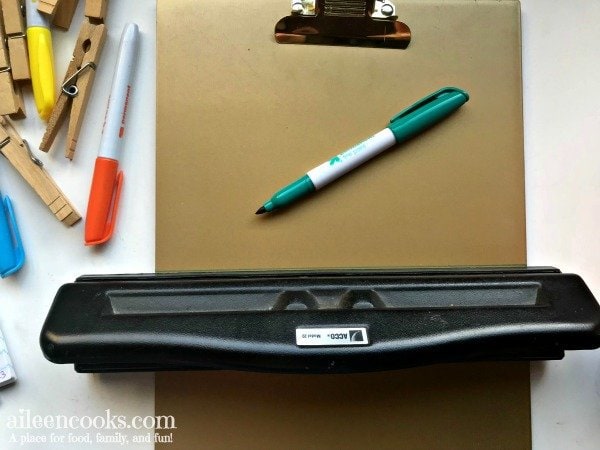 Once you're happy with the outcome, go over everything with your permanent marker. If you want it to look pretty, I suggest a simple border around the edge of your clipboard.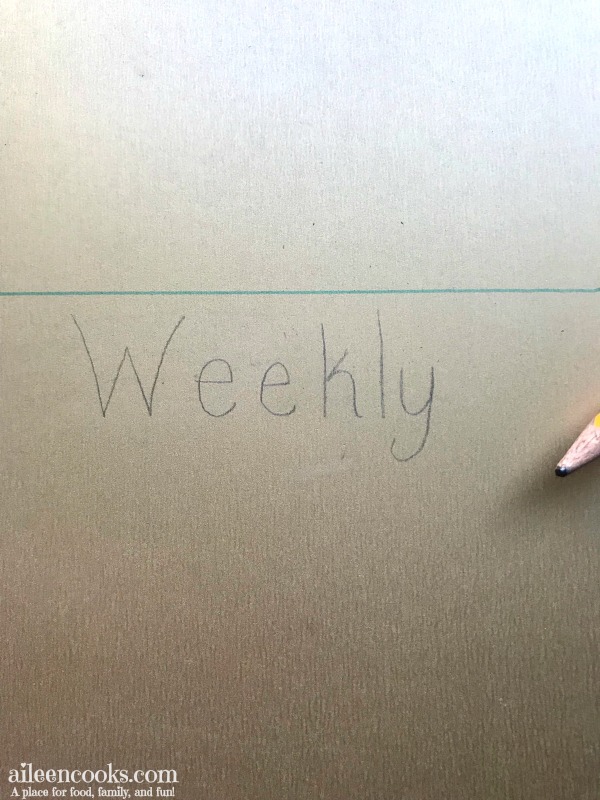 Next, draw out the chores on your clothespins. Use a different color for daily and weekly chores so you can easily tell the difference. You will also want to write the chore down on each side, making sure it's facing the right direction when clipped on either side.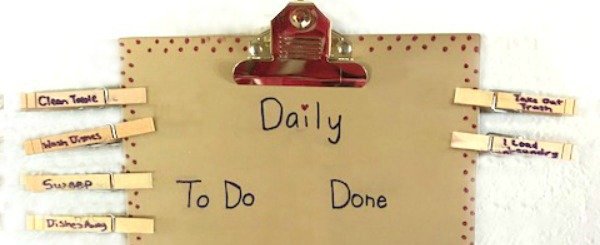 How to remove permanent marker form a clipboard
When I originally started this project, I drew a line in between my "to do" and "done section". I didn't like how it looked, so I went over it in another color and made it thicker. Well, my line got thicker and thicker and it just looked horrible. I thought I had completely ruined my clipboard chore chart, but I decided to do some googling. I found a couple of solutions for removing permanent marker and experimented until I figured it out!
To remove permanent marker, you will need to go over the spot with a dry erase marker. Working quickly, rub it off with a dry paper towel. Keep going until most of it is gone. I found that it did leave a little residue, so I went over that with a magic eraser. I did try going over the original permanent marker with magic eraser and it didn't work, so you will need to use the dry erase marker as your first step.
My finished clipboard chore chart with clothespins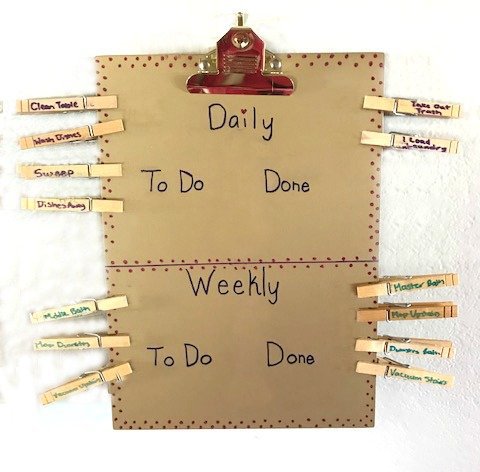 Did you try this project for a clipboard chore chart with clothespins? Let us know how it went in the comments or share on social media and tag @aileencooks!