This post is sponsored by BabbleBoxx. All opinions are my own.
Are you planning a party for the big game? If so, then keep reading to see the must-have items to stock up on before making all of those yummy game-day recipes!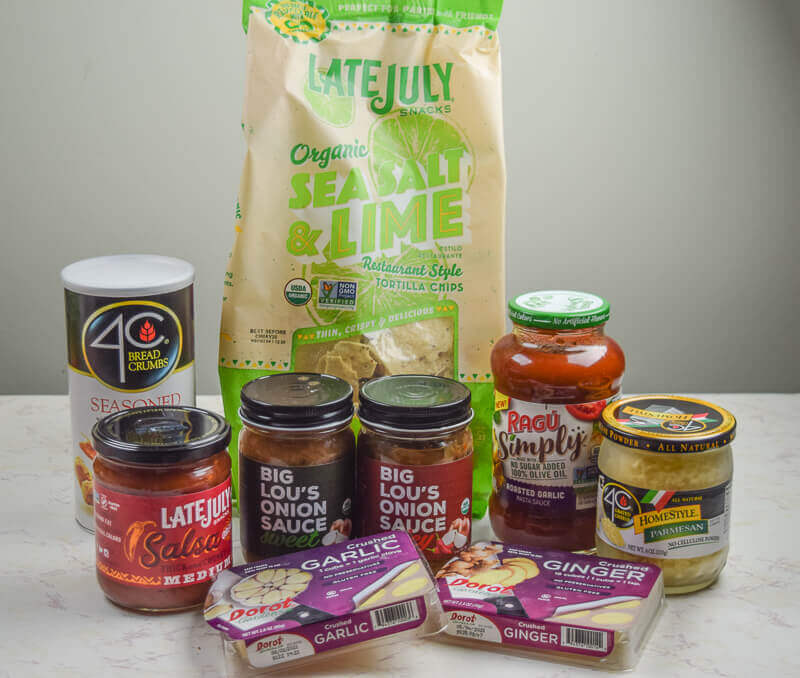 I'll admit it, I'm not really at a football party (or any party involving sports) for the actual sport. I am there for the food! I love making the food. I love feeding my friends and family. And I love to eat.
Today I am going to share with you a handful of items that you will want on your shopping list before you start cooking, plus a handful of tasty recipes that you need to try!
Big Lou's Onion Sauce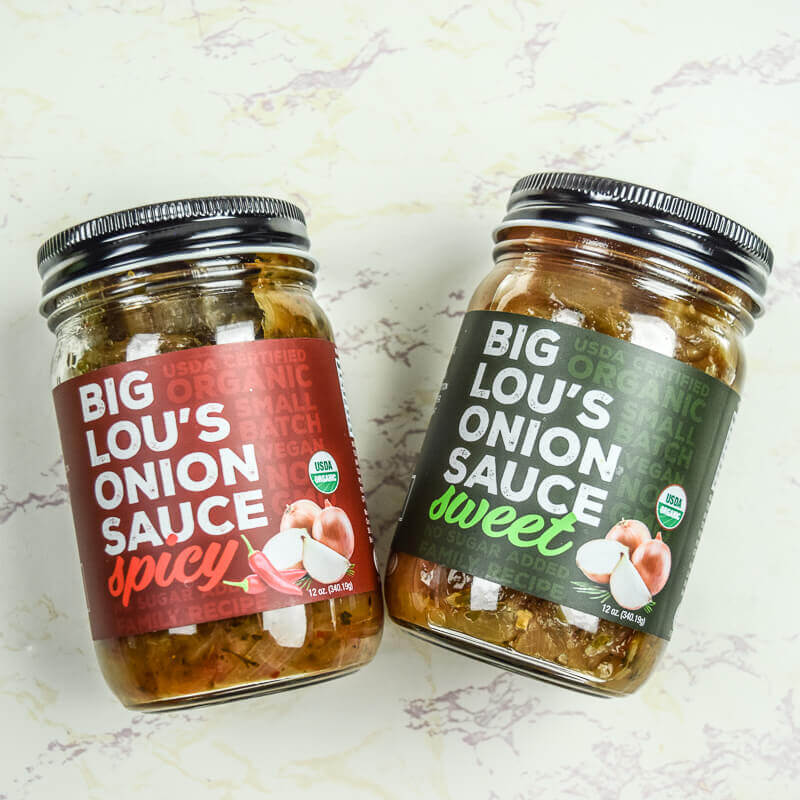 This yummy sauce comes in two varieties: Big Lou's Spicy Onion Sauce and Big Lou's Sweet Onion Sauce. I advise you to buy both because they both have wonderful qualities. They are perfect to keep on your table with your food spread because they make an amazing topping for hot dogs, hamburgers, or anywhere else you would use sautéed onions.
I also love them as a base for any recipe that requires sautéing onions. They save me time (and tears) and add a great flavor. Try adding the sweet onion sauce to a batch of chicken fajitas or the spicy onion sauce as the base for a big batch of beef chili. Yum!
Special offer: Use code babbleboxx10 for 10% off your order through December 31, 2020 at BigLousOnionSuace.Com
Garlic and Ginger from Dorot Gardens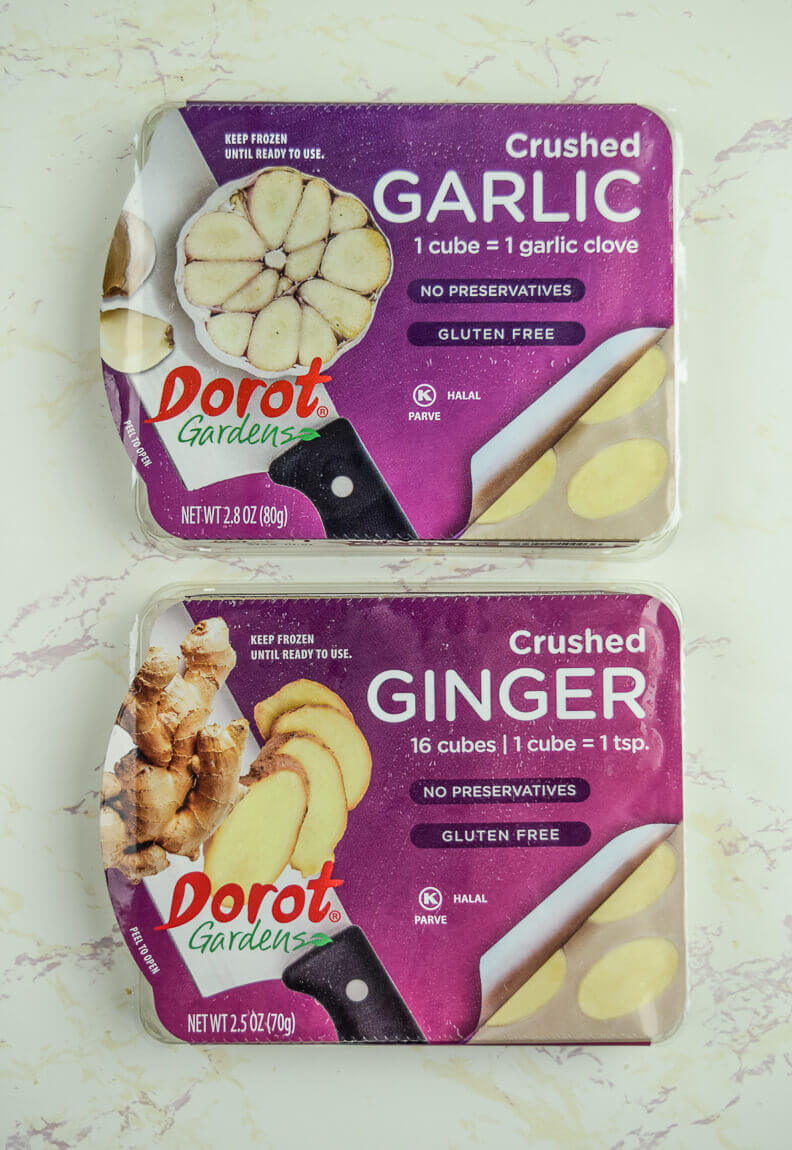 This is another huge time saver! I love, love, love these products because they are so convenient! Forget mincing garlic and ginger forever!
Stock up on Dorot Gardens Garlic for pre-portioned fresh garlic to avoid peeling, chopping, and measuring. It's preportioned and super fresh. It's stored in your freezer and has a two year shelf life – which is awesome!
Dorot Gardens Ginger is grown fresh and picked at the peak of freshness. It's processed and flash frozen within 90 minutes of harvest. Plus, you don't have to worry about prepping your own ginger. I know I am horrible at it and always ends up with huge chunks of ginger in my food. This is so much better!
Whatever you are making for the big game, odds are you are using garlic and/or ginger, so make sure you stock up. You can find them in the freezer section of your local grocery store.
You can use the Dorot Gardens Ginger to make a Strawberry Banana Mules and the Dorot Gardens Garlic to make Artichoke Dip.
Learn more about Dorot Gardens at www.DorotGardens.Com. You can also find them on Instagram, Facebook, and YouTube.
Restaurant Style Tortilla Chips and Thick and Chunky Medium Salsa from Late July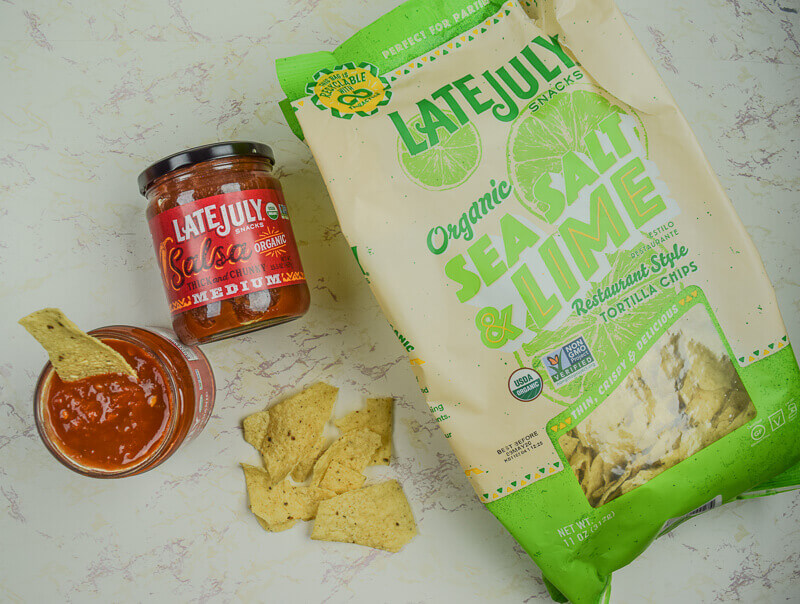 You can't have a game day party with chips and salsa! You are in for a real treat with this pairing. The Restaurant Style Tortilla Chips from Late July are perfectly thin and crispy with just a hint of lime. The lime flavor pairs SO WELL with their thick and chunky salsa. It has just the right amount of spice that makes you want to keep eating them (and maybe grab something to drink).
I'm getting hungry just writing about Late July's products because they are my new favorite! I love how simple the tortilla chips are with simple ingredients like organic whole white corn. Plus, they are Non-GMO Project Verified, gluten free, vegan, and made with 100% whole grain. Their salsa is organic, Non-GMO Project Verified, and made with real tomatoes and peppers. You can taste the quality in their salsa.
Find where Late July products are sold at LateJuly.Com.
New Simply™ Roasted Garlic Sauce from RAGU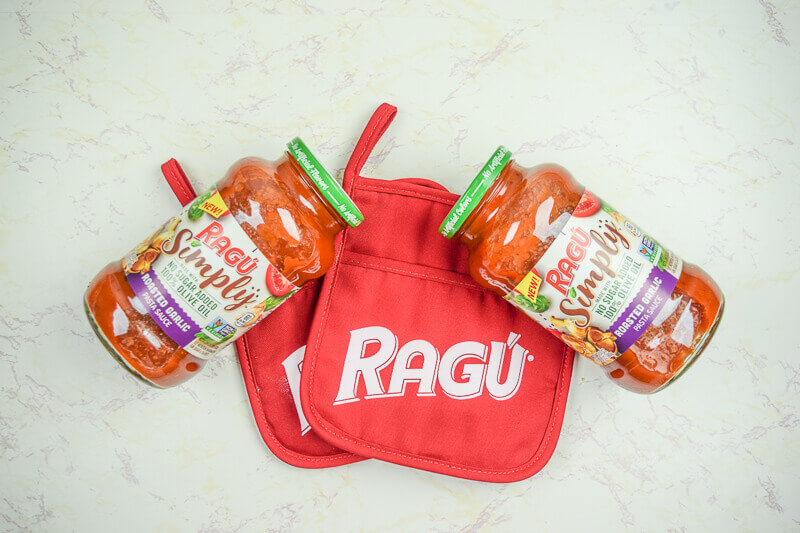 Make your favorite party foods with this new RAGU Simply™ Roasted Garlic Sauce. It's made with 100% olive oil, roasted garlic, plump tomatoes, and onion. Plus, it has no added sugar. Finding a sauce without added sugar can be challenging and I am so excited about this new sauce from RAGU.
There are so many football party recipes you could add this to including Italian stuffed shells (that feed a crowd) or with this Roasted Garlic Short Rib Stuffed Cibatta recipe.
Rate your favorite sauce: Now RAGU has a super cool feature that allows you to rate the sauces on their website! Make sure you rate their new RAGU Simply™ Roasted Garlic Sauce.
Giveaway: RAGU wants to give back to your readers by helping them have an AMAZING Big Game party! Five winners will be chosen!
PRIZES:
Five (5) Grand Prize Winners will receive – 1 Jar of RAGU Simply Roasted Garlic Sauce, 1 Jar of RAGU Butter Parmesan Sauce, 1 Jar of RAGU Creamy Alfredo Sauce with Cauliflower, (5 x) $1 Off RAGU Coupons + 1 RAGU Pot Holder + 1 RAGU Aprons + (2x) RAGU T-shirts (one small, one XL)
DATES: January 20th, 2020-January 28th, 2020
BabbleBoxx will randomly select winners from all program entries and will be responsible for fulfillment of prizes to the winner.
giveaway

4C Foods Breadcrumbs & Parmesan Cheese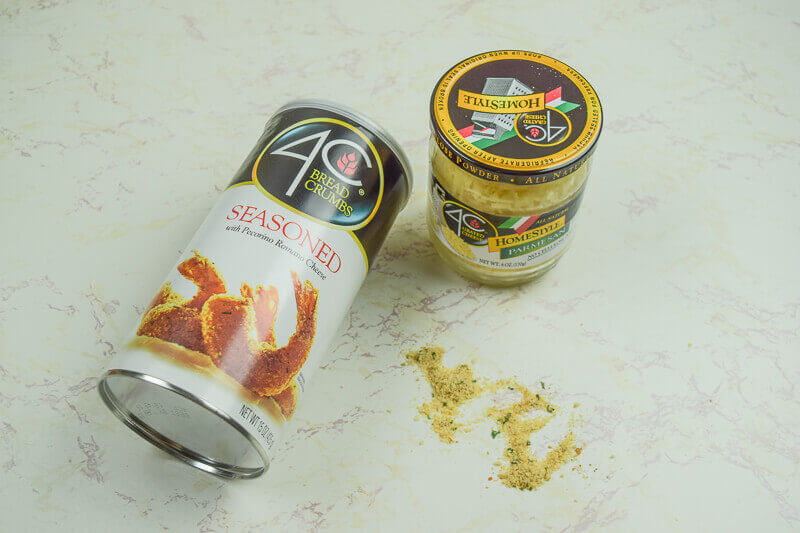 Another thing you will need for all of the delicious eats you will make for the big game is breadcrumbs and parmesan cheese. I know they are staples in my kitchen! We love 4C Seasoned Breadcrumbs because they are so flavorful! They are made with freshly toasted breadcrumbs that includes a secret family recipe of herbs, spices & 100% pecorino Romano cheese.
The 4C Homestyle Parmesan Cheese is 100% cheese with no additives! Which means the flavor is amazing and it melts well! Plus, we love that it has no additives, no preservatives, no cellulose, and no fillers. It just cheese!
Use these items to make Instant Pot Garlic Parmesan Chicken Wings and Parmesan Zucchini Fries.
You can learn more about 4C Foods at www.4C.com and on Facebook.