It has been a loooong time since I've posted a freezer cooking session post. Almost 2 years to be exact. I have still been cooking for my freezer on and off, but have not shared it in that form on here. Although, I did host a freezer cooking challenge in 2016 (in preparation for baby #3). You can read those posts here.
Our freezer has been looking bare and baseball season has me wishing my freezer was filled (I'm totally going to plan ahead next time). So over the weekend, I got to cooking up some items for the freezer to have on hand on busy days.
These are also known as brown bag burritos. They are so good. I used to always have them stocked in the freezer but for whatever reason, I just kind of forgot to keep making them.
I love these as a quick hot lunch or easy dinner. They also work really well for bringing to lunch, which is why their other name is "brown bag" burritos. This time I played around with flash freezing them to save foil. We will see how it goes. If it works, I will update my burrito post to include those directions.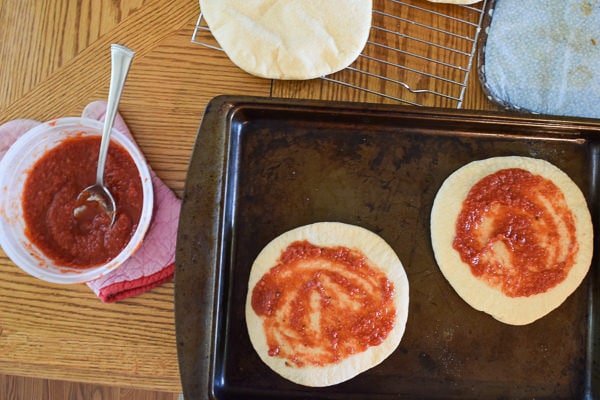 I also made a batch of homemade frozen pizzas.
This was my first time making them, but they seemed to turn out well. I'm still experimenting with reheating time and will post a full recipe once it's perfected. (Update: the full recipe and tutorial for homemade frozen pizza is posted)
Here is how I made frozen pizza:
Made a double batch of this pizza dough. I used 1/2 white whole wheat flour and let it rise for an hour before cooking since I wasn't using all bread flour.
Portioned the pizza dough into 8 balls and rolled each out to 8-inch rounds.
Baked in a 400-degree oven for 5 minutes (this is known as par-baking). Let cool.
Topped with homemade sauce and mozzarella cheese.
I added pepperoni and olives to 1/2 the batch.
Arranged on upside down cookie sheets and froze in the oven for a few hours.
Wrapped in plastic wrap and put in freezer bags.
Approximate reheat instructions: bake at 400 for 12 minutes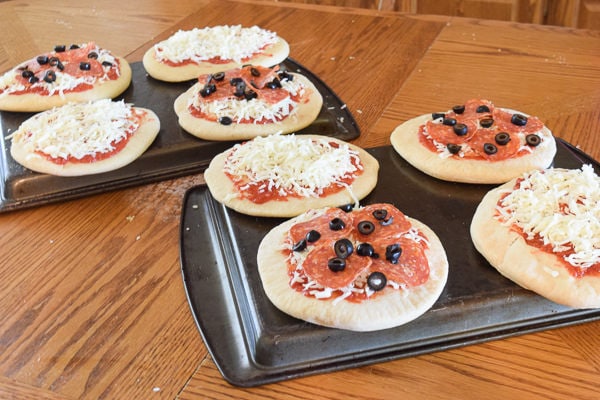 The last thing I made was a batch of banana bread that was meant for the freezer.
I originally thought I had enough for a double batch, but I didn't. My son heard I was making banana bread and it was all over. My family ate it all. 😀 Which was fine. It felt good to be in the kitchen making meals for my family. We spent the previous week at Disneyland and all of that rich food was making me want to hunker down at home with home-cooked meals.
That's it for freezer session #5. I'm hoping to keep it up and prepare some more easy freezer lunch items, snacks for the kids, and experiment with Instant Pot freezer meals over the coming weeks. What have you prepared for your freezer lately?