Are you looking to send something fun and unique to a child in your life? Fun in the Box may be just right for you! They offer seasonal and one-time boxes full of goodies for kids and also offer special birthday boxes! Read on to see our full review and unboxing of the Fun in the Box Birthday Box!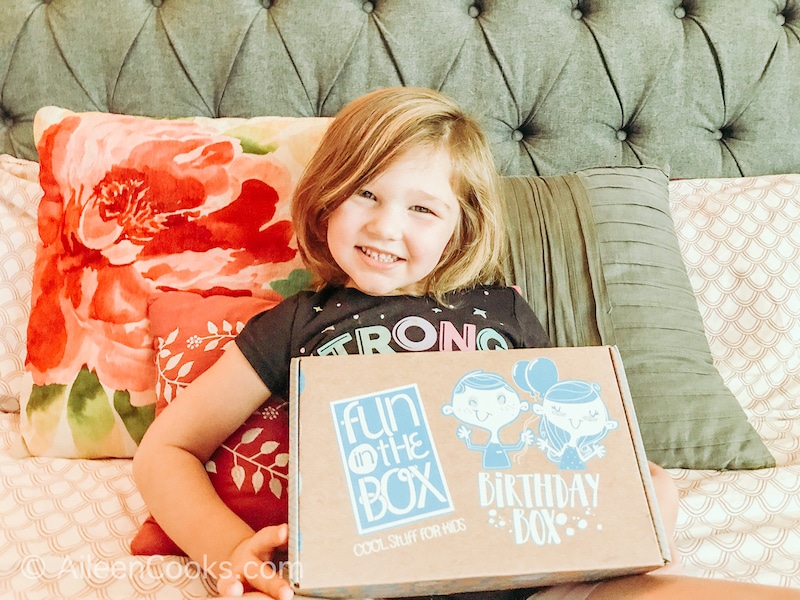 Welcome back to another week of Subscription Box Sunday! Every week, we review a different subscription box for you to help you decide which box will be best for your family! Make sure to follow us on Instagram and subscribe to our newsletter so you never miss a week of Subscription Box Sunday.
PAST SUBSCRIPTION BOX SUNDAY POSTS:

What is Fun in the Box?
Fun in the Box was started by two mamas based out of Canada. Their goal is to send a curated box of screen-free toys for kids that can offer a connection between parent and child. They offer several lines of boxes, including: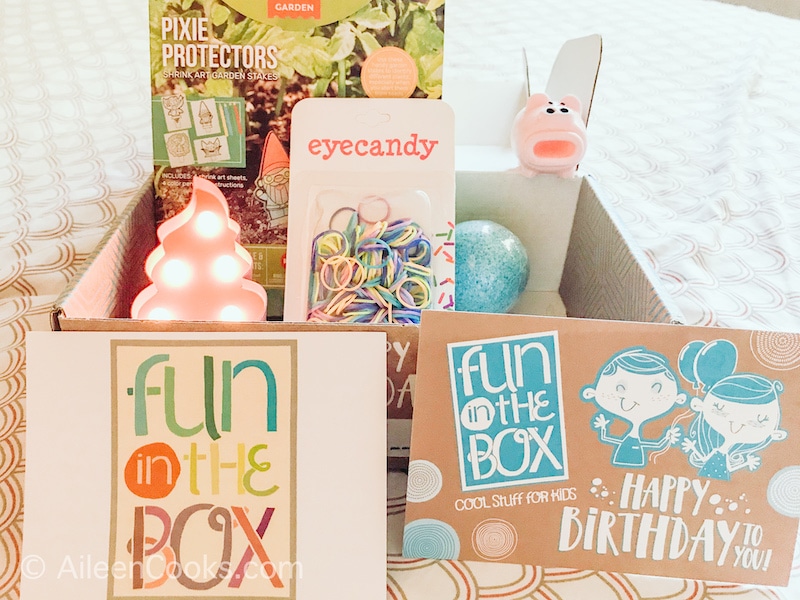 Fun in the Box Birthday Box Review
The ladies over at Fun in the Box were sweet enough to send a box for Allison's 4th birthday. It took me a little while to get it into the Subscription Box Sunday rotation, so it was a nice surprise for her to have a late birthday present.
What was inside:
Bath Bomb – she is VERY excited to try it out tonight and enjoyed smelling it during the unboxing.
Colorful Hair Elastics – perfect for her and her sister's daily game of hair salon.
Pink Ice Cream Shaped Night Light – What kid doesn't love a new nightlight? So fun.
Squishy Pig – A fun little squishy toy. My kids love squishes, so this was perfect.
Shrink Art Garden Stakes – These were a HUGE hit! The craft kit had enough for Allison to share with her brother and sister.
The Birthday Box is perfect for aunts, uncles, and grandparents to send a gift to a child in their life. It takes the guess work out of gift giving and offers the opportunity to avoid the stores during this strange time.
I really love the idea behind all of the lines at Fun in the Box and think it's a great option for gift giving for birthdays or the holidays.
How much does it cost?
At the time of publication, the Fun in the Box Birthday Box is $22.00 USD plus shipping.
How to order Fun in the Box?
Head over to funintheboxkids.com to check out all they have to offer and order a box for a special child in your life!
Save this for later on Pinterest.