Kathleen from Top Domestic Cleaners is back again today to share tips on cleaning your appliances. Read her other guest post on Aileen Cooks here.

How to Clean Your Appliances
Instead of replacing your old kitchen appliances you can maintain them in spotless condition by cleaning them regularly and properly. If you do this your kitchen will be in excellent condition and the appliances in it will worker better. Here are some ideas how to clean your appliances in a really easy way.
Refrigerator: The area behind the refrigerator is probably the dirtiest place in your home. It accumulates dust, dirt and fallen items which can get stuck there for a long time. Move the refrigerator and mop the area behind it. Vacuum clean its coils under or behind it to prolong the life of the fridge's motor.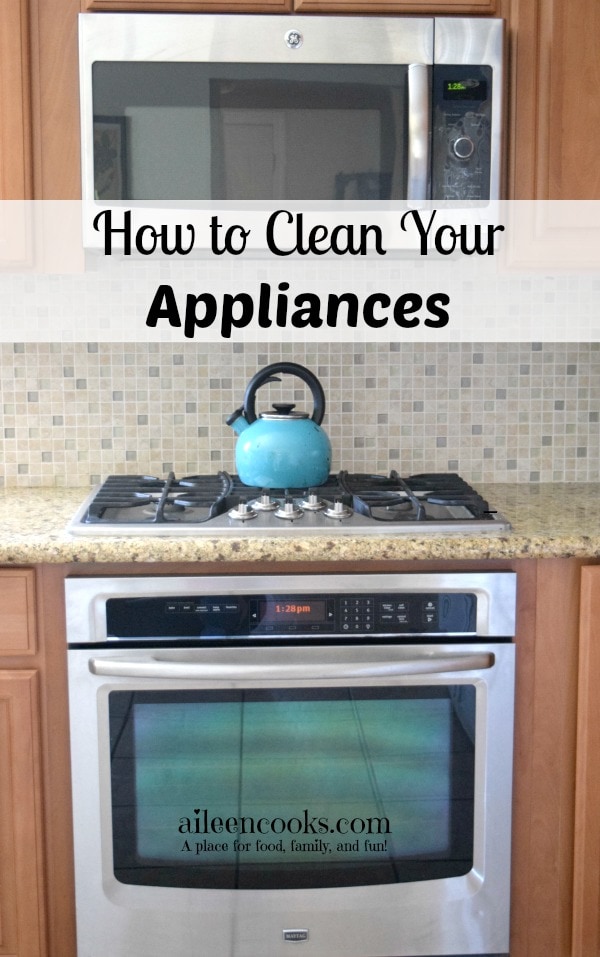 If the door gaskets of your fridge are loose, replace them after reading the manual of the appliance. You will find replacement parts online and in most improvement centers. This will save you energy consumption. Clean the gaskets every month with soap dissolved in warm water, then rinse and dry them well. You can provide proper cleaning of the inside and outside of your fridge using soapy water or a solution of half part water and half part white vinegar. Use it to scrub shelves once in the week or whenever you notice dirt. Stainless steel external surfaces are best cleaned with a moist cloth.
[bctt tweet="Keep your kitchen appliances clean with these simple tips"]
Oven: Many of the ovens have self-cleaning functions which can be used. However, there are areas which need to be cleaned manually. Clean around frames, door hinges and the place between double ovens using small quantity of soap, dissolved in warm water. You can also wipe these areas with vinegar. Stubborn baked stains and food leftovers can be removed with a sponge and baking soda. Create the habit of cleaning every spill from your oven right after you finish using it.
Stove: Here is an effective way for cleaning stove-tops: Fill the sink with hot water and dissolve soap in it. Soak the hood vents, burners and knobs for a few hours. Then start scrubbing to remove the stubborn deposits. You  can repeat the procedure if it is necessary. If there are crumbs that had fallen between the counter and stove-top, use the sofa attachment of your vacuum cleaner to remove them.
Dishwasher: Although you may think that your dishwasher doesn't need cleaning, after all there are areas which should be checked and sanitized. You should inspect the drain in the lower part of the machine and clean the gaskets that are around the door. The dishwasher cleans itself whenever it functions but these areas need to checked and cleaned regularly. Deodorize your dishwasher every week by running it on a full cycle with a cup of white vinegar, placed on its top stand.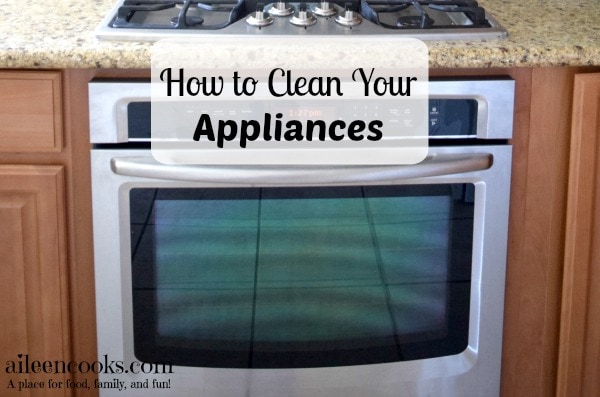 Toaster: There is an effective and easy way to clean your toaster. Unplug it, remove and wash well its crumb catcher. To gather the crumbs and food leftovers from it, shake the appliance over your sink. Make sure all parts of the toaster are completely dry before using it again.
Coffee Maker: Most coffee machines can be cleaned with a solution of water and vinegar. Read the manual of yours to be sure that the mineral deposits which clog the appliance can be removed this way. Mix two parts of water with one part of white vinegar and pour this solution in the water container of your coffee machine. If it works with filters, insert one and run the machine until there is no solution left in the container. Repeat the procedure two times only with water to remove the taste of vinegar. This cleaning method is appropriate for removing mineral deposits from used machines and the taste of new from coffee machines, used for the first time.
These methods for cleaning your appliances will keep your kitchen appliances in top condition, functioning properly and well. They are easy to do and very effective.
If you are in the London area, be sure to check out Kathleen's business: Top Domestic Cleaners