Ultimate Guide to the Instant Pot
This is the ultimate guide to the instant pot. Whether you are just opening your brand new instant pot, or are trying to expand your skills with the instant pot electric pressure cooker – this post is for you!
I have been using my instant pot consistently for going on 3 years now. I purchased it on Black Friday in 2016 and have been head-over-heels in love with it ever since. It makes feeding my family of 5 a breeze and I continue to learn new ways to use it that make cooking wholesome, from scratch meals possible. (This post contains affiliate links.)
Feel free to skim this post to find the information you need. I will continue to update it as we learn helpful new tips and tricks.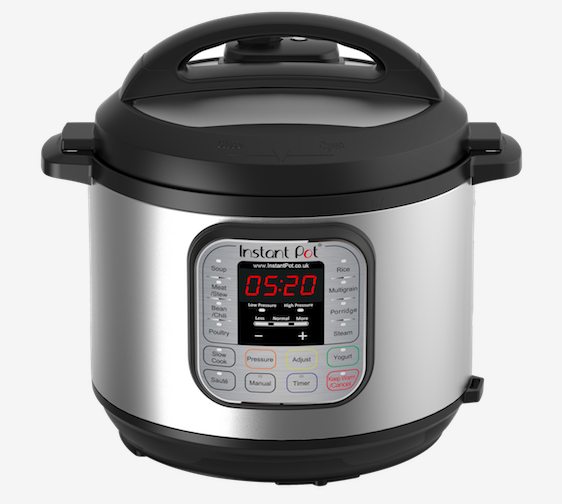 How to do a water test in the Instant Pot
The first thing you will do when you open your instant pot is conducting a water test. The instant pot water test does two things.
Ensures your instant pot is working properly
Gets you used to cooking with your instant pot
Here is how to do a water test.
Plug in your instant pot. Make sure the cord on the pot side is fully connected.
Place the inner pot inside the instant pot – it should live there when not being washed.
Pour 3 cups of water into the inner pot.
Make sure the silicone ring is securely in place under the lip of the instant pot lid.
Close the lid on your instant pot. You will need to push it down and turn to secure the lid. You will know it's closed properly when it beeps at you.
Push the steam release valve (behind the handle of your pot) to the "sealing" position. (Skip this step if you have the Ultra)
Press the "steam" button and use the plus/minus buttons until you get to 2. (Ultra: use the dial to turn to steam and set to 2 minutes. Press "start".)
Let your Instant Pot do it's thing. It will take a few minutes to come to pressure. During that time, you might see some steam come from the pressure valve – totally normal. Once your instant pot has come to pressure, it will start to count down from 2. Once it counts down, it is done and will switch to keep warm mode.
Release the pressure with Quick Pressure Release (QPR). Using a wooden spoon or another kitchen spoon, move the sealing valve from "sealing" to "vent". (Ultra: Press the "quick pressure release" button) Make sure your hand (or any other body part) isn't above the vent as it will release hot steam. It will take a few minutes for all of the steam and pressure to release. Once it's done, you will hear the float valve drop. Open your pot – you have officially completed your water test!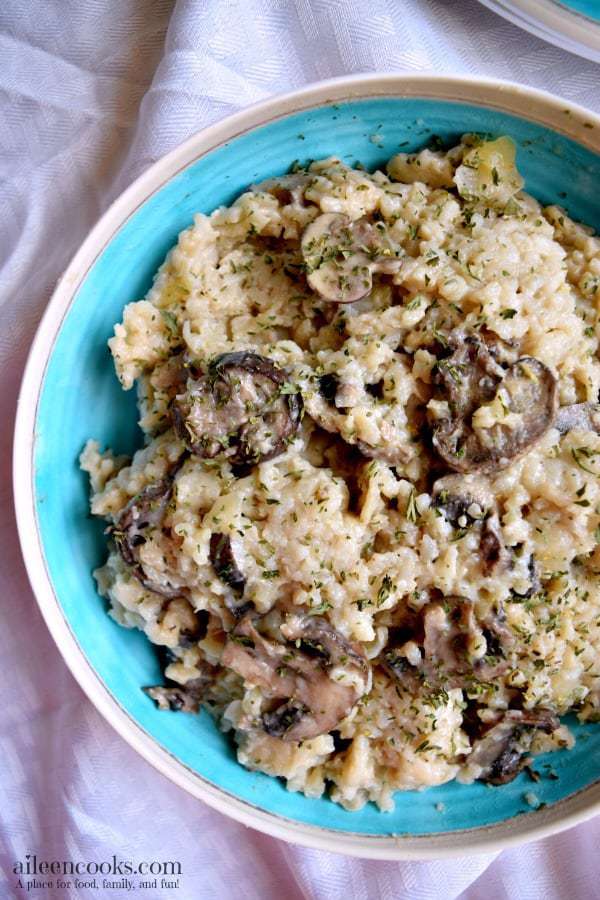 The Instant Pot Cookbook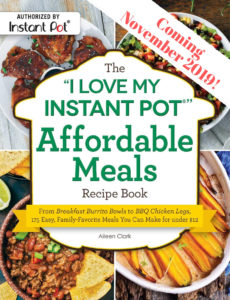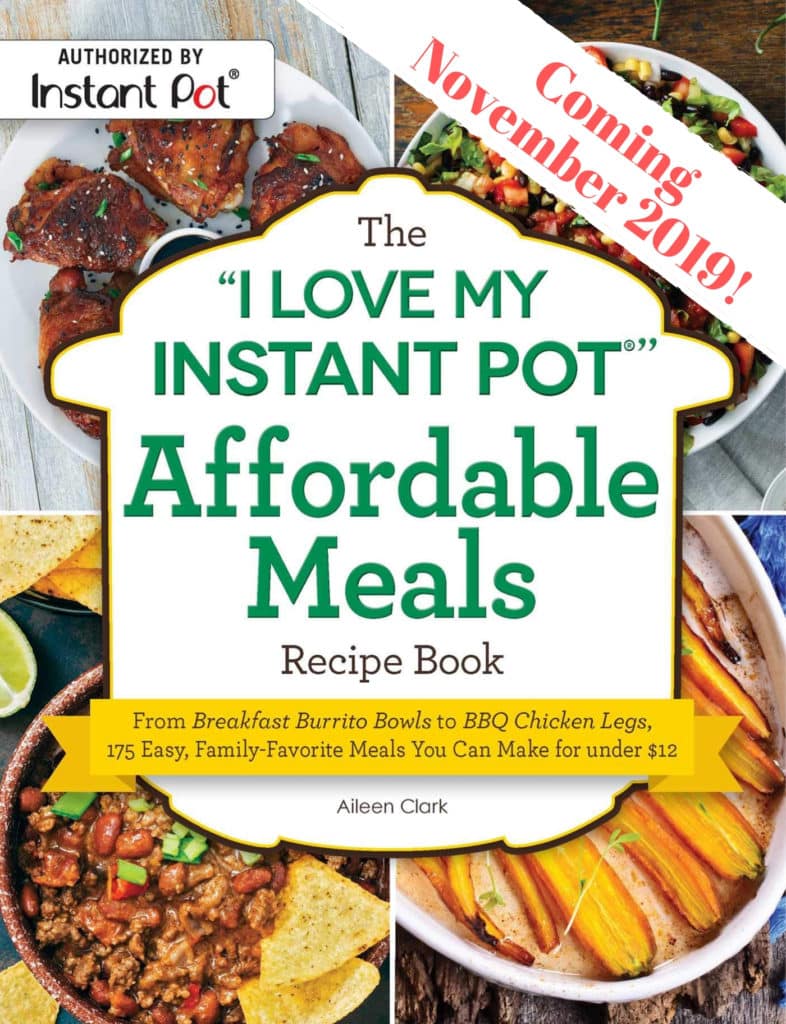 We have an Instant Pot cookbook coming out in October 2019. It's called The "I Love My Instant Pot" Affordable Meals Recipe Book. We would love for you to preorder your copy!
What is manual pressure on instant pot?
Some recipes call for cooking recipes on manual pressure, or pussing the manual button. If you have a newer version of instant pot, your pot will not have the "manual" button. Instead you will have the "pressure cook" button. The buttons are one in the same. Whenver you are asked to cook something on manual, just press the pressure cook button.
What is the difference between a pressure cooker and an instant pot?
An instant pot is an electric appliance that cooks foods under pressure, functioning as a pressure cooker. It is actually a multi-cooker becuase it also functions as a slow cooker, rice cooker, sautte pot, and some instant pots also function as a yogurt maker. A pressure cooker often refers to a stove top pressure cooker. These kitchen tools cook foods under pressure but need to be constantly watched to maintain the pressure and do not automatically regulate themselves the same way an instant pot does.
Whats the difference between an instant pot and a crock pot?
An Instant Pot is a multi-cooker who's primary function is to cook foods under pressure. A crock-pot is a slow cooker that cooks food at a low temperature for several hours. However, the brand Crock-Pot has come out with their own multi-cooker that functions simmilarly to the Instant Pot. Check out the Crock-Pot Express here.
Holy Acronyms!
As you read instant pot recipes across the web, you may see some of these acronyms floating around. Here is what they mean:
NPR or NR (natural pressure release)
QPR or QR (Quick Pressure Release)
HP (High Pressure)
LP (Low Pressure)
PC (Pressure Cooker)
PIP (Pot in Pot)
5-5-5 or 6-6-6 Refers to cook times for hard-boiled eggs. 5 minutes high pressure, 5 minutes natural pressure release, 5 minutes in an ice bath
Is Instapot the same as instant pot?
Yes. The actual name of the brand is Instant Pot. However, some people have coined the term "instapot" which is just a condensed version of instant pot.
Can I slow cook in my instant pot?
Technically, yes. There is a slow cooker function on the instant pot. However, I have found that their slow cooker function does not work real well and foods do not cook in the time they would in a traditional slow cooker. If you already own a slow cooker, I do not reccomend getting rid of it when you get an Instant Pot. Both appliances have their place. You can check out our slow cooker recipes here.
How to cook frozen meat in the Instant Pot?
Cooking frozen meat in the instant pot is totally possible, but it depends on the cut. Smaller cuts of meat work better. We love making recipes with frozen chicken breasts, but don't recommend cooking an entire frozen chicken.
Here are a couple of posts dedicated to cooking chicken in the Instant Pot:
Instant Pot Chicken Breast Recipes
50+ Amazing Instant Pot Frozen Chicken Recipes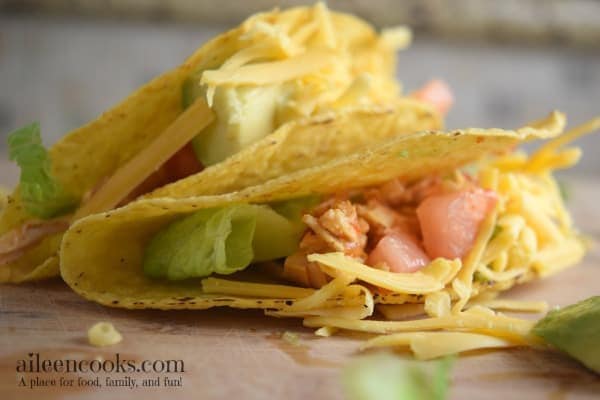 How much liquid do I use in my instant pot?
If you are experimenting without a specific instant pot recipe, you will need to determine how much liquid to add. The instant pot electric pressure cooker uses liquid to come to pressure – so it is always necessary. If you are not sure how much liquid to use – just use 1 cup. You can use water or broth.
Help! My Instant Pot Gave me a BURN Notice
The BURN notice happens when food is stuck to the bottom of the pot, preventing it from coming to pressure. Make sure you properly deglaze your pot after sauteing. Didn't saute? You just need more liquid. Just add it, mix it around, make sure nothing is stuck to the bottom, and try again. Your food is not ruined if you get the BURN notice. You can still have a successful dinner.
Why do some recipes work for others and not me?
I have a theory that all instant pots are slightly different. I hate this answer, but it's the only conclusion I can come to when so many people love my instant pot cinnamon rolls recipe yet there are a small fraction of people who said it didn't work. My guess is their pots cook slightly differently, so they need to add additional time. Don't worry – this does not happen often!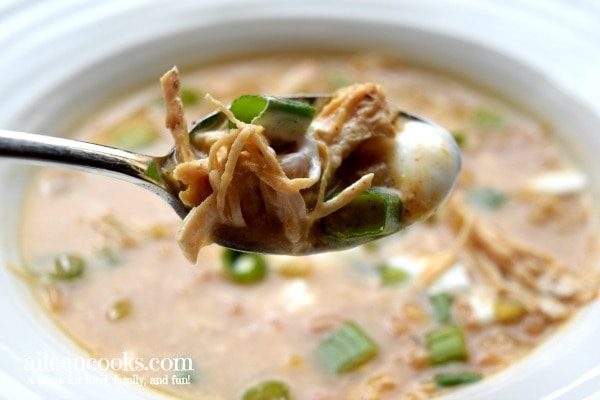 What accessories do I need for my instant pot?
There are a lot of awesome accessories out there for the instant pot. This is what I think you should invest in if you want to cook regularly with your instant pot:
Want to invest in more extras? Check out this list of fun instant pot accessories.
Easy Recipes in the Instant Pot
Here is a quick list of recipes for beginners.
Join our Instant Pot Group
This is a great group for learning new recipes and asking questions. You can find the group on Facebook.
Which Instant Pot is used for Aileen Cooks recipes?
All of the recipes on AileenCooks.com are made with the Instant Pot Duo 7 in 1 6 Quart.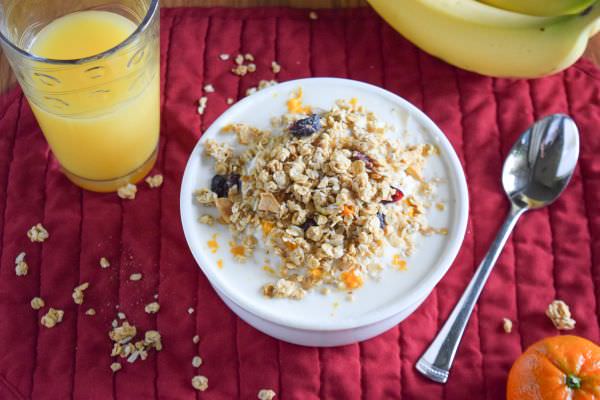 Is the Instant Pot Dangerous?
No. This was my biggest concern before buying an instant pot. I had heard horror stories of stove-top pressure cookers exploding and causing big messes, or worse – injuries. The instant pot regulates it's own pressure, so it wont explode on you like stove-top pressure cookers. In fact, you can set it to cook and leave the house. The first time I made instant pot apple bbq ribs, this is what we did:
Drove to the store and bought the ingredients
I ran inside and threw everything together and started my instant pot
We went and picked out a Christmas tree
Came home to perfectly tender, fall of the bone ribs.
What size instant pot is best?
The most popular sized instant pot is the 6 quart and works well for a couple of average sized family. Unless you are extremeley limited on space, I do not reccomend the 3 quart mini as many recipes wont fit in that pot (including many instant pot dessert recipes that require a cake pan).
We have both a 6 quart and 8 quart model. The 6 quart works well for my family of five but as my children get older (and their appetites get bigger), we will likely use the 8 quart more often so we can fit more food. If you have a larger family or entertain often, than we reccomend the 8 quart model.
How to Clean the Instant Pot
All parts except for the main base and heating element are dishwasher safe. The main heating element should be kept dry. You can wipe off the outside with a damp cloth. If the inner heating element needs to be cleaned, use a lightly damp cloth and dry completely.
The sealing ring and lid tend to get smelly over time. You can store the lid facing up to help keep the smell down. Changing out your sealing rings when they get too stinky is helpful as well.
How do I get the smell out of my instant pot?
This is a question that has been asked often! There are many methods out there, but have found this method for getting the smell out of my instant pot works best.
I hope this ultimate instant pot guide has helped you feel confident in your instant pot cooking. Please feel free to give me a shoutout on social media or shoot me an email if you have any questions. I am happy to help.