This post is sponsored by BabbleBoxx.com.
My kids and I had so much fun checking out all of the fun things in the Just 4 Kids Babbleboxx! Just-in-time for Spring, we got to check out the Snazaroo™ Brush Pen, Dinosaurs Living in My Hair books 1 & 2 by Jane M. Rose, PEZ Jurassic World Collection, Sprout Crispy Chews, and Zenni Optical Kids Glasses.
I have partnered with BabbleBoxx in the past and love that they get new and interesting products in front of my family to review. Then, I get to share my opinion and experience with you, too. This one was perfect since it was geared toward the little people in my life.
Our Just 4 Kids Babbleboxx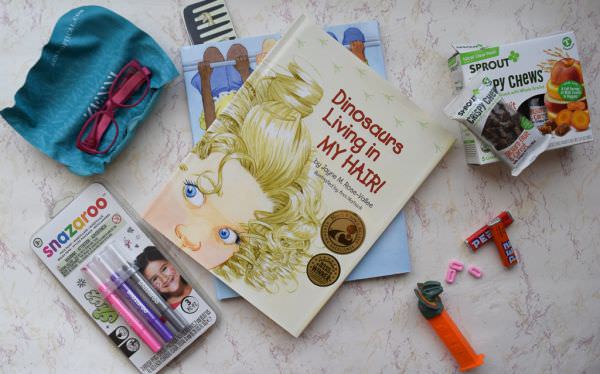 Snazaroo Brush Pen
Although I am far from a professional face painter, I really liked these Snazaroo pens! They are a two in one face paint tool that has a brush applicator and quality face paint put together. It made it easy for this non-artistic mama to have some fun with her kids! Katie wanted to be a cat – which was easy enough for me. I plan to use these at Katie's upcoming 4th birthday, so I'll need to practice a bit.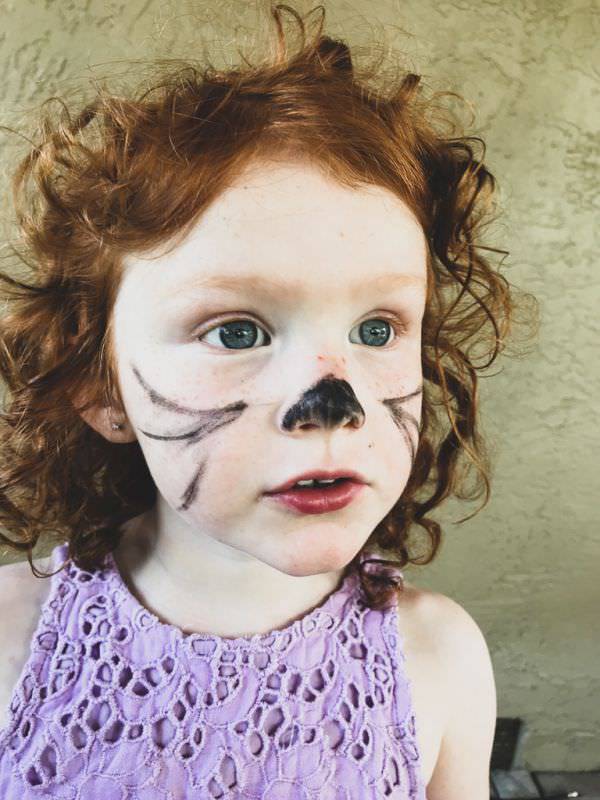 The Snazaroo Pens are available in 12 colors and they come in different theme packs: Adventure, Fantasy, Halloween, Jungle, and Monochrome. We will be using Fantasy at Katie's upcoming Ballerina Birthday Party. You can pick them up on Amazon and Snazaroo.com.
Dinosaurs Living in My Hair and Dinosaurs Living in my Hair! 2
We got to check out the Dinosaurs Living in My Hair! and Dinosaurs Living in my Hair! 2 books by Jane M. Rose. I love that these were dinosaur books featuring girls! The second book even has a curly-haired redhead – much like the little lady I am raising.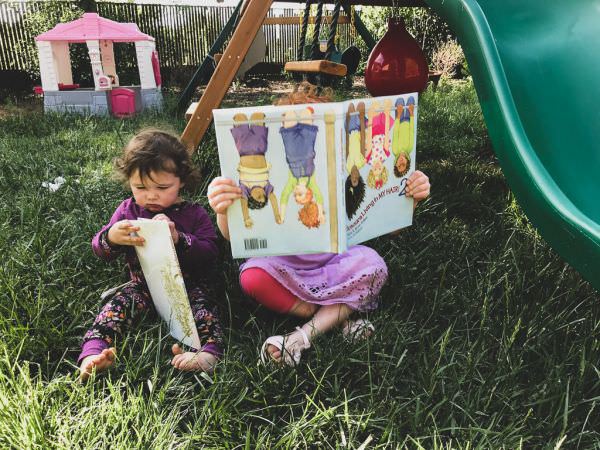 These books were absolutely adorable with beautiful illustrations. These books are a great option if you are on the hunt for children's books about inclusion. They have a wonderful message. You can learn more about the books and author at dinosaurslivinginmyhair.com. Use the code FREESHIP for free shipping.
Sprout Crispy Chews
Allison (my 1.5 year old) was most excited about the Sprout Crispy Chews. They were like fruit leathers but in bite-sized pieces. I may have helped her "taste test" a few bags of them. They are just too good. They come in two flavors: Orchard Fruit & Carrot and Red Fruit Beet & Berry.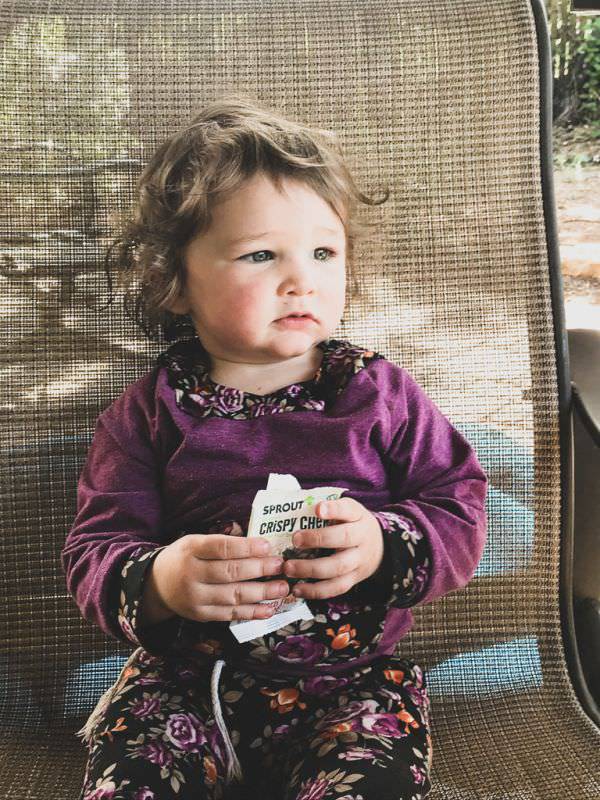 Although both flavors were delicious, we liked Red Fruit Beet & Berry the best. These toddler snacks were a nice treat on a sunny afternoon of outside play. You can pick up some of these yummy snacks on Sprout's website. Using code 25CRISPYCHEW for 25% off.
Zenni Optical Kid Glasses
We also had the opportunity to check out Zenni Optical Kids Glasses. These kids' flexible glasses have no metal parts, no hinges, and include an adjustable and detachable strap. I gave them a good try out and they seem to be really strong. You can twist and flex them and they don't break. That's perfect for little ones who need glasses. Luckily, our kids have not needed glasses up until this point. But, I figure at least one of them will need them down the road.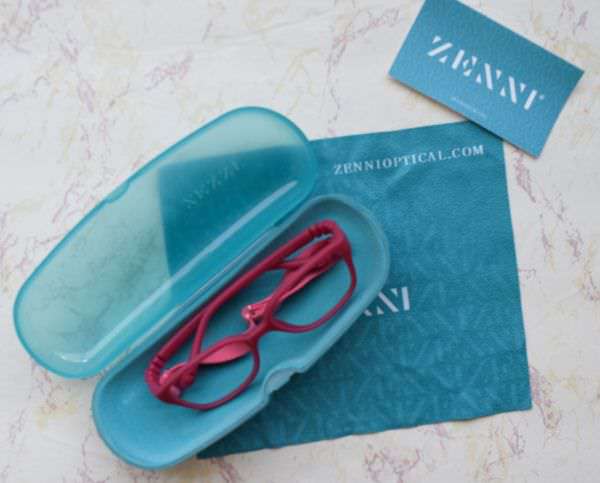 As I have shared on Instagram, I wear glasses full time and have for many years. I recently just switched to contacts, but really prefer glasses for night time in front of the TV. If my kids end up needing glasses, we will definitely look at Zenni Optical Kids Glasses. You can learn more about their products and mission in this fun video.
Lastly, Babbleboxx sent us three of the all-new PEZ Jurassic World Collection. Pez brings me right back to my childhood. Honestly, it was hard to part with these fun dinosaur Pez dispensers. They are so fun and the Pez candy was perfect as usual. Not too sweet with just the right crunch. If I had to choose, I would say the T-Rex was my favorite.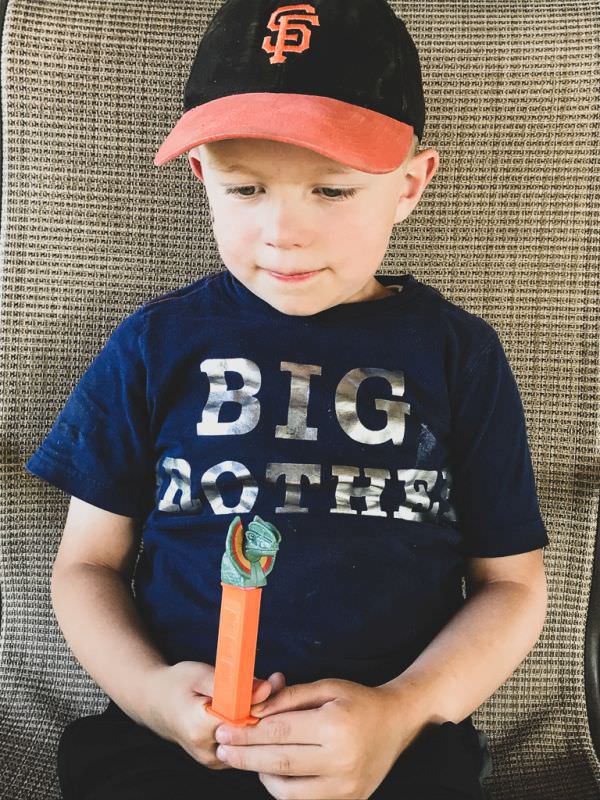 On June 1, 2018, Pez will release these all-new dispensers in honor of the upcoming theatrical release Jurassic World: Fallen Kingdom. they will be releasing three new dispensers: T-Rex, Blue the Raptor, and Dilophasaurs. They will also be releasing a Jurassic World Click and Play Gift Tin, which sounds like a lot of fun!
We really loved exploring all of the cool things in our Just 4 Kids Babblebox. It was a fun surprise for the kids to get it in the mail.