I was going over my old posts and realized I haven't shared much on our day-to-day life now that we are a family of 5. I shared a day in the life back when we had just two kids and share plenty on Instagram and my facebook group but not much here.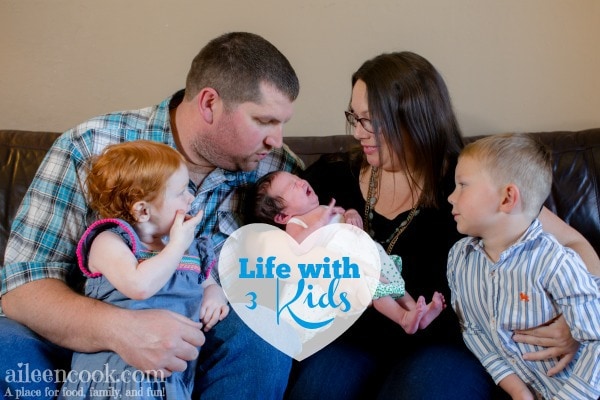 So I thought I would take the time and share what it's like to have three kids. For reference, my kids are 5 (boy), 3 (girl), and 1 (girl). They are all roughly 2 years apart.
Here is what life is like with three kids…
Life with three kids is busy.
There is always something to do and somewhere to go. Someone always needs something. Either they need help in the bathroom, a snack, their face wiped, the list goes on and on. This may also have to do with their ages (see above), but I'm willing to guess this feeling of busyness won't go away anytime soon. It will just change.
Life with three kids is loud.
I tell myself on a daily basis that I need to make my peace with the noise. If someone isn't crying, they are arguing. If they are all getting along, they are making sound effects, shrieking, and giggling. The giggling is my favorite. 🙂
Yesterday, my house was eerily silent. That's when I realized the two "big kids" were up to something. And that something was emptying the contents of each and every fruit snack bag into the plastic eggs I asked them not to touch. Yes, I need to make my peace with the noise. It's just better that way.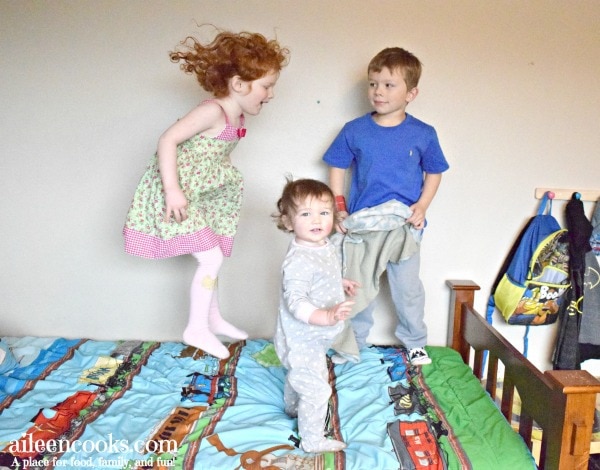 Life with three kids is a tiring.
I am exhausted by the end of the night. I know many moms who stay up into the wee hours of the morning just to get some peace and quiet, but I can't do it. I'm lucky if I can keep my eyes open until 10. I put the kids to bed and collapse into a heap on my bed. I watch Netflix or Hulu until I eventually pass out.
The good news is, you do eventually get some sleep. My youngest is 1.5 and does sleep through the night most nights. That means I actually get a full nights sleep most nights. This wasn't always the case, but it is (finally) the case now.
Life with three kids is fulfilling.
In addition to someone always needing something, there is always someone to hug, snuggle, and kiss. That thing they say where your heart expands with each child is so true. I love my kids so much I feel like I'm going to burst. I feel complete. That's the best part of having three kids. That unconditional love is tripled. All of the stress and noise and busyness is more than worth it when I can enjoy their sweet hugs and smiling faces.
That's it. My completely honest thoughts on motherhood with three kids as of March 2018. It's ever-changing, but this is us for now. <3