Create a beautiful centerpiece for your holiday table with these Mason Jar Christmas Centerpieces. They are festive and smell great!
I got together with my friend Diana from Tales of Ten to create these fun mason jar centerpieces. These are different from the painted mason jars you see floating around (which are beautiful). They are full of fresh fall fruit and herbs and topped with a tea light candle. They set the perfect ambiance for a Christmas tablescape or even on your mantle.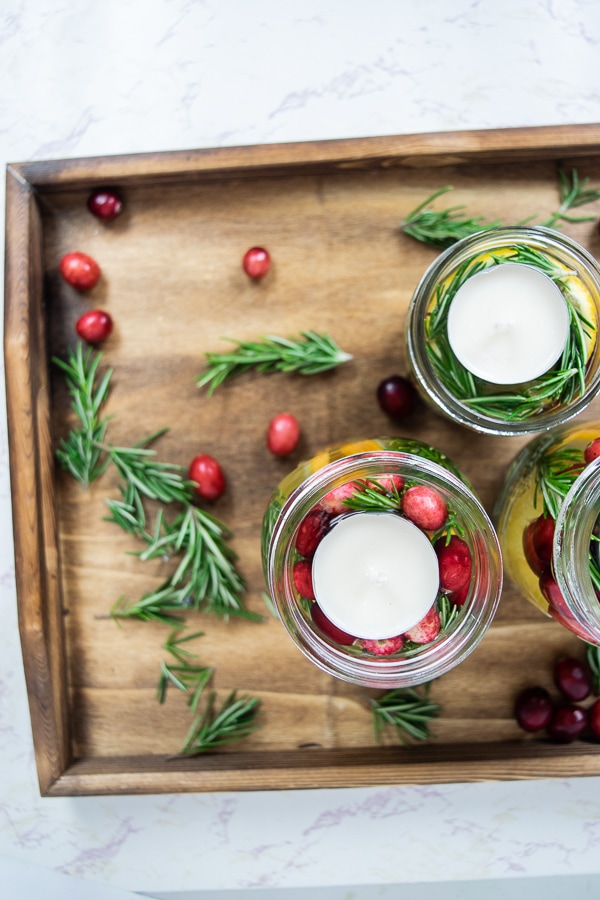 I just love the colors of these holiday centerpieces. The red and green color combo always gets me in the Christmas spirit. I love that the rosemary looks like pieces of a Christmas tree or holiday wreath.
Supplies for Mason Jar Christmas Centerpieces
Gather these supplies before putting together your holiday centerpieces.
Mason Jars
Oranges
Cranberries
Rosemary
Tea Lights
Water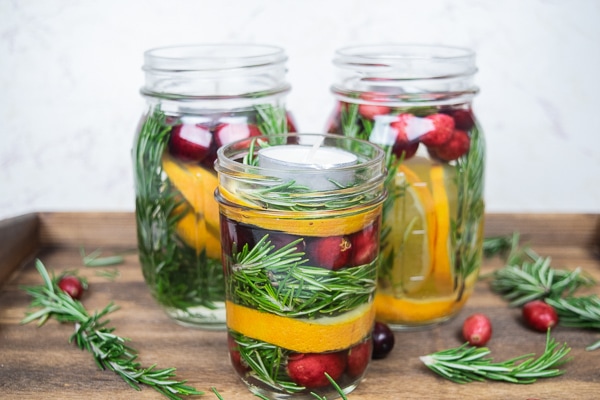 You will want all fresh ingredients for these mason jar Christmas centerpieces. If making them for a Thanksgiving or Christmas dinner, then you will want to plan to make them a couple of days in advance. This will give them time to soak together for a while and give off a nice yet not overpowering scent. If you prefer your mason jar Christmas centerpieces to be pretty and unscented, just make them on the day of your event.
You may also like: Christmas Breakfast Casserole or DIY American Flag Vases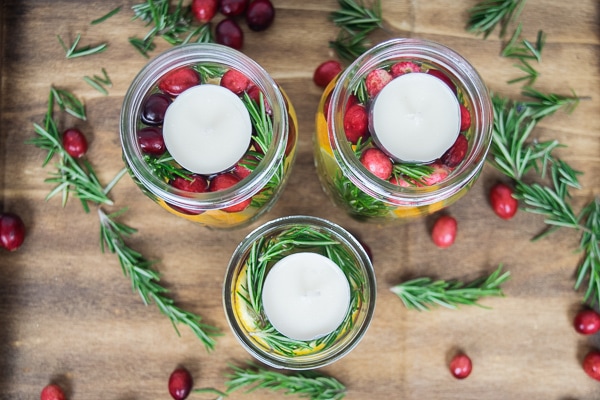 How to make mason jar Christmas centerpieces
Start by slicing up your oranges into thin slices.
Arrange the oranges along with the rosemary in the bottom of your mason jars. Once arranged to your liking, pour in water until just below the neck of the jar.
Place the cranberries in the water. They will float.
Top your cranberries with the tea light and you are finished!
If you want to layer the cranberries in your holiday centerpieces than you will need to top them with an orange wide enough to just fit inside of your jar. Otherwise, they will float to the top.

Using lemons in the mason jar Christmas centerpieces
I did experiment with using lemons in place of oranges and don't recommend it. They made the water murky almost immediately and didn't add the same pop of color that the oranges add to these festive mason jar centerpieces.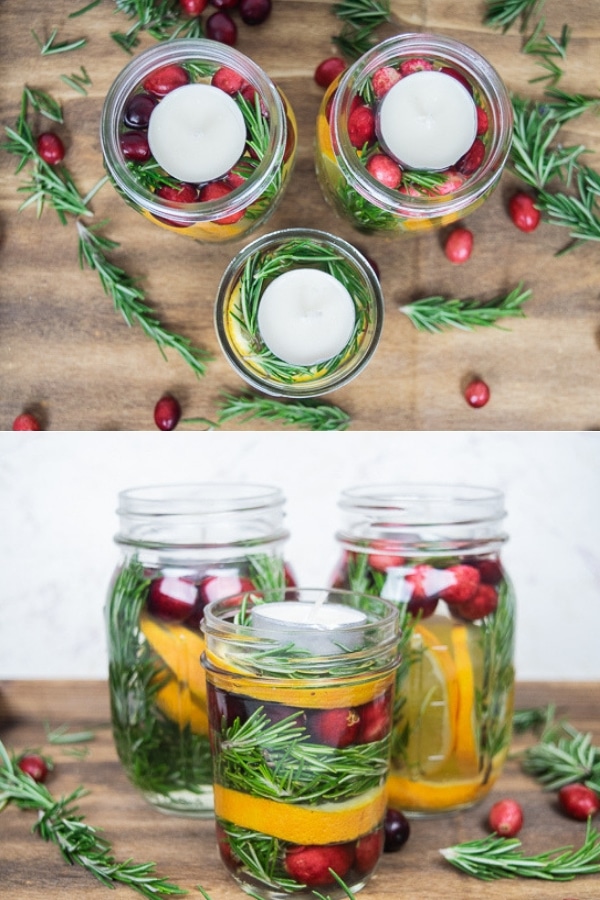 Other fun ways to decorate for the holidays:
I love the way our mason jar Christmas centerpieces turned out. They were easy to make, smell great, and look so festive!