Learn how to make these adorable Mason Jar Tissue Holders using your Circuit cutting machine!
I have fallen completely head-over-heels in-love with my Cricut Maker since I got it for my birthday last year. My only complaint is finding time to craft. Between running this blog, parenting my three kids, and carving out time for my husband – there is not a ton of time left for crafting.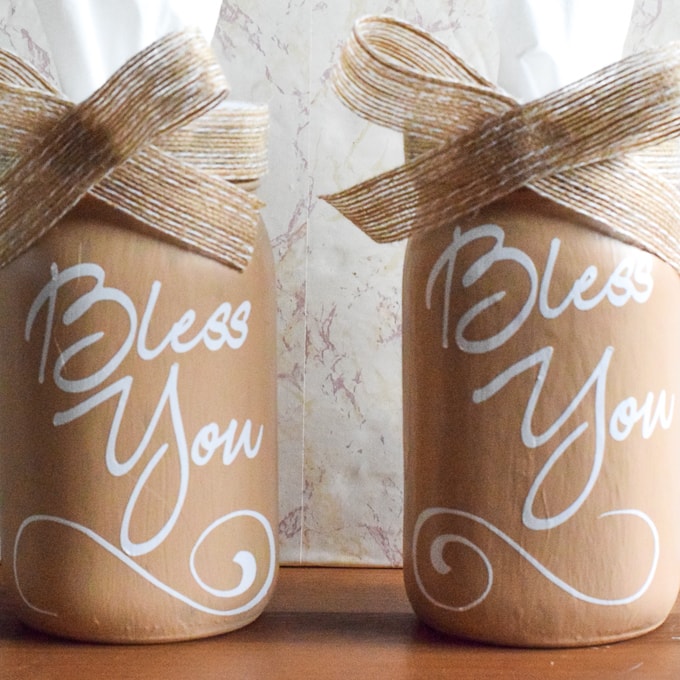 However, I have made time to experiment a bit with my Circuit and make some fun things. One of the things I made (and made again) are these adorable mason jar tissue holders with the words "Bless You" on the front. I made them as centerpieces for a PTA event at the beginning of the year and had been wanting to blog about it and share the tutorial with you ever since.
Today is the day! I am going to show you how easy it is to make these adorable mason jar tissue holders, or as I have been calling them, bless you jars. 😉
Materials needed for a Mason Jar Tissue Holder
I am including affiliate links to these products, but you should be able to find them all at your local craft store.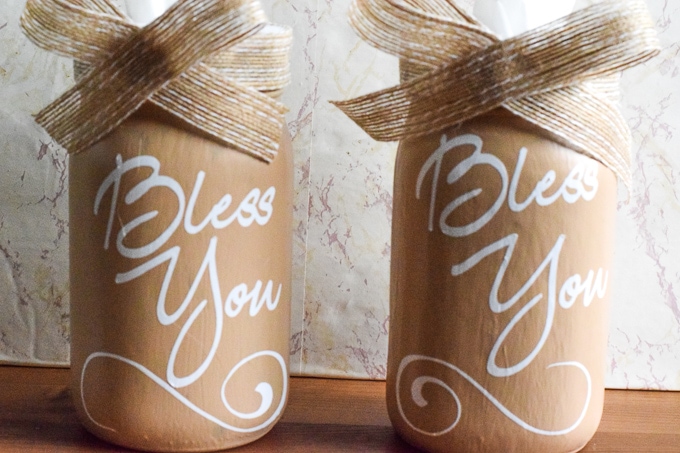 Other fun crafts:
Superhero DIY Tooth Fairy Pillow
DIY Wine Cork Trivet (pot holder)
How to make a Mason Jar Tissue Holder
Start by removing the lid from your mason jar and setting it aside. Paint the jar with two layers of chalk paint. I made mason jar tissue holders in both cream and blue. Let them dry overnight.
While waiting for your jar to dry, open up Cricut Design Space. Pick out the font you want to use (dafont.com is great for finding fun fonts) and set the width. The "bless" should be 3.2 inches wide and the "you" should be 2.9 inches wide. Cut it out in vinyl using your Cricut. Weed and transfer the vinyl to painters tape. This will make it easier to apply without pulling off any of the paint you applied.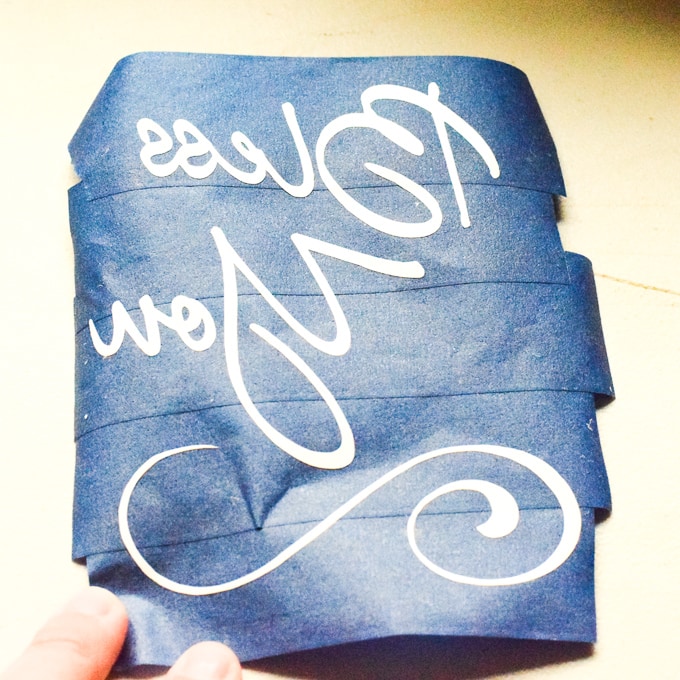 The next day, apply your vinyl to the jar. Work your way from the center, out to get it on smoothly and then carefully pull the painters tape off. Go slowly and press it back on if needed. Applying vinyl to a jar can be challenging at first, since it's a rounded surface, but you will get it!
Once your vinyl is applied to your liking, paint on 1 coat of Mod Podge. Let it dry a couple of hours, until no longer sticky.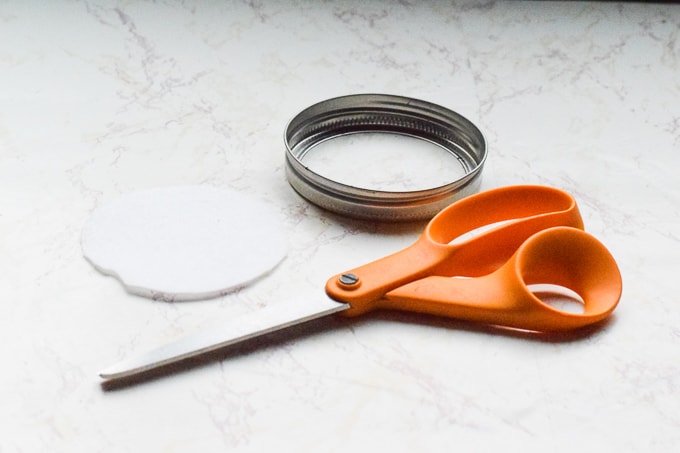 Take the center part of the mason jar lid and trace a circle onto the felt. Cut out the felt circle and then cut an X in the center of the circle. Do not cut all the way to the edges. This is where your tissue will pull from once inside the jar. Heat up your hot glue gun and glue the felt round into the mason jar lid ring.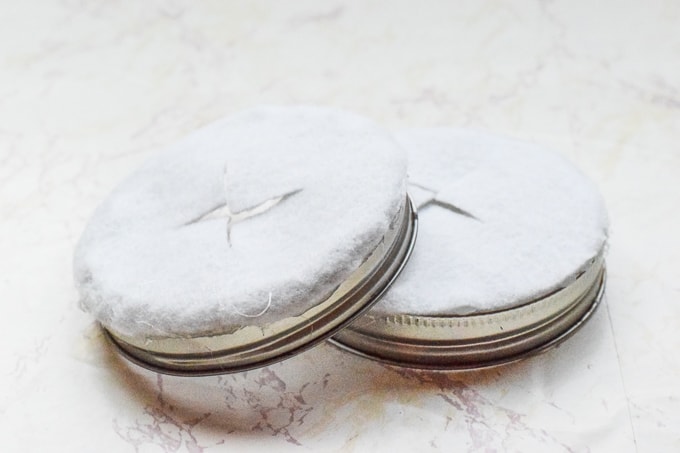 Now measure out your ribbon but wrapping it around the ring of the lid and overlapping by 1/4 inch. Cut out two pieces at that length. Hot glue the first piece around the rim of the lid.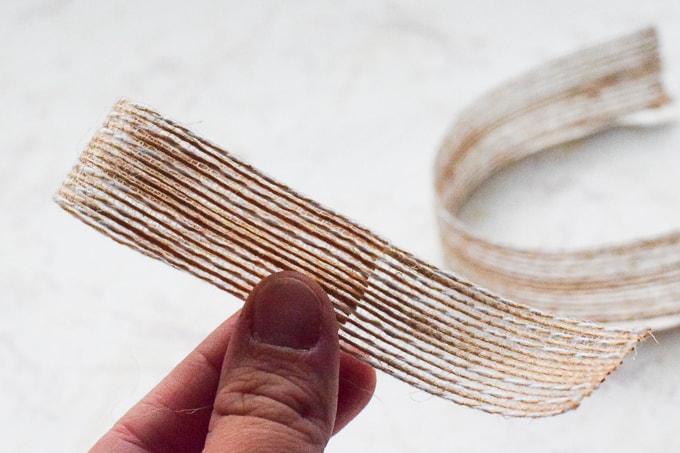 Cut the second piece in half. Fold each piece a third of the way down and arrange into a bow. Hot glue onto the lid, where the edges of the ribbon show.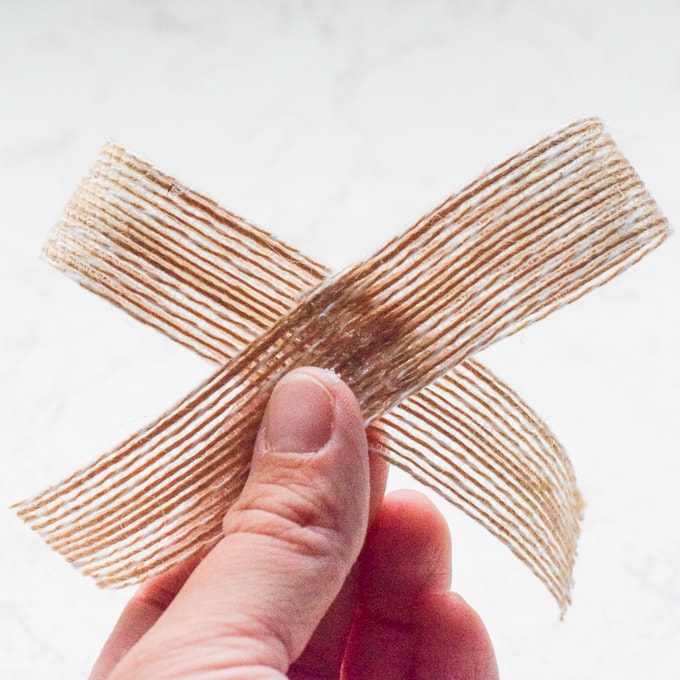 Let everything cool and dry. Once ready, insert the tissue into the jar, screw on the lid, and pull a tissue through.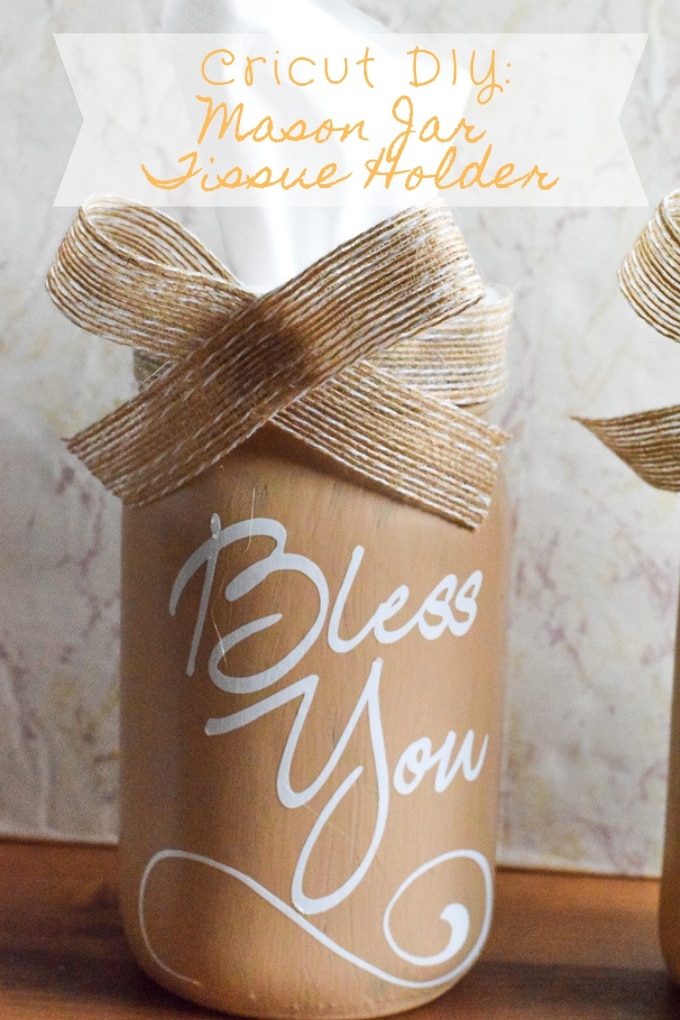 And that is how you make a Mason Jar Tissue Holder. I hope you enjoyed this Cricut tutorial. If you make your own mason jar tissue holder, will you tag @aileencooks on social media so I can see?