Meal Planning 101
Meal planning has changed my life in many ways. It lowers my stress at the grocery store. I don't have to run out at 5 PM for the one thing I need to make dinner. I save money by making less trips to the grocery store, because let's face it., that "one thing" always turns into five things.
Meal planning can feel daunting, but it does not have to be a lot of work. If I can manage to make my meal plan when my children are sleeping or otherwise occupied, I can write my meal plan and shopping list in 20 minutes. Just 20 minutes once a week and you will have less stress at dinner time trying to figure out what to make and less stress at the store trying to figure out what you need.
Shop Your Pantry
Shop your pantry and refrigerator. Jot down a quick list of what you ALREADY HAVE and what is getting ready to go bad. You will want to use up those things in the beginning of the week. Next, make a list of what you can make that includes the items you already have. Then, you can decide on the rest of the meals for the week.
Looking for the FREE Printable? Scroll Down.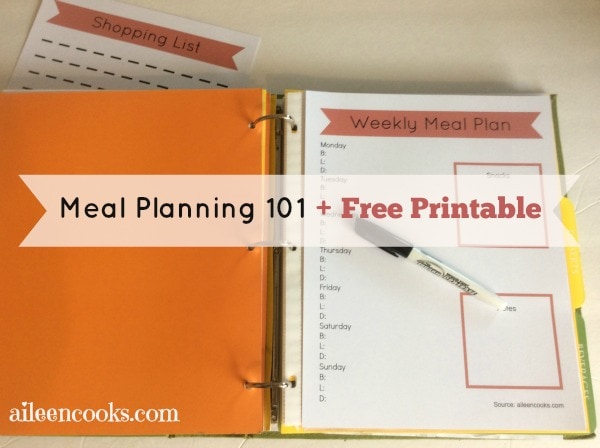 Make What You Like
Think of what you would like to eat and find a recipe for it. Pinterest is wonderful for meal-time inspiration.
If you don't like fish, don't put it in your meal plan because you will probably end up skipping that meal and wasting those ingredients. Don't do that to yourself. Plan to make what you like so you can look forward to dinner time.
Use Cookbooks for Inspiration
My ebook: 10 Easy and Delicious Slow Cooker Recipes is yours FREE when you sign up for our newsletter.
Plan Out ALL of the Meals
There are many articles out there focused on dinner. Yes, Dinner is very important for family bonding, but you have to eat all day! Plan out your breakfasts, lunches, and snacks. It doesn't have to be fancy. If your kid likes to eat peanut butter and jelly for lunch every day (like mine), then write down peanut butter and jelly for every lunch. Just plan for it and add whatever you need to your shopping list.
Check Your Schedule
Check your personal schedule. If you have late meetings or soccer practice on Monday and Wednesday night, then you don't want to come home and cook for an hour on those nights. Plan on making easy meals, eating leftovers, or enjoying a crockpot meal on those days. This is how you make meal planning work for you – it is designed to make your life easier.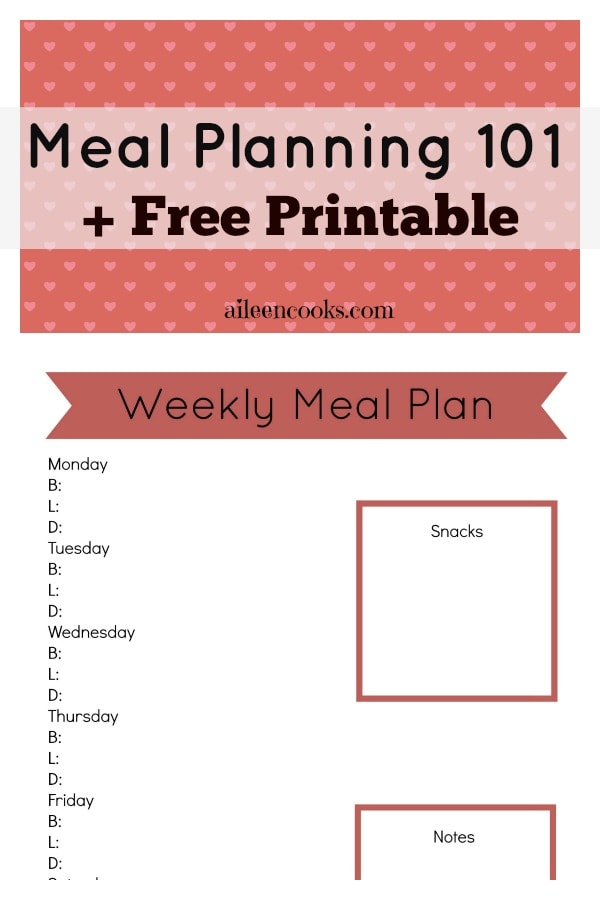 Don't Plan on Cooking Dinner Every Night
I know this may seem counter-intuitive, but give yourself at least one free day. We designate 1 day per week to leftovers. If we don't have leftovers (we ALMOST always do), then we have breakfast for dinner. It's quick, easy, and my kids are happy to eat eggs or pancakes at any time of day. We also designate 1 day every other week for take out or eating out. If you like to skip cooking (and cleanup) on occasion, then plan on it. Write it into the schedule and then you can look forward to Chinese take-out all week.
Be Flexible
Sometimes, your plans will change and you won't be home to make the Baked Ziti or Chicken and Black Bean Casserole. That's why we work in leftover nights and eating out nights. Just move things around and plan on making that meal on another day. If you already have something in the slow cooker, divide it into individual servings and freeze it in tupperware. Now you have your own, homemade TV dinners saved for another day.
How Do I Get a Printable Meal Planning Worksheet?
Click the link below to download the PDF version of the Printable Meal Planning Worksheet.
–>Download Printable Meal Planning Worksheet <–


Note: This post contains affiliate links. Read my disclosure policy for more information.