Are you searching for the perfect travel system for your growing family? Read this post to learn all about the new Chicco Corso™ Modular Travel System and see if it is the right choice for your new baby! This post is sponsored by Chicco. All opinions are my own.
Today, we are discussing the all-new Corso Modular Travel System from Chicco! Where Versatility meets Simplicity.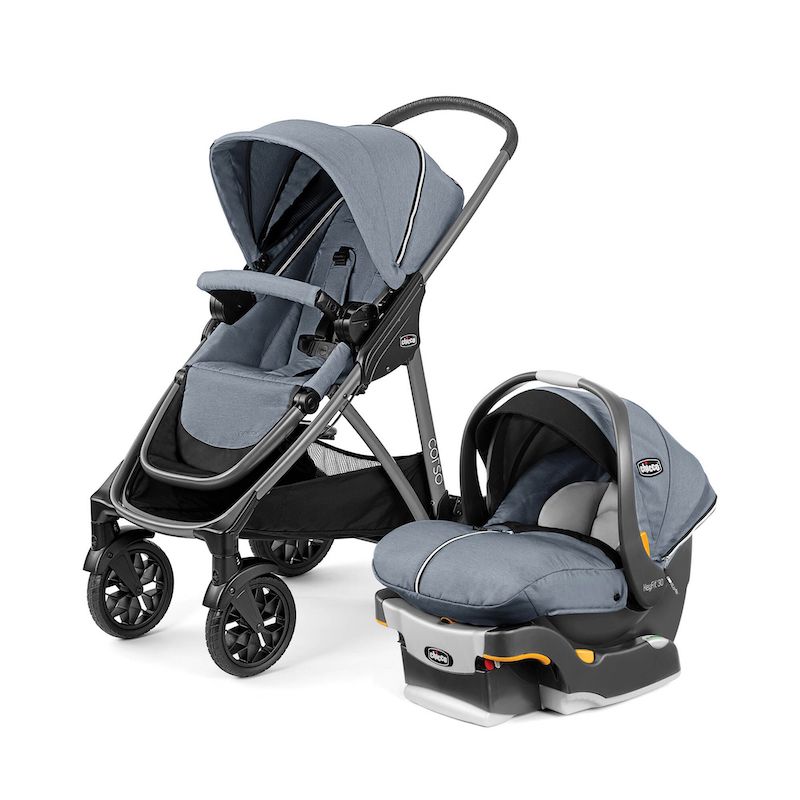 About the Corso Modular Travel System
Sleek and stylish yet ready for adventure, the Corso Modular Travel System takes infant and toddler travel to exciting new levels with an easy-to-use, streamlined design for you and comfort options for your little one.
One-hand, quick fold design is compact and self-standing.
Includes the #1 rated KeyFit® 30 Zip Infant Car Seat with stay-in car base and infant car seat adapter.
Parent-facing and forward-facing options for 4 different configurations.
Removable, multi-position reclining seat and adjustable footrest.
Converts to a lightweight frame stroller.
Accepts all Chicco infant car seats with click-in attachment.
3-panel canopy with zip-open extension and flip-open mesh peek-a-boo panel.
Adjustable FlexCore® rear suspension and large wheels with treaded EVA tires.
Fixed, ergonomic push handle for a solid, responsive feel.
Wheel and swivel bearings for smooth strolling and easy steering.
Backrest pockets/pouches and storage basket with built-in bottle pockets.
The infant seat holds children up to 50 pounds.
More great finds from Chicco:
Chicco Close To You Bassinet
Chicco Fit4 4-in-1 Convertible Car Seat
Favorite features of the Chicco Corso Modular Travel System
Conversion to a lightweight frame stroller. In that past, you would have to buy a separate frame stroller and traditional stroller. I LOVE that the Corso handles both tasks, making this travel system's last a lot longer in our families life.
Having a simple stroller frame in those first few months makes life so much easier. If your baby falls asleep in the car (believe me, they will), you DO NOT want to wake them up and transfer them to a stroller seat. Sure, you could get a stroller that also holds a carseat, but they tend to be a lot more bulky and cumbersome.
I like that the Chicco Corso Modular Travel System works perfectly as a light weight stroller frame and then smoothly transitions into an easy to fold and maneuver stroller when the time comes.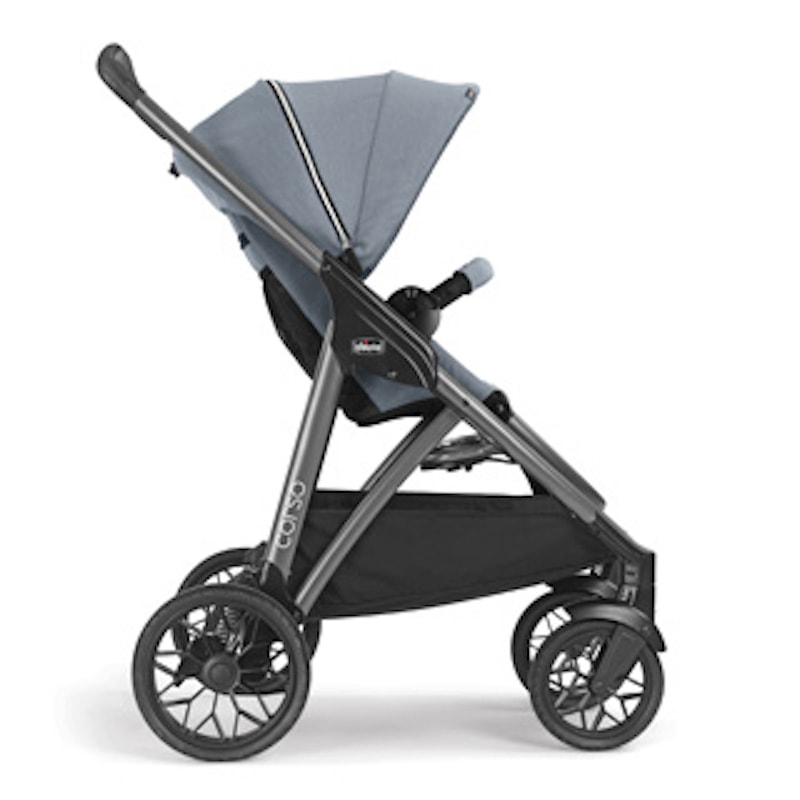 The 50 pound weight capacity! 50 pounds may seem like a lot and you may think that if you had a 50 pound child, they would be too big for a stroller. I am here to tell you that there are times when I have had 4 and 5 year olds desperately need a break during trips where we are walking a lot.
Yes, they will get out of the stroller and walk at that point, but its nice to have around because the stroller will be your favorite item for holding all of the things. It will save your back after a 3 mile walk when your preschooler melts down and just needs to sit and be pushed.
Just believe me when I say that you need that large weight capacity!
The reclining seat with 4 different configurations. This is a total game changer! I love being able to turn my babies around to face me and lay them down for nap time. Having baby face you is especially nice when you first make the transition from carseat to toddler seat.
Large Storage Capacity. With my first baby, I made the mistake of purchasing a stroller with a small storage basket and boy, did I regret it! In fact, I ended up buying a second stroller because I couldn't get my diaper bag to fit in the bottom of the stroller.
I love that this travel system has a large underside basket (with TWO built-in bottle holders) and storage on the back of the toddler seat in the form of a mesh pocket and zippered pocket.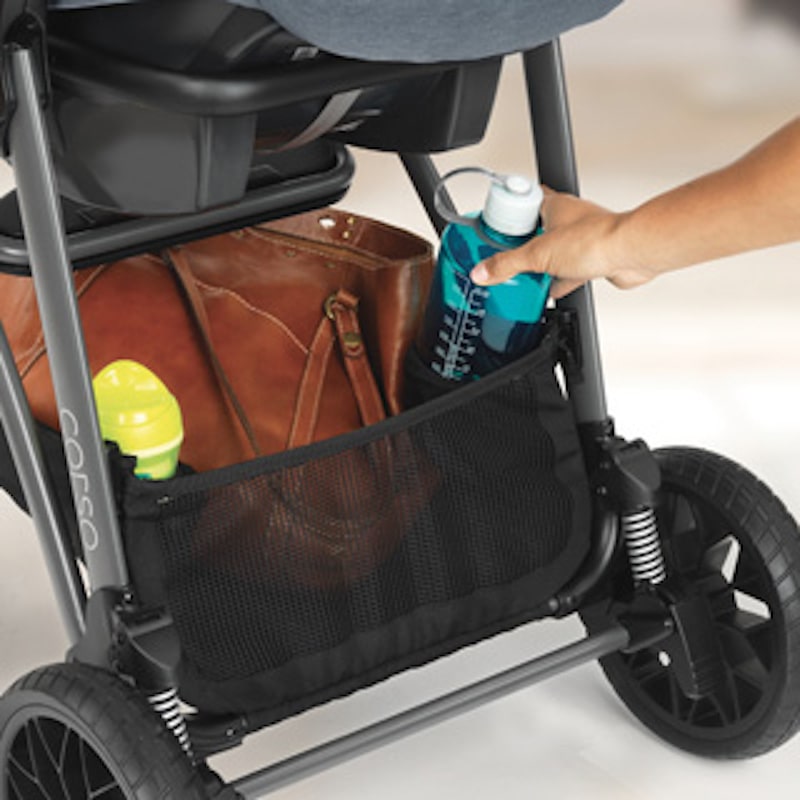 Top rated infant car seat. This travel system includes the #1 rated KeyFit® 30 Zip Infant Car Seat. Having a safe car seat is so important – especially for those teeny babies who aren't even supporting their own heads yet. I love that you can get this great car seat included with the travel system, and at an affordable price.
If you're still shopping for all of the baby things, make sure you also read our post on Top Baby Registry Must-Haves for 2020. It's a full list of our top picks!