See the full list of must-have snow gear for kids all in one place. This no-fluff post has everything you need for a successful snow trip with kids! Thank you to Zipfy for sponsoring this post!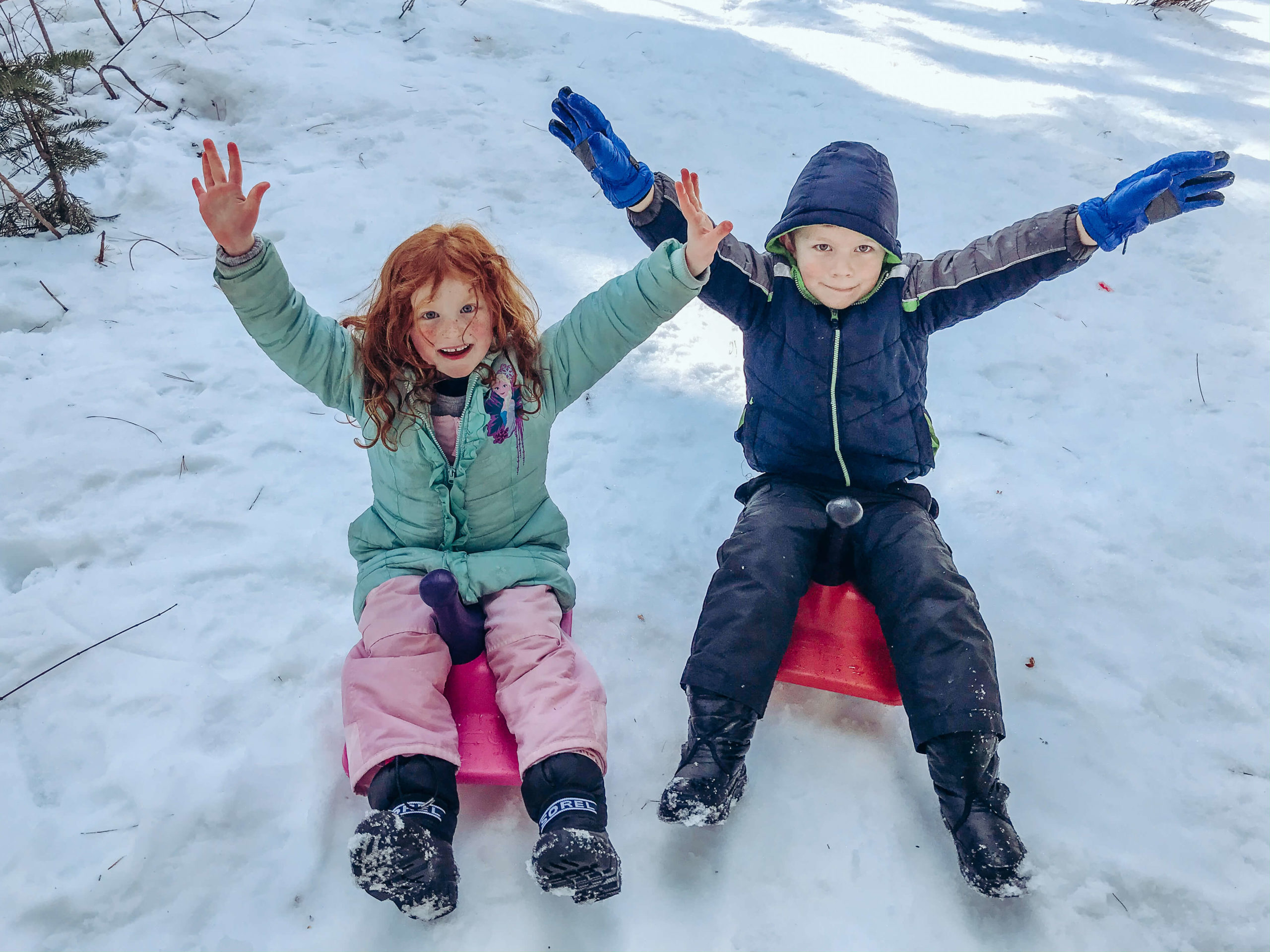 Now that we're back home from our trip to Lake Tahoe, I thought I would take some time to share our list of must-have snow gear for kids! We have taken our kids to the snow a handful of times now. We are lucky to live in a place that
A) Does not snow
B) Is within driving distance (3 hours) to snow
That means, as our kids get older, we can plan on taking them to pay in the snow at least once per year! We have started stocking up on snow gear for our kids and have learned what works and what doesn't work. Here is my go-to list!
Our List of Snow gear for kids
Snow Pants
First off, yes, you have to buy these! They are waterproof and will keep your kiddos dry and happy the whole day. You will want some, too. Trust me.
Snow bib or pants?
If you have a potty training child, I don't recommend the snow bib because they are harder to get on and off. Go with the pants if you can. Otherwise, a snow bib may be a better option because they over more waterproof coverage and they are very comfortable.
Look for these in second hand stores if you can. Kids grow fast and unless you live where it snows, you are not going to use them a whole lot. I'm linking to Amazon, in case that is not an option for you.
I also recommend buying in neutral colors if you have more than one gender of child (or if you plan on having more). These will absolutely last through more than one kid!
Waterproof winter coat
Luckily, we had already invested in warm, waterproof coats for our kids, so we did not have to go out and buy them. If your kids already have a warm coat that is also waterproof, use that. Otherwise, invest in a size up and it should let multiple years. My son is going on year 3 of his winter coat and we are only now seeing he will need a new one next winter. I cannot stress this enough. Buy a size up!
You will want to look for a coat with a warm lining, waterproof shell, pockets, and a hood. It's best for find a hood that has a snap at the chin or strings, so they can cinch it closed if it is extra cold.
They do make coats with removable liners, but I do not recommend them. I have found they are bulky, not as comfortable, and cumbersome.
Waterproof gloves
This is another MUST HAVE item. Your kiddos are going to want to build snowmen, make snowballs, and touch the snow. Their hands will be freezing within minutes without gloves.
Unfortunately, soft cotton gloves will not work because they will get soaked. Invest in a pair of kids-sized snow gloves and they should last you several years as they tend to have room for growth.
Thermal Underwear
One of the most important things for dressing your kids well for the snow is to layer them up. They will want a warm and soft layer under their waterproof clothes. You can invest in a pair of thermal underwear for this purpose, or use warm 2-piece pajamas.
Jeans will work, too, but they won't be as comfortable. Comfort is king when dressing for the snow. If your kids are warm and comfortable, they will be more eager to stay out in the snow playing, skiing, or sledding for longer.
Snow Boots
Snow boots are another must-have. They are like rain boots because they are waterproof on the outside and tall, but they have a warm layer on the inside and scinch tight so the snow can't get inside their boots.
This is another item that you should consider purchasing second hand and/or in a neutral color. There are also a lot of cute and affordable snow boots on Amazon and at Target if you want to just order online.
Zipfy Freestyle Mini Luge Sled
Okay, we tested these babies out during our trip to Lake Tahoe and they are the best!!! Zipfy's mini luge sleds are easy to maneuver, are fast – but not too fast, and most importantly, they are easy to stop!
While we were out sledding there were so many kids on saucers and other sleds who simply couldn't stop. They were running into people, crashing into trees, and falling off. A lot. Our kids didn't have that problem at all and they had a blast! Even my littlest (who was technically not big enough for the sled) was able to go down the hill, turn, and stop herself with ease. It came to all three of our kids naturally, we didn't even have to show them how to do it.
Zipfy's sleds are sturdy and work perfectly for kids ages 5+. They also make a toddler size for kids ages 3-5. I do recommend purchasing one sled for each child as they will all want to go down together. Plus, the grown-ups will want in on the action, too!
Beanies
The last thing you will want to invest in before taking your kids to the snow is a warm beanie. This is an affordable item and I would recommend buying new or washing well if you buy second hand.
It's a great opportunity to let your child pick their favorite color or print – especially if you went gender neutral with the rest of the snow gear.
That's it – our no frills list of snow gear for kids. We hope you enjoy your family trip to the snow!