I have been wanting to create a cozy reading nook for my kids for as long as I can remember. There is something special about having a warm and cozy corner dedicated to snuggling up around good books. Thank you to Teepee Joy for sponsoring this post.
I finally made the reading nook happen in our living room. My daughter Katie was more than happy to test it out for me right away with one of our favorite Bernstein Bears books.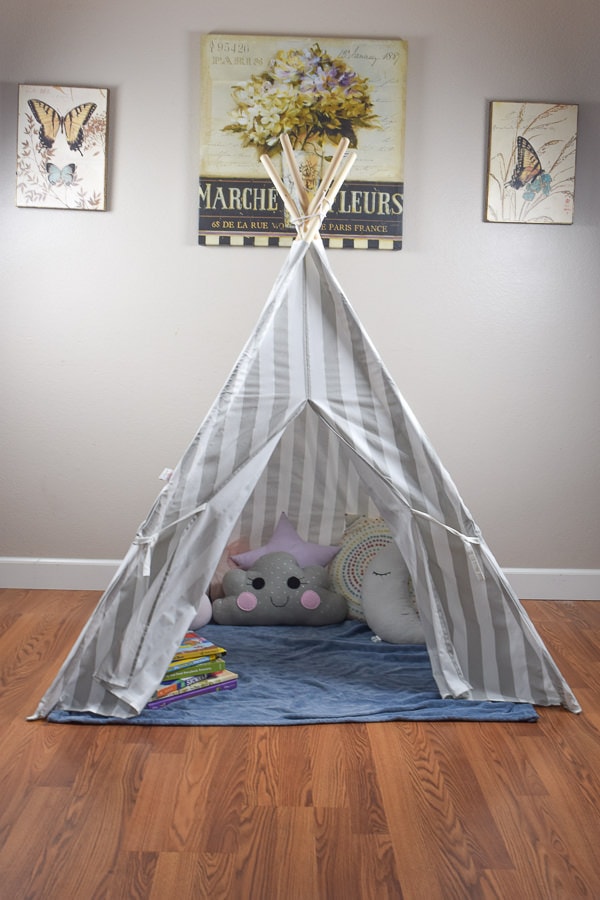 She was so excited about their new kids reading nook and spent a good amount of time in there this morning. I imagine we will have many more mornings spent snuggled up in our reading nook.
Here is how to make a cozy reading nook
Start with a roomy teepee or tent.
Our Teepee is from Teepee Joy. Their teepees are great because they have so many beautiful patterns. It took me several days to decide on my favorite. Ultimately, I decided on the Namaste in Grey Teepee because it was gender neutral and modern looking. With two girls and one boy, I wanted something that would work for everyone.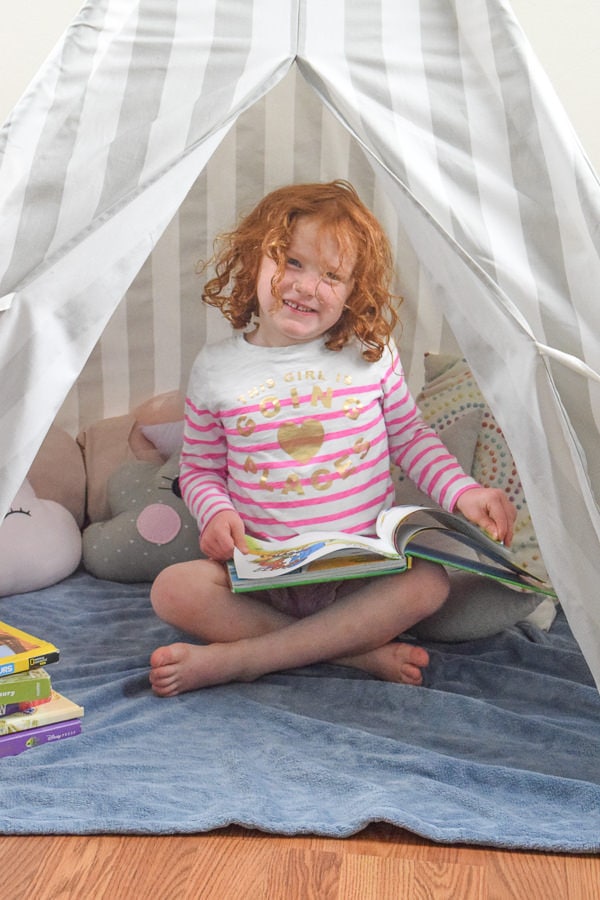 If I was picking one out especially for Katie, I probably would have gone with the Candy Crush Teepee because it matches her personality and her room.
If you do decide to get a Teepee Joy Teepee, you can use coupon code ACTEEPEE10OFF for 10% Off.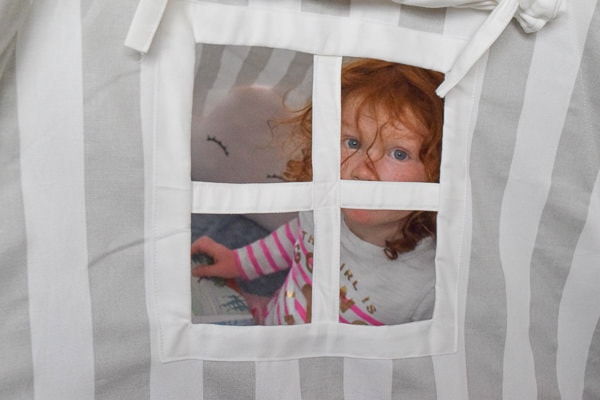 Add a Cozy Blanket…or Two
I added a soft blanket to the bottom of our reading nook to make it extra warm and cozy. The blanket is a fleece blanket from Nautica. I may try to scout out another fleece blanket in grey. You really can't have too many blankets when it comes to kids' reading nooks.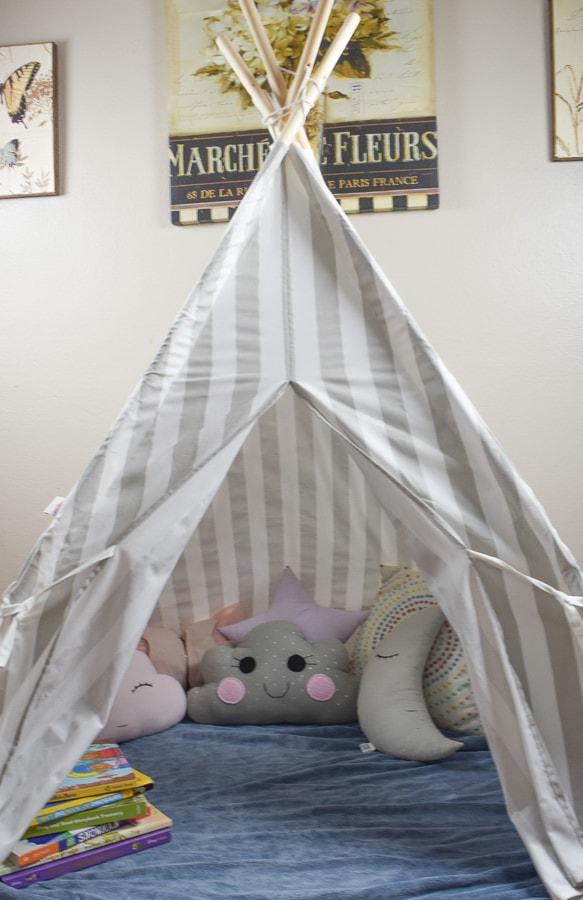 Add Pillows
We added lots of fun pillows to our reading nook. There are enough to lean up against and hug. As you can see, there is still plenty of room in our reading nook. It's really roomy in there!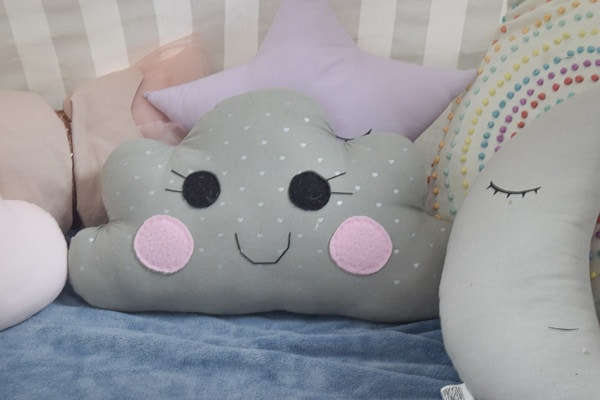 A lot of these pillows are from Allison's room. She is in a toddler bed now but really prefers to just sleep on her pillow pet. I"m glad they fit perfectly in our reading nook.
The star, moon, and cloud pillows are from ProstoConcept on Etsy. The pink pillow is from Pottery Barn Kids. Unfortunately, it is no longer listed on their website.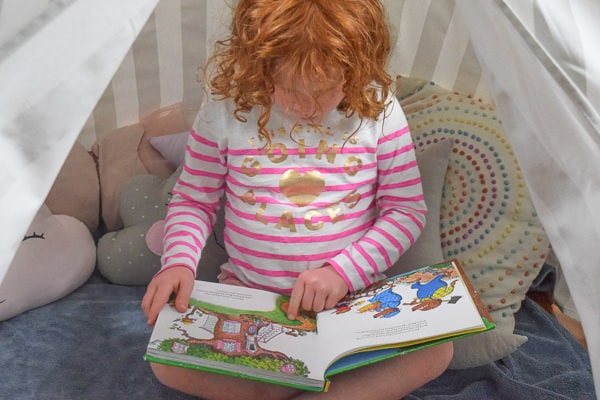 You may also like:
Finish with Favorite Books
I gathered a few books I thought all of the kids would enjoy. With three kids, we have accumulated a lot of books, so this is just a small selection of a much larger selection of books in each of their rooms.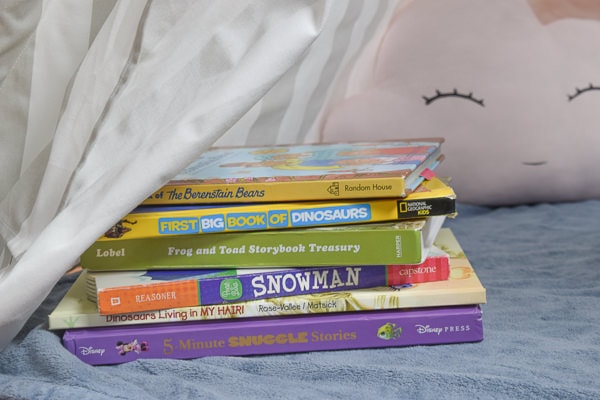 Once you have some favorite books in your reading nook…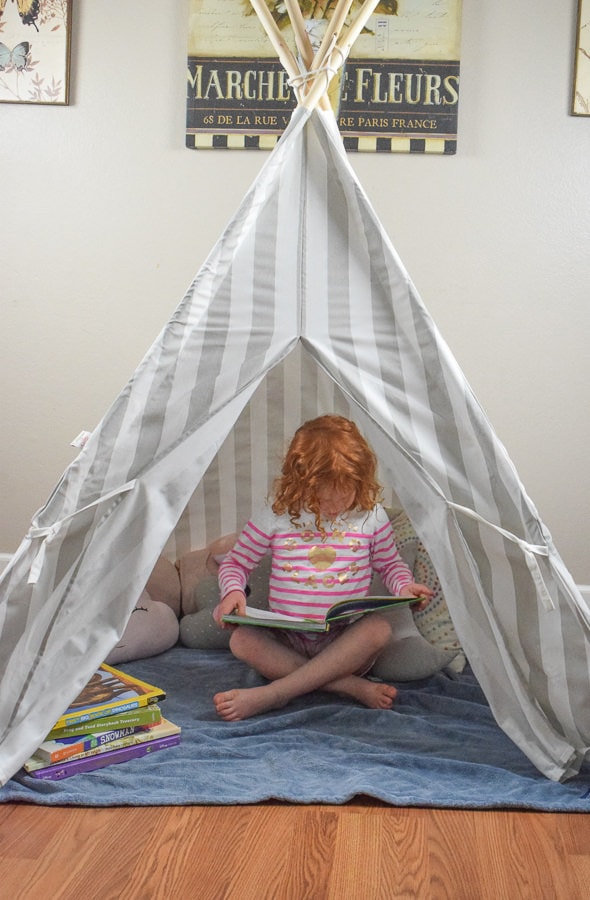 Invite your kids in to read!
I am in love with how great our reading nook turned out! I have been wanting to make this happen for so long and it really didn't take long. The most time-consuming part was putting our Teepee together, but even that didn't take long.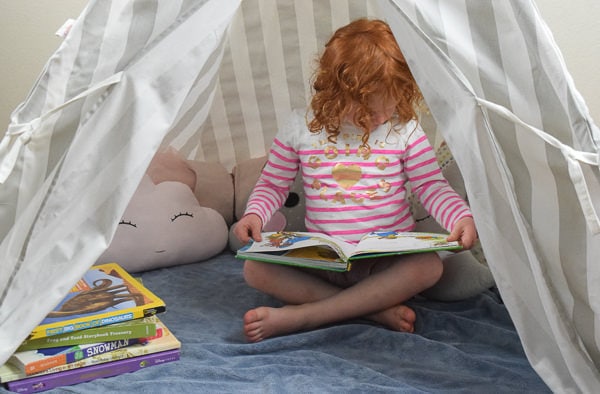 If you have been wanting to create a kids' reading nook, just jump in and do it! Your kids will love it.