We are in such a weird time right now – full of unknowns. Many schools have or will be closing, leaving kids at home, or with a babysitter for weeks on end. With that in mind, I put together a list of what to order on Amazon Prime when school gets cancelled. This is not an all-inclusive list (and you definitely do not need to order everything (or anything), it's more of a resource to give you some inspiration and (hopefully) some optimism about this upcoming change.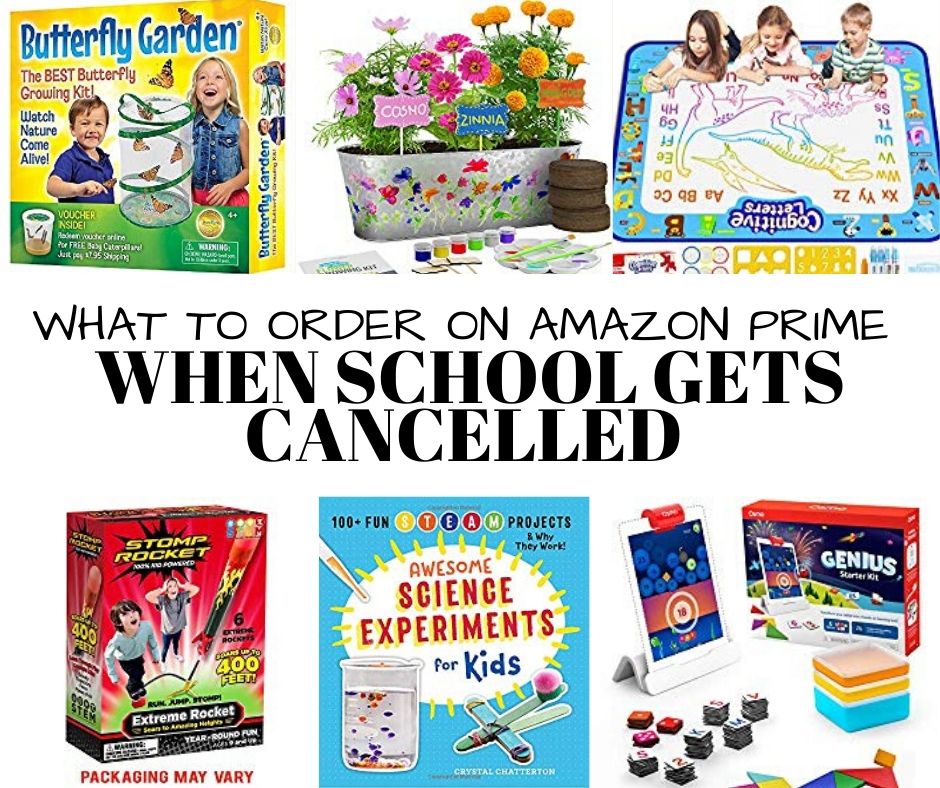 Many of these things can be bought in store, but shopping is a little intense right now. I know I am avoiding shopping as much as possible and don't want to bring my kiddos along because people are desperate and making poor decisions.
Luck for us, there is Amazon Prime to the rescue! (Don't have prime? You can sign up for a 30 day free trial here.)
I have put together a list of fun activities and art supplies to stock up on that will keep your kids busy and entertained! Make sure to also read our posts on best kids subscription boxes, 25+ cooking recipes for kids, and free educational resources for kids.
The BEST Kids Activities Available on Amazon Prime
I divided up this list by arts & crafts, games, educational, and outdoor. Keep scrolling until you find the heading that best fits your needs!
Arts & Crafts
Melissa & Doug Scratch Art
Easy to use with amazing results: The Melissa & doug scratch art box of rainbow mini notes includes 125 easy to use rainbow mini notes which kids can use to jot down notes, etch doodles, and create cool illustrations and designs. Order Melissa & Doug Scratch Art Kit.
Play-Doh
10 cans of creative fun kids can get creative with just the right colors They need in this Play Doh 10 pack of 2 ounce cans. Order Play-Doh.
Aqua Magic Doodle Mat
Extra large water doodle mat! No paint, Non-toxic, Non-polluting. NO mess with water proof backing. Easy Storage, can be folded into a compact size. Order a Magic Doodle Mat.
Kinetic Sand
Kinetic sand can provide hours of fun for your kiddos. We like this set because it includes a storage case. Order kinetic sand.
FunzBo Arts and Crafts Supplies Jar for Kids
ALL IN ONE COMBO: Everything you need is all in 1 Arts & crafts supplies jar so you could create art to your heart's content. Order a craft supply jar.
Outdoor Activities
Dan & Darci Paint & Flower Planter Kit

PAINT & PLANT YOUR OWN SMALL GARDEN: Paint the planter and plant markers, and sow the Marigold, Cosmos, and Zinnia flowers – with vibrant colors and pleasant scents. Follow along with the included step-by-step instructions. Order a Flower Planter Kit.
Paint your own Stepping Stone
KIT INCLUDES: 1 Pre-Cast Stepping Stone, 6 Paint Pots, 1 Paint Brush. Designs available are turtle, heart, flower, hedgehog, ladybug, and sun. Order a Stepping Stone Kit.
Stomp Rocket
My kids LOVE this toy. We bring it with us camping and it keeps them very, very entertained. Order a Stomp Rocket.
Little Tikes 3′ Foot Trampoline
This trampoline is small enough to keep indoors (assuming you have space). It will help kids get their wiggles out during bad weather. It's lightweight so it can be moved outside during sunny days. Order a trampoline.
Educational
Osmo – Genius Starter Kit
OSMO IS MAGIC: Fun-filled & Award winning learning games that interact with actual hand held pieces & an iPad, bringing a child's game pieces & actions to life (no Wi-Fi necessary for game play). Order your Osmo Kit.
Insect Lore Butterfly Growing Kit
Pop up, reusable 11.5 inch tall mesh habitat perfect for butterfly viewing; includes feeding dropper and complete instructions. Caterpillars ship separately via included voucher. Order a butterfly garden.
Fun-School Science Handbook
Explore the Universe! Research, Create, Play, Experiment & Learn! Cover 18 essential educational subjects while learning about space! Fun for All Ages! Order the All About Space Handbook.
Crystal Growing Experiment
This science kit contains all the materials needed to perform seven different crystal growth experiments. Order a crystal growing kit.
Awesome Science Experiments for Kids
Getting kids excited about science can be difficult. Science Experiments for Kids provides young scientists ages 5-10 with hands-on experiments that teach them how to apply the scientific method. Order the Awesome Science Experiments for Kids book.
There you have it. The BEST Stuff for Kids Stuck at Home available on Amazon Prime. Do you have something to add to this list? Leave us a comment below.