Setting Realistic Goals for 2016
There is a lot of talk about resolutions at this time of year:
Exercise every day
Lose 30 pounds
Spend more time with family and friends
Get more sleep
The problem with resolutions is they are so absolute and if you fail, most people just give up. I can't tell you how many times I have made a resolution only to break it the next week, or sometimes even the next day.
Note: This is the planner – Gold Foil Midnight Garden Flexi 2016 Softcover Weekly by Orange Circle Studios by Orange Circle Studios
That's why I have resolved to stop making resolutions, because they're setting me up for failure. Instead, I set goals. Your resolution can be your end goal, but there needs to be concrete steps to attaining your goal. Or, maybe you just want to be intentional about how you live your life? Writing down what has worked so far so you can continue on that path is a big part of goal setting for me.
Goals that are broken into easy to digest pieces make it much easier. If you stumble or don't reach your goal, it's okay. In fact, it's to be expected. There will always be bumps in the road. Goals are something to work towards. With the purpose of improving yourself, improving your relationships, or just sticking to your path.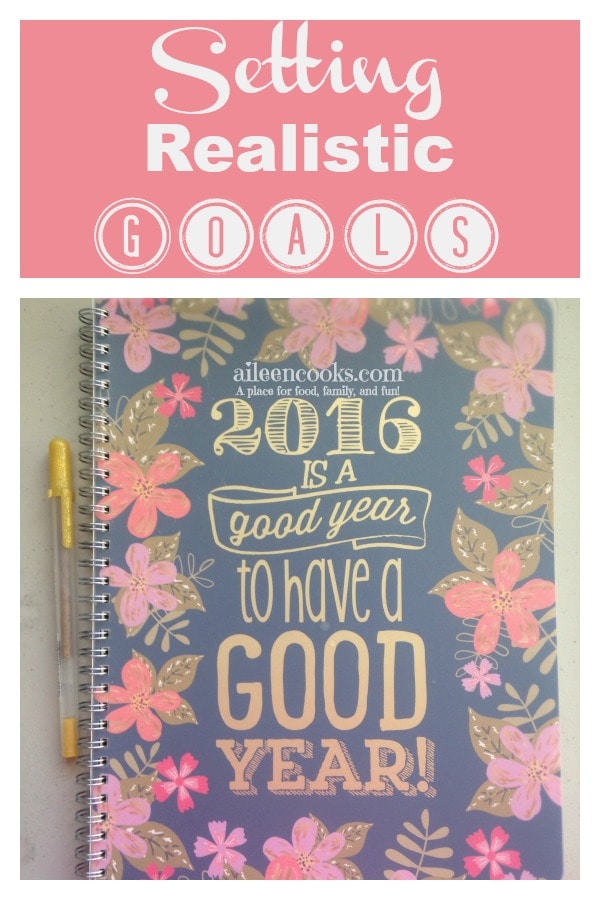 Here are my goals for the year
Myself
Make time to read a book. At least once a week.
Take baths. Baths always feel like a luxury to me and do a lot for lowering my stress level, so I am making it a priority in 2016.
Set a morning schedule that includes quiet time to blog and drink coffee before my kids get up.
 Marriage
Schedule at-home date nights at least twice per month. This was a goal last year, too. Through trial and error, we have learned that it is less likely to happen if we don't write it on the calendar. We may spend time next to each other in the evenings, but aren't intentional about it being "our time" together.
Children
Be intentional with the time I spend with my kids. That means carving out time for them daily without distraction.
Continue to read to my children daily.
My Blog
Continue to post at least 3 times per week.
Schedule my mornings so I have quality time to put into my blog regularly. This means going to bed earlier so I can get up before my early risers.
Publish at least 1 recipe per week.
My Etsy Shop
Setting Your Goals
Now, it's time to think about your goals. What would you like to accomplish in 2016? Are they realistic goals? If not, how can you adjust your expectations to make them attainable goals?
Think about how you can break it down into bite sized chunks that are realistic to accomplish and stick with for the entire year.
If one of your goals is to get more done, be more intentional with your time, or feel less stressed about everything that needs to be done, I highly recommend Crystal Paine's Make Over Your Mornings. This eCourse has really helped me be intentional (and realistic) with what I want to accomplish daily and setting concrete plans on how to get there.
What I love about this course is that it fits with multiple lifestyles. You don't have to be a homemaker or even a woman to complete this course. She gives you the tools to make the best of the time that you have, for the life you have; so you can be more successful and less stressed out. It's a 14 day course designed to only take 15 minutes per day to complete, which is perfect for me.
If you're still not sure, but want to learn more, Crystal is giving away the first day for free (just scroll to the bottom). She also offers a 30 day money back guarantee, so if it's not what you expected, you can get your money back.
Are you setting goals for 2016? I'd love to hear about them in the comments!
**This post contains affiliate links. If a purchase is made through one of the links, Aileen Cooks will receive a small commission at no additional cost to you. Any commission received goes towards the costs of running this site.**