Spring Cleaning Your Kitchen With Kids
It's that time of year! Time to dust off all those nooks and crannies, clear out the cobwebs, and spring clean!
I don't know about you, but it is hard to get anything done without my kids (ages 1 and 3) interrupting me every 5 minutes. That's why this Spring Cleaning Tutorial includes the kids. They will have a job during every step. If my toddler can help me clean, so can yours!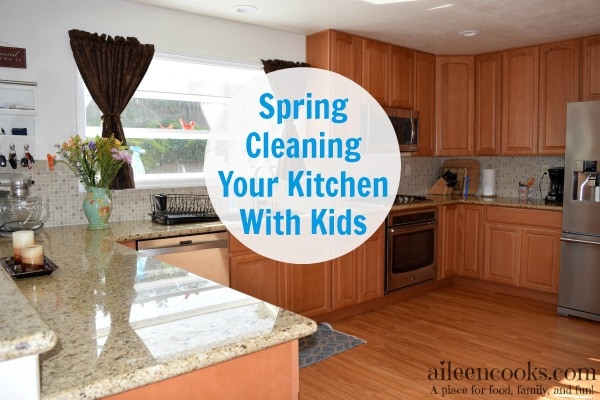 Now that I've made the switch over to natural cleaning products, I encourage them to help out as much as possible. If they can work the iPad, they can help me spring clean our house. They help make the mess, they should help clean it up! I also created some fun toddler and preschooler chore charts to get them excited to help.
I was so glad to have the opportunity to spring clean my house with the Lemi Shine family of products. They use safe, non-toxic, bio-degradable, and phosphate free ingredients I can feel good about letting my toddler and preschooler use without me hovering like a helicopter parent. All of their products are also made in the USA.
Kitchen Cleaning Check-List
Appliances
The surfaces of the appliances are something that gets neglected and can carry a lot of germs. Start by having your child spray the entire outside of the appliance with glass and surface cleaner. Then work with them to wipe it down really well. Go over it again as needed. This includes the top and sides of the refrigerator!
[bctt tweet="I got my kids to HELP with #springcleaning! Want to know how? #ad"]
Microwave
Fill a microwave safe bowl with water and a squirt of dish soap. Microwave on high for 5 minutes. Remove the bowl (it will be hot) and wipe the inside of the microwave out with a damp rag. We use towels like these for cleaning. (affiliate)
Stove
Remove your grates (if your stove is gas) and clean in the sink with hot soapy water. Pat dry. Have your child spray the stove with glass and surface spray and wipe clean. For pesky burnt on stains, squirt some dish soap directly on the spot. Let it sit 30 seconds and then scrub.
Oven
Remove the trays and set aside. Have your child spray the inside of the oven door and wipe clean. Set your oven to self clean.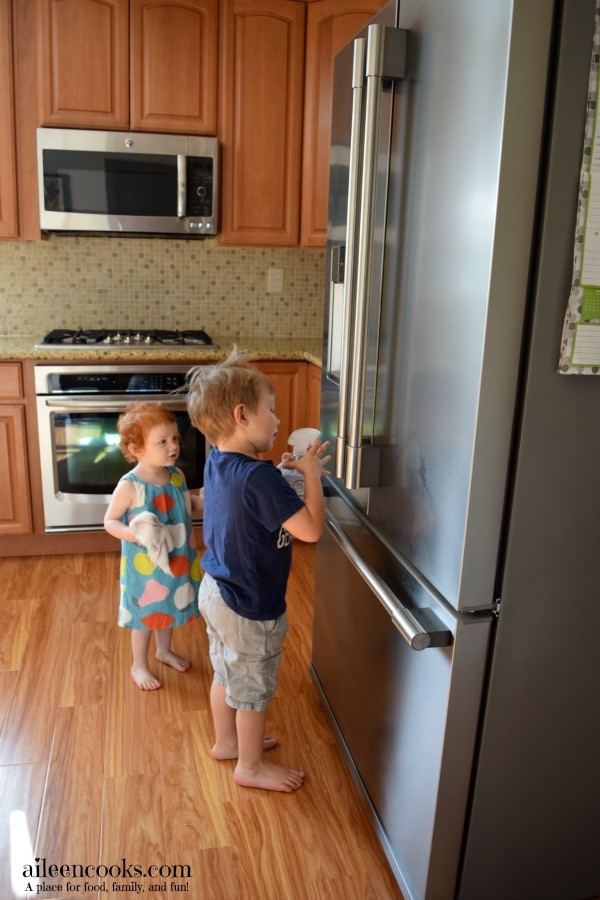 Refrigerator
The inside of your refrigerator also needs a good cleaning. Start by removing everything from your fridge wiping down each shelf and wall with a rag rinsed with hot water and dish soap. Your kids can clean the lower shelves while you clean the upper shelves. Dry the shelves and walls with a clean rag and put your perishables back.
Next, move to your drawers. Toss out any expired items and place the rest of the items on the fridge shelves (if there is room). Fill your sink with warm soapy water and set your child up with a step stool and sponge. Show them how to use their muscles to scrub the drawers and then stand back and let them do the work. (disclaimer: there will be soapy water on the floor, just get a towel and have them clean the floor next). Once the drawers are nice and clean, dry them off and put them back in the fridge.
Sink
Now that your sink is all soapy from cleaning your refrigerator drawers, drain the water and have your child scrub the inside of the sink.
Giving your sink a good scrub is also so important! Think of everything that passes through your sink on a weekly basis: raw meat, dirty hands, dirty dishes. I also wash my toddler in our sink.
Next, you'll want to clean your garbage disposal. The garbage disposal is another area that is exposed to all kinds of dirt and germs and really needs to be cleaned from time to time. I used the Lemi Shine Disposal Cleaner.
Dishwasher
The outside of your dishwasher should be clean from your kid-powered appliance cleaning, but the inside also needs some love. I loaded my dishwasher with the Lemi Shine Dishwasher Cleaner and let it clean itself. So easy!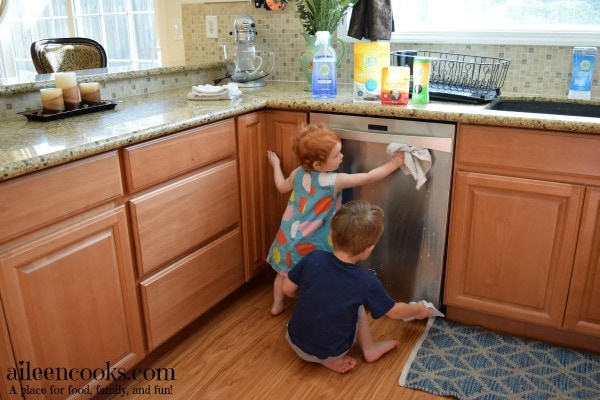 Walls
Washing your walls should also be on your spring cleaning list. Dampen a few rags with warm water and a few drops of dish soap and wipe your walls down from top to bottom.  This time, you will need the step stool to clean the upper wall, while your kids clean the lower part of the wall. Your walls don't need to be scrubbed. Just a gentle wipe-down should be plenty effective to remove the dirt and dust that has accumulated over time.
Counter Tops
Move all counter top items and appliances and clean underneath them. Prop your kids up on a step stool and have them do the spraying and wiping. Bonus: Using a spray bottle is great for fine motor skills! We recently taught our three year old to use a spray bottle and I was surprised by how well he did. Have more than one kid? Break it down into a two man job – one sprays and one wipes. (We also use the two man job plan when cooking with our kids)
Cabinets
Cabinets are another area that need to be cleaned during spring cleaning because they get smudged with finger prints and splattered with food. Re-dampen those rags and go over each cabinet, paying special attention to the areas you grab to open and shut the doors.
This is another job for your kids. Children as young as 1 can help with this job and most love wiping (they also love cooking). Put them to work!
Congratulations, your kitchen has officially been spring cleaned and you have taught your kids a wonderful lesson in hard work. Now pour yourself a cup of coffee and watch some TV. You deserve it!
If you are interested in trying the Lemi Shine products, you can find a store near you here.