Do you want to plan an adorable You are my Sunshine Birthday Party? You have come to the right place! We sure the cutest decorations, cake, and homemade sunshine cake pops! This post is sponsored by Oriental Trading Company. I was gifted party supplies to facilitate this post.
The time has already come to celebrate our little baby Allison's 1st birthday. I couldn't think of a more fitting way to celebrate our little sunshine than with a You Are My Sunshine birthday party.

You are my sunshine birthday party decorations
I instantly fell in love with this creative theme when I saw the you are my sunshine decorations on the Oriental Trading Co. website. The hanging suns and clouds were both whimsical and cute. The plates and napkins were absolutely adorable. As were the matching tablecloth and banner. I love that it said "you are my sunshine" on suns with clouds in-between. It was so, so cute!
When looking for decorations to match your sunshine birthday party theme, look for hues of orange, yellow, and pink. You could also use red in place of pink if that works better for your day. Either way, you will end up with an adorable sunshine themed birthday party!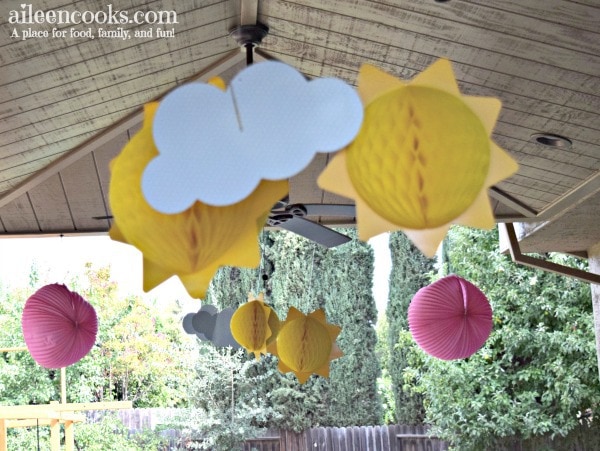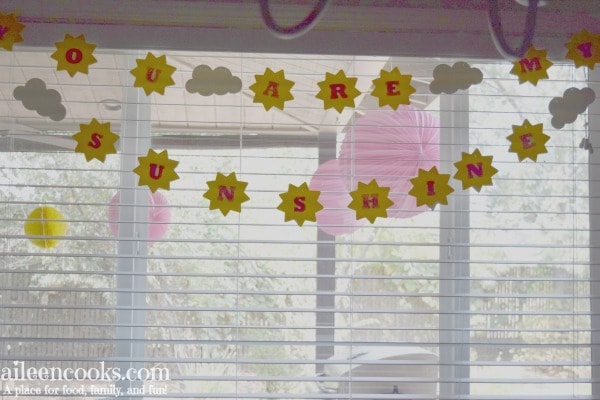 You are my sunshine birthday party crafts
The star of the show (other than our sweet Allison, obviously), was the you are my sunshine craft kit. I literally did nothing. Nada. Zilch. I pulled it out of the box, my 3 year old took out the pieces and put them on the table for me. We had kids ages 3-10 enjoying this craft and the adults didn't have to do anything. They all loved it and it was so self explanatory. These craft kits are highly recommended!
Note: As of August 2019, the sunshine craft kits are sold out. There are a lot of other really fun craft kits available, including stained glass sun catchers and these fun foam flower bouquets.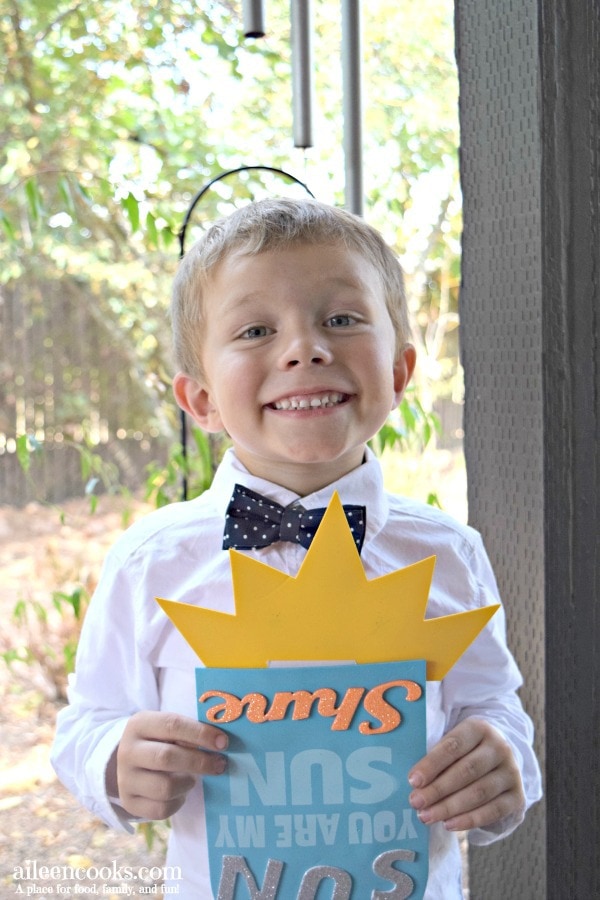 I love that we were able to relax and visit with the adults while the kids were occupied for a good 15-20 minutes. Because the craft was mainly foam stickers, it was not messy. The only thing I had to clean up after the fact were the wrappers from the craft kids and white paper from the stickers. There wasn't any glue, paint, or glitter to clean up!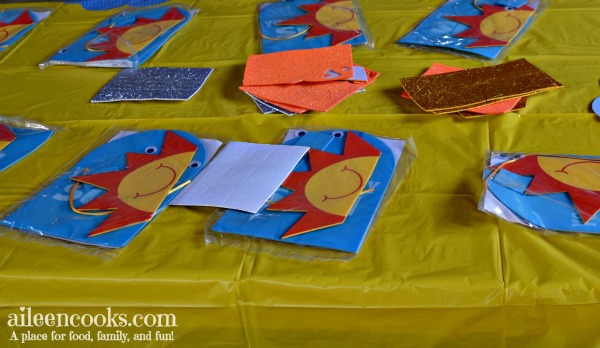 You are my sunshine birthday party invitations
The invitations we used were printed from PrettyPaperPixels on Etsy. They paired perfectly with my theme and arrived within just a few days of ordering. I loved that the colors of the invitation matched my decorations. I'm sure the guests didn't notice but I certainly did. I love those little details.
It's also helpful to add your child's interests or clothing sizes on the invitation. That information is so helpful – especially when shopping for a 1-year-old. They can be surprisingly difficult to shop for! And most non-parents don't realize that a 12 month old is likely already grown out of the 12-month size. So add that information if you can! Even if there isn't an option for it, ask the creator one Etsy (or wherever) if they can add it in.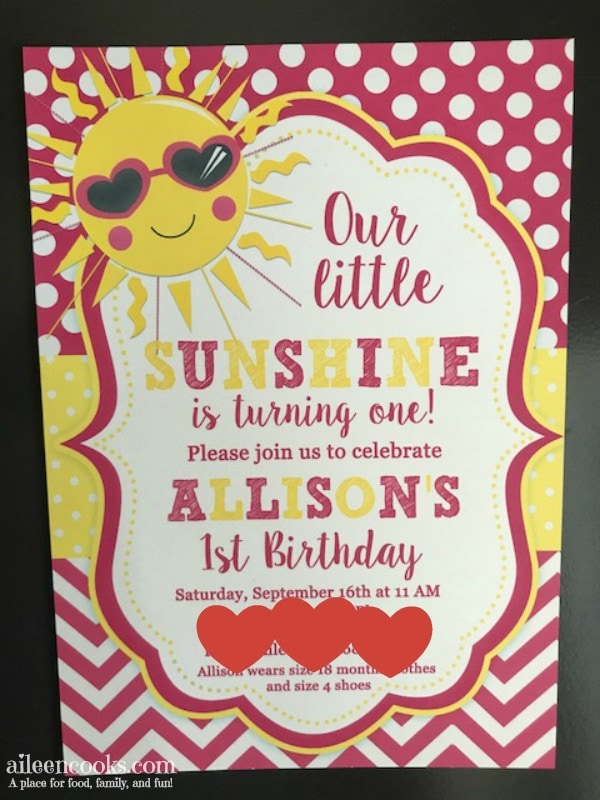 Food to serve at a sunshine first birthday party
We served a simple lunch of home-made chicken salad in croissants, Asian chicken salad, watermelon, and grapes. If you're planning a mid-morning party than you will want to check out this list of brunch recipes. We love serving simple foods that can be easily eaten and that aren't all sweets.
Too often, we go to parties and its all chips and cookies. I like serving something substantial (even if it's mid-morning or mid-afternoon) so guests don't feel hungry. It makes for a better party!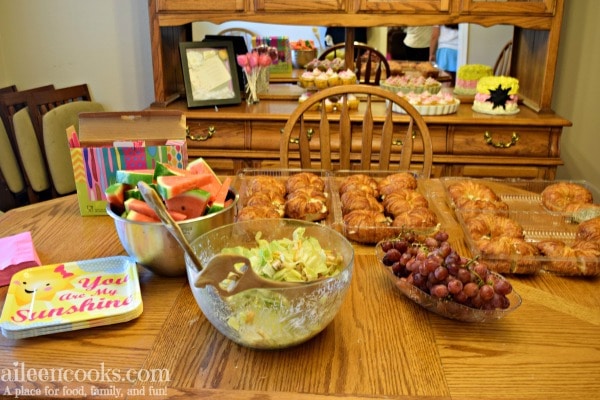 You are my sunshine cake and cookie pops
For dessert, we had you are my sunshine cookie pops, funfetti cupcakes, and this adorable smash cake from Melinda's Tasty Treats.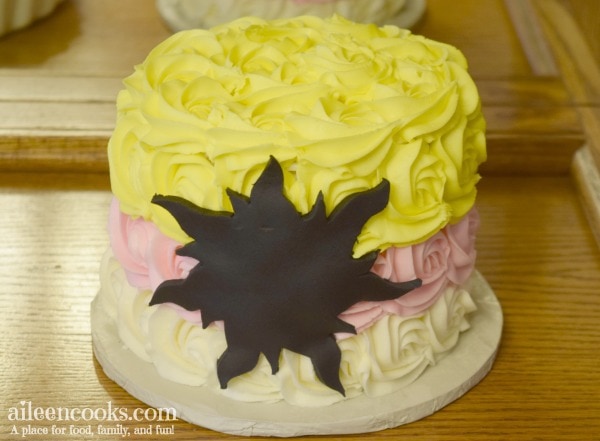 You are my sunshine birthday party cake pops
If you want to make your own you are my sunshine oreo pops, check out this tutorial! Making your own sunshine-themed cake pops are really easy and they make the cutest party favors. We wrapped ours in cellophane wrappers so party guests could bring them home!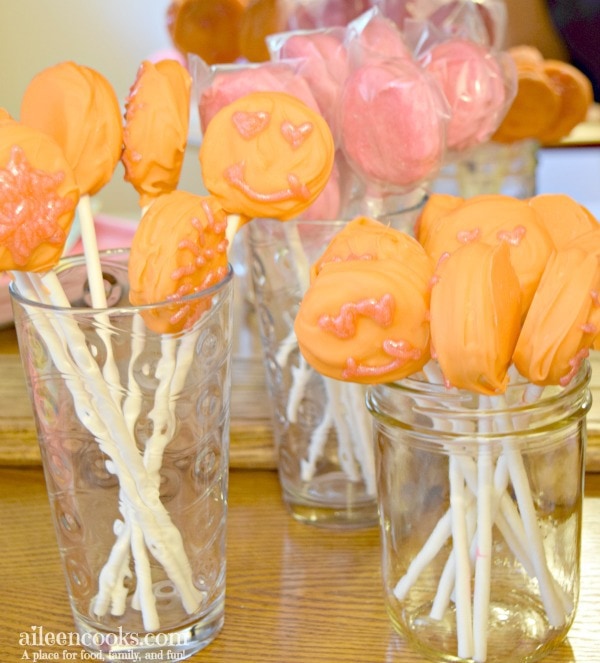 I swear, the time flies by faster and faster for each baby I have. With my first child, I felt like the year dragged on and it took FOREVER to get to his first birthday and all the fun of walking and talking. My second child's birthday came by a bit faster.
This time around? It flew by. I just love having little babies, so this milestone is a little bittersweet. But I'm so excited to watch my little girl blossom and grow and continue to show her personality.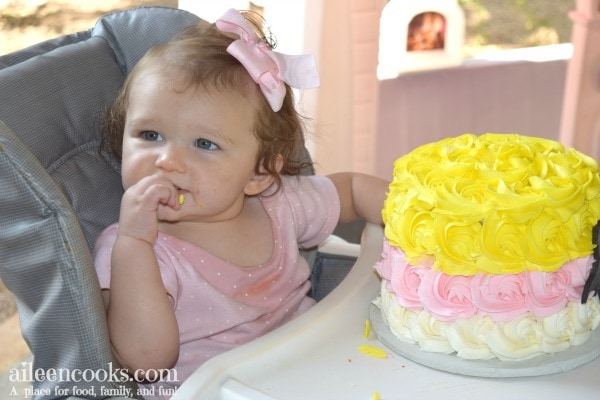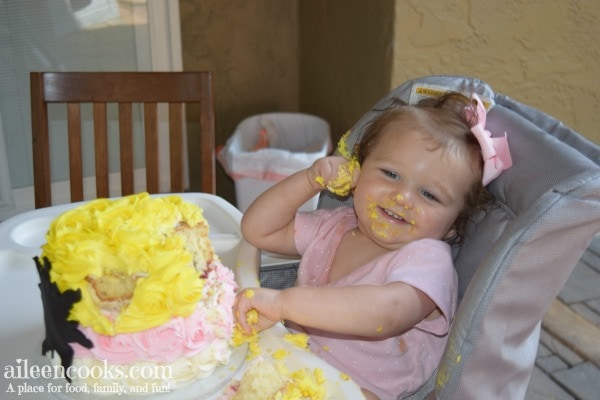 Happy Birthday, Allison!
We loved throwing this You are my Sunshine Birthday Party and hope you enjoy throwing one of your little one as well!