Today, I am reviewing The Homemade Kitchen: Recipes for Cooking With Pleasure by Alana Chernila.
This is Chernila's second book, she also wrote The Homemade Pantry: 101 Foods You Can Stop Buying and Start Making. I love a good cookbook, especially one that tells a story along with its recipes. The Homemade Kitchen did just that. She shares beautiful photographs of her home, family, and (of course) food along with stories of her life. Chernila divides her book into 13 chapters and at the start of every one, offers a glimpse into her life and experiences.
Start Where You Are
Be a Beginner
Feed Yourself
Put Your Hands in the Earth
Be Active
Use Your Scraps
Do Your Best, and Then Let Go
Be Helpful
Do the Work
Slow Down
Eat Outside
Invite People Over
Don't Be Afraid of Food
With every chapter, I felt more and more inspired. I especially enjoyed Use Your Scraps. Chernila is a woman after my own heart – sharing creative ways to be less wasteful by incorporating food scraps into other meals or (at the very least) finding a way to compost. I do this regularly with roasting a whole chicken and using it for multiple meals, making my own stock, and contributing to my city's composting service; but she has many more ideas.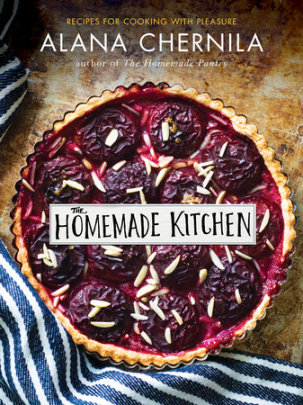 If using your scraps isn't your passion – that's okay. There is so much more to be had from this cookbook. She shares mouth-watering recipes from basic roasted chicken and cinnamon swirl bread to homemade goldfish crackers and homemade animal crackers. You read that right – homemade goldfish crackers and animal crackers.
Chernila also teaches cheese making and she shares several easy recipes for homemade cheese that will inspire even novice home cooks to take a step out of their comfort zone and give it a try.
Chernila ends her book with Don't Be Afraid of Food, where she encourages the reader to be present when eating; to not feel guilty or over-analytical. To enjoy the experience. Be present whether you are eating an ice cream or a salad. She follows it up with several decadent dessert recipes.
"Enjoyment might just be a nutrient in itself – in fact, it might be the most important one of all." – Alana Chernila
That quote sums it up for me. I wholeheartedly enjoyed this cookbook. I can't wait to try all of the delicious recipes Chernila shared, especially: Butternut Squash Pasta with Bacon and Sage Brown Butter AND Maple Ice Cream.
Have you read either of Chernila's books? What did you think?


**I received this book from Blogging For Books in exchange for my honest review. The opinions on this book and its contents are my own. This post contains affiliate links. Read my full disclosure policy here.