This post on transitioning to a toddler bed while traveling brought to you by DockATot. We received a complimentary product to facilitate this post. 
A simple way for your toddler to transition to toddler bed – even while traveling! Learn what worked from a mom of three.
Allison started climbing out of her crib at about 18 months and we knew it was time for the transition to a toddler bed. Having been through this with two children already, we knew it was time and did not try to fight it. My biggest challenge was making that same transition from crib to bed while traveling.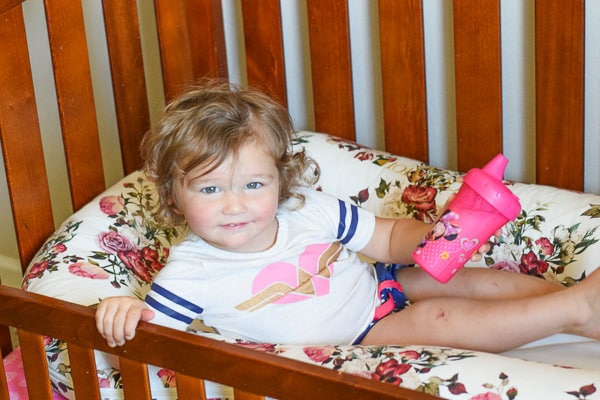 Crib to bed while traveling
We had several trips planned in our travel trailer for the summer and I was determined to not have to schlep our pack and play with us on these trips. She was not using a crib at home, so why should we use a crib in our trailer where space is limited?
Our crib set up in our travel trailer was a pack and play. It worked wonders for many years (through multiple babies) but it was one more thing I had to pack, put together at night, collapse in the morning, put back up for naptime, collapse again, you get the picture.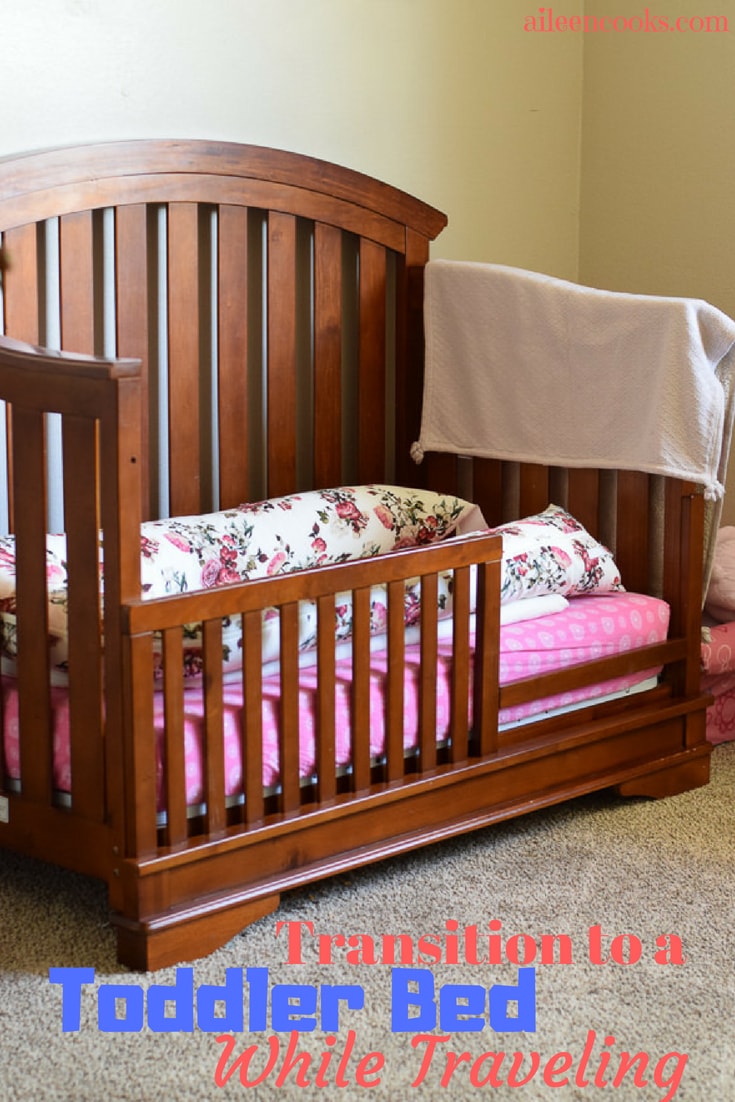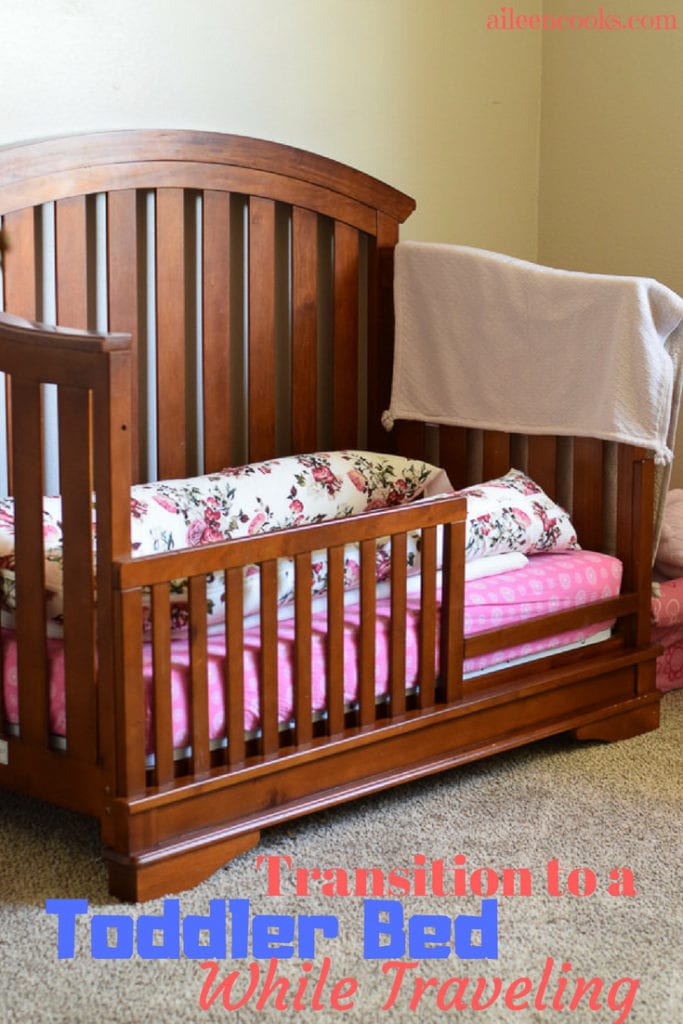 Enter the DockATot Grand
Luckily, my friends over at DockATot had mentioned we could try out their DockATot Grand when Allison was big enough. I thought this was the perfect opportunity to try out a product I had heard so many great things about and make the transition from crib to bed just a little bit easier.
Let me tell you, it worked wonders!
If you are not familiar with DockATot, it is a multifunctional lounger, co-sleeper, and play-time lounger. It comes in two sizes Deluxe (0-8 months) and Grand (9-36 months). It is OEKO-TEX certified, tested for breathability, and made of 100% cotton. Plus the prints are swoon-worthy.
The cozy sides make baby feel secure and keep them safe. The DockATot Grand is perfect for toddlers because it fits right in a standard toddler bed and the sides of it not only make them feel cozy and secure, but it keeps them from falling off the bed. Genius!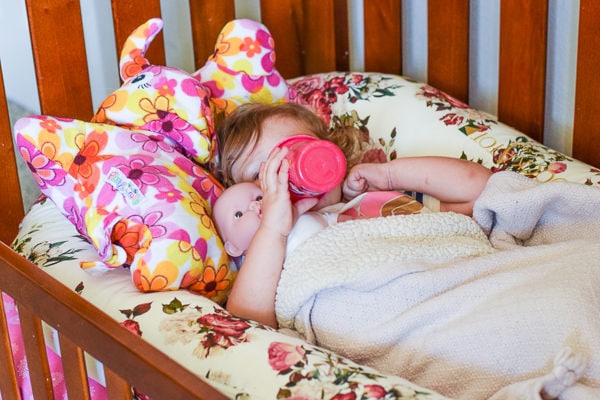 Toddler Transition to Bunk Bed
I set it up in Allison's toddler bed a few times and she slept like a dream (with her favorite pillow, of course). Once I saw how well she slept in her toddler bed I knew we were ready for the transition to the bunk beds in our trailer.
Now, bunk beds in a trailer are not quite the same as a bunk bed at home. They are already pretty secure because they are wedged into the corner of the trailer. The drop down is still a couple of feet, so I wanted to make sure Allison was safe and secure.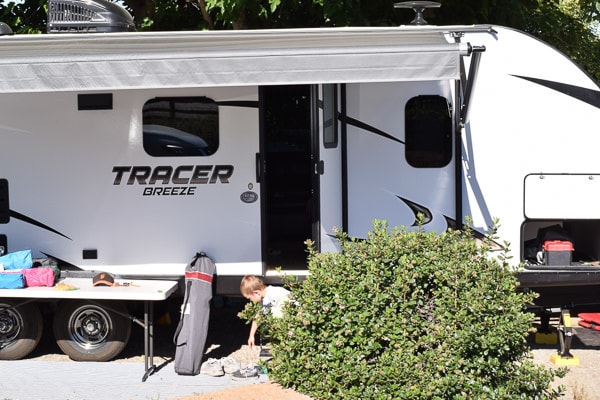 Two kids in one bed
At first, we tried putting both girls to sleep in the bed at the same time (big brother sleeps on the top bunk). That didn't work so well. The girls just wanted to snuggle and play. It reminded me of our transition to a shared room a couple of years back. Then I remembered staggered bedtimes are key!
The next night Katie was extra tired so we put her to bed first. Once she was fully asleep, we gave Allison her blanky, pillow, and milk. She reached over to touch her sister a couple of times and then fell fast asleep.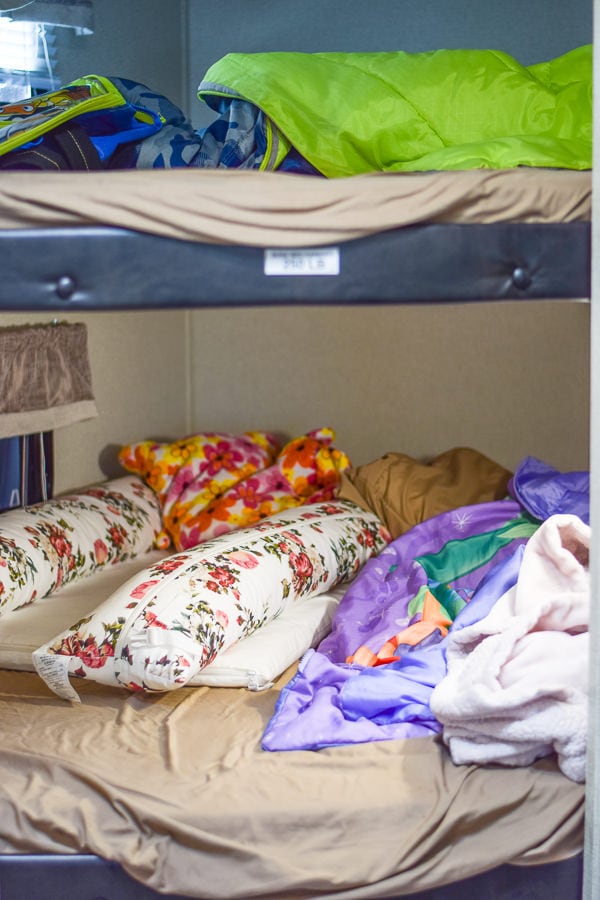 Sleeping through the night
We have been on two camping trips so far with Allison transitioned to the bunk bed in her dock a tot and she has been sleeping like a dream. The bonus is, Katie is, too! Katie normally wakes up at least 1/2 of the nights and climbs into our bed. She doesn't like to sleep alone and her sister in her bed has helped ease her loneliness. Which means, the parents get to sleep through the night! That's a good thing because those kids still get up with the sun.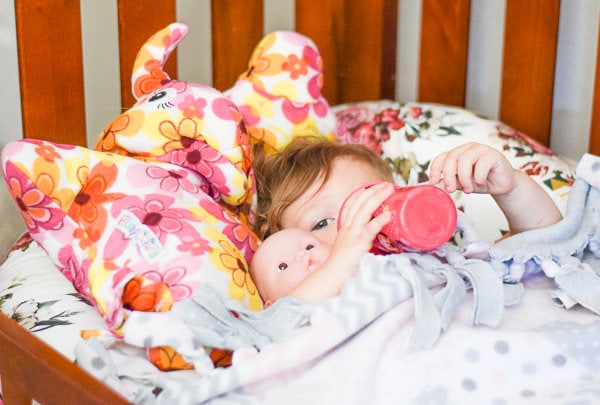 Have you transitioned your toddler to a bed? What worked for you?