I know a lot of people need or want to have shared rooms for their kids, but may be nervous about where to start or how to make it work. My two older kids have been sharing a room for about 9 months now. We have a 4 year old boy and 2 year old girl (sneak a peek of their room here).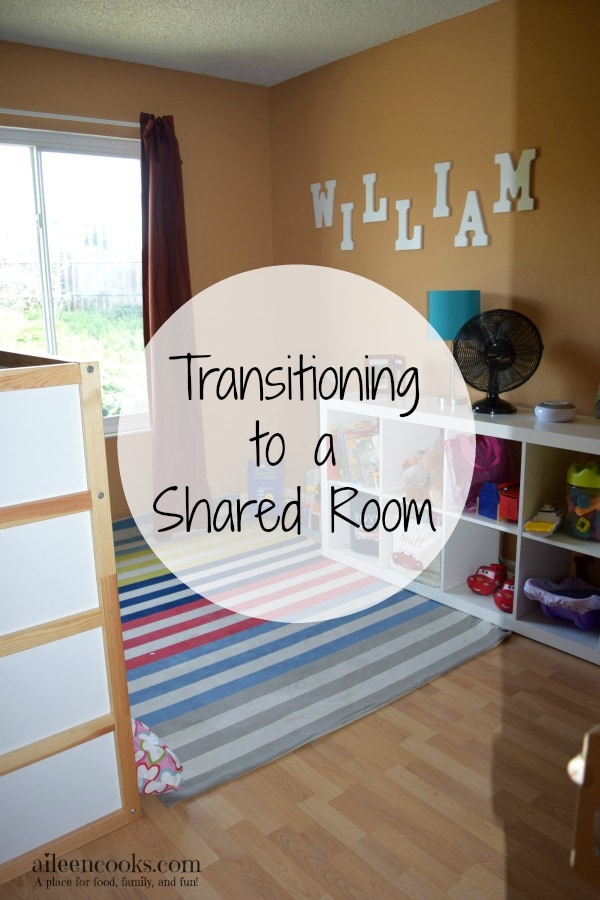 Here is how you can transition to a shared room:
Personalize the Room for Both Kids
This is so important! If one of your kids is currently in the bedroom that will be shared, make sure you change it up enough so that it fits both kids' personalities and they both feel at-home in the room. Versus feeling like they are invading on the other's space or just having an extended sleepover in their siblings room. When we moved Katie into William's room, we moved around the furniture and added her name to the wall.
Dressers in the Closet
If you can, put one or both dressers in the closet. We are lucky to have walk-in closets to store their dresses because the room itself is on the small side. This made more room for toys and play.
Bunk Beds
We have the Ikea Kura bed and it works well for us. I like that it's lower to the ground, making it a more comfortable option for younger kids.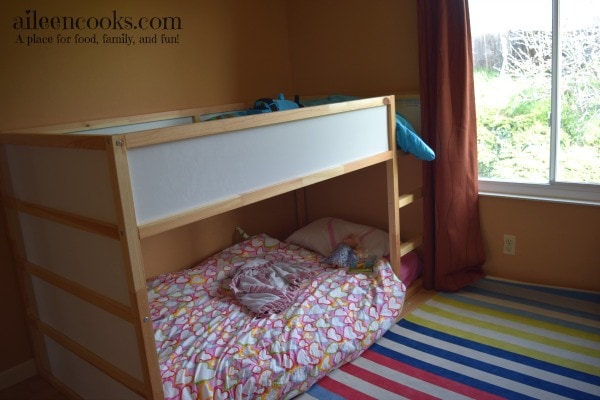 Shared Toy Space
We have one cube dresser that houses all of the toys. With a shared room, toys really need to be intermixed. It's not realistic to keep everything separate.
Special Items in Bed
To give your kids their own special space, it's helpful to let them keep their special items in their beds. For us, it's special blankets they sleep with each night and a couple of stuffed animals special to each child.
Let them Pick their own Bedding
Bedding is a great way to keep their individuality and encourage excitement about the shared room. It doesn't have to be matchymatchy (unless they want it that way). Let your kids pick out their own bedding as a way of keeping a bit of their own personal space.
Stagger Bedtimes
When we were transitioning to a shared bedroom, we staggered bedtimes. It was such a new concept to the kids that they were just too excited to sleep. Putting one to sleep before the other really helped with the transition to shared rooms.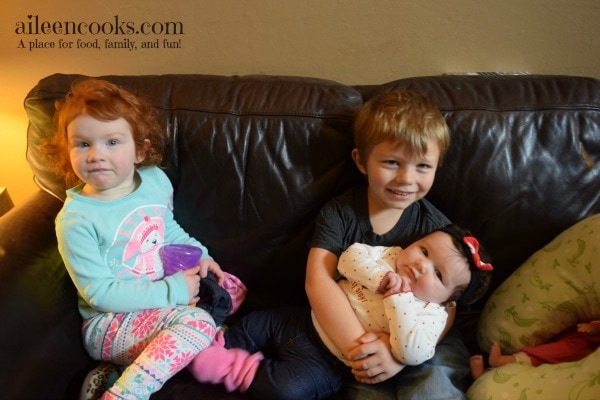 Accept that they will Talk
It is inevitable that they will talk and giggle. This was actually one of my biggest hopes for my kids – that they would bond after we tucked them in. We try to be relatively relaxed on this front and let them talk (and sometimes) play for a while.
Separate Nap Spaces
This has been our biggest challenge with shared rooms. Both of our kids used to nap (or take quiet time) like champs. Since sharing a room, we haven't really figured out the right formula for our family. For now, our younger child takes quiet time in the room (and eventually falls asleep), while the older child has a very lax version of quiet time in the living room.
Related Posts: