Do you want to do something extra fun with your kiddos this weekend? Check out the WOWmazing Giant Bubbles from South Beach Bubbles! We are sharing all of our tips and tricks for having the most fun with this giant bubble kit. Thank you to South Beach Bubbles for sending us samples to facilitate this review.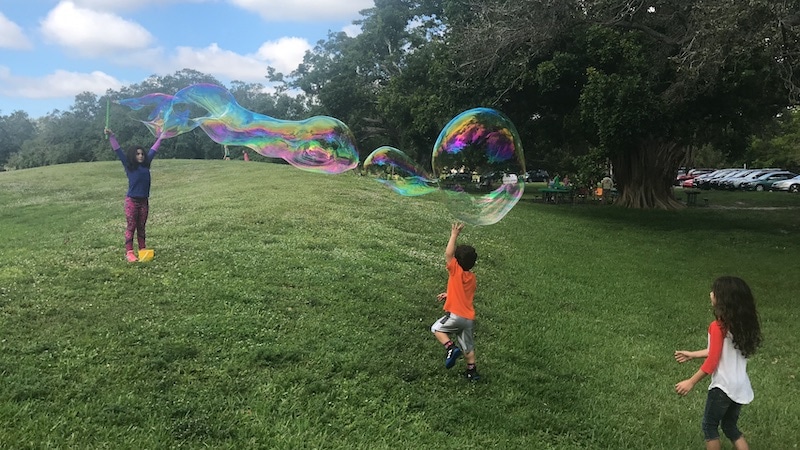 Too Tired for Homemade Giant Bubbles
I don't know how many times I have pinned the recipe for homemade giant bubbles on Pinterest. Let's just say its been at least 5 times in the 8 years that I have been a parent.
Yet, I STILL haven't made it go right to make my own giant bubbles. Maybe it's tracking down my own glycerin or the need for a baby pool and a hula-hoop?
Keeping it real
Sure, I have had these things at one time or another, but never all of them at the same time. And never with enough energy to actually make super-cool giant bubbles happen.
With homeschooling 2 kids (plus a preschooler tagging along), being hugely pregnant, AND a super-secret blog project I have been working on, I just don't have the mental or physical energy for those fun projects right now.
The easy way: pre-made Giant Bubble Solution and Wands
However, I can mix up some bubble concentrate and water. In fact, the instructions are so easy that my 8 year old can do it on his own!
So, we decided to try out South Beach Bubble's Giant Bubble concentrate. Each kit comes with a bubble wand – specifically made for giant bubbles, along with at least a couple of pouches of concentrate.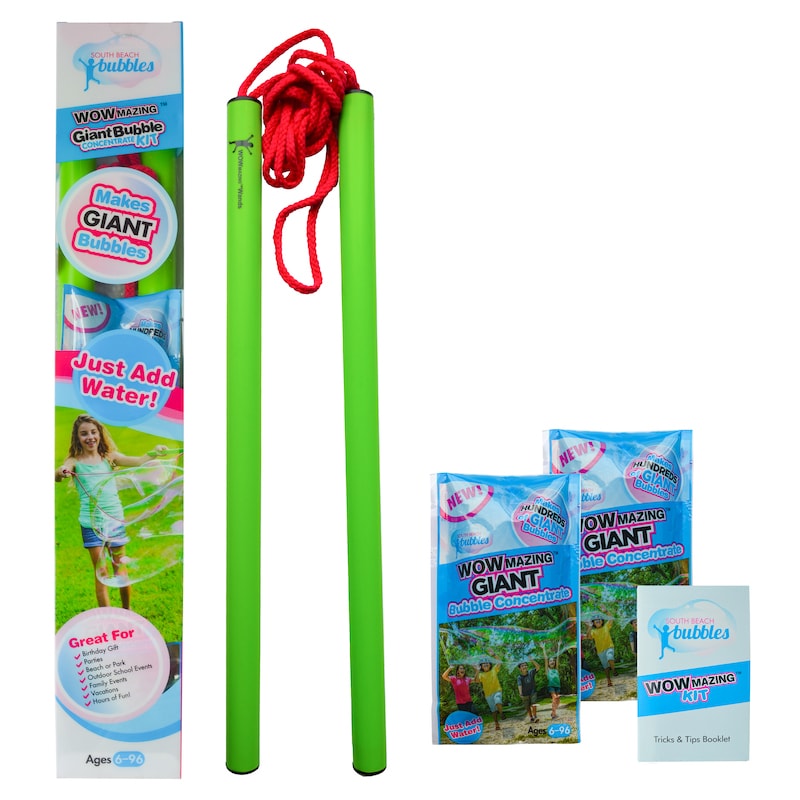 Trial and Error
Now, to be honest, the first time we tried this, it was a total flop. It was a swettlering 104 degrees here in Northern California and super windy. I was really bummed that the bubbles wouldn't work.
After some research, I learned that super hot days are not the best time for giant bubbles. So it wasn't the bubble solution's fault, it was just science.
I waited for a more mild day (mid 80s) and tried again. The giant bubbles worked! And they were SO FUN! All three of my kids were able to use the bubble wand to make giant bubbles – even my newly minted 4-year-old!
Tricks for using WOWmazing Giant Bubbles
Pick a day that isn't over 90 degrees (colder weather is fine).
A light breeze is good but too much wind may make your bubbles pop.
Don't overmix the solution.
Read the included booklet for lots of tips on blowing bubbles from different angles.
Encourage your kids not to give up. It takes a little bit of practice to make the perfect giant bubble!
Where to buy WOWmazing Giant Bubbles?
Okay, you are going to love this part (or at least I do), you can buy the giant bubble kits on Amazon!!! Plus, their starter kit is under $20. Head over now and order these super fun giant bubbles for your kiddos!