On this page, you will find easy access to all of the Instant Pot Recipes shared on Aileen Cooks. We have everything from easy desserts to three ingredient dinners. Be sure to bookmark this page and come back often because we are always adding new recipes!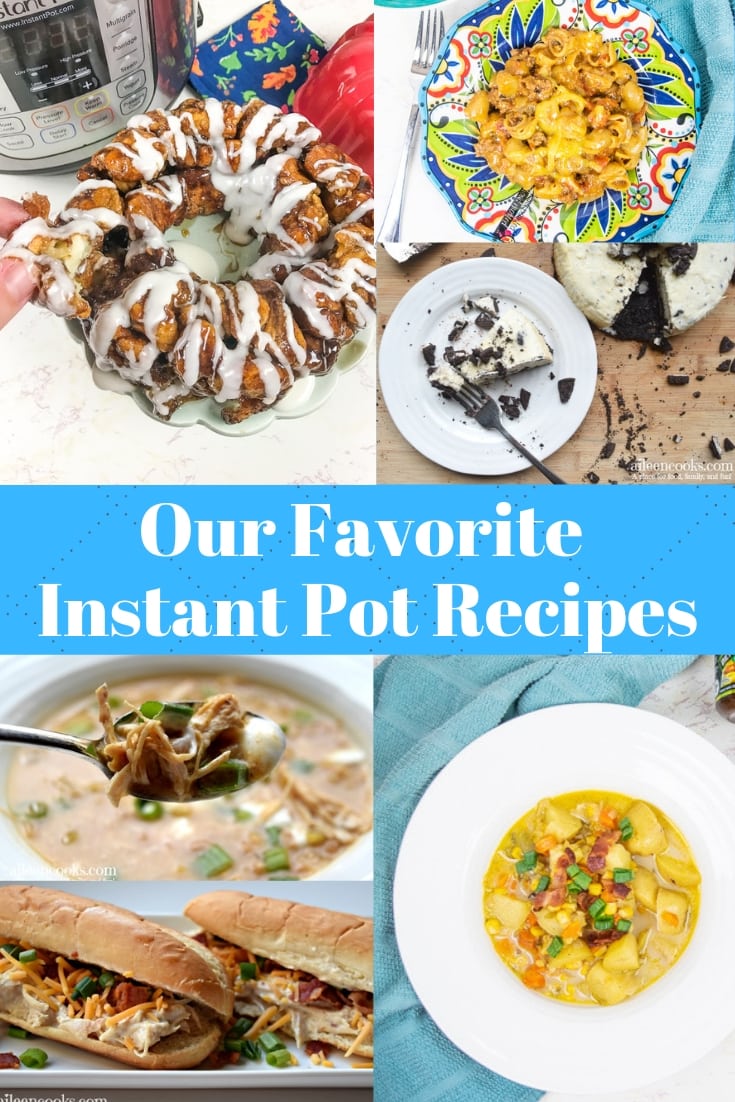 Getting started with the Instant Pot
If you are new to cooking with the Instant Pot, then you will want to read through our Ultimate Guide to the Instant Pot. It shares several tips and tricks along with how to do your water test and what to do if you get a BURN notice.
Make sure you also preorder my cookbook: The "I Love My Instant Pot" Affordable Meals Recipe Book. It's jam-packed with favorite Instant Pot Recipes that all cost $12 or less to make.
Most Pinned Instant Pot Recipes
Instant Pot Cinnamon Rolls are our most popular recipe – and for good reason. They are the delicious cinnamon rolls you love with no rise time!
You won't want to miss our Pressure Cooker Vegetable Beef Soup. This is the first instant pot recipe we shared on Aileen Cooks and it continues to be a favorite!
Have you had Instant Pot Monkey Bread before? It's like a cinnamon roll in pull-apart bread form.
You haven't had risotto until you've tried this Instant Pot Risotto with Mushrooms and Parmesan. Forget standing over your pot and stirring. The Instant Pot does all the work!
Check out our list of most popular instant pot chicken recipes here.
Instant Pot Breakfast Recipes
We love these Instant Pot Egg Bites with Cheddar and Sausage as an easy breakfast on busy mornings.
This recipe for Instant Pot Granola uses the slow cooker function of the Instant Pot and it is so good. Try it paired with the homemade yogurt recipe listed below.
Making Instant Pot Yogurt is easier than you think. See how we make it using the cold start method.
We love using up extra summer peaches with this Instant Pot Peach Jam recipe. We also have a tasty recipe for Instant Pot Apricot Jam.
Instant Pot Blueberry Oatmeal is another quick and easy breakfast recipe for those busy mornings.
Instant Pot Chicken Recipes
Find out why people are in love with this bacon ranch chicken recipe and why they call it Instant Pot Crack Chicken.
Use up leftover cooked chicken with this Instant Pot Chicken Enchiladas recipe featuring a white sauce.
We love this Instant Pot Sweet and Sour Chicken because it tastes just like take-out!
Find all of my Instant Pot chicken breast recipes here. You can also find all of my Instant Pot frozen chicken recipes here.
Instant Pot Beef Recipes
We love a good batch of Instant Pot Beef Chili and this one uses a special secret ingredient.
Discover why Instant Pot Goulash is our favorite go-to beef and pasta recipe!
Whip up a batch of this Instant Pot Pot Roast for a delicious and hearty Sunday dinner.
You are going to love this pot-in-pot recipe for Instant Pot Meatloaf with Potatoes and Carrots.
Instant Pot Pork Recipes
We love how fast these Instant Pot Apple BBQ Ribs are ready!
Instant Pot Red Beans and Rice are another great pot-in-pot recipe!
Instant Pot Dump & Push Start Recipes
Throw this recipe for Instant Pot Buffalo Chicken in just minutes. Then walk away and focus on more important things in your life!
Healthy Instant Pot Recipes
This simple instant pot salmon recipe is ready in less than 30 minutes and tastes great, thanks to the delicious homemade teriyaki sauce. Don't be thrown off by the word "homemade" it is acutally really easy to make with a handful of simple ingredients.
Instant Pot Pasta Recipes
We love this from-scratch Instant Pot Spaghetti and Meatballs recipe.
Celebrate taco Tuesday with this fun spin on taco night. Instant Pot Cheesy Taco Pasta is a zesty pasta dish filled with ground beef, cheese, and shell-shaped pasta.
Find all of my Instant Pot Pasta Recipes here.
Instant Pot Soup Recipes
Instant Pot Chicken Tortilla Soup Recipe is a zesty chicken soup made with diced green chilies, corn, and black beans.
Warm up with a bowl of this Instant Pot Potato Corn Chowder.
Make a batch of Instant Pot Potato Soup loaded with bacon, scallions, and cheese.
Find all of my Instant Pot Soup Recipes here.
Instant Pot Side Dish Recipes
Instant Pot Baked Beans are so good and perfect when paired with grilled meat. Bonus: We teach you how to quick soak the dried beans in your Instant Pot so you don't have to soak them all night.
Instant Pot Sweet Potato Casserole is a must for Thanksgiving dinner.
The fastest way to make artichokes is with this recipe for Instant Pot Artichokes with Creamy Chili Dipping Sauce.
Instant Pot Bread Recipes
Instant Pot Banana Bread is a dense and sweet bread. We also share how to convert your favorite banana bread recipe to an Instant Pot recipe.
Use up your abundance of zucchinis in summer with a batch of Instant Pot Double Chocolate Zucchini Bread.
Instant Pot Cornbread has a sweet and cakey flavor that pairs perfectly with soup or chili.
Instant Pot Dessert Recipes
You need this instant pot cherry cobbler in your life! With the sweet-tart cherries and the chewy cobbler topping, it's perfect for a holiday meal or just an ordinary Friday night.
Enjoy that cookies and cream flavor with our recipe for Instant Pot OREO Cheesecake.
Find all of my Instant Pot Dessert Recipes here.
Instant Pot 3 Ingredient Recipes
Make this sweet and satisfying instant pot Hawaiian chicken with less than 10 minutes of prep time. This is an easy 3 ingredient recipe that you can just mix together and walk away.
Make a big batch of this refreshing instant pot iced tea to have on hand all week.
Favorite Kid Friendly Instant Pot Recipes
Instant Pot Chicken Noodle Soup – One of my son's favorite recipes! It's a hearty and filling soup that can be made with frozen chicken.
These instant pot granola bars are so good and so easy to make! With just a few pantry staples, you will have a tasty batch of granola bars ready when the craving hits.
Skip the store and make a batch of this delicious instant pot strawberry applesauce at home instead! With just 5 ingredients and a 5 minute pressure cooking time, this instant pot applesauce recipe is a winner!
From breakfast to dessert, we have an instant pot recipe for everyone. Make sure you bookmark this page so you can find all of these great recipes again.