Looking for a great Instant Pot Pasta recipe? Start here! Learn the best way to make instant pot pasta along with a handful of tried & true instant pot recipes to get you started!
Cooking pasta in your instant pot is a total game changer. You can cook everything all in the same pot, making clean up a breeze. It also cuts your pasta cooking time in half. That's right – in half! This post also answers frequently asked questions about cooking pasta in a pressure cooker. Scroll down for the full list of recipes.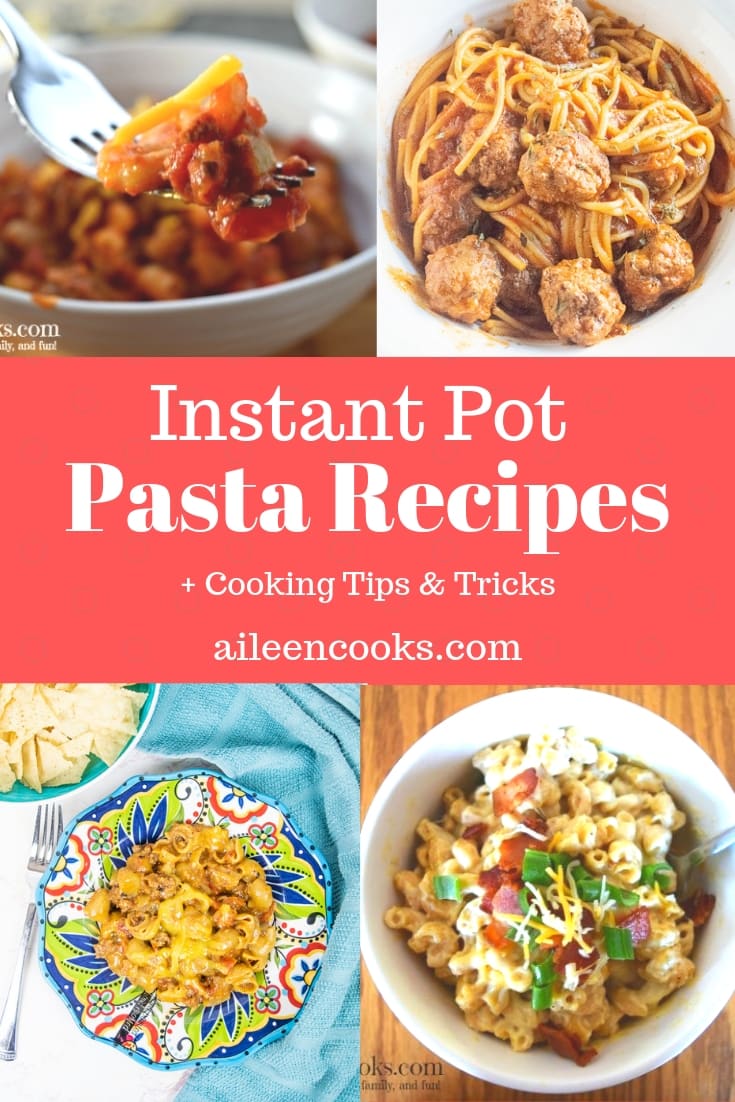 Now you might be thinking about the time it takes for your instant pot to come to pressure. That's the same time you would wait for your water to boil. Then, you only cook your pasta for less than half the time as recommended on the box. It really does save time in the kitchen!
How to cook plain pasta in a pressure cooker?
If you are just looking for an instant pot plain pasta recipe, add 4 cups water to 1 pound of pasta and a sprinkle of salt. Cook it on high pressure for half the recommended time on the package, minus 1 minute. Do a quick release and drain the water. Easy peasy.
How to cook pasta in the instant pot?
There are a few different methods for cooking pasta in the instant pot.
My guess is, you probably are not looking to just cook noodles. You want a whole meal. In one pot. In a short period of time with minimal cleanup. Yep, me too.
I've got you covered with more instant pot pasta cooking tips and recipes. Keep reading!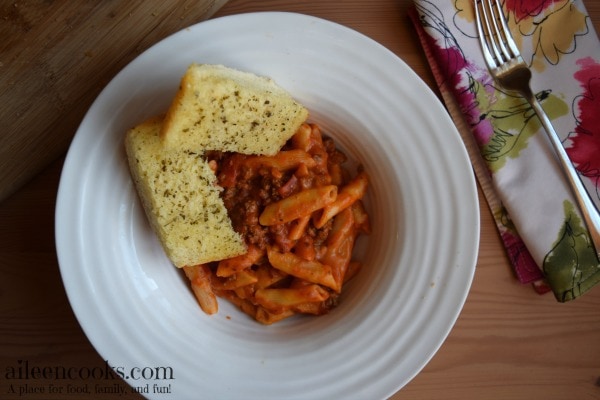 Do I stir Instant Pot Pasta?
Depending on the recipe, you may be directed to cover your noodles in water and top that with your sauce ingredients. No stirring. This method helps to keep your sauce from getting too watery.
The problem is, if you don't have enough water in there with your noodles than all of the water may evaporate, giving you uncooked pasta and a BURN notice on your pot.
Other recipes advise you to stir. It can feel a bit confusing. The best thing to do is follow the directions on the specific recipe you are cooking.
What if I get "burn" notice?
If you get a BURN notice, your dinner is not ruined. Just release the pressure, remove the lid, and give the pasta a good stir. Add a little water if the sauce is looking thick.
Then, pot the lid back on your instant pot, close the pressure release valve and set it to cook for as many minutes as was left on the timer. It will take a lot less time to come to pressure this time and odds are, you will still end up with a yummy dinner.
Make a note to yourself or somewhere on the recipe (if you printed it out) to add more liquid the next time. I own 3 instant pots and I am convinced that they all run a little differently. Some are more prone to burn notices than others.
For me, my 8 quart is more likely to give me a burn notice than my two 6 quart instant pots. It's really a strange thing, but the more recipes you try, the more you will learn what works for your pressure cooker. You will be able to look at a recipe and know that you need to add just a little bit more water or broth.
Just remember that a BURN notice is not a death sentence to your food. Take a deep breath, and give it a stir. It will likely be okay.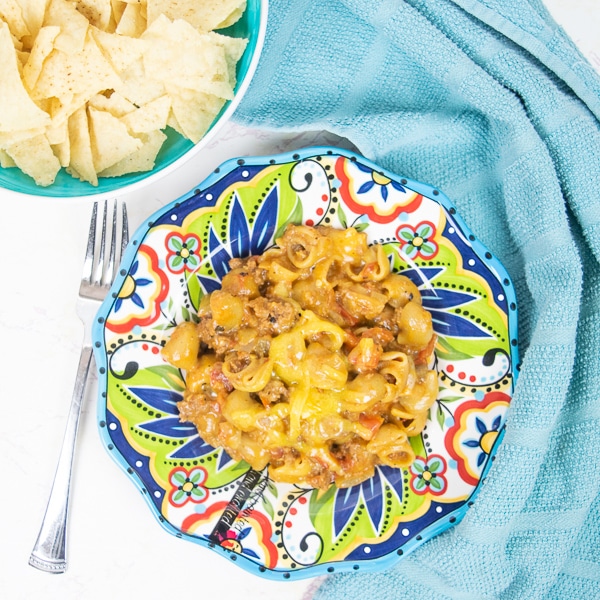 What if my instant pot pasta sauce is too watery?
If your instant pot pasta comes out with a watery sauce, the best thing you can do is turn on the saute function and bring it to a boil. Then, just let it cook down for a couple of minutes.
If you are worried about your pasta getting overcooked, you could remove it and set it aside while the sauce thickens. I never feel the need to do that. So long as you are only cooking down the sauce for a couple of minutes, you won't have a problem.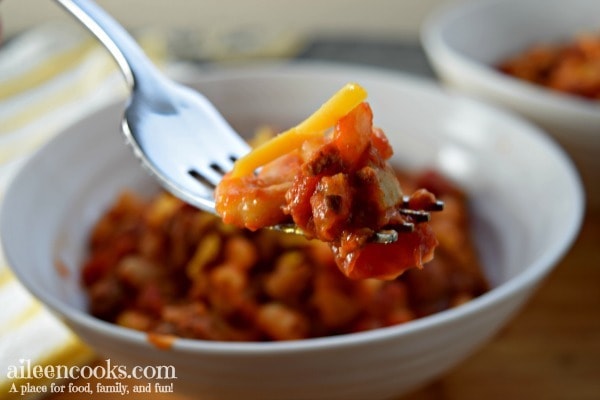 Can I cook spaghetti in my instant pot?
You may have heard after purchasing your instant pot that you cannot cook spaghetti. I avoided cooking spaghetti at first, too. I finally decided to test it out with this instant pot spaghetti and meatballs recipe and had no problem cooking spaghetti in my instant pot.
The trick is all in the release. I use a controlled quick release instead of a regular quick pressure release. Basically, I move the valve back and forth to let the steam out in small spurts.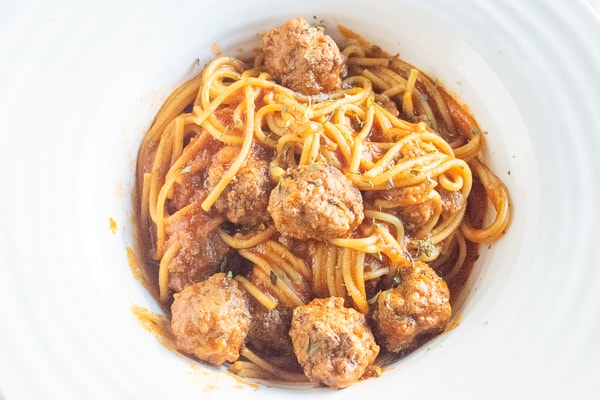 All of our Instant pot recipes
If you love cooking with your instant pot as much as I do, you may want to browse our full list of instant pot recipes and Ultimate Guide to the Instant Pot.
You can see our instant pot recipes broken down by category here:
We also have an entire chapter dedicated to instant pot pasta recipes in my cookbook.
How to use the Instant Pot Soup Button
You can easily throw together whatever you have on hand along with water or broth and select the instant pot soup function button.
The only time this will not work is if your meat is uncooked or your beans are unsoaked (canned beans are fine).
You may also want to add additional time when making chili as it will taste better with a little more pressure cook time.
[mv_create title="Instant Pot Pasta Recipes" type="list" layout="grid" thumbnail="https://aileencooks.com/wp-content/uploads/2017/03/instant-pot-macaroni-and-cheese-3.jpg" key="285″]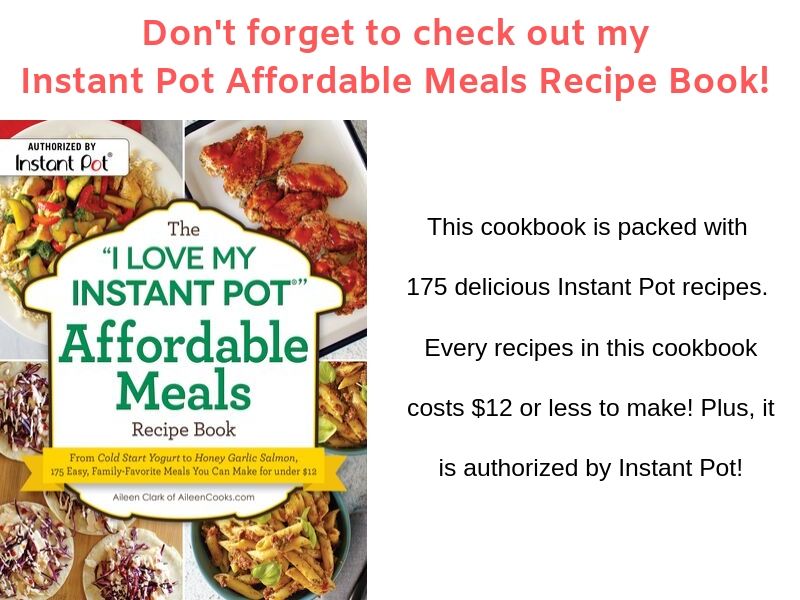 We love making instant pot pasta and hope you will, too. These tips and recipes will have you on the way to making a quick and tasty meal for your family.