This post was sponsored by Ling Ling, all opinions expressed in my post are my own.
This easy and delicious chicken stir fry will be on the table in less than 30 minutes. This recipe is packed full of healthy vegetables and can be customized with whatever vegetables you have on hand.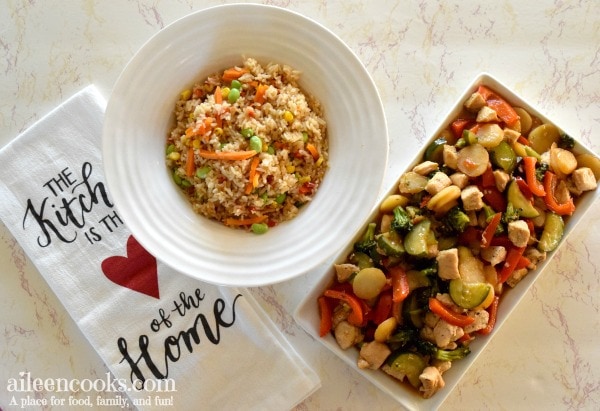 The history of this chicken stir fry recipe
My husband and I first learned how to make this chicken stir fry back when we were still dating (and learning how to cook together). This was one of his favorite recipes to make and I happily ate whatever he put in front of me because I could manage to mess up a box of macaroni and cheese those days. I also happily ate it because it was delicious.
Also, I bought him this wok for his birthday that year. That was back when I thought it acceptable to buy him kitchen items as gifts. I learned that was not a favorite thing pretty quick, but we still have our trusty wok many years later. 🙂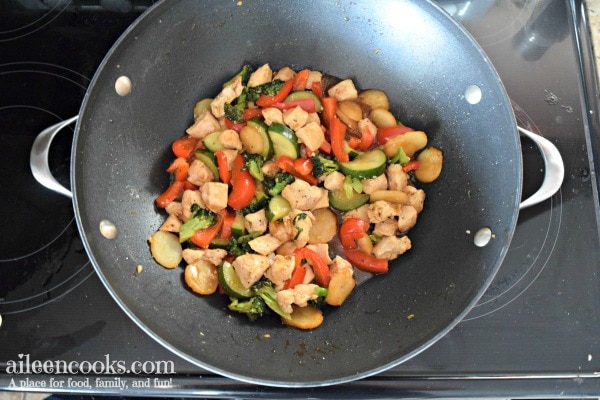 I love the way to the cucumber soaks up the stir-fry sauce in this chicken stir fry recipe. You can also switch out the cucumber for zucchini or whatever vegetables you prefer. Just make sure you have approximately 3 cups of vegetables chopped and ready to go.
These days, we like to pair our easy stir fry with Ling Ling Fried Rice. It's simple to make, tastes great, and all three of our kids gobble it up. This dish also makes great leftovers (I'll be claiming the chicken stir fry and fried rice for my lunch tomorrow, thank you very much). We paired our chicken stir-fry with Ling Ling Fried Rice in Chinese Style Vegetable. Another great Ling Ling Fried Rice flavor is Yakitori Chicken.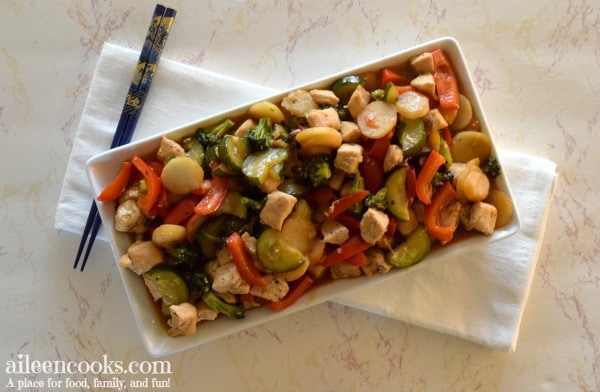 In addition to their delicious fried rice, Ling Ling also offers yummy Pot Stickers (I grew up eating them and would guess you have had them, too). They are the best (in my opinion) store-bought Pot Stickers you can buy. I like to stock up on the big bag of Ling Ling Pot Stickers from Costco.
Another thing you should check out is Ling Ling's new line of Noodles. I had the opportunity to try them at an event in San Francisco last week and they were so good! My favorite was the Drunken Noodles, but the Yakisoba Noodles are also good. If you want to try out any of these new flavors (or stock up on your favorites), make sure you grab a coupon for $2 off one Ling Ling entree or appetizer (20 oz. or larger).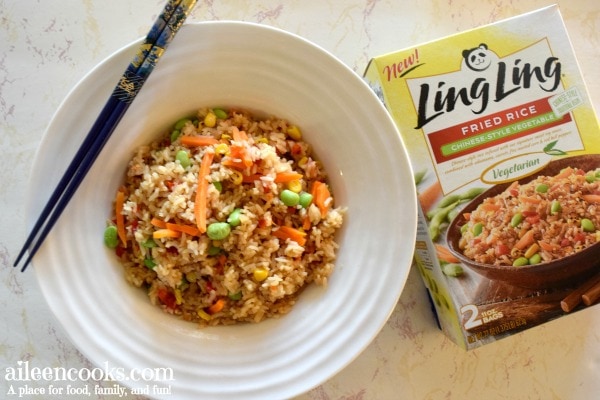 On top of offering a coupon to my lovely readers, Ling Ling is hosting an amazing giveaway of (5) $100 Walmart Gift Cards. The contest runs from February 13, 2018 to March 13, 2018. Enter below!
I-C will randomly select winners from all program entries and will facilitate fulfillment of the winning prizes (5)
Ling Ling Asian Kitchen Giveaway (Phase 3)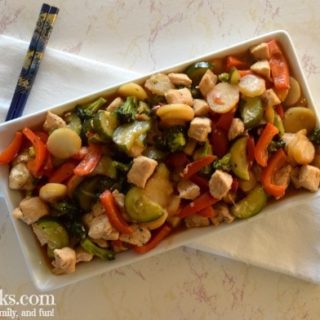 Chicken Stir Fry
A simple and delicious stir-fry recipe made with chicken and fresh vegetables. 
Ingredients
2 tbsp olive oil
1 pound boneless skinless chicken breasts, cut into 1 inch pieces
salt and pepper
1 bunch broccoli, cut into small florets
1 cucumber, sliced and halved
1 red bell pepper, sliced
1 tbsp ginger, minced
2 garlic cloves, minced
1/2 cup stir fry sauce
1 box Ling Ling Fried Rice Chinese Style Vegetable
Instructions
Heat olive oil in wok or large skillet over medium-high heat
Add cubed chicken to wok and cover. Stir occasionally.
Season with salt and pepper.
Allow chicken to cook all the way through, 6-8 minutes.
Remove chicken from wok and set aside.
Add broccoli, cucumber, red bell pepper, and ginger to wok.
Stir-fry until vegetables are tender. About 5 minutes.
Mix in minced garlic and cook another 30 seconds.
Add chicken back to the wok and pour in stir-fry sauce.
Mix to coat everything with the sauce
Bring to a boil and let cook 2 minutes. Remove from heat.
Heat Ling Ling Fried Rice in the microwave for 7 minutes (cook both bags that come in the box).
Serve chicken stir-fry over the fried rice.
Nutrition Information
Amount Per Serving
Calories

317
Did you try this recipe for Chicken Stir Fry? Let us know what you thought in the comments or tag us on social media using @aileencooks