Green Beans with Caramelized Shallots are our very favorite green bean recipe. They are easy to make, delicious, and healthy! Also, this fresh green bean side dish is ready in less than 20 minutes.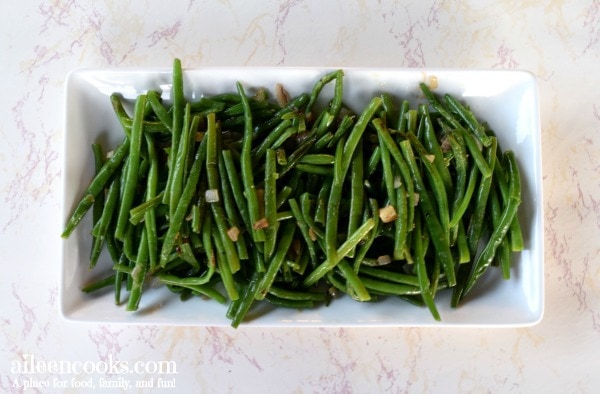 Green Beans with Caramelized Shallots – A Family Favorite
This is one of the very first vegetable side dishes I learned to make in my early 20s. My (now) in-laws saw the recipe on Rachel Ray and made it for us (I can't seem to find the exact recipe to link). Sean and I instantly fell in love with it's simple yet satisfying flavor and have been making it ever since.
Other vegetable side dishes we love are Air Fryer Cauliflower, Honey Roasted Carrots, Roasted Broccoli with Garlic, Roasted Root Vegetables, Instant Pot Artichokes with Creamy Chili Dipping Sauce, and Kid Friendly Roasted Cauliflower.


The recipe for green beans with caramelized shallots calls for just 5 ingredients (including salt and pepper). It really is a simple recipe you will want to make again and again. If you haven't tried shallots before, they taste like a cross between garlic and a sweet onion. In a totally delicious, eat every last bit kind of way.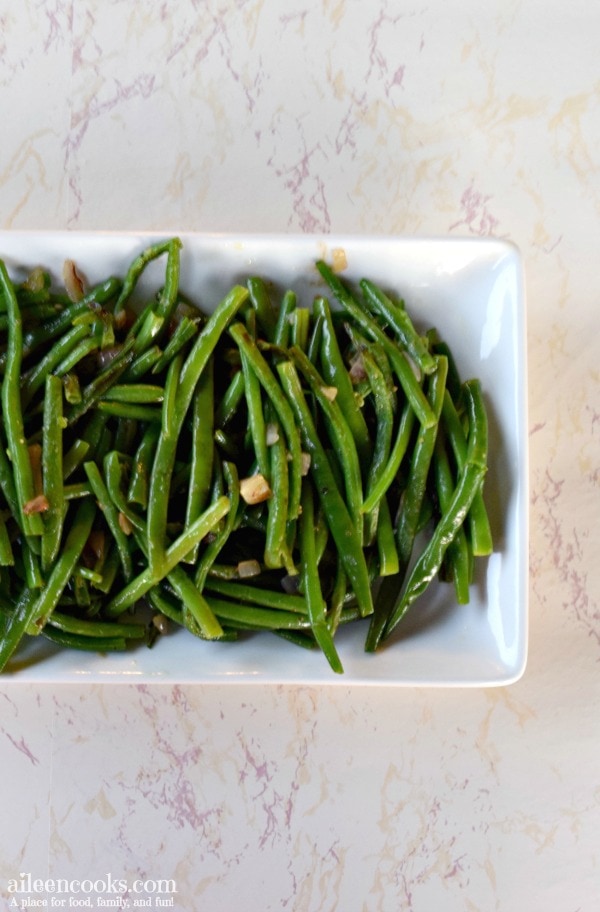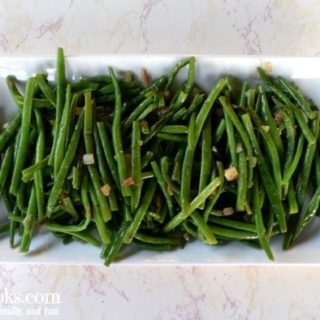 Green Beans with Caramelized Shallots
A quick and easy fresh green bean recipe paired perfectly with mild and sweet caramelized shallots. 
Ingredients
1 pound green beans, washed and trimmed
2 tbsp olive oil
1 shallot, diced
salt and pepper
Instructions
Fill a pot with 1 inch of water and fit with a steamer basket. Bring water to a boil.
Add green beans to steamer basket and cover. Steam 6 minutes.
Remove green beans from heat.
Heat the olive oil in a large skillet over medium-high heat.
Add shallots and green beans to heated olive oil.
Season with salt and pepper.
Cook, stirring occasionally until the shallots are golden brown. About 6 minutes.
Serve immediately. Refrigerate any leftovers.
Nutrition Information
Amount Per Serving
Calories

88
Did you try this recipe for green beans with caramelized shallots? Let us know what you thought in the comments or tag us on social media using @aileencooks.