Banana Chocolate Chip cake is like banana bread's lighter and sweeter cousin. It's light enough to be justified as a snack but sweet enough to be eaten as a dessert. Try it for yourself and decide if it's a snack or dessert! This recipe is part of our list of 25+ Cooking Recipes for Kids.
Banana chocolate chip cake turns out light and fluffy thanks to the change in method and the cake pan versus the loaf pan. The mini chocolate chips don't hurt in adding it to the dessert section, either.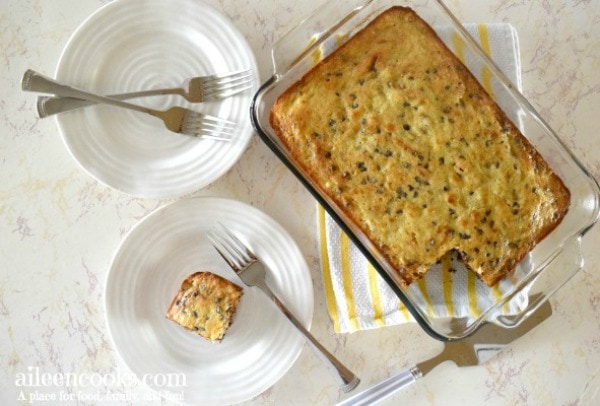 Is banana chocolate chip cake a snack or dessert?
I like to call it a "snack cake" so I can justify eating it on a random Tuesday instead of waiting for a special occasion. My husband would disagree, he told me it's definitely a regular cake and I need to not make it all the time. Okay, okay. You decide if it's a snack or a dessert and report back, okay? Thanks! 🙂
I use a glass baking dish for this recipe. If you prefer to use metal, note the different baking temperatures as they vary depending on your baking dish.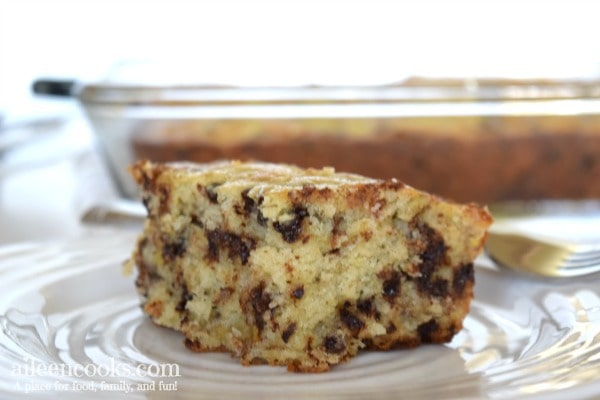 Ripening bananas for banana chocolate chip cake
If you want to try making this banana chocolate chip cake, but don't have super ripe bananas – check out this trick to ripen your bananas quickly in the oven. I have used this method many times and have always had amazing results!
I also like to buy several bunches of bananas at a time and freeze them once they ripen. The peels turn black in the freezer – that's okay. They work perfectly in baking recipes and smoothies.
I freeze them right in their peels so they don't stick together. Then, I just let them defrost on the counter for a while. I have also defrosted them in the microwave in 15-second increments.
For baking, you will want to take them out of their peels and let them come to room temperature before using. If using in smoothies, just defrost enough to get the peel off and blend frozen.
You may also like: Moist and Delicious Banana Bread, Peanut Butter Bars with Chocolate Frosting, Christmas Puppy Chow, or Strawberry Banana Muffins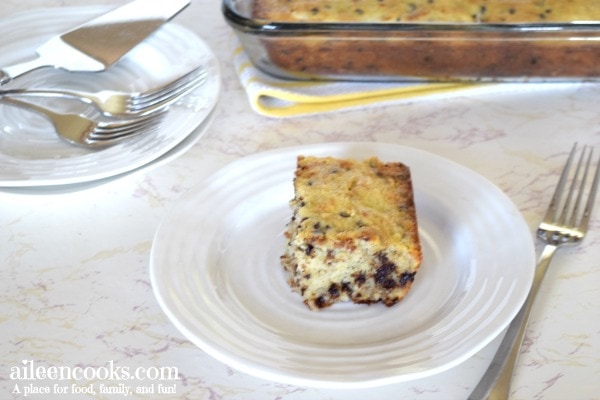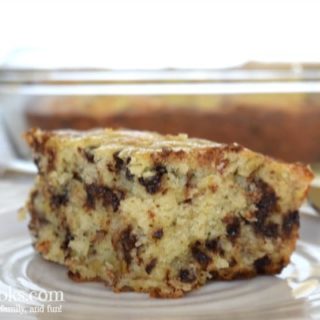 Banana Chocolate Chip Cake
Total Time:
1 hour
5 minutes
A delicious snack cake filled with ripe bananas and chocolate chips.
Ingredients
1/2 cup milk
1 tablespoon white vinegar
2 cups all-purpose flour
1/2 teaspoon baking soda
1/2 teaspoon salt
1 cup granulated sugar
1/2 cup butter, melted
2 large eggs
1 teaspoon vanilla extract
3 large bananas, very ripe and mashed
1 cup mini chocolate chips
Instructions
Preheat your oven to 325 degrees (for a glass pan) or 350 degrees (for a metal pan)
Grease an 8x11 pan and set aside
Combine milk and white vinegar in a bowl and let sit. This will create soured milk. Buttermilk may be used in place of the soured milk and the vinegar can be omitted.
In a medium bowl, whisk together the flour, baking soda, and salt.
In the bowl of a stand mixer (or in a large bowl with a hand mixer), cream together the sugar and softened butter. Beat on high for 3 minutes, scraping down the sides 1-2 times.
Add the eggs and mix until fully combined.
Add the vanilla and mashed bananas. Mix until just combined.
Add 1/3 of the dry ingredients and mix a few times. Next, add 1/2 of the soured milk (or buttermilk). Then mix in another 1/3 of the dry mixture followed by the soured milk. Finish with the last of the dry mixture and stir until just combined (a few dry streaks is okay).
Fold in the chocolate chips.
Spread the banana chocolate chip cake into the greased cake pan.
Bake for 55 minutes, until a toothpick inserted in the center of the cake, comes out clean.
Nutrition Information
Amount Per Serving
Calories

325
Other delicious banana recipes:
Did you try this recipe for banana chocolate chip cake? Let us know what you thought in the comments or tag us on social media using @aileencooks.