As an Amazon Associate I earn from qualifying purchases.
Whip up a batch of this simple and tasty dessert tonight! We love Cinnamon Glazed Bananas because they are easy to make and taste great with a scoop of vanilla ice cream. This recipe is part of our list of 25+ Cooking Recipes for Kids. Thank you to 100daysofrealfood.com for sending us their latest cookbook to review!
These cinnamon glazed bananas were as fun to make as they were to eat. This is a quick and easy cooking with kids project that includes basic knife skills.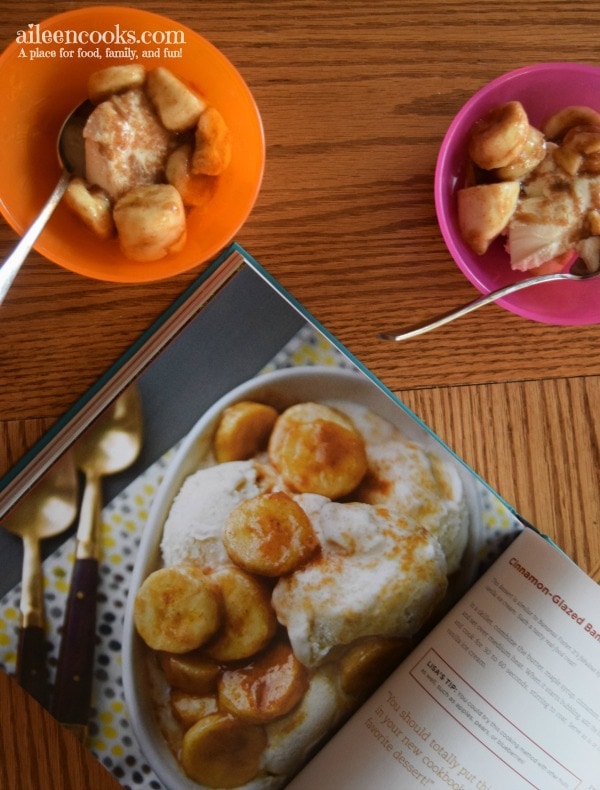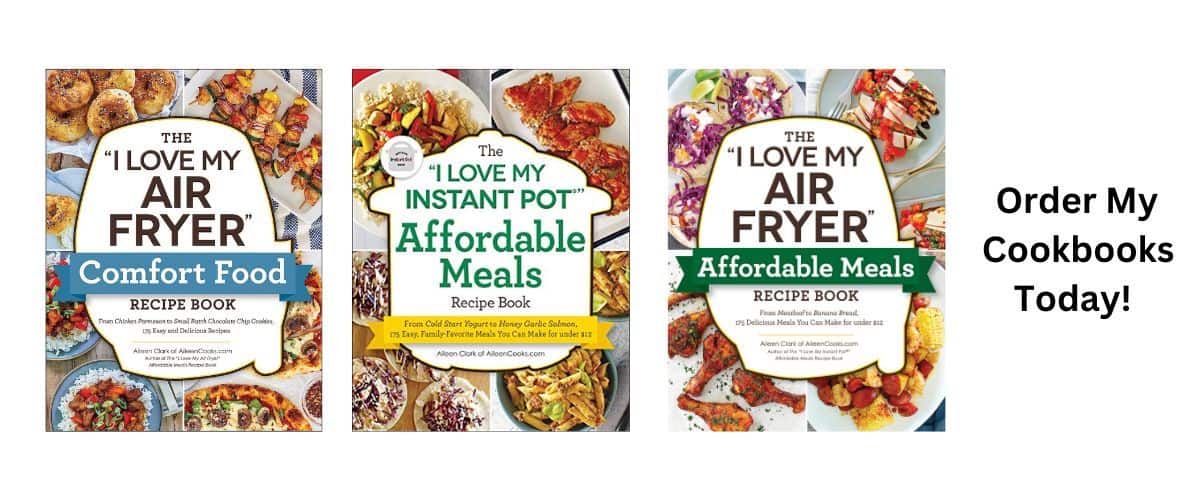 This recipe came from the 100 Days of Real Food: Fast and Fabulous cookbook by Lisa Leake. Leake is one of my favorite food bloggers and her (second) amazing cookbook features many healthy and simple recipes you can make with your kids. Her focus on real food ingredients makes it easy to choose a recipe that will introduce your children to cooking healthy foods.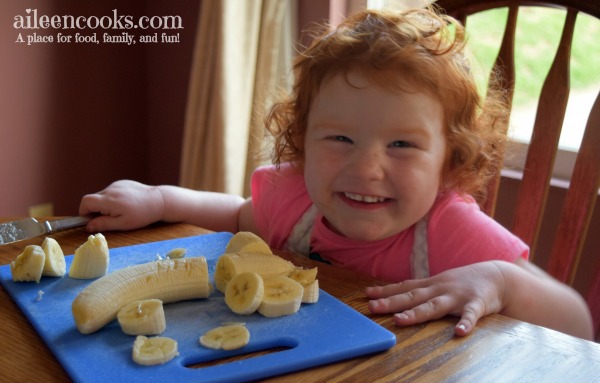 How to make glazed bananas
To make the cinnamon glazed bananas, we had to start with cutting boards and knives. I gave my kids a good amount of freedom to slice them independently, since they were using butter knives.
Cutting fruit and veggies is one of their favorite things to do in the kitchen. It makes them feel so grown up and I love watching them snack on the fresh produce along the way.

Once the bananas were sliced, I had my son bring the dirty cutting boards and knives to the sink and place all of the bananas in a bowl.

Meanwhile, my daughter helped me measure out the ingredients into the saucepan and stir them up. We talked about the heat from the stove and I showed her how to hold the heatproof handle of the pot while stirring with the other hand.
Once the sauce was hot and bubbly, we mixed in the bananas and let them cook for approximately 1 minute. When the bananas were nicely coated and the sauce was thick, we turned off the heat and poured them over vanilla ice cream.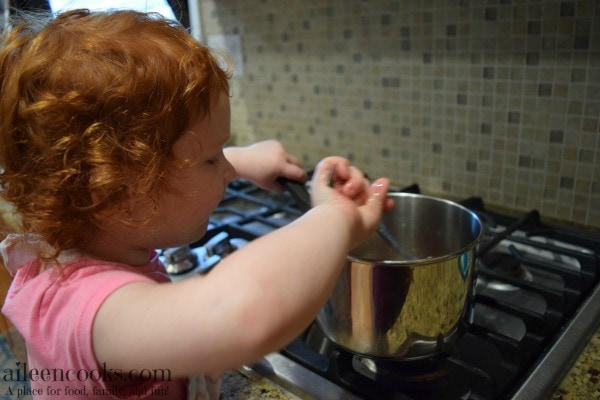 What to serve with cinnamon glazed bananas?
Cinnamon glazed bananas were the perfect match to vanilla ice cream. They were warm, gooey, sweet, and made the ice cream just a little melty.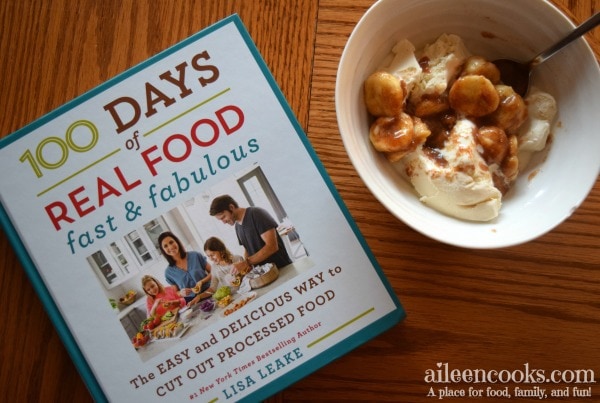 I really enjoyed this cooking with kids project because it was quick and ended with a sweet treat. It was the perfect amount of time for my toddler who has a short attention span.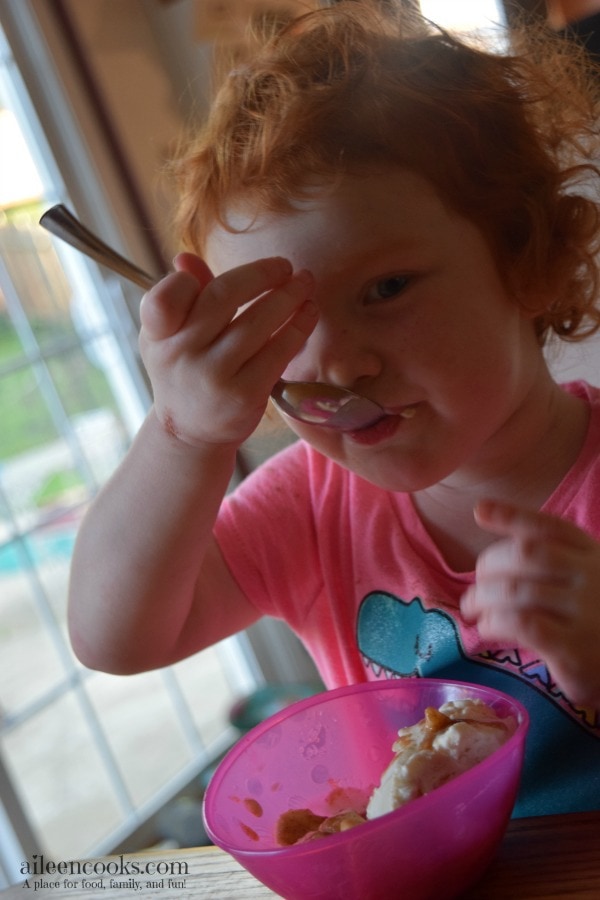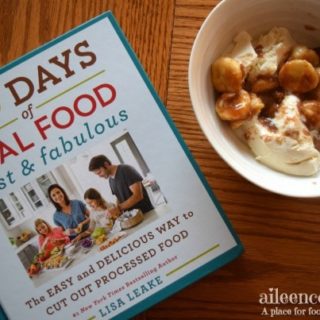 Cinnamon Glazed Bananas
Cinnamon Glazed Bananas are a fun treat to make with your kids. They taste amazing over ice cream!
Ingredients
4

large bananas

1/4

cup

pure maple syrup

2

tablespoons

butter

1

teaspoon

vanilla extract

1/2

teaspoon

cinnamon

Vanilla ice cream

optional
Instructions
Slice bananas 1/2 inch thick

In a medium sauce pan, combine the maple syrup, butter, vanilla extract, and cinnamon.

Cook and stir over medium heat until the butter is melted and begins to bubble.

Mix in the bananas and cook another 60 seconds.

Enjoy the cinnamon glazed bananas immediately.
Nutrition
Serving:
3
/4 cup
Calories:
297
kcal
Carbohydrates:
53
g
Protein:
3
g
Fat:
10
g
Saturated Fat:
6
g
Polyunsaturated Fat:
3
g
Cholesterol:
30
mg
Sodium:
76
mg
Fiber:
4
g
Sugar:
36
g
If you enjoyed this recipe for cinnamon glazed bananas, I recommend you check out the
100 Days of Real Food: Fast and Fabulous cookbook
. It has a lot of delicious family-friendly recipes you are sure to love.