This post is sponsored by Hofsas House. We received complimentary accommodations to facilitate our review.
We had the opportunity to drive down from our home in Northern California and spend the weekend at Hofsas House in Carmel by the Sea. My first impression was just how warm and inviting Hofsas House was for our family.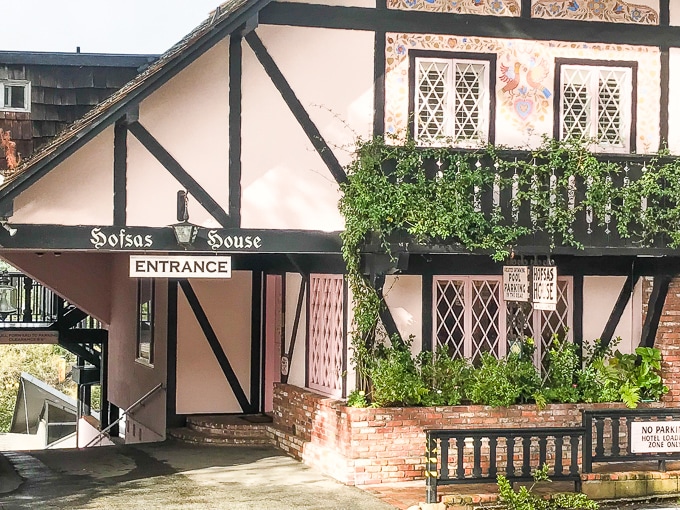 Inside our room at Hofsas House
Our two bedroom suite had a king bedroom in one room and two queen size beds in the other room. The rooms were big. This was more than enough room for our family of five and gave us the opportunity to spread out and one of our kids (my sweet redhead) to have a queen-sized bed all to herself. Lucky girl.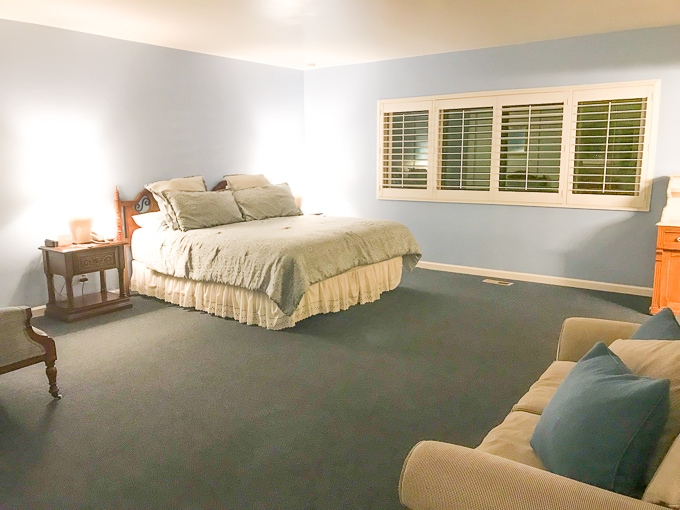 Each room also had its own full bathroom. Their bathrooms have a long counter and sink across from a full-size closet. They also have an additional sink inside the door of the bathroom, next to the toilet and shower/bath.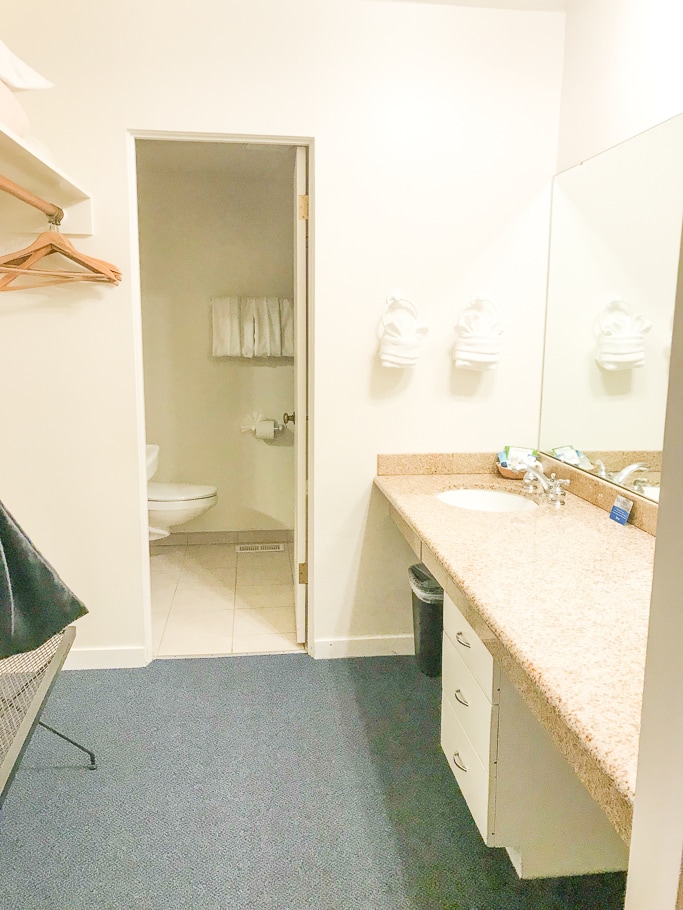 I didn't know I needed two bathrooms in a hotel room, but now I am totally hooked. It helped avoid a couple of accidents from our potty training two-year-old. It was also nice for mom and dad to spread out on their own vanity. The bathrooms came stocked with adorable sea shell and sand dollar shaped soaps, face cleaning wipes, shampoo, body wash, and lotion.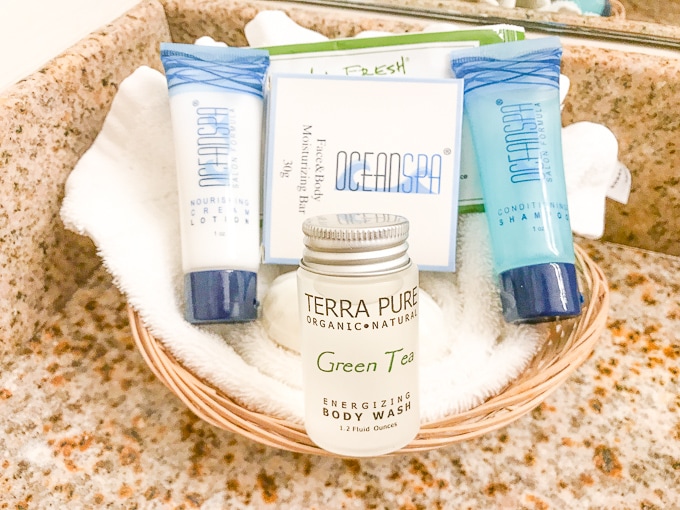 The hotel room felt very family friendly. It also had a kitchenette with microwave, coffee maker, refrigerator, and a set of dishes. The dining table sat 4, making it a great resting spot for breakfast.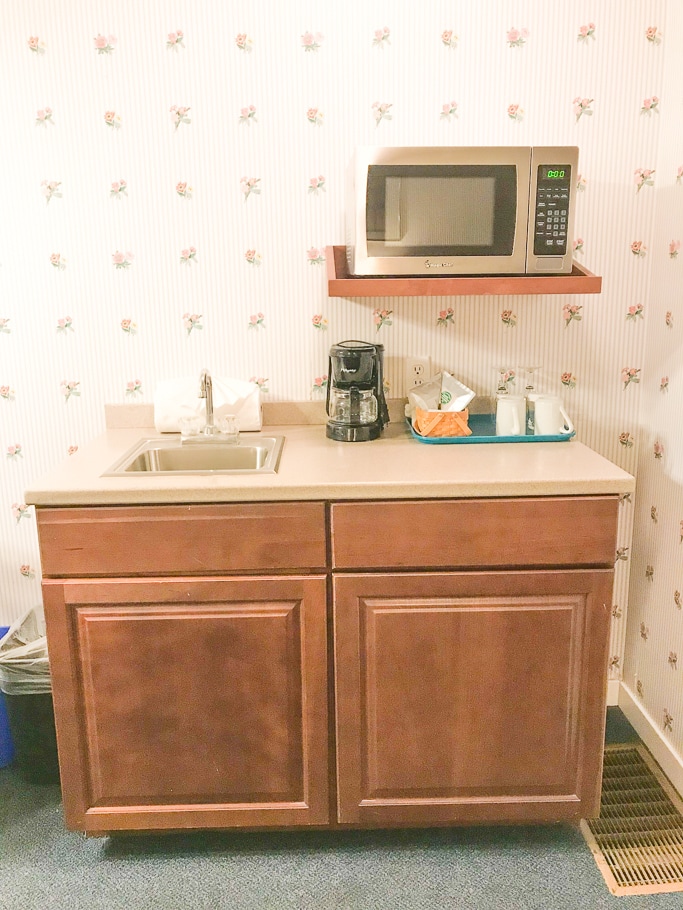 The room was decorated in light blues, with pretty floral duvets on the bed. One wall also had floral wallpaper. Each room at Hofsas House is decorated in its own styles and colors, so I am excited to see what we get next time. They are a family owned and run hotel and take the time to hand select every piece of furniture, color scheme, and wallpaper for each room.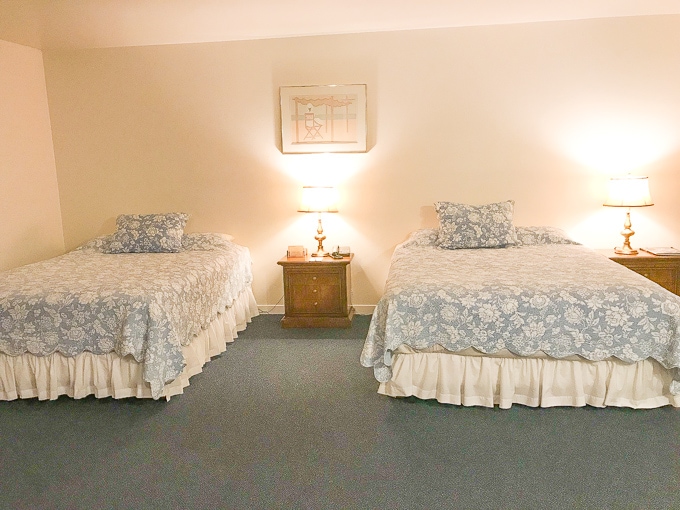 Breakfast at Hofsas House
Every morning, there is a continental breakfast available to guests in the hotel office. They offer freshly baked pastries from a local bakery, coffee, orange juice, fresh fruit, and yogurt. We loaded everything we wanted on a tray and brought it back for our hungry kids. It was perfect for us and so nice to not have to worry about getting out of the room early enough for breakfast or worry about budgeting for the cost of breakfast.
Everyone who worked at Hofsas House was so warm and friendly. The night we arrived, there was a huge storm that caused the town of Carmel by the Sea to lose power for almost 24 hours.
This is not a normal occurrence by any means. In fact, California has been in a drought the last couple of years so this much rain was needed, but also out of the ordinary.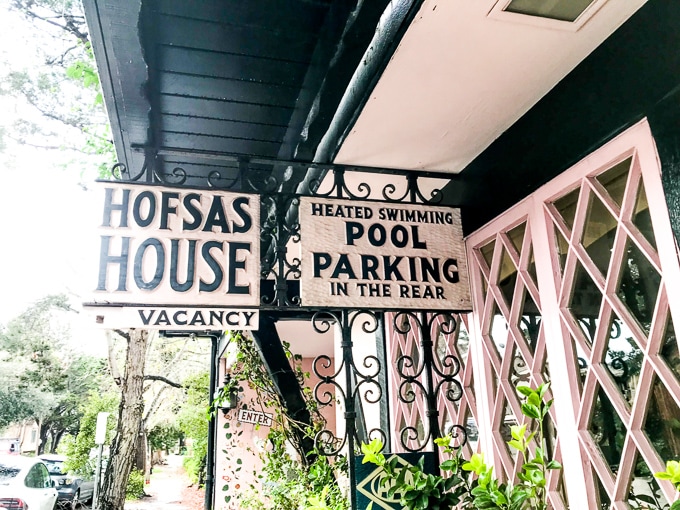 Despite the power outage, the staff and owner were so positive and accommodating. Our room stayed nice and warm – even without power. We also found that each closet was stocked with extra blankets and pillows. Those items are ones that are often missing from hotel rooms and searched for by our family. I was glad to find them already stocked in our room.
Amenities at Hofsas House
Hofsas House has several different room offerings (see more pictures here). They offer single rooms with single beds, suites, rooms with fireplaces, and rooms with balconies. They will even set you up with an s'mores kit if you want to have s'mores in your room or go down to the beach for a bonfire.
Their large pool is heated, making it available year-round for families who want to swim. My kids love to swim so this was a nice amenity. There are also dry saunas available for adults.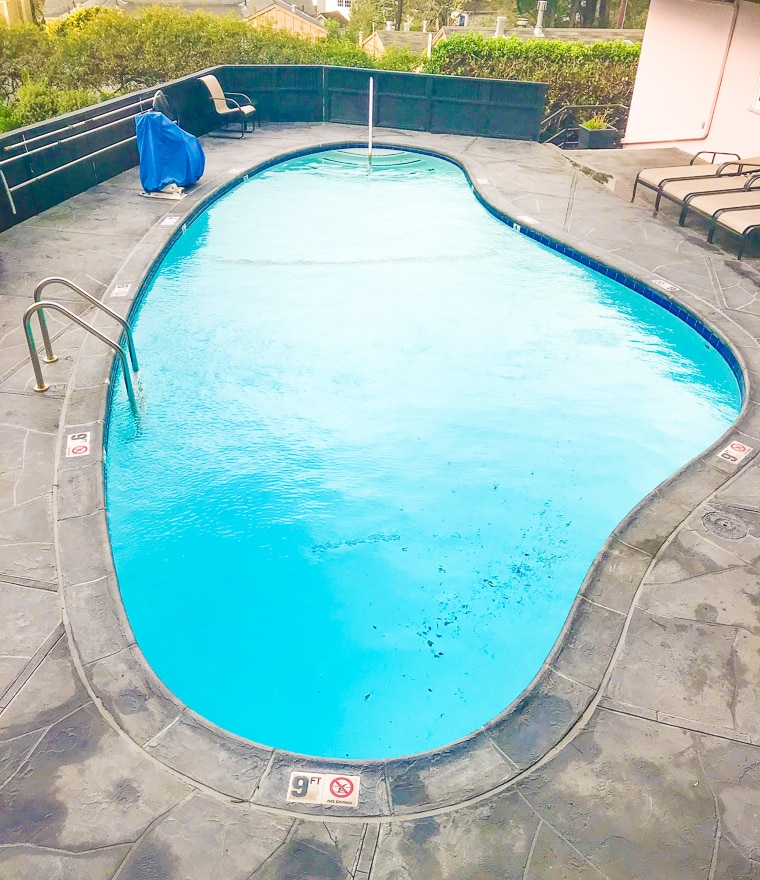 Hofsas House also offers pet-friendly rooms. So, if you like to travel with your pooch, this hotel is for you.
About Carmel by the Sea
This inviting hotel is located in the town of Carmel by the Sea. The hotel has free off-street parking so you can get out and walk around the quaint little town. There are so many shops that you could easily spend an entire day window shopping.
The shops range from upscale shopping to wine tasting, restaurants, several candy shops, a cheese shop, a honey store, and so much more!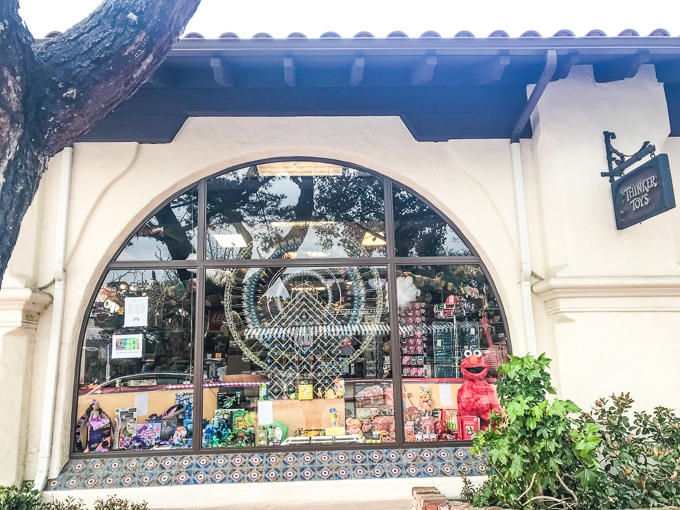 We window shopped at the Thinker Toys and it was packed to the brims with awesome toys. There is something for every child in this store. So fun!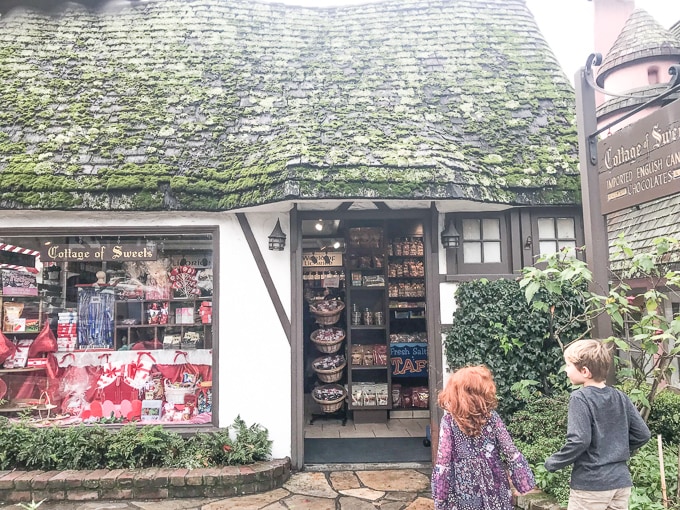 Then we stopped at the Cottage of Sweets for treats. My husband and I both sampled fudge while the kids picked out some sweets to bring home. These LEGO shaped candies are actually buildable and attach to real LEGO bricks. My son tried it out while munching on them.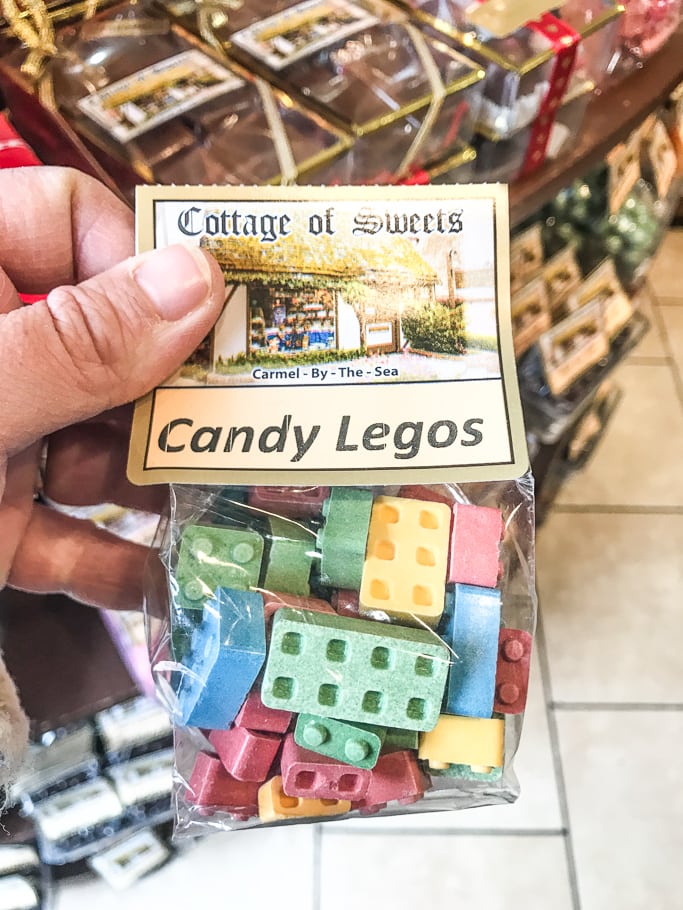 We made a stop at 5th Avenue Deli for lunch on our last day. This little shop makes delicious deli sandwiches and will also set you up with a picnic set – an assortment of meats and cheeses all nestled in a basket – so you can enjoy a leisurely meal on the beach.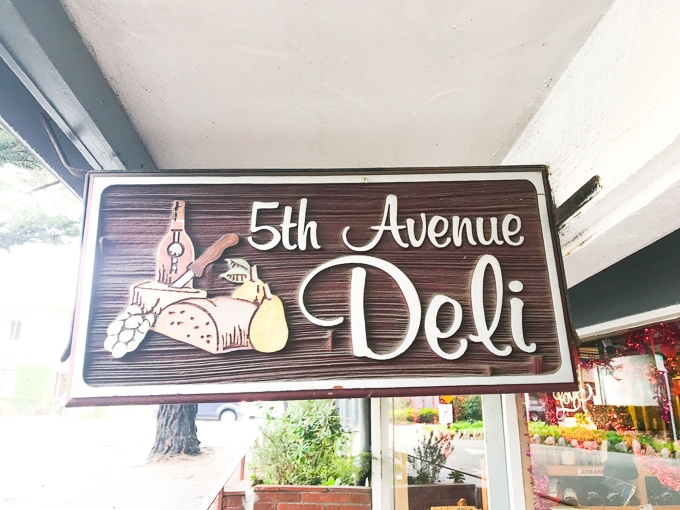 Nearby towns: Pebble Beach, Pacific Grove, and Monterey
If you are going to get in the car and drive, we recommend checking out 17-mile drive. It's a beautiful and scenic drive along Pebble Beach. If you have time, make the stops suggested on this website. The views are totally worth it.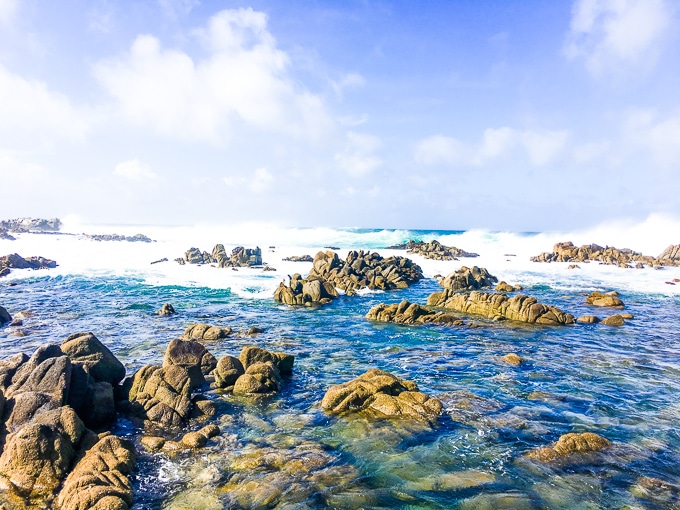 We also recommend stopping at the beach in Pacific Grove. You will see white sand, giant rocks, and huge waves. This is not a swimming beach but more of an enjoy the view, dig in the sand, collect shells kind of beach. If you want to go into the water, stick with the beautiful beach in Carmel.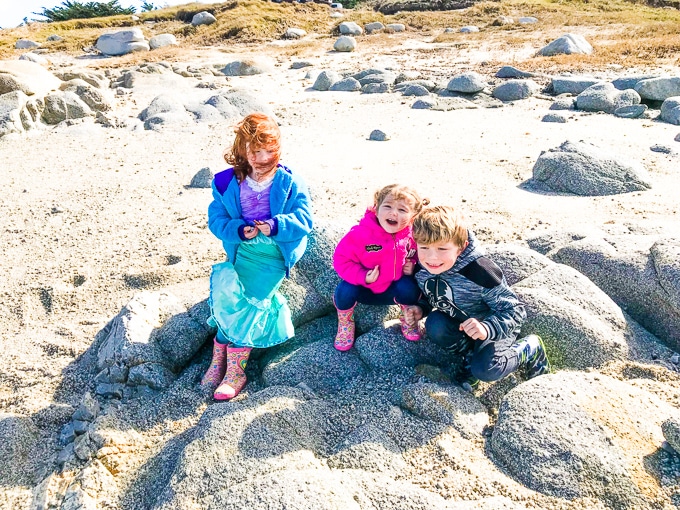 My kids LOVED the beach in Pacific Grove. We had to drag them away so we would have time for Monterey Bay Aquarium (review coming next week) and the Monarch Butterfly Sanctuary. The butterfly sanctuary is the place monarch butterflies stop while migrating. You can catch them if you visit between November and February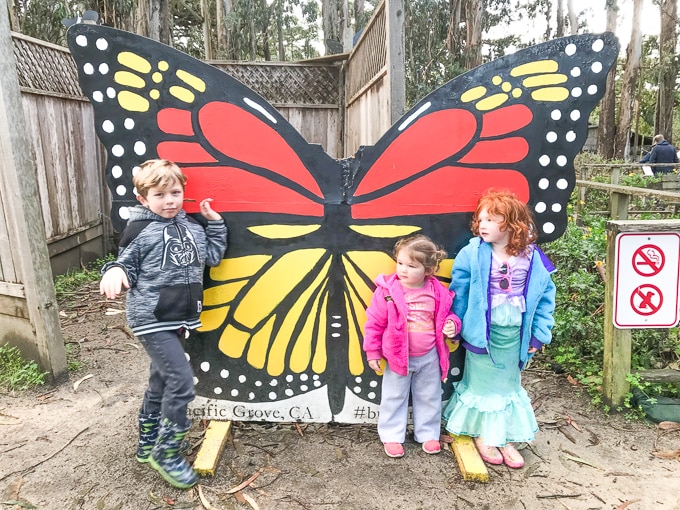 We also made a stop for dinner at Beach House at Lover Point. If you are looking for a nice dinner with amazing views then this is the restaurant for you. I reccomend the Filet of Beef Stroganoff. The also make a delicius Mai Tai.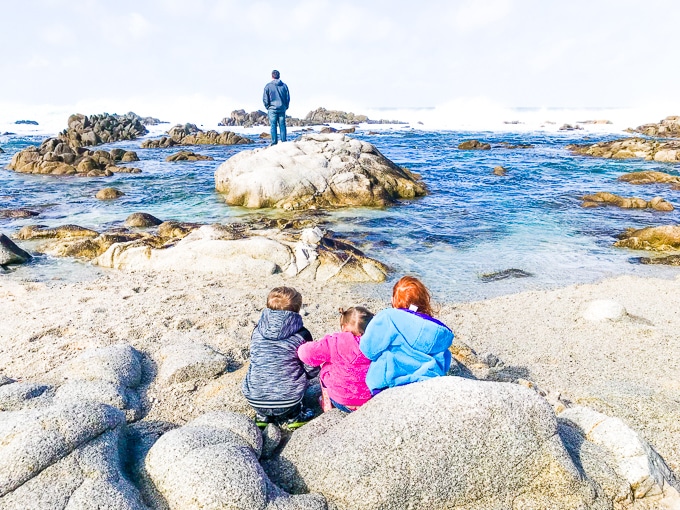 We had such a great weekend in Carmel and will not forget the warm hospitality and family-friendly service we felt at Hofsas House. My only regret is not staying longer so we could spend more time exploring!