Thank you to Cratejoy for sending us this sample box so we can write a Green Kid Crafts review!
We spent our first day of summer vacation trying out the Green Kid Crafts box. We got the Desert Science box that included two art projects and two science experiments. I did this with my two older kids (ages 5 and 6) while their little sister took a nap.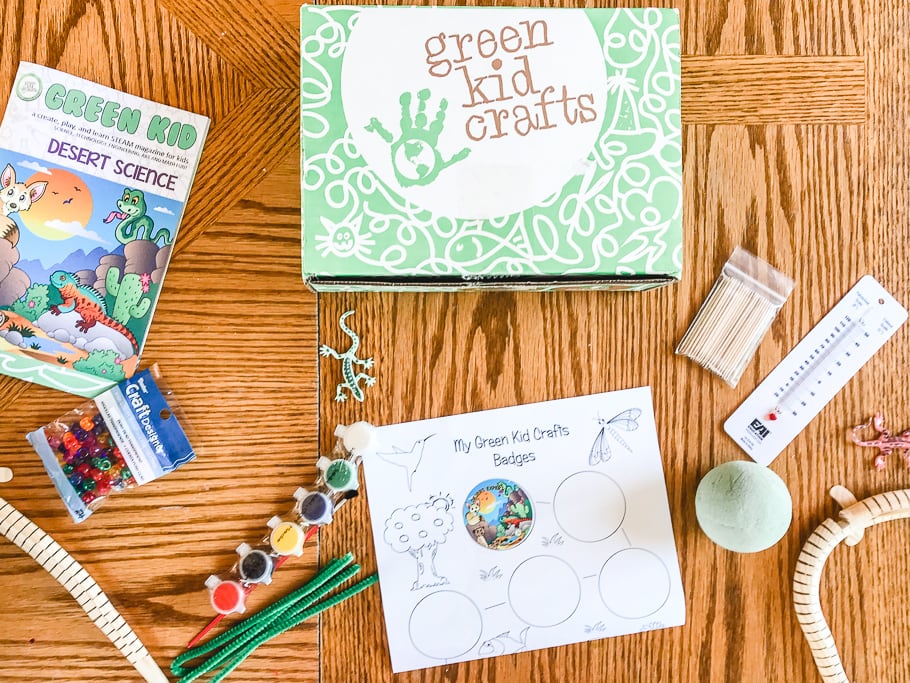 It took us approximately 90 minutes to complete the majority of the projects (one of the science experiments has them check the temperature at night so that one is not included in the time).
My first thoughts on the box were that the packaging is eco-friendly. There were enough art supplies for both kids. This was not advertised, but a very nice surprise.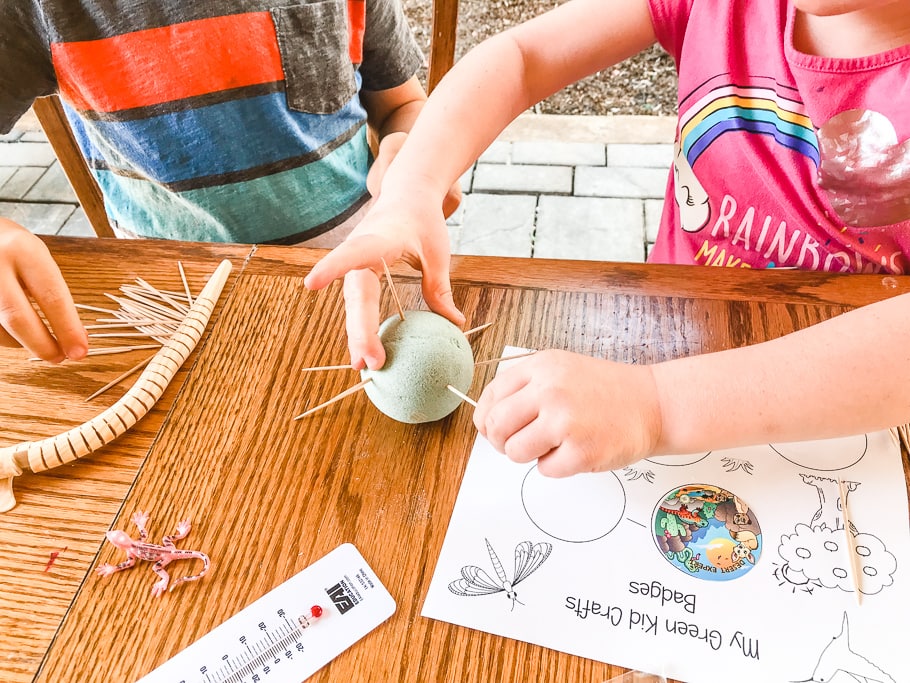 The science experiments had to be shared, which was not an issue for my two kids. They tend to fight over most things but happily shared in the activities. See the full list of Crate Joy's educational subscription boxes for kids here. You can also read our review of the Green Kid Crafts Review | Human Body Lab box.
What's inside the Green Kid Crafts Desert Science Box?
Project #1 Painted Lizard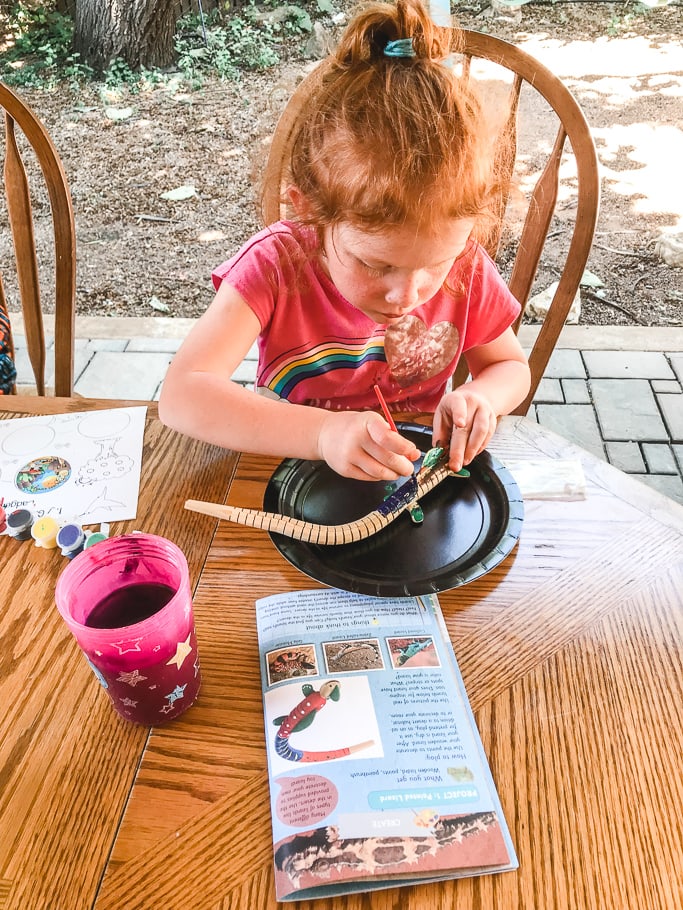 The painted lizard was a lot of fun for both of my kids. My daughter started by copying the example in the booklet. My son changed up the colors and did some paint mixing to create orange.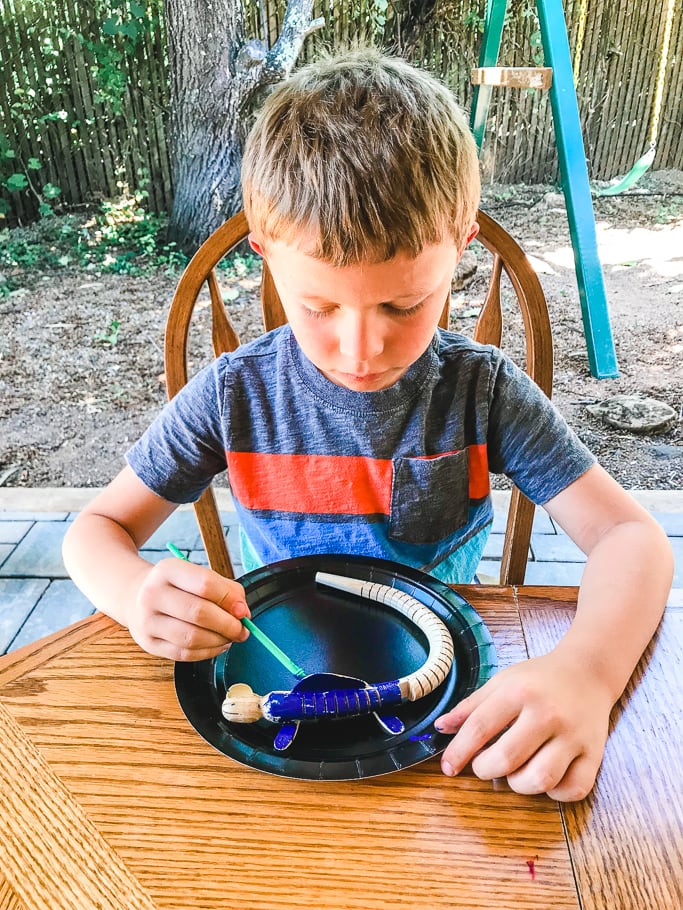 Once they dried, they make a great toy for pretend play.
Project #2 Pattern Snakes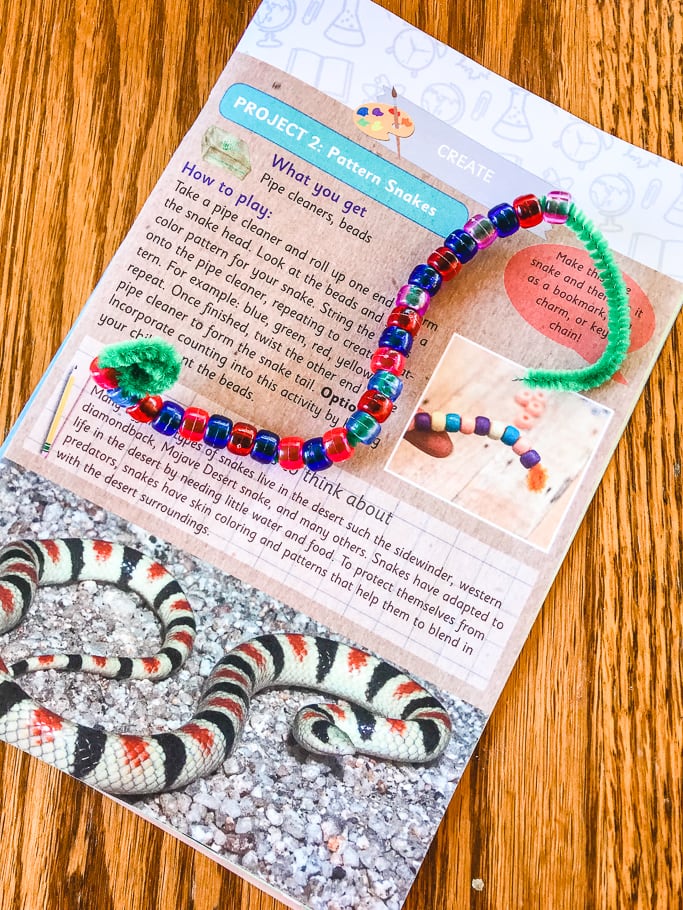 The pattern snakes were my daughter's favorite project. She had just learned about patterns in preschool and was very excited to share all she knew about making patterns. This was also a great project for fine motor skills.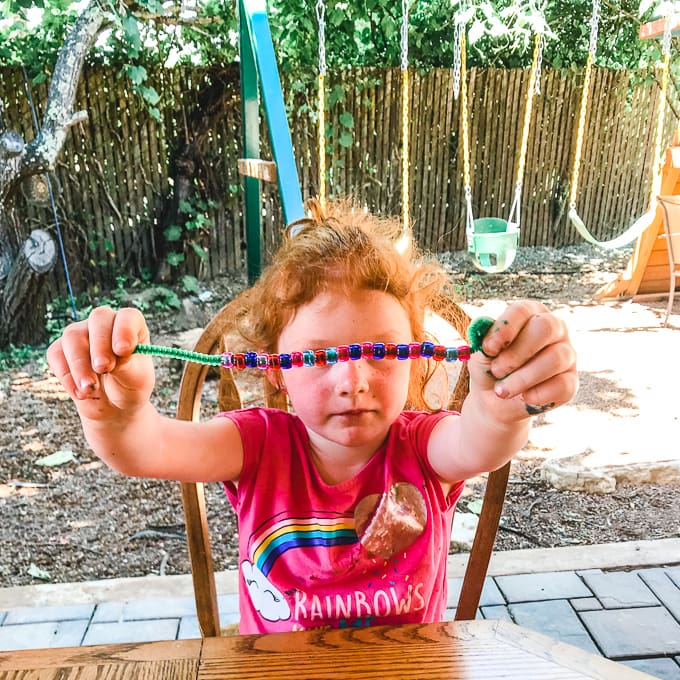 I love that it shares ways to save the pattern snake as a keepsake. She decided to attach it to her water bottle. My son decided to save his snake as a bookmark.
Project #3 Desert Animal Experiments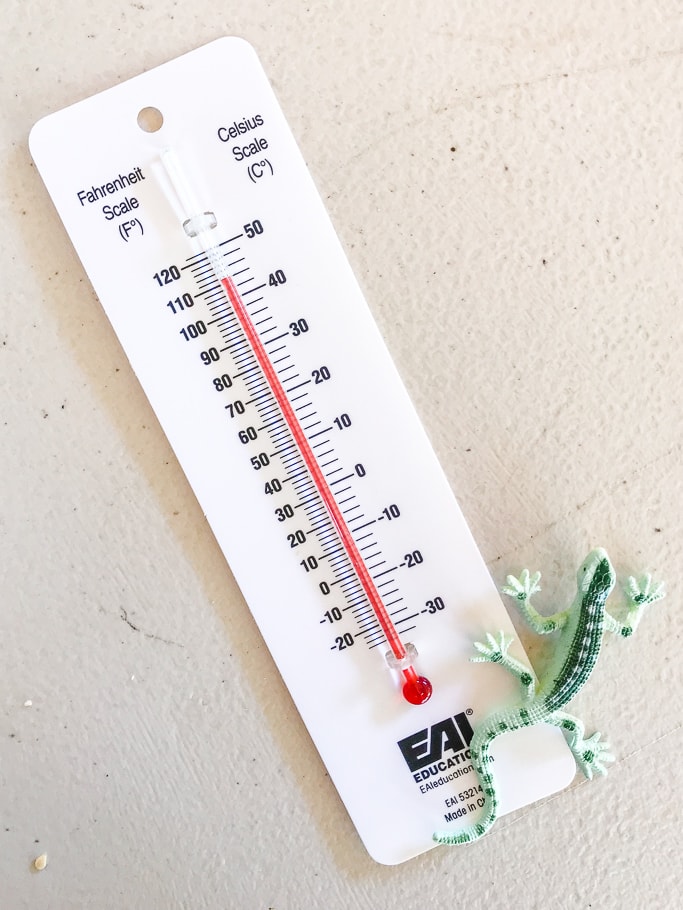 My 6-year-old is a reader and was so excited to read the thermometer! He was also quite shocked that it was over 10 degrees hotter out of the shade. This was a fun project that can be utilized again and again throughout the summer.
Project #4 Barrel Cactus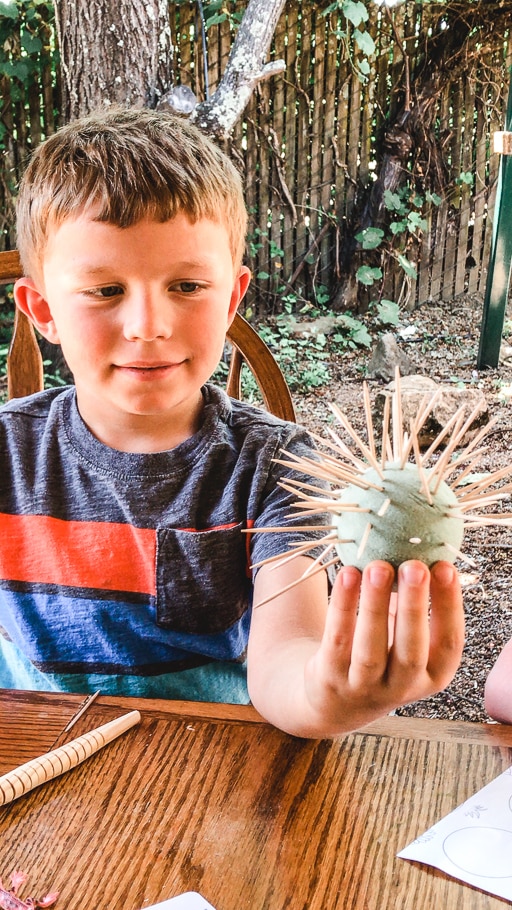 The kids worked together to create a barrel cactus using toothpicsk and a foam ball. They surprised me by how well they shared this activity. It offered a wonderful tactile experience for the kids helped them understand how cacti feel and the purpose of their spines.
Green Kid Crafts Review
Overall, we thought this was a great STEAM subscription box with a big focus on art. The name can be a bit misleading because it says "crafts" but is so much more than that. If you are looking for a craft-only art box, then we recommend We Craft Box, which is good for two kids (sometimes three).
I thought green kids crafts subscription box was a wonderful way to spend time with my kids while offering an opportunity to learn. The box we got was one of their Science & Art Box. They also offer science-only boxes, which look awesome! You can be specific with the science boxes you order, they have Rocket Science, Intro to Electricity, Physics Lab, and more!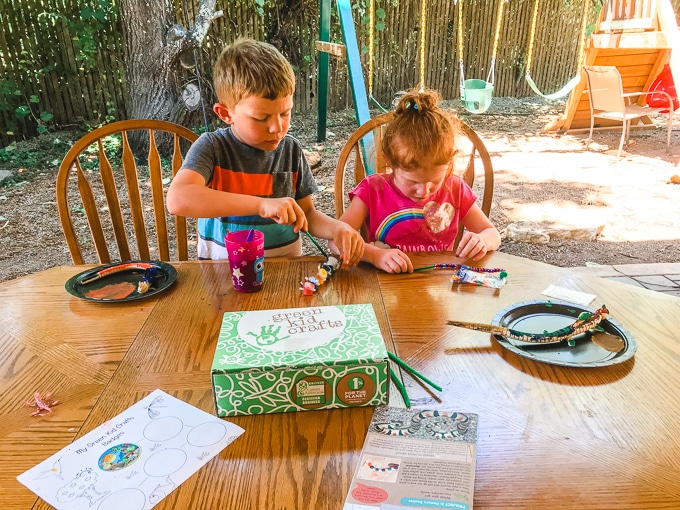 I also appreciated that it worked for more than one child. As a mom of three, it is hard for me to justify purchasing more than one subscription box (although we absolutely love doing them). So having the ability to complete these projects with both kids was a huge win for me.
The Green Kid Crafts box itself was well put together. The packaging was minimal but kept things separated, so it wasn't messy. I also appreciated that there wasn't any shredded paper in the box, which always makes a huge mess.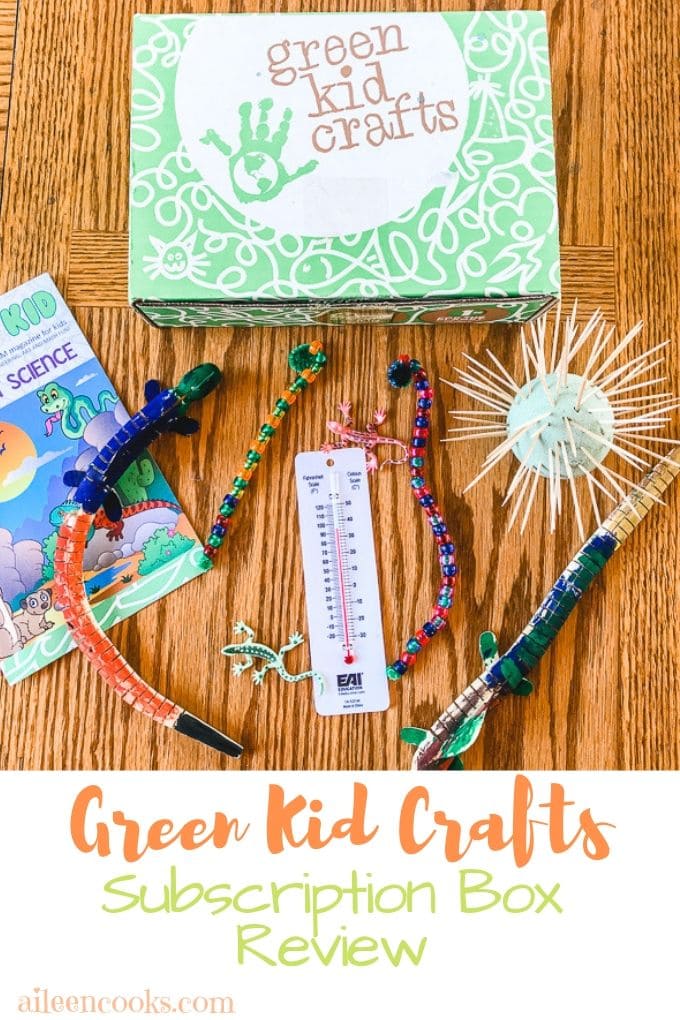 The quality of the contents was good. The wooden lizards should last us a while as should the mini lizards and thermometer. Our box arrived quickly, within just a few days of ordering. This was a nice surprise because they can sometimes take a while.
My kids loved being part of this green kid crafts review. It was such a fun science and art box that is perfect for preschool and early elementary school.