This roasted garlic three cheese lasagna is the perfect main dish casserole recipes. It's also insanely easy and quick to put together thanks to the no-boil lasagna and new Ragu Homestyle Thick and Hearty Roasted Garlic Sauce. The sauce is so flavorful and fragrant, you don't have to add anything to it. I just pour it directly from the jar into the lasagna pan. Thank you to Ragu for sponsoring this post!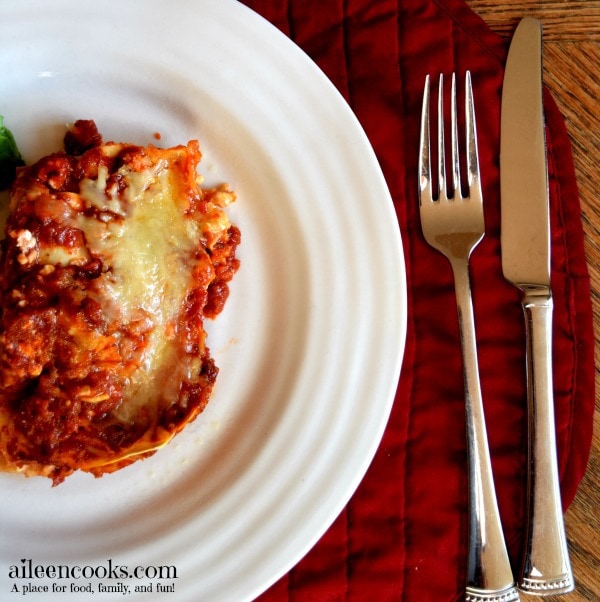 This recipe is meatless, so you don't even have to turn on the stove. Don't worry, it's plenty filling, thanks to the blend of mozzarella, Parmesan, and cottage cheeses.
Ragu is all about homestyle traditions, which is fitting as I made this for my weekly dinner date with my sister. Every week, my sister and I get together with our kids for dinner and a visit. Our kids get to see their cousins and play and we get to catch up on each other's lives.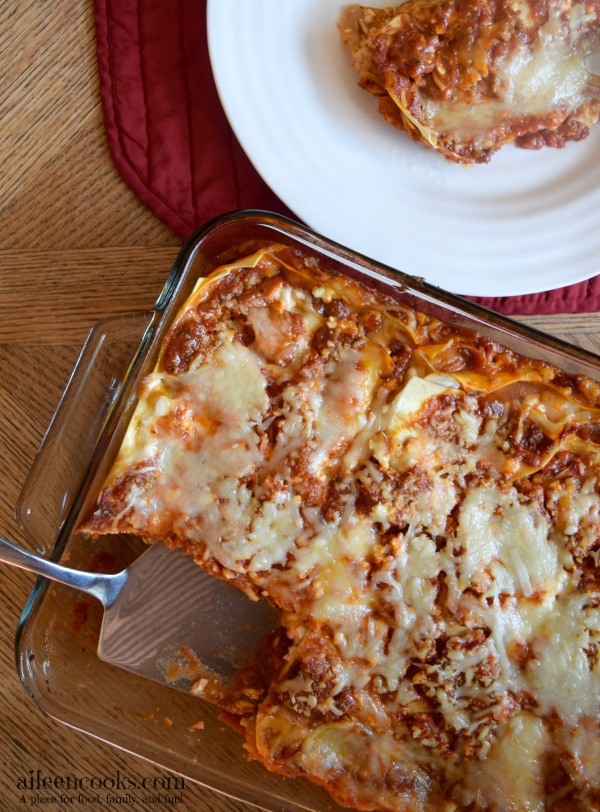 It's not a fancy dinner date. Our goal is good food and family time. We usually watch a movie or show together and go our separate ways. It's a simple tradition, but I have come to really look forward and depend on seeing my sister and nieces every week.
This roasted garlic three cheese lasagna made our weekly tradition easy. I threw together the lasagna during nap time and kept it in my fridge until it was time to bake it for dinner. Since I'm in the later stages of my pregnancy (6 weeks to go!), it's nice to have a meal I can prep earlier in the day when I have more energy (See how I stocked my freezer for the new baby).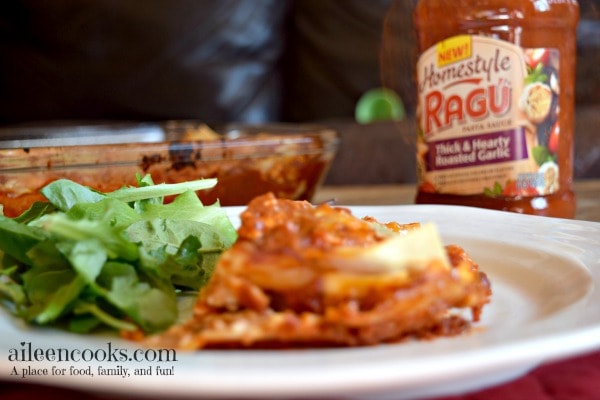 Looking for more pasta recipes? Try this recipe for Taco Stuffed Shells or this recipe for Italian Sausage Stuffed Shells.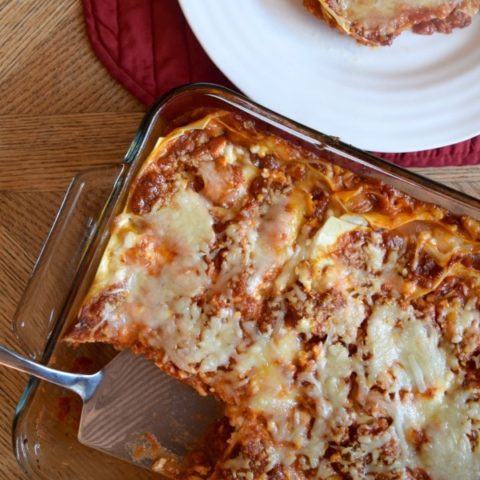 Roasted Garlic Three Cheese Lasagna
This is a freezer friendly meal. To freeze: prep the casserole, but do not bake. Cover with 2-3 layers of foil and freeze up to 3 months. To reheat, defrost overnight in the refrigerator and bake at 375 degrees for 45-60 minutes. Check the casserole regularly and remove from oven when hot and bubbly.
Ingredients
2 Jars Ragu Homestyle Thick and Hearty Roasted Garlic Sauce
9 oz. box oven ready, no boil lasagna noodles
4 1/2 cups shredded mozzarella
16 oz. cottage cheese
3/4 cup shredded Parmesan cheese
Cooking Spray
Instructions
Preheat your oven to 375 degrees.
In a medium bowl, combine the cottage cheese, 2 cups mozzarella, and 1/2 cup Parmesan cheese. Mix well.
Spray a 9x13 casserole dish with cooking spray.
Pour 1/3 jar of pasta sauce into the bottom of the casserole dish and spread evenly.
Place 3 no boil lasagna noodles over the sauce (they will expand in the oven).
Scoop one cup of the cheese mixture onto the lasagna noodles and spread across. Top with 1/3 jar of sauce, and 1/4 cup mozzarella cheese.
Repeat until you have 5 layers of lasagna noodles. Top the last layer with remaining 1/2 cup mozzarella and 1/4 cup Parmesan cheese.
Cover with foil and bake for 25 minutes. Remove the foil and bake an additional 5 minutes, until the cheese is melted.
Let sit for 15 minutes prior to serving.
Nutrition Information
Amount Per Serving
Calories

289
Thank you to our sponsor,
Ragu
for supporting our site and making this post possible. Visit their
campaign landing page
to learn more about the new line of
Ragu Homestyle sauces
and find a taste of home.