Tilapia Fish Cakes with Potato
Whip up a batch of crispy and flavorful tilapia fish cakes with this easy (and yummy) recipe.
Let me start out by saying I am not much of a fish person. I didn't grow up eating it and was pretty anti-fish as a child & young adult.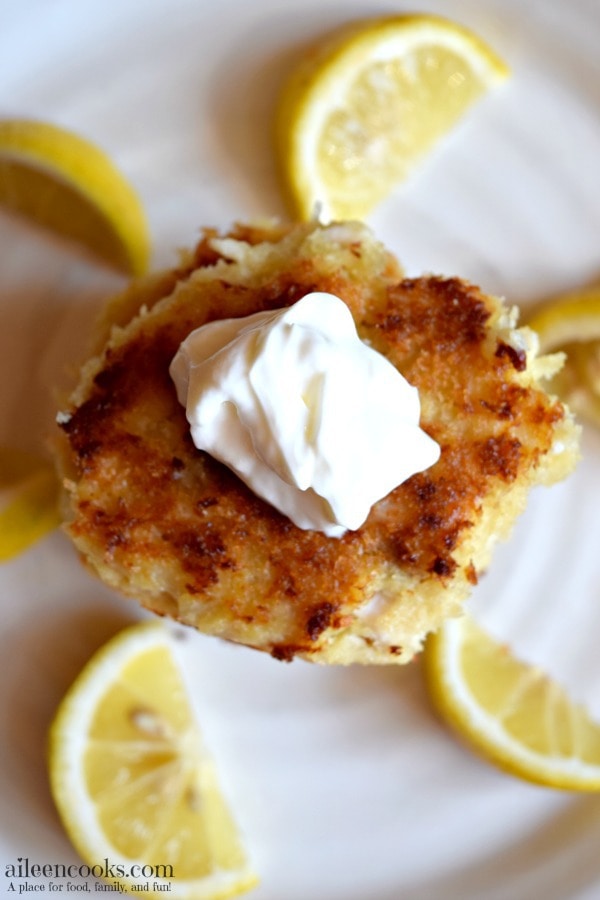 My husband, however, is a huge fish fan. It's also really healthy, so I incorporate it into my meal plan every 1-2 weeks. This recipe has helped convert me into a fish eater. Since then, I have even gone on to eat salmon! Make sure you check out our favorite recipe for Instant Pot Salmon with homemade teriyaki sauce.
I love this tilapia fish cake recipe because it doesn't really taste like fish. They are just crispy and delicious. Even my kids would agree. They happily eat fish cakes whenever I make them, which is a great motivator to make them more often.
Making Tilapia Fish Cakes With No Potato
You can easily make this recipe without potato. Just omit it. Everything else stays the same, but your yield will be slightly less.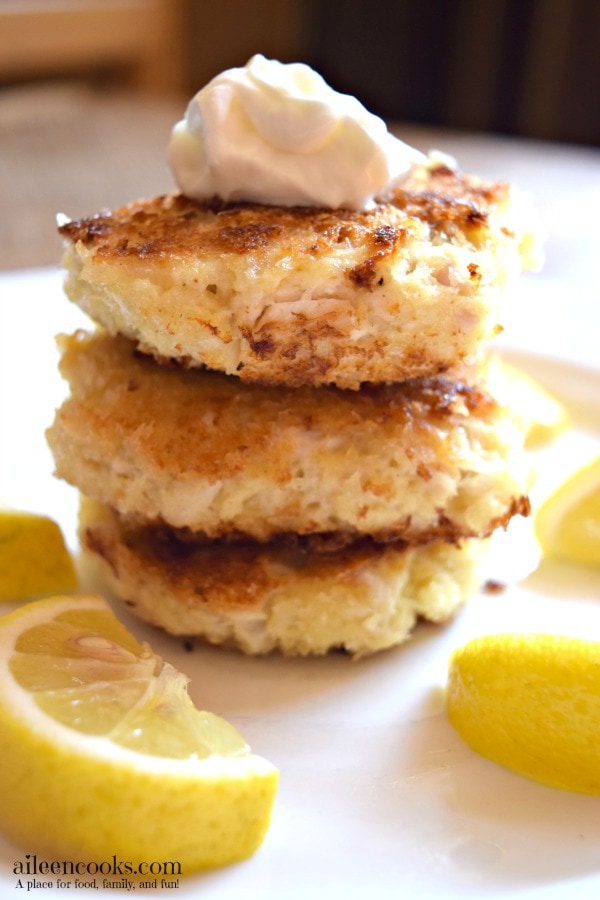 Using leftover fish for fish cakes
Most fish cake recipes advise you to make this when you have leftover fish from another meal. We don't usually have leftover fish, but if you do, this recipe is perfect. Also, try this recipe for zucchini fritters if you have leftover zucchini.
Otherwise, just salt and pepper your fish and bake it in the oven prior to preparing this recipe. You can do this step the day before and store the cooked fish in the refrigerator.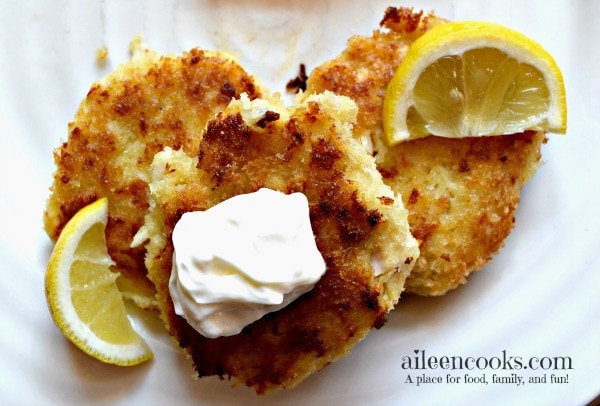 What kind of fish can I use?
This recipe calls for tilapia, but cod, mahi-mahi, even salmon will work. Use what you have on hand and you are sure to enjoy this fish cakes recipe.
How to Freeze Tilapia Fish Cakes
Fish cakes freeze quite well. You will want to let the cooked tilapia fish cakes cool to room temperature. Flash freeze them and store in a zip-top freezer bag. Be sure to get as much air out as possible (sucking the air out with a straw helps).
When you are ready to eat the frozen fish cakes, just reheat them in the oven at 400 degrees for 8-10 minutes.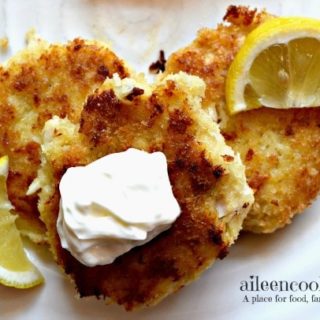 Tilapia Fish Cakes with Potato
Whip up a batch of crispy and flavorful tilapia fish cakes with this easy (and yummy) recipe.
Ingredients
1 pound cooked tilapia
1 1/2 cups panko breadcrumbs, divided
1 cup peeled and shredded russet potato
2 eggs, lightly beaten
2 tablespoons sour cream
2 teaspoons lemon juice, from 1 lemon
1/2 teaspoon chili powder
Salt and pepper, to taste
Sour cream, for serving
Dash cayenne pepper
4-6 tablespoons olive oil
Instructions
Using two forks, shred the cooked tilapia.
In a large bowl, combine the shredded tilapia, 1/2 cup panko breadcrumbs, potato, eggs, sour cream, lemon juice, chili powder, salt, pepper, and cayenne. Mix well.
Lay out two large plates. Sprinkle the remaining 1 cup panko breadcrumbs on 1 plate.
Using your hands, scoop up a golf ball sized amount of the fish mixture. Roll it into a ball and flatten. Dip it in the panko on both sides and place on the empty plate. Continue with the remainder of the fish mixture.
Heat 2-3 tablespoons olive oil in a large skillet over medium heat.
Working in batches, arrange your fish cakes in a single layer in the skillet and cook for 3-5 minutes, until golden brown. Flip and cook on the other side. Add more oil, as needed.
Cook the remainder of the fish cakes and serve with sour cream.
Nutrition Information
Amount Per Serving
Calories

523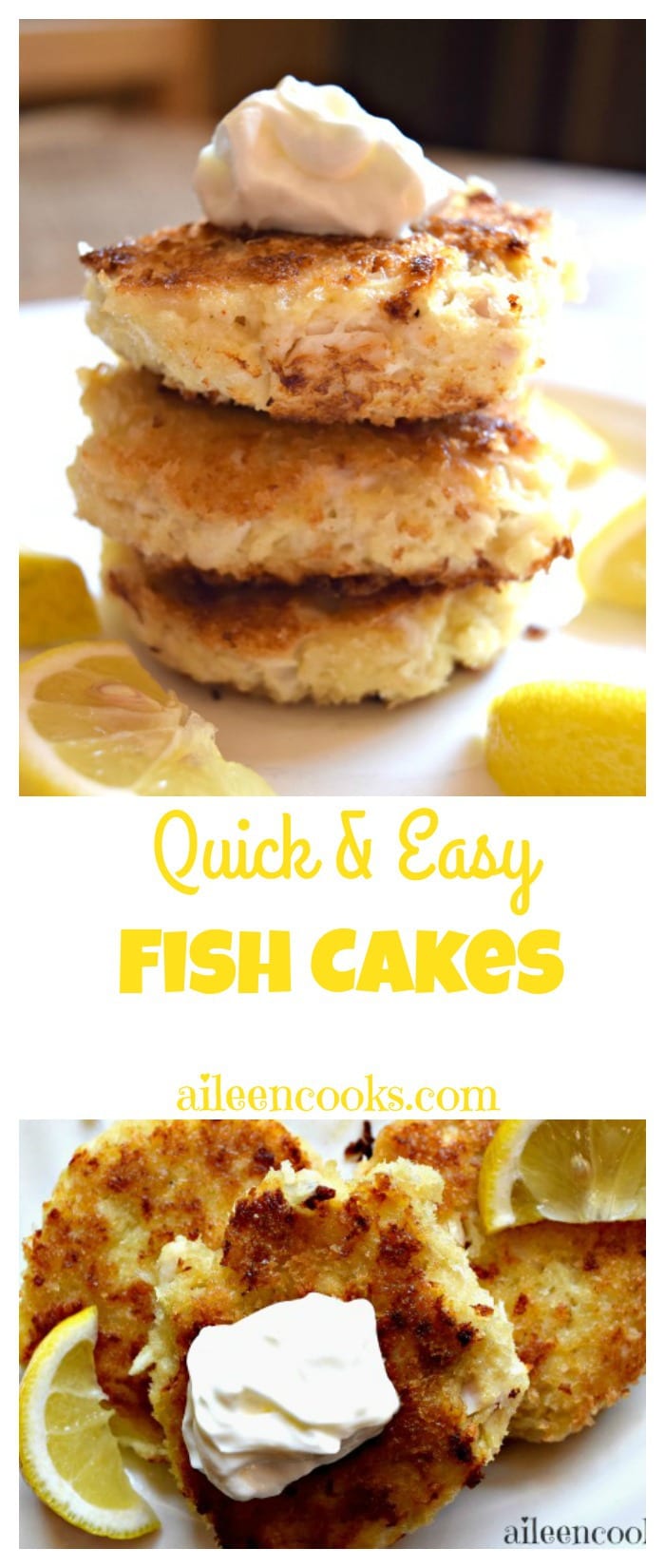 I love whipping up a batch of tilapia fish cakes because I know my kids will love them and they include that healthy fish our bodies need.