Are you looking to make white chocolate hot cocoa bombs? We will show you, step-by-step, how to make your own hot chocolate bombs at home and decorate them in a fun birthday theme!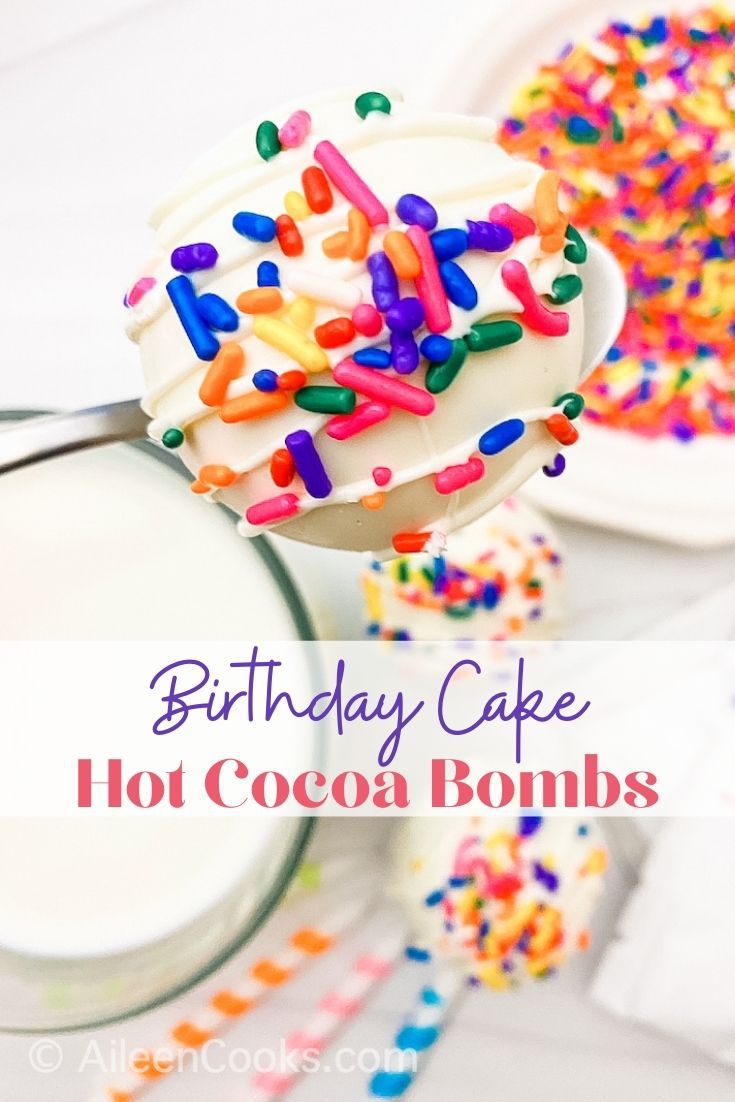 More Hot Chocolate Bomb Recipes
This post is part of a blog collaboration between myself and a couple of other awesome bloggers. We are all sharing new hot cocoa bomb recipes today! Click the links below to check out the other yummy recipes!
Hot chocolate bombs are all the rage these days! Over the next couple of months, I will be sharing several hot chocolate bomb recipes with you, including mint hot cocoa bombs and Valentine's hot chocolate bomb, so stay tuned! We have also already shared a fun recipe for Unicorn Hot Chocolate Bombs.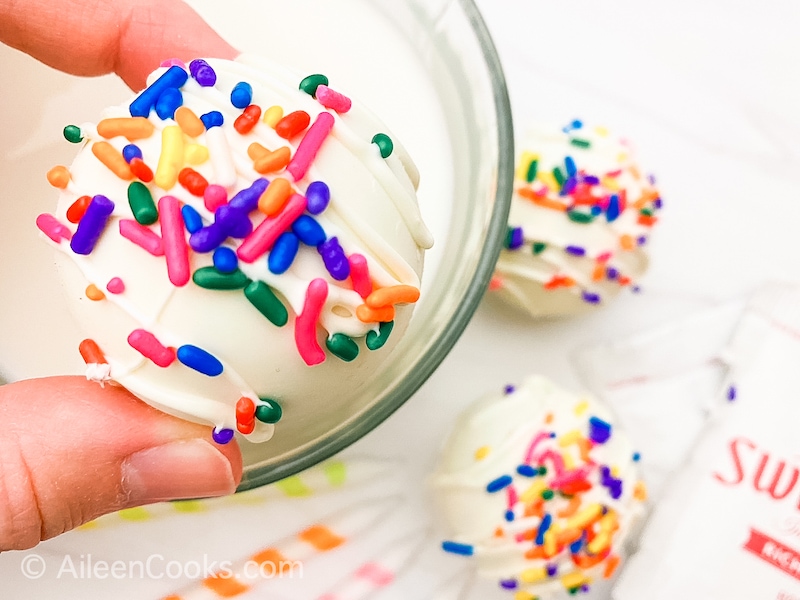 Today, the hot cocoa bombs recipe we are sharing is made with white candy melts and decorated with rainbow sprinkles, to match a birthday party theme.
How Can I make holiday themed hot chocolate bombs?
You can also change out the color of the sprinkles to match other holidays: pink for Valentine's Day, Orange and Black for Halloween, Red and Blue for Independence Day, blue and silver for Hanukkah or red and green for Christmas.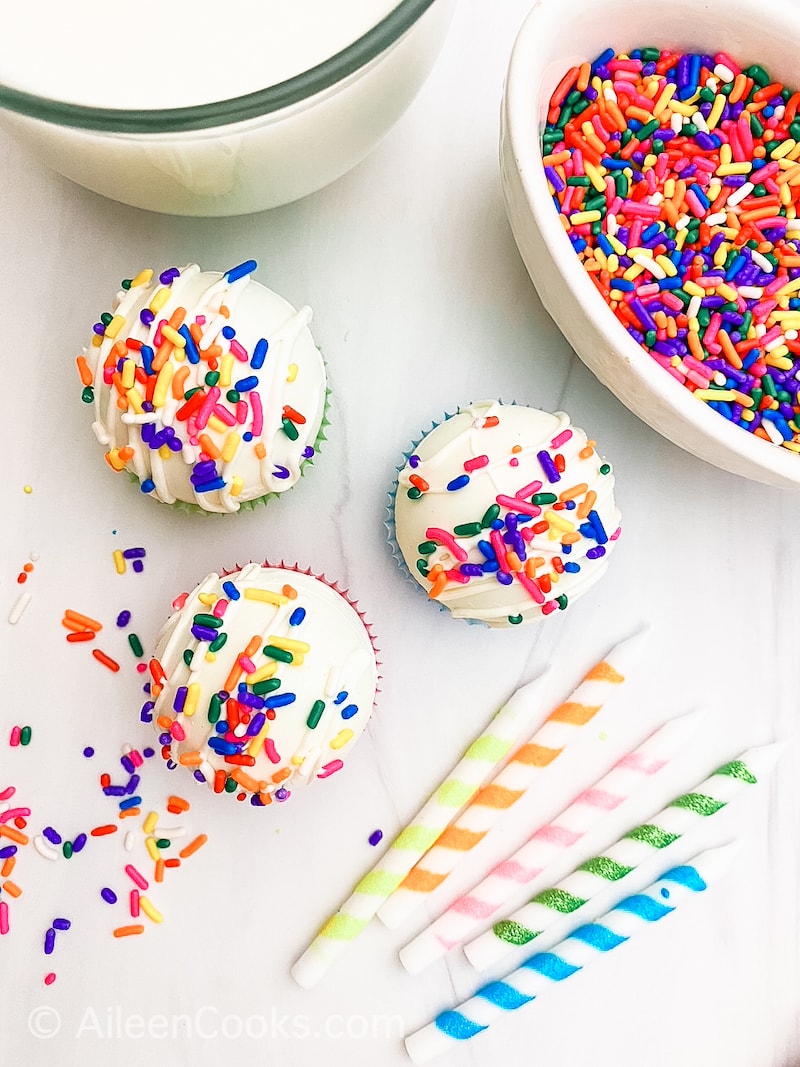 WHAT IS A HOT COCOA BOMB?
If you haven't heard of these fun desserts, you are in for a real treat! It's a chocolate ball filled with hot cocoa mix that melts when you pour hot milk on top.
Hot Cocoa Bombs have become a huge trend since the end of last year and I'm totally here for it! They are so much fun to consume and there are so many different ways to customize them!
If you are nervous about making your own hot chocolate bombs at home, don't worry! I am going to show you step-by-step how to make them. They seem intimidating (and do take a little bit of practice) but are easy enough once you get the process down.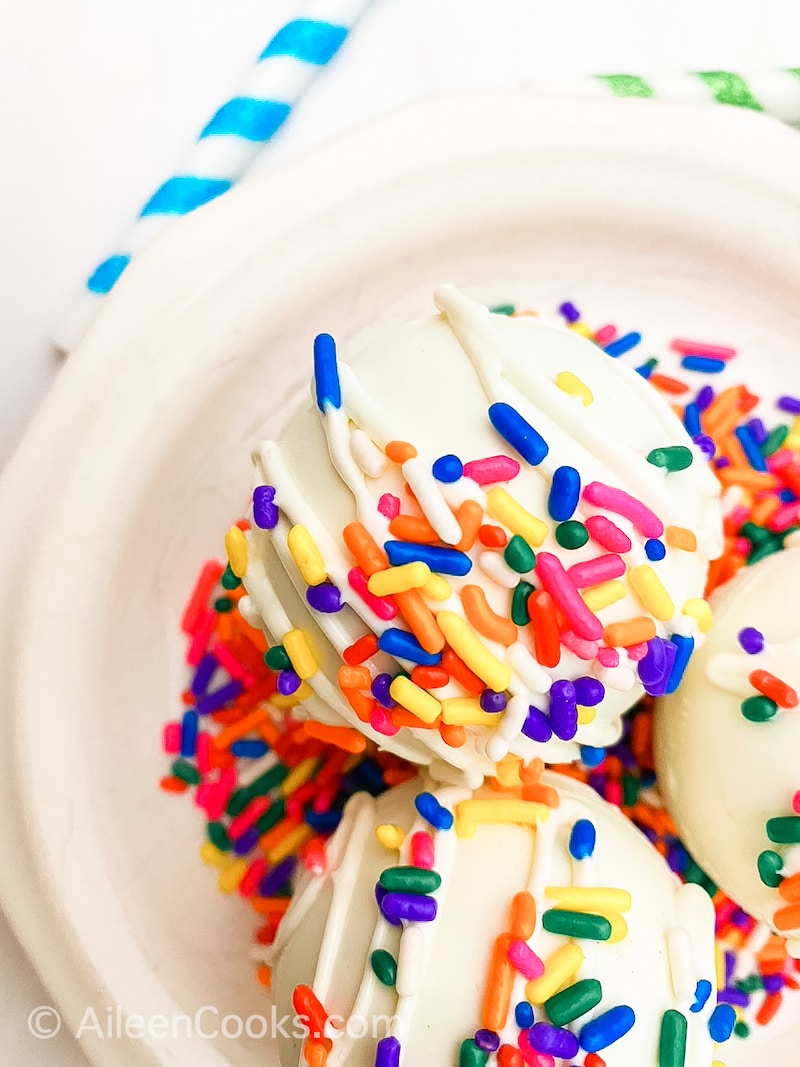 WHAT DO I NEED TO MAKE THIS Hot Cocoa BOMBS RECIPE?
The most important thing you will need is a mold for making the hot cocoa bombs. We got ours on Amazon and they were very affordable! You can even find heart shaped molds on Amazon, which are SO fun! Here is the full list of items needed for making birthday cake hot cocoa bombs:
Hot Cocoa Mix
Mini Marshmallows
Rainbow Sprinkles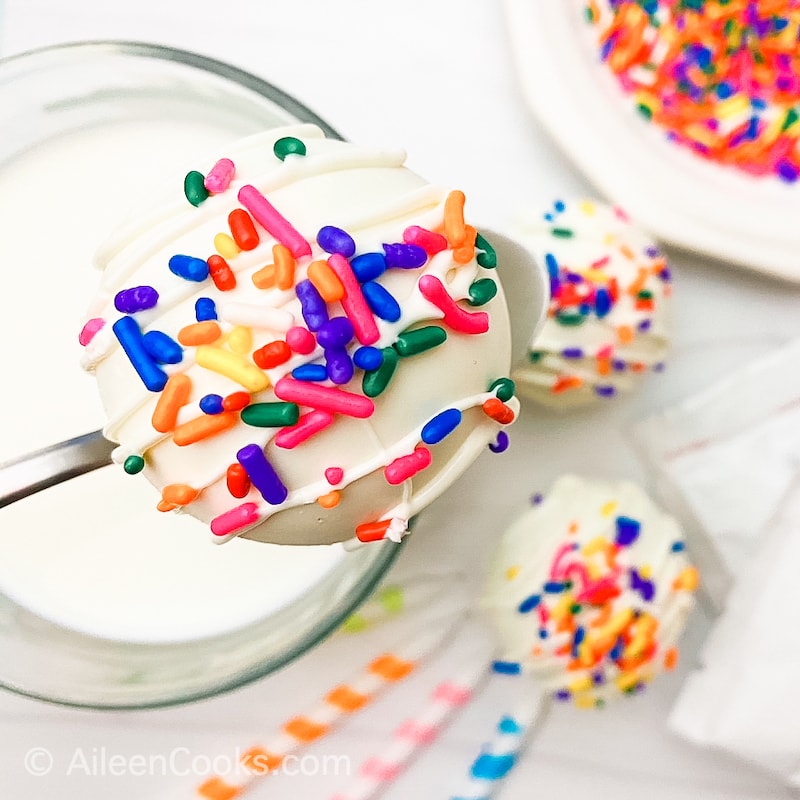 What else can I add to hot cocoa bombs?
You can totally switch things up and add small chunks of chocolate candies, colorful marshmallows, colorful sugars, and even different flavors of hot cocoa! If you do experiment with adding other things to your hot cocoa bombs, please tag me in your social media post or comment below. I want to hear all about it!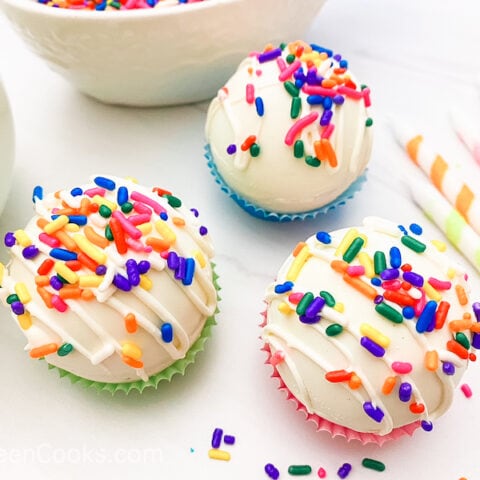 White Chocolate Hot Cocoa Bombs Recipe
Are you looking to make white chocolate hot cocoa bombs? We will show you, step-by-step, how to make your own hot chocolate bombs at home and decorate them in a fun birthday theme!
Ingredients
1 (12-ounce) bag Wilton white candy melts
1/3 cup hot cocoa mix
30 mini marshmallows
1/4 cup rainbow sprinkles
Piping bag
Hot cocoa bomb mold
Instructions
Pour white candy melts in a microwave safe bowl and heat in 20 seconds increments, stirring each time, until candy has melted and is shiny.
Spread the candy melts up the sides of the mold until every bit of the mold is covered.
Let the molds sit 5 minutes and re-spread any candy melts that sank to the bottom of the molds.
Add a second layer of melted chocolate to the half circles molds, especially on the edges.
Refrigerate molds for 30-45 minutes.
Once set, carefully remove candy melt spheres from mold.
Turn the mold upside down and place the rounded sides in between the molds as a stand while filling.
Fill half the spheres with the hot cocoa powder, marshmallows and sprinkles.
Reheat the candy melts and add 4 tablespoons to a piping bag.
Cut a small tip off the piping bag and frost the edge of one half chocolate circle.
Carefully and quickly add an empty chocolate circle on top to make a sphere and hold it in place for 15 seconds or until the chocolate has acted like glue and hardened.
Place onto a plate and drizzle melted chocolate on top with the piping bag and quickly top with rainbow sprinkles.
Let the chocolate harden before serving.
When ready to serve, place inside a mug and pour 8 ounces warm milk or water over the hot cocoa bomb and stir.
Notes
Alternate method for connecting spheres:
Place a glass plate in the microwave for one minute.
Remove the plate and immediately place each empty sphere on the hot plate to heat the chocolate edges.
Place each heated sphere on each filled sphere. You can use the tip of your finger to smooth the melted candy around the seam.
Recommended Products
As an Amazon Associate and member of other affiliate programs, I earn from qualifying purchases.
Nutrition Information
Yield

6
Serving Size

1 hot cocoa bomb
Amount Per Serving
Calories

135
Total Fat

1g
Saturated Fat

1g
Trans Fat

0g
Unsaturated Fat

1g
Cholesterol

0mg
Sodium

159mg
Carbohydrates

28g
Fiber

1g
Sugar

22g
Protein

2g
Nutrition information is an estimate.
Did you try the white hot cocoa bombs recipe? Let us know what you thought with a rating and comment!