Raddish Kids Cooking Subscription Box
As an Amazon Associate I earn from qualifying purchases.
Are you looking to sign up for a kids cooking subscription box? Do you want to introduce cooking to your child in a fun way while introducing new foods? Raddish cooking box may be for you! Keep reading to see our full review on this cooking club for kids! Thank you to Raddish for sending us a sample to facilitate this post. This post contains affiliate links.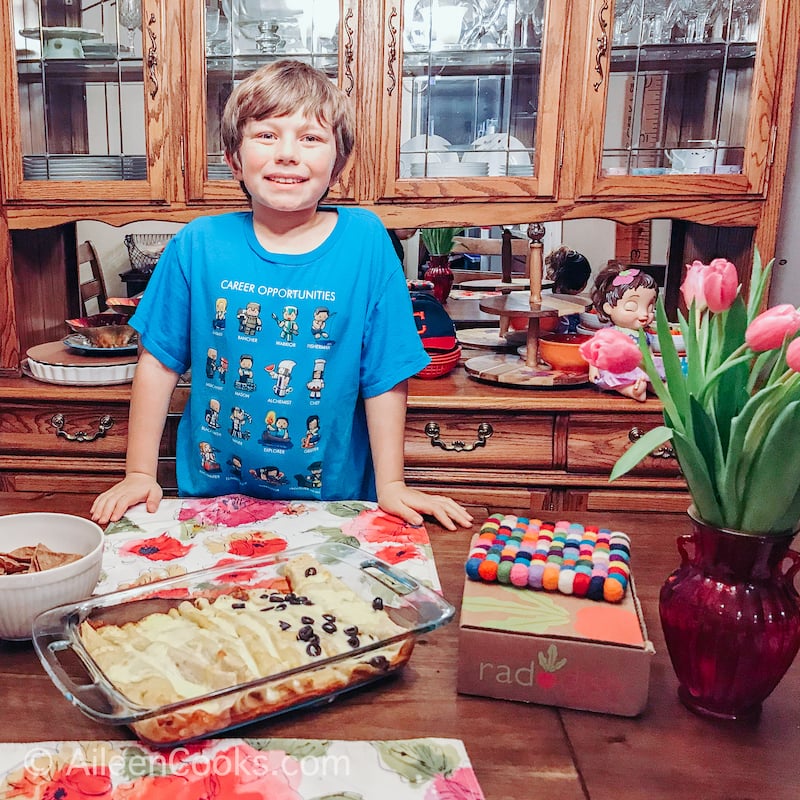 Welcome back to another week of Subscription Box Sunday! Every week, we review a different subscription box for you to help you decide which box will be best for your family! Make sure to follow us on Instagram and subscribe to our newsletter so you never miss a week of Subscription Box Sunday.
PAST SUBSCRIPTION BOX SUNDAY POSTS:
Fun in the Box Birthday Box Review
About Raddish
Raddish is the original kids cooking subscription box. It was started 7 years ago out of the founder's garage and has now taught over 423,000 kids to cook. Their mission is to "prepare kids for all stages of a delicious life: arming them with the culinary confidence to help their parents make dinner, to bake muffins for a neighbor, to prepare after-school snacks with their friends, and in time to feed their own families."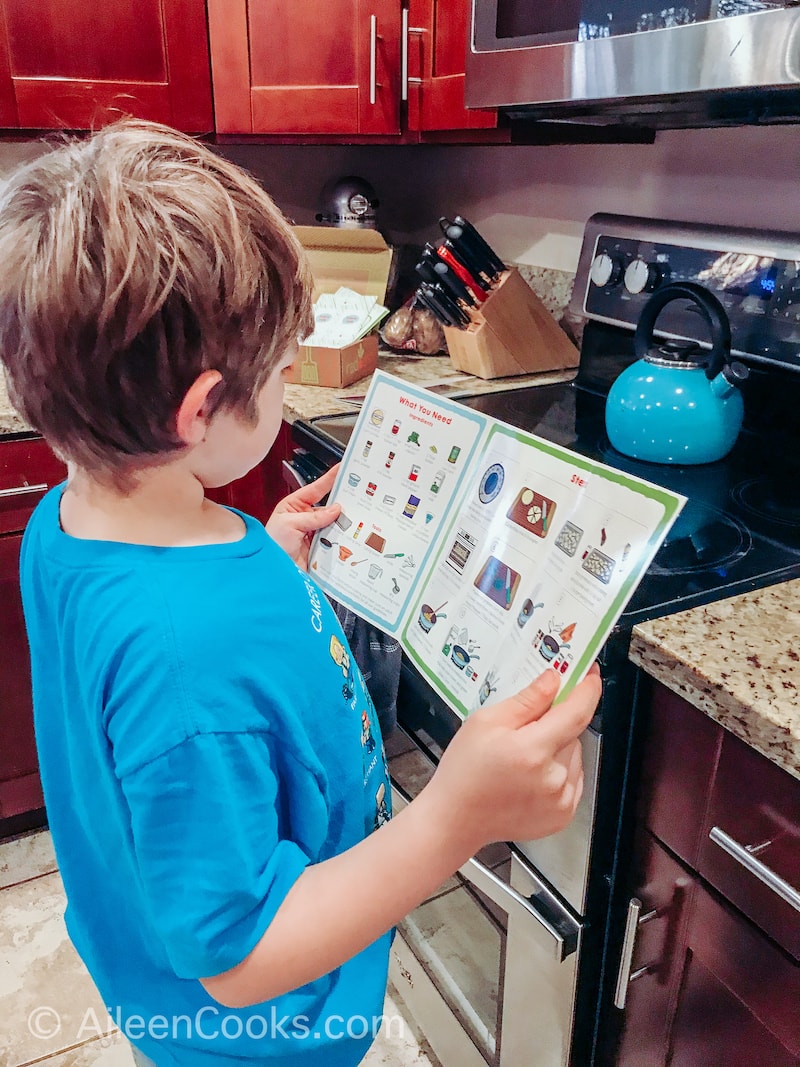 The Monthly Cooking Club for Kids
Raddish is the first monthly cooking club I learned about – way before Subscription boxes became super popular. Of course, they were at the top of my list to review when I started Subscription Box Sunday. They actually sent me a box for review back in October.
If you have been following me for long, you may know that I ended up with some pregnancy complications and a baby in the NICU, so I didn't get to their box right away. Now that we are back to weekly installments of Subscription Box Sunday, I knew I needed to get this review up ASAP.
With that being said, the box we are reviewing was actually their Halloween-themed box. We opted out of adding the spooky garnishes since we were making it in January.

What comes in a Raddish box?
3 Recipe Guides
Quality Kitchen Tool
Collectibles — a colorful apron patch and 4 table talk cards.
Creative Kitchen Project
3 Culinary Skill Lessons
Complete Grocery List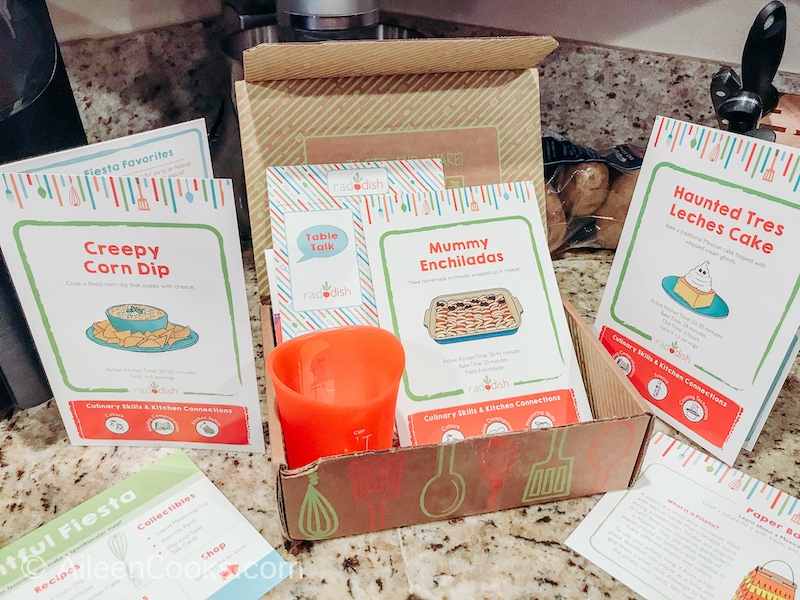 Extras from Raddish Kids
In addition to the Raddish kids subscription box, they offer several extras on their website. If you are a homeschool family, they include extra lessons to incorporate for the month that goes along with the current box. They also offer bonus recipes and several cook-along videos. You can find all of the extras under the "Bonus Bites" section of their website.
Raddish Kids Review
I reviewed this box with my 8-year-old son. He is able to read independently and has some experience cooking simple meals with assistance.
The box we tested included recipes for a corn dip, homemade tortilla chips, enchiladas, and tres leches cake. We decided to make all three recipes at once, which was a bit overwhelming for the two of us. If we had to do it again, I would have had him choose one or two things to make and save the other recipe(s) for another night.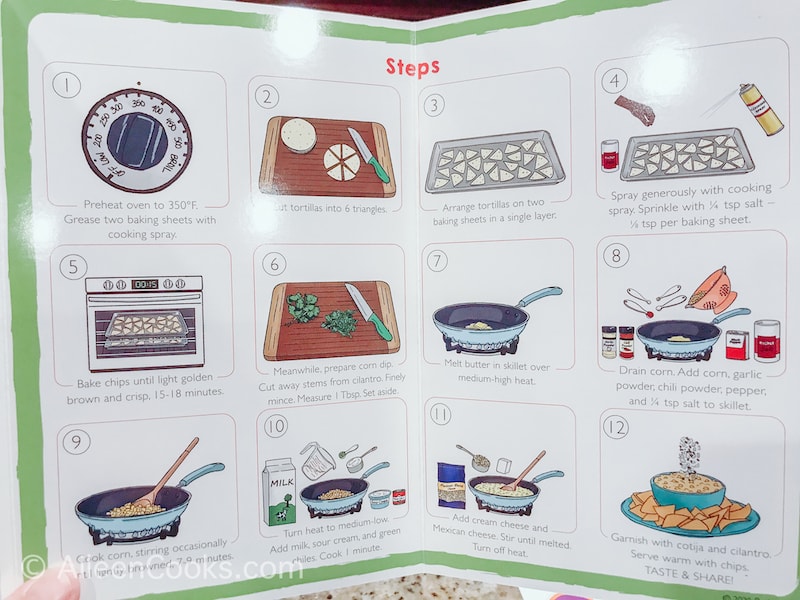 The recipe cards were on thick glossy paper and were very colorful. I loved that it had a full shopping list with pictures on the back. The directions were very kid-friendly and included step-by-step pictures which were wonderful for my son.
He was able to follow the instructions and make most of the enchiladas on his own. This was a huge win for him and he was so proud of himself for making something completely new – a meal he had never helped me make.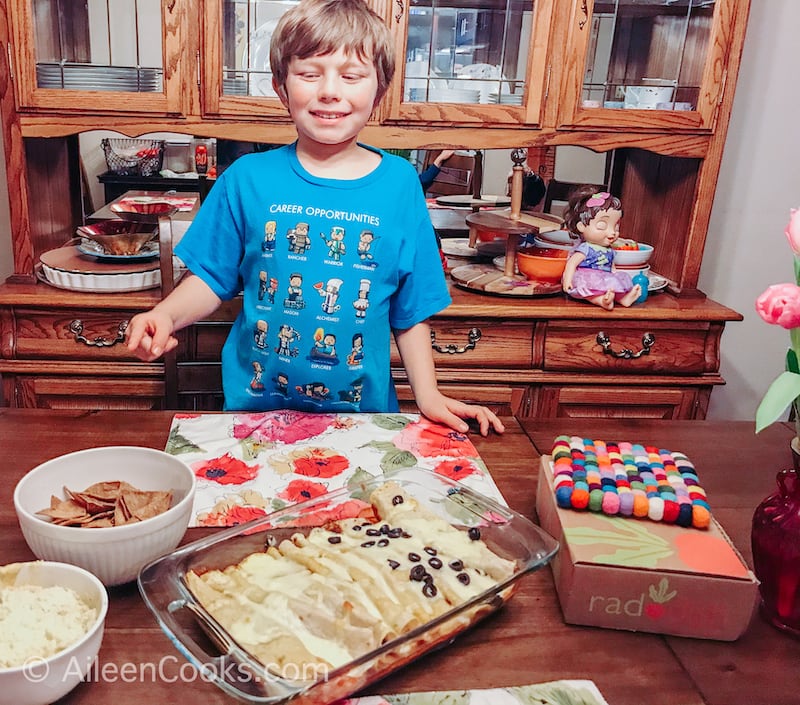 Each set of instructions also features a new cooking technique and explains safety rules in a kid-friendly way. This month talked about stove safety.
Raddish not only exposed my child to a new cooking technique and type of food, but it got him to eat something he normally doesn't eat. Bell peppers. Not only did he happily eat the bell peppers inside the enchiladas, but he told his sisters that they tasted great and encouraged them to try eating one.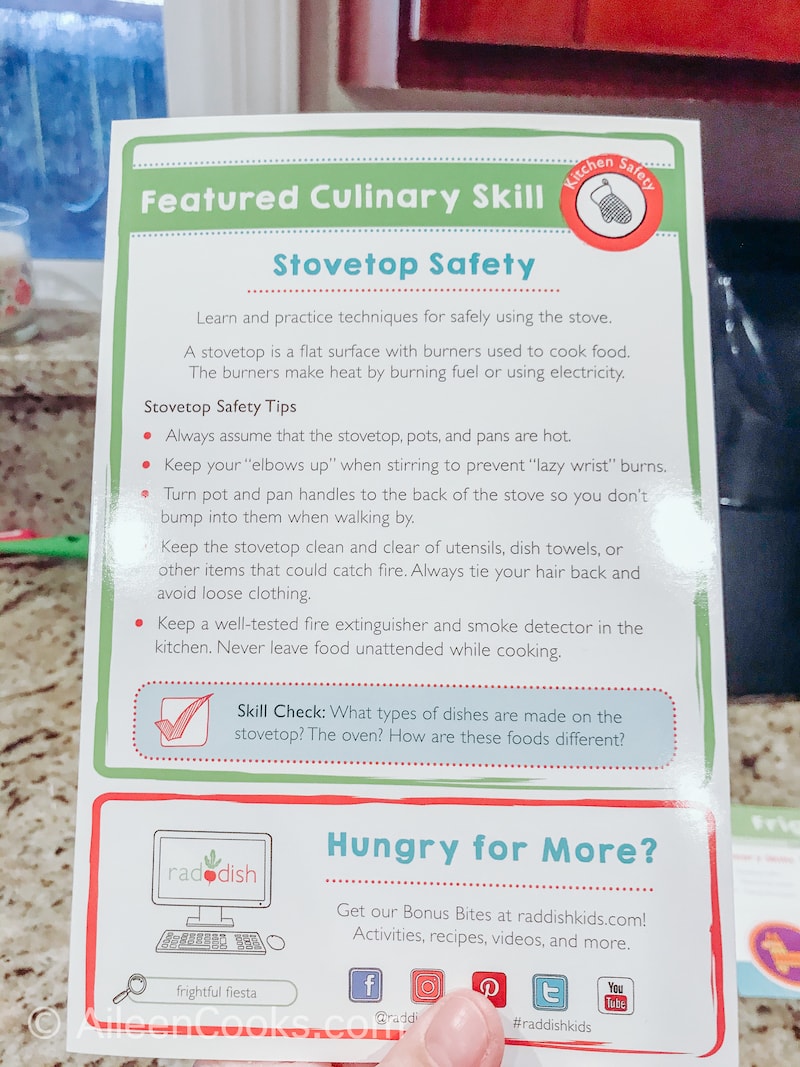 I regularly offer bell peppers (among many other vegetables) to my kids but have never gotten my son to eat more than a bite or two. Having him slice them up and cook them in a dish was just the push he needed to be open to eating them.
In addition to trying new vegetables, making the recipes in our Raddish kids cooking box raised his self esteem. He was so proud of himself for making the meal that he was jumping up and down and cheering at the end.
I will mention that the recipes were all very kid-food centric. They are defiantly geared toward kids' pallets. For example, the enchiladas were extremely cheesy. They were a bit too cheesy for me, but my kids loved it!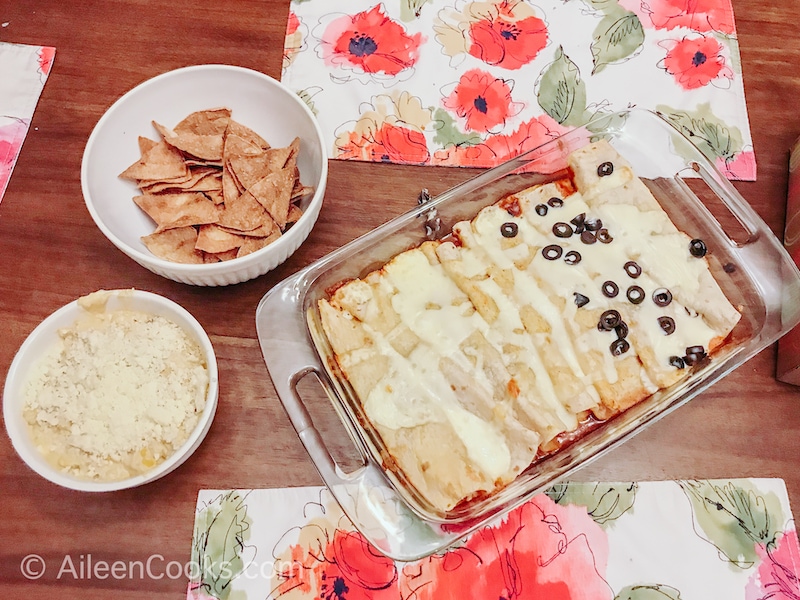 What age is good for Raddish?
I personally think Raddish is good for a large range of kids. I would say anywhere from age 4 to age 12. Younger kids will need more help with the recipes and older kids can use the boxes to make dinner for their families independently.
Can Raddish be used by more than one child?
Yes! Raddish can be used for all of the kids in your family at the same time. You can either assign a different recipe to each child or have them take turns. If you are curious how cooking with multiple kids works, check out my review of the Baketivity Subscription Box that I did with my 4 and 6 year old daughters. You can also ready my (old but still good) post on cooking with two kids – back when I had just two kids.
How much does Raddish cost?
At the time of publication, Raddish was $24 per box if you subscribe month-to-month. The best deal for Raddish is $20 per box if you pay up front for a year subscription. 6 month and 12 month subscriptions include a free apron. There is also an option to add on a sibling for $5 per box, which will include an extra patch and kitchen tool in each box.
You can sign up for Raddish here.