Italian Style Breadcrumbs are simple and quick to make with ingredients you probably already have in your pantry. I like to use the breadcrumbs in my meatloaf muffins with potato frosting and crockpot Italian meatballs. Pretty much any recipe that calls for breadcrumbs as a binding ingredient can be made at home – no need to run out and purchase pre-made breadcrumbs.
All you need for this recipe is stale bread and a few seasonings. If your bread is fresh, just toast in the oven at 400 for 2-3 minutes. Add all of the ingredients to your food processor (this is the one I use and love) and use in place of store-bought breadcrumbs. Easy-Peasy. If you are looking for traditional breadcrumbs, just omit the spices.
**This post contains affiliate links.**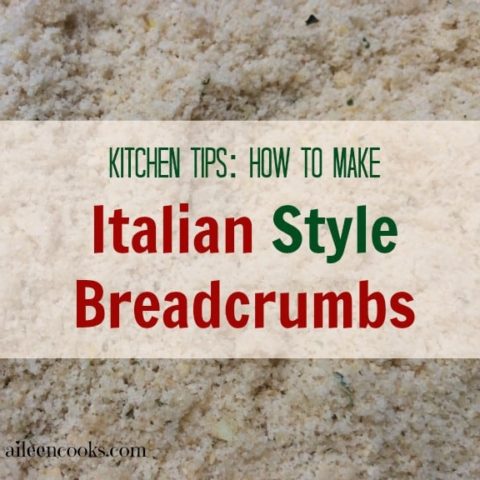 How to Make Italian Style Breadcrumbs
A simple tutorial for homemade breadcrumbs.
Ingredients
4 slices sandwich bread or 1/2 loaf french bread, stale or lightly toasted
1 tsp dried parsley
1 tsp dried basil
1 tsp dried oregano
Instructions
Cut your bread into two inch pieces.
Place the bread and seasonings into the cup of a food processor or blender.
Pulse together until the bread breaks into a fine crumb.
Use in place of store-bought breadcrumbs in any recipe requiring breadcrumbs.
Store in the freezer for up to 3 months. Defrost on the counter for a few minutes prior to use.
Nutrition Information
Amount Per Serving
Calories

125
Note: I prefer to use Panko Breadcrumbs in recipes where the breadcrumbs are used as breading like ranch chicken tenders. Panko does a better job as a batter, but homemade Italian style breadcrumbs are perfect for holding together meatballs and meatloaf and the Italian seasonings add a nice flavor.
What pantry staples do you like to make from scratch?
Sign up for my newsletter and never miss a post!