Are you planning a trip to Disneyland in Winter? Read this post so you can be prepared to visit the happiest place on earth during their cold season. This post applies to visits to both Disneyland and California Adventure.
The good news is, Disneyland is in Southern California. So you don't have to worry about freezing temperatures, ice, or snow. However, you may still have to deal with some cold and rainy weather. We recently took our family of five to Disneyland in the middle of winter – during a rainstorm.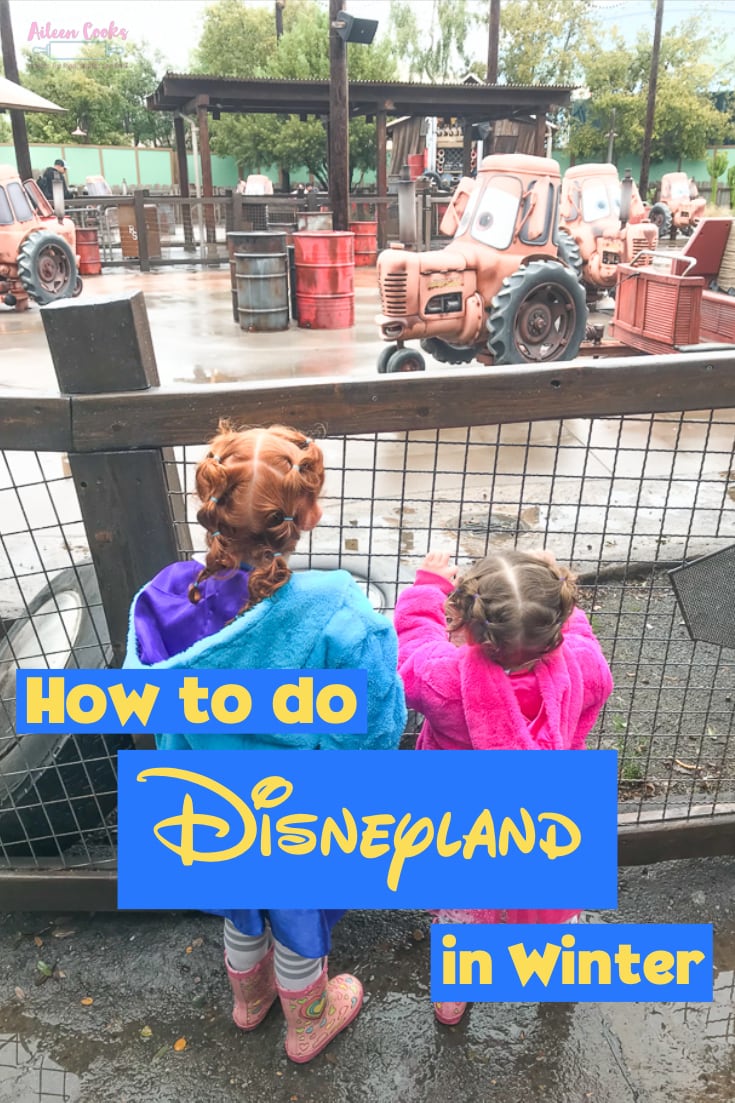 Yes, it was pouring down rain for 80% of our trip. Yes, we still had a magical time.
Here is how to prepare for a trip to Disneyland in Winter
Bring Layers! It could be warm and sunny one day and pouring down rain the next. Even the same day can be sunny and warm during the day but it still cools down at night. If you are bringing a stroller, I highly recommend packing a lightweight blanket or two in the stroller. Then you can keep warm while watching the evening shows. If you don't have a stroller, than you may still be able to bring a small one in your backpack.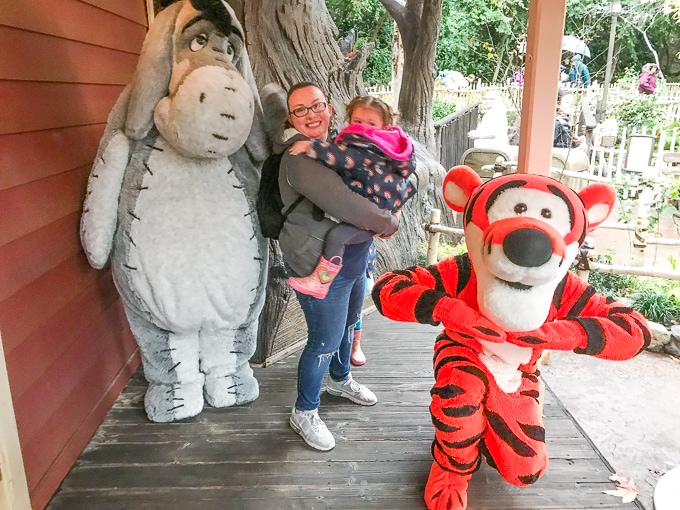 These Disney travel blankets on Amazon are adorable and will cost less than in the park.
The good news is, it should not get colder than about 50 degrees. If you are from a colder area than you will have no problem keeping warm even at night. Your body is probably more used to it than us Californians.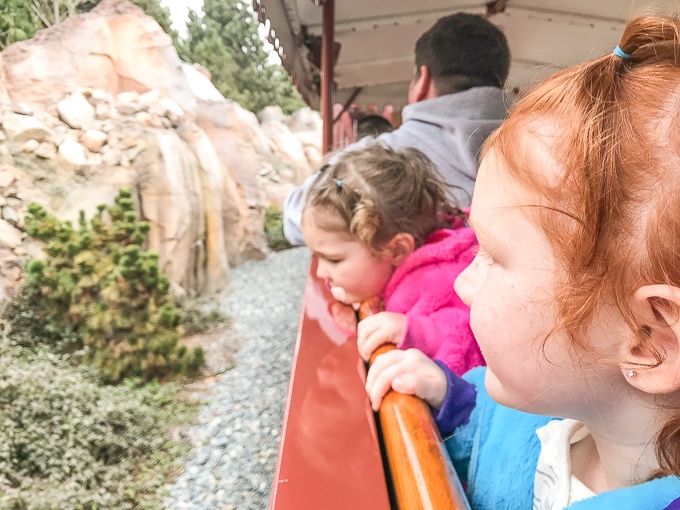 We are from Northern California (less sunny than Southern California) and are used to mild winters. We brought coats for ourselves and packed hats + small blankets for the kids. It was perfect for night-time when our two littlest kids fell asleep in the stroller, but we were not ready to leave just yet.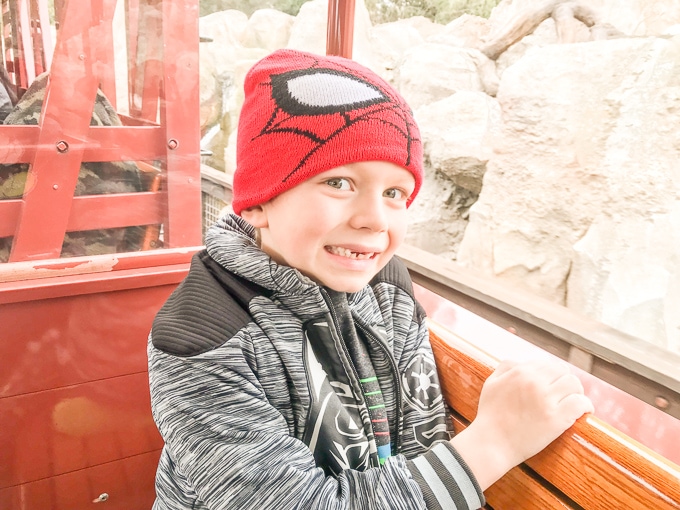 What if it rains at Disneyland?
Our trip was almost completely rained out. My husband and I wore tennis shoes, so our feet did get wet at times. I highly recommend checking the weather and bringing rain gear with you on your trip to Disneyland in Winter. We packed rain boots and raincoats for each kid.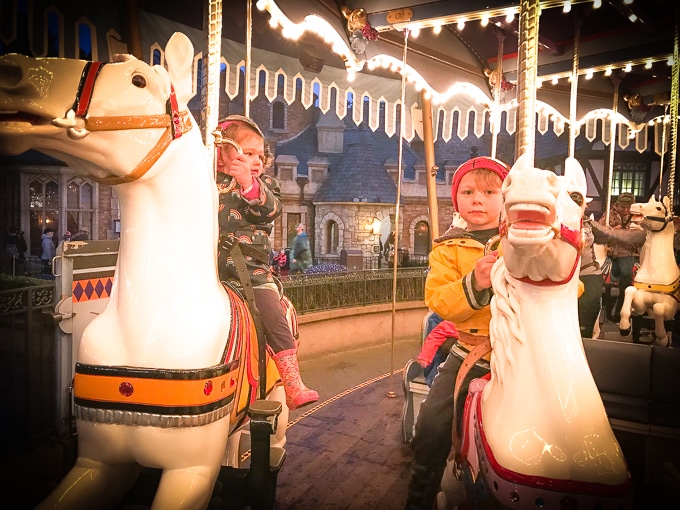 They love their rain gear and happily wore it most of the time. They also were not bothered by the rain, because they were kept dry for the most part. We also brought warm sweatshirts for them to wear underneath their raincoats or when it was not raining.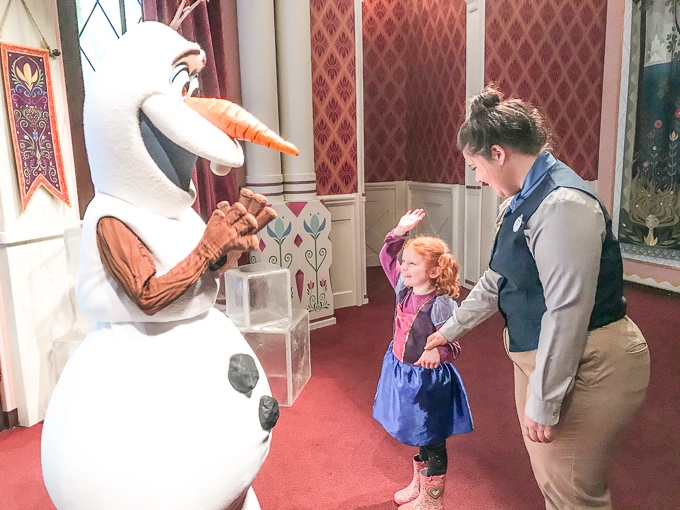 I recommend ponchos for the adults over raincoats. I brought my raincoat but ended up using a poncho because it fit over my backpack and kept our stuff dry. It was easy enough to take off and roll up if the rain took a break for a while. Disneyland sells ponchos at many of its stores and kiosks. Also, you can sometimes find them at Dollar Tree. If you can't find them at your local dollar store, I still recommend buying them ahead of time because they are more pricey in the park.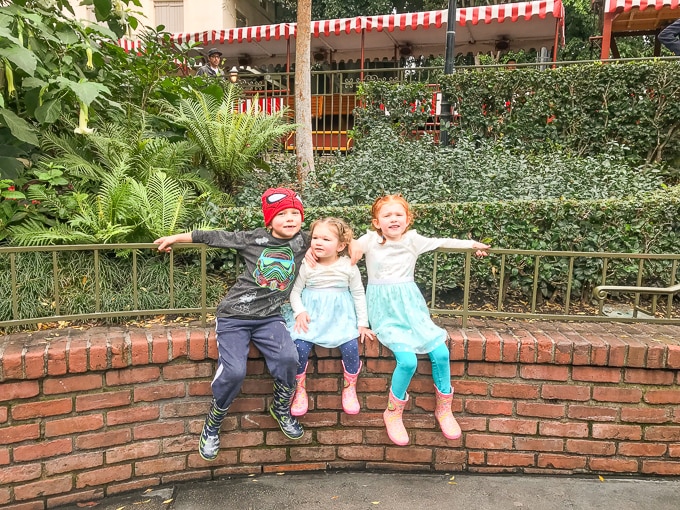 If there is rain in the forecast, I do not recommend bringing an expensive camera. I always just bring my iPhone on Disneyland trips. A friend brought her DSLR, though it was protected (wrapped in plastic), it still managed to get ruined. It is not worth it. Leave the camera at home and use your phone instead.
Heavy rain may be a good time to get inside and eat and dry off. If you can plan ahead, I recommend booking a character breakfast.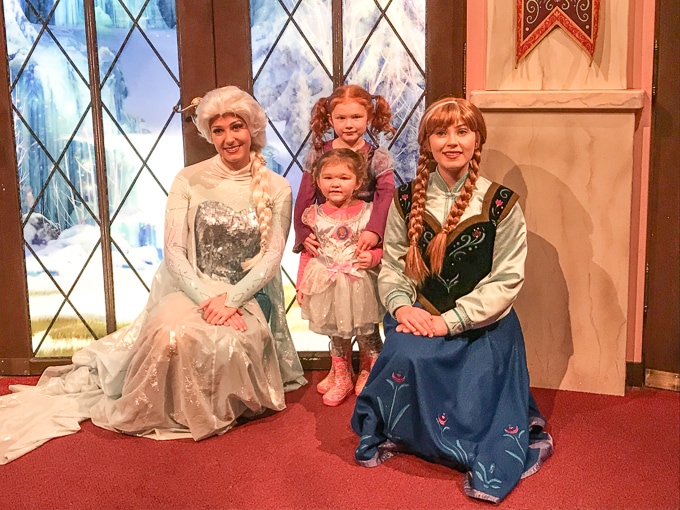 Make sure you have a good weather app on your phone so you can plan on running out to get in-line for the outdoor rides as soon as it clears up. The thing about California rain, is it very rarely rains non-stop for the entire day. You will get breaks from the weather and need to take adventage of them.
How to protect a stroller in the rain at Disneyland?
We didn't make it go right to buy the rain cover for our City Select Double before our trip to Disney. However, I did make it go right to stop at Dollar Tree before our trip and pick up a shower curtain. It worked better than expected! We just tied the corners around the edges of the stroller seats and untied them as needed.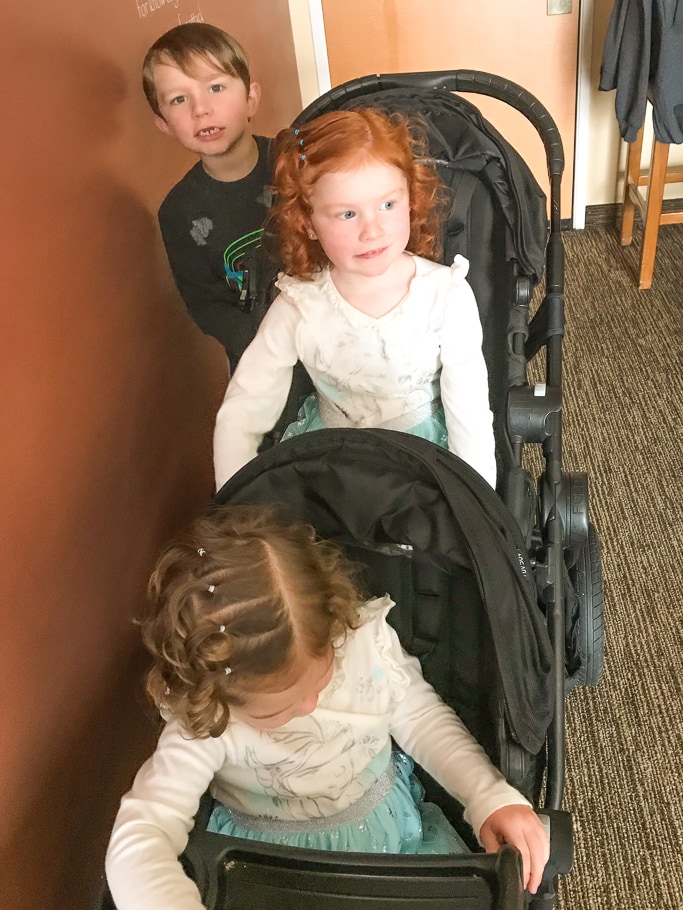 The kids stayed dry (even our oldest sat under it on the glider board from time to time) and so did our stuff underneath in the canopy. I was worried about airflow at first but I quickly realized it wasn't an issue and was actually great at muffling the noise and encouraging a nap out of our two-year-old.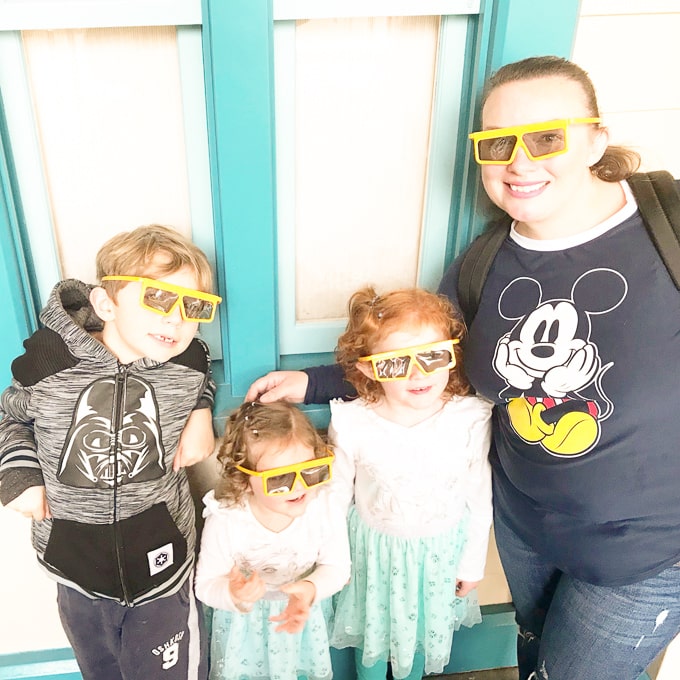 The Pros and Cons of visiting Disneyland in Winter
The top pro of visiting Disneyland in the Winter is when it rains, the lines are much shorter! Many people leave (or don't come at all) if it's raining so we were able to get on many rides with little to no wait time. Many of the lines are set up with some time of shade cover, so even if we had to wait in line, we were mostly protected from the rain.
The weather (if not raining) is actually quite nice. You are looking at 60s and sometimes 70s in the Winter in Anaheim. This can be a welcomed change from visiting in Summer when it's 100+ degrees. You don't have to worry quite as much about sunburns or getting dehydrated and it's just more comfortable.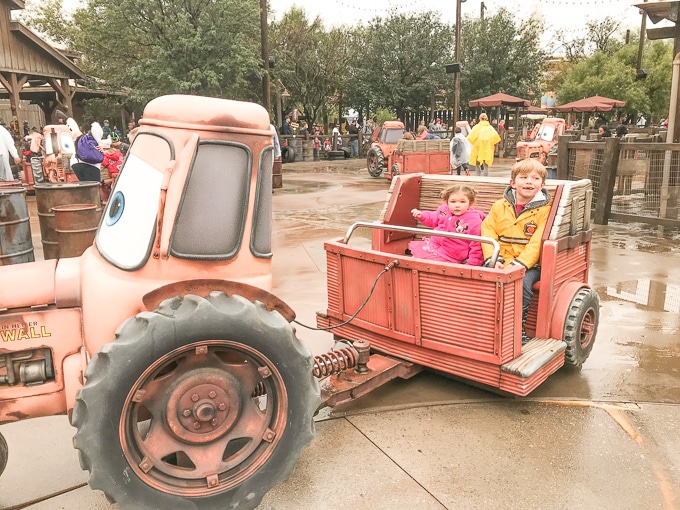 The con of visiting Disneyland in Winter is the possibility of rain. Your shoes and socks may be wet by the end of the day. There are a few rides that cannot run in the rain – like Radiator Springs Racers – boo. With a very avid Cars fan in our family, this was a little disappointing for them.
Luckily, they can usually get the ride up and running again if the rain clears up for 30 minutes or so. The operators of the ride just need time to run the cars through and get excess water off.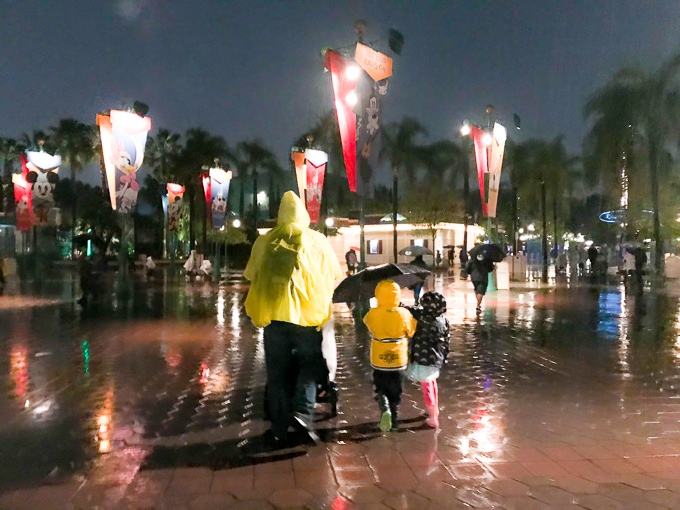 All in all, we had a wonderfully magical time during our trip to Disneyland in Winter. Yes, it rained, and it wasn't super sunny and warm. But we had a lot of fun and made so many memories as a family. The kids could have cared less about the rain and we (the grownups) just had to decide to have a good attitude. Here we are enjoying our last day in the parks (the sun came out) and watching our kids play on the Redwood Creek Challenge Trail.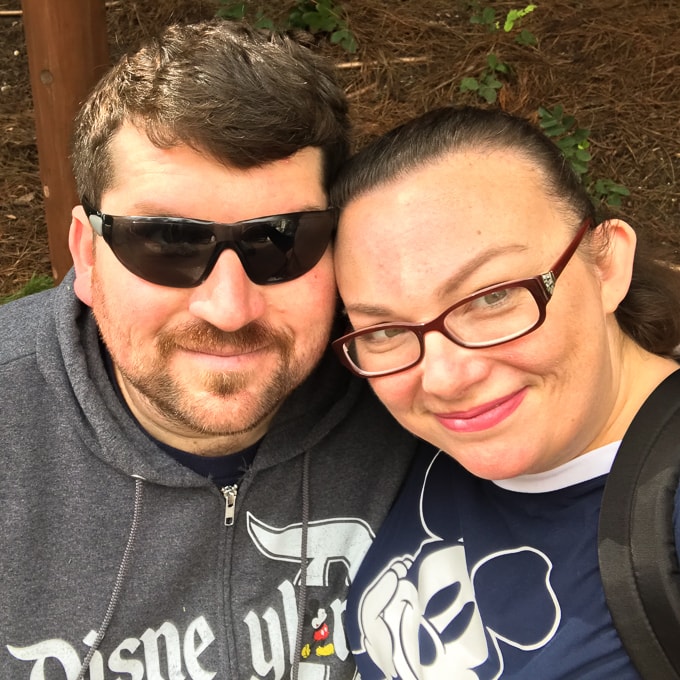 Now that I have shared all about our trip to Disneyland in Winter, I'm off to start fantasizing about our next trip. 😉 What is your favorite time of year to visit Disneyland? Tell me in the comments below!