Whip up a batch of this three cheese baked ziti with ground beef! It's a comforting and family friendly casserole that's freezer friendly, too!
I LOVE Italian food. It's my absolute favorite. Specifically, pasta dishes. Growing up, my favorite dish was spaghetti. As I got older, it was my Mom's Lasagna. Pretty much anything with cheese has my name on it. And more than one kind of cheese? Count me in!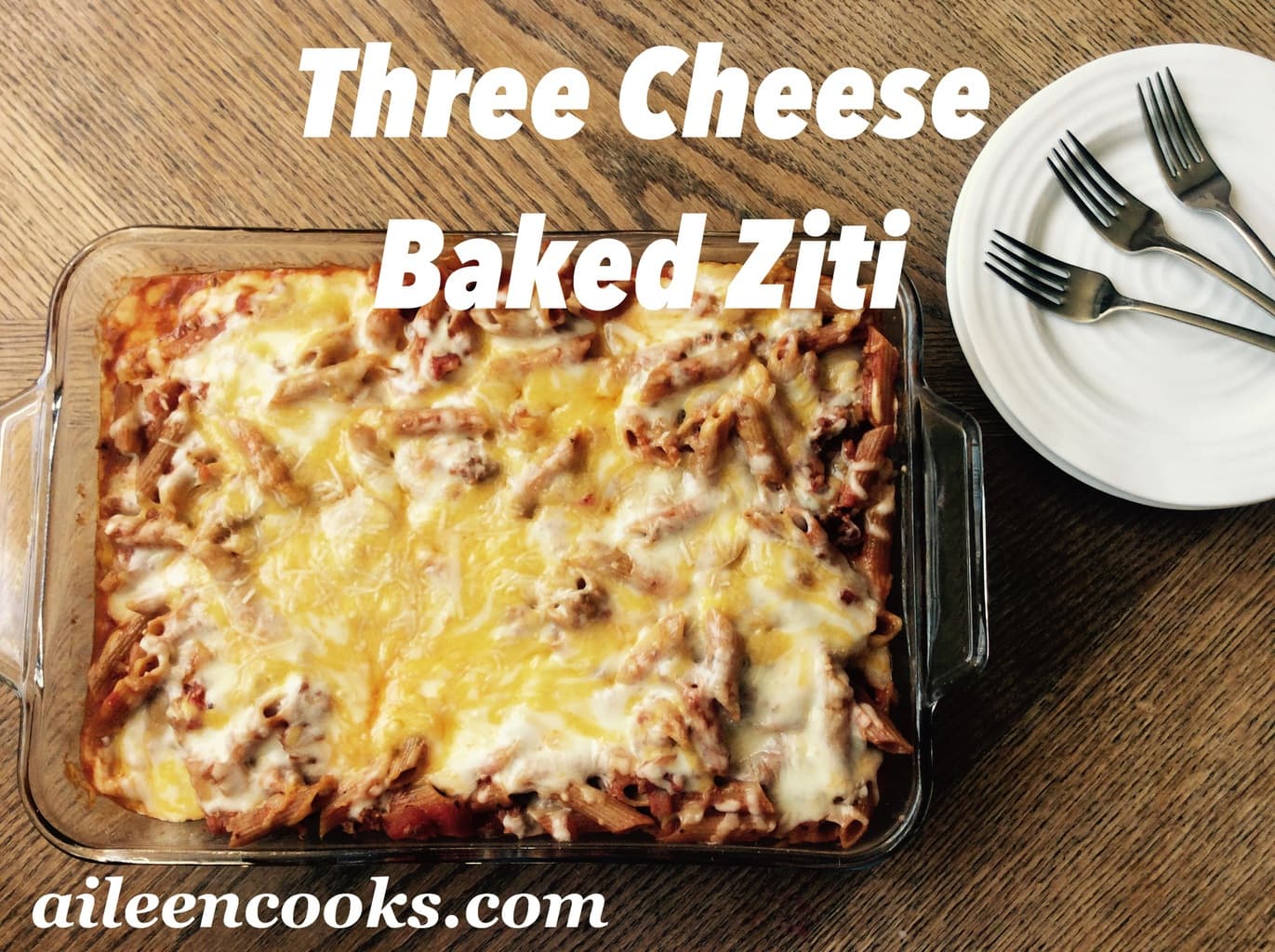 This dish is easy to make using jarred pasta sauce. It's a meal I can easily whip up with items I tend to always have in my refrigerator and pantry. Here is the list: pasta, pasta sauce, ground beef, onion, milk, mozzarella cheese, cheddar cheese, and parmesan cheese. Plus a little salt and pepper. You guys always have salt and pepper in your house, right?
You start out browning your beef and chopped onion – seasoning it with salt and pepper as you go. Once the meat is nice and brown, drain the fat and mix in the sauce. Let it simmer while you cook the pasta.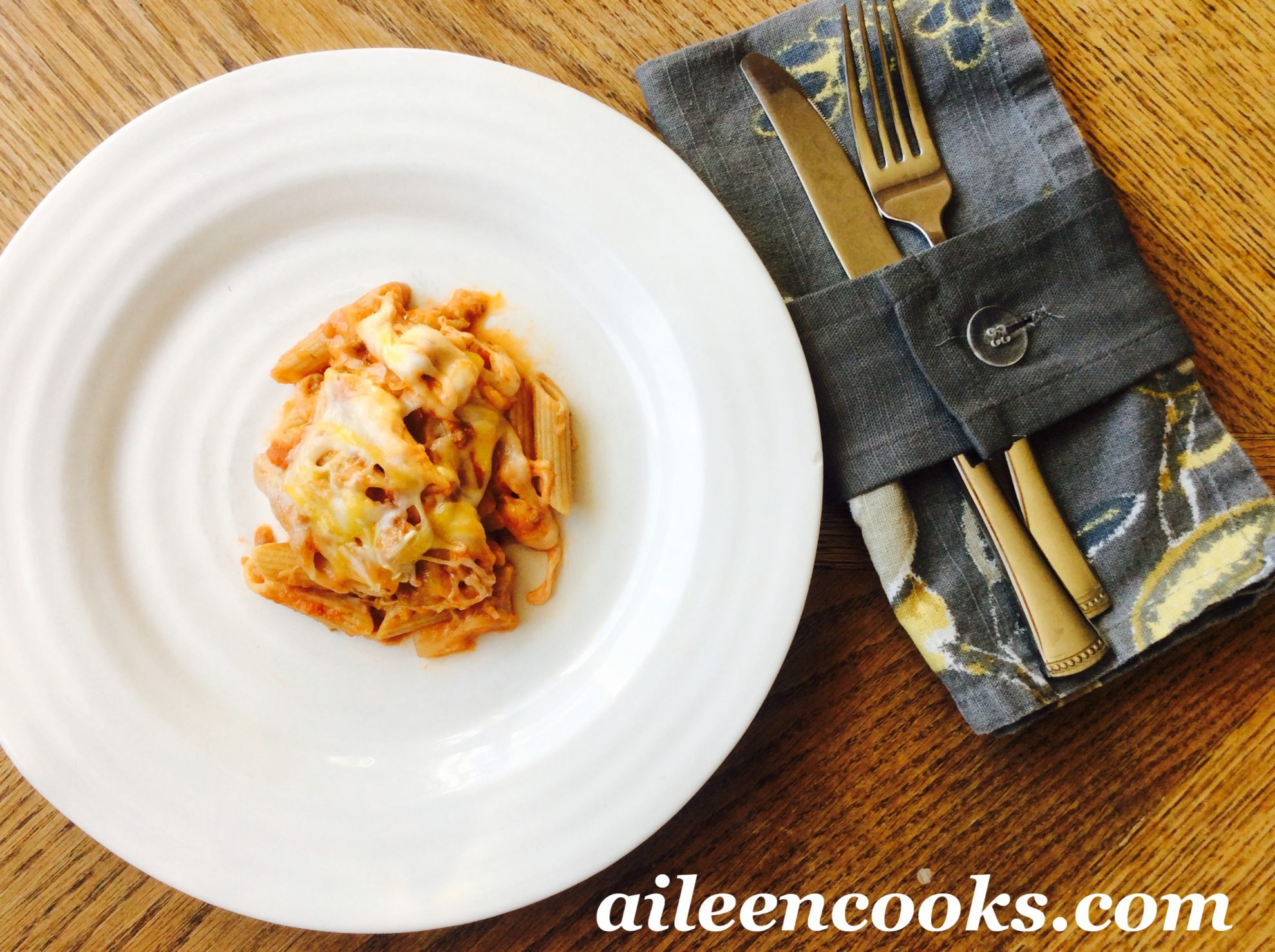 Now, for the pasta. Bring a nice big pot of salted water to a boil. The trick with the pasta is to undercook it a little bit. It will continue to cook in the oven and the last thing you want is mushy pasta.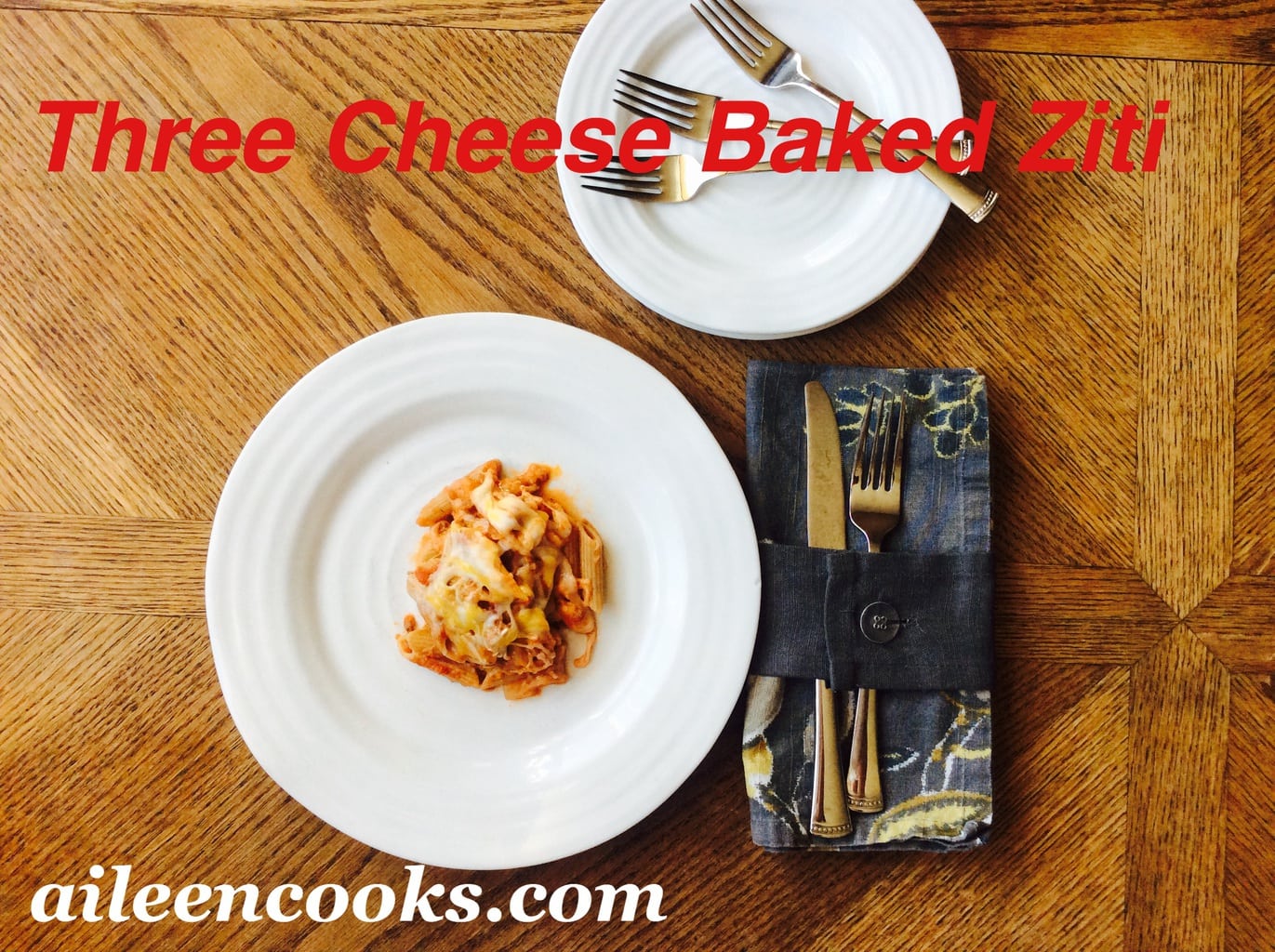 Back to the sauce. Slowly mix in the milk and part of the parmesan cheese. Then, mix in the cooked pasta and a little bit of the pasta water..
Pour half of the pasta and sauce into a greased casserole dish. Top with half of the cheese. Pour in the rest of the pasta and top with the remainder of the cheese. Bake uncovered in the oven until the cheese is melted and sauce is hot and bubby – about 30 minutes.
If you liked this pasta bake recipe, you are going to love our recipe for cheeseburger sliders! And if you are looking for a lighter baked ziti recipe, try our zucchini baked ziti!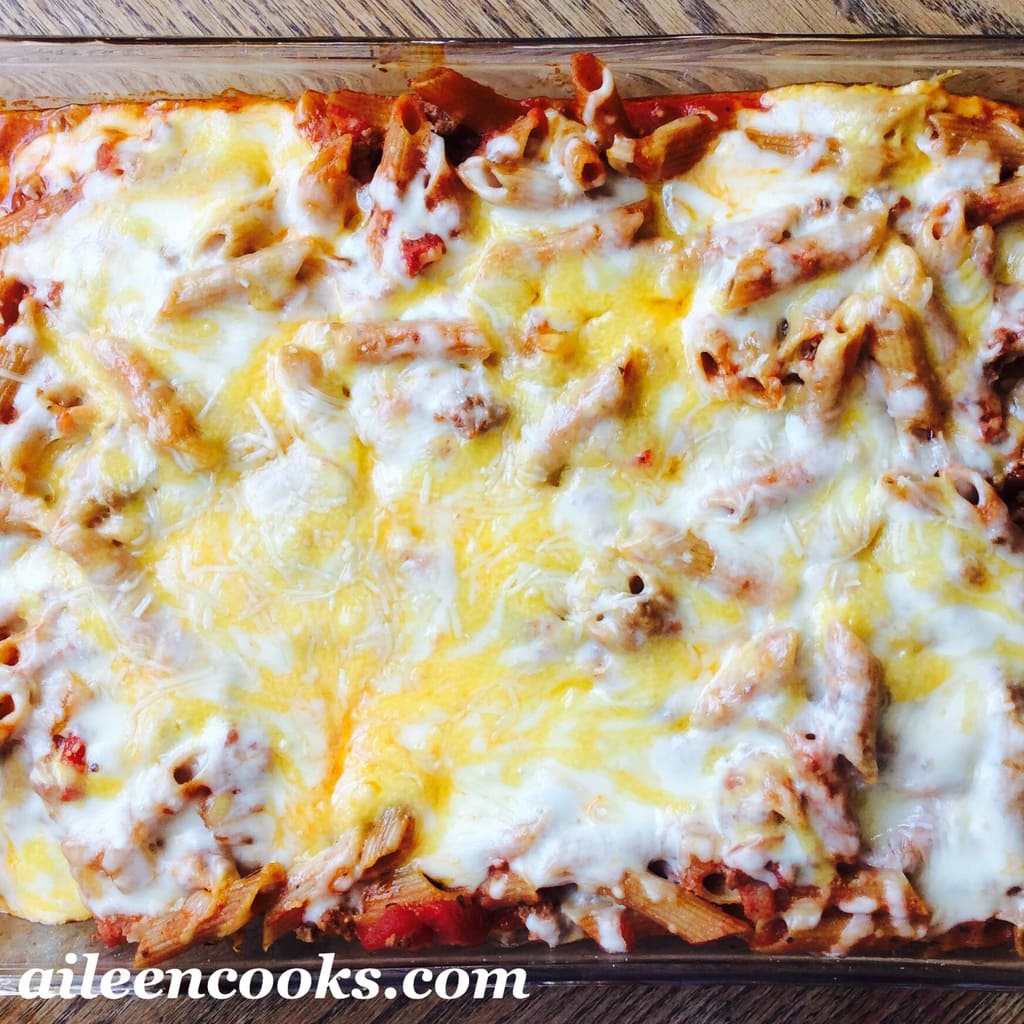 Here is your printable.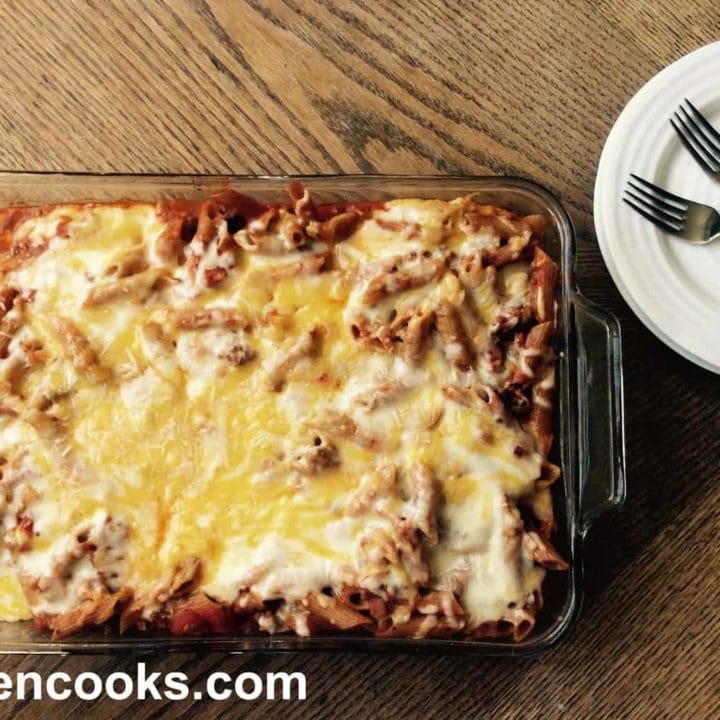 Three Cheese Baked Ziti
Delicious baked ziti made with three cheeses! This is the perfect cheesy casserole to make for an a cold night or as a freezer meal.
Ingredients
1/2 pound ground beef
1 medium onion, chopped
1 pound whole grain ziti or penne pasta
32 oz. jar marinara sauce
1 cup whole milk
3/4 cup parmesan cheese, grated
2 cups mozzarella cheese, grated
1 cup cheddar cheese, grated
salt and pepper
Instructions
Preheat oven to 350 degrees and grease a 2 qt. casserole dish.
In a large sauce pan, brown the ground beef and chopped onion.
Once browned, add the pasta sauce and bring to a boil. Reduce heat and let simmer.
Bring a large pot of salted water to a boil. Cook pasta according to package directions, subtracting 2 minutes.
Once pasta is cooked, reserve 1/2 cup of cooking water and drain additional water.
Slowly mix milk, pasta water, and 1/4 cup parmesan cheese into the sauce. Add pasta and mix again.
Pour 1/2 of the pasta and sauce into the greased casserole dish. Top with 1 cup mozzarella, 1/2 cup cheddar cheese, and 1/4 cup parmesan cheese.
Pour the rest of the pasta and sauce into the dish and top with remaining cheese.
Bake uncovered for 30 minutes, or until cheese is melted and sauce is bubbling.
Nutrition Information
Amount Per Serving
Calories

425
If you want to prep this dish for a freezer meal, prepare it up until baking it. Cover it tightly with foil and cool in the fridge prior to freezing. It will keep in your freezer up to 6 months. To reheat from frozen, add 1 hour baking time. If you have time to prepare, thaw in the refrigerator overnight and bake as usual. This meal can also be frozen in individual containers after being baked for on the go lunches or dinners.
You may also like: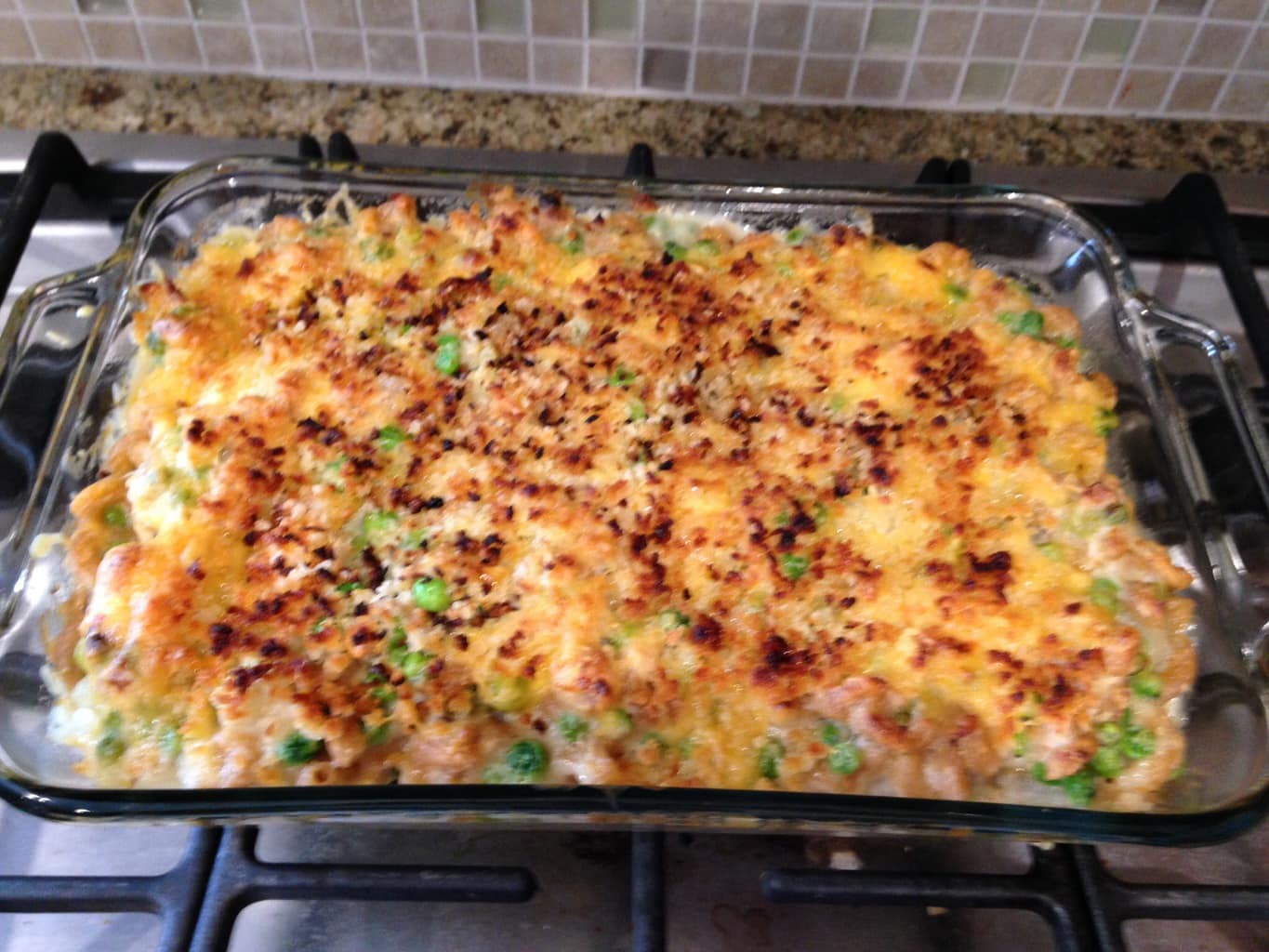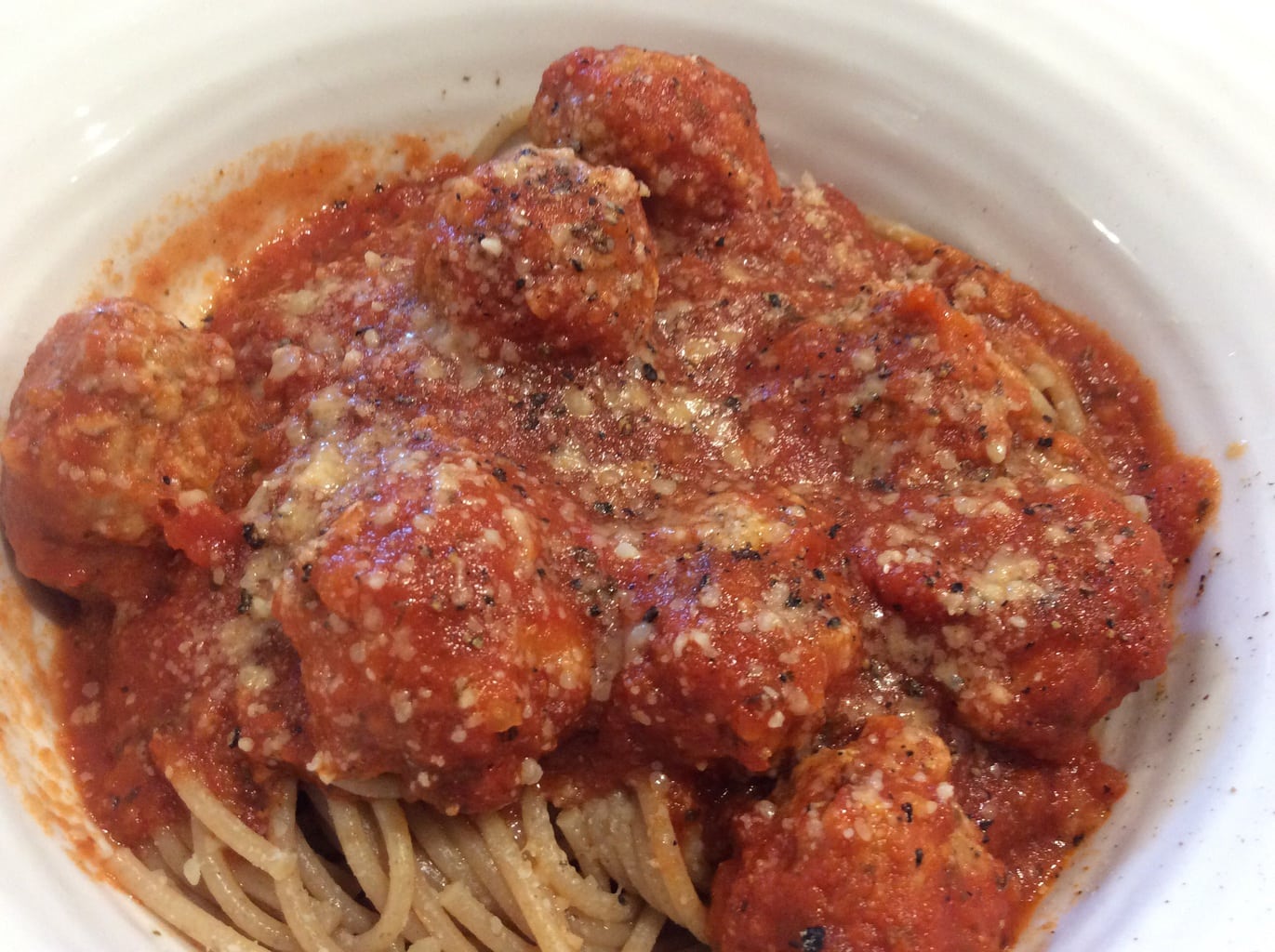 The Man Meal (Meat & Potato Casserole)